Six years ago this weekend, DadJovi and I got hitched in Key West. It was our perfect wedding. From start to finish, we personalized it to perfectly reflect who we are as a couple.
To this day, one of my favorite parts of the ceremony is the song I chose to walk down the aisle to as I prepared to marry my best friend. No offense to the Mendelssohn and Pachelbel fans out there, but that just wasn't our style.
Instead, we picked a song that had real meaning to us as a couple. It's from a band that we discovered as a couple in our very early days of dating. It was one of our first concerts together, and we've never taken a road trip without bringing the band's entire collection along, including their side projects and side-side projects.
The band is Wilco (and Uncle Tupelo before that). And the song that played as I excitedly walked down the aisle was "Jesus, Etc." Never heard of it? Don't worry. Our family was pretty surprised by the choice, too. Here's Wilco performing it on Letterman last fall.

We used an instrumental version from the album "Pickin on Wilco" by Old School Freight Train, but you can hear from Wilco's version just how beautiful it is.
Over the years, we've seen Wilco together four times, DadJovi's seen them an extra three times at Jazz Fest and Bonnaroo (bastard), and we saw lead singer Jeff Tweedy do a show in New Orleans during my 30th birthday weekend (how freaking perfect is that?).
This week, we saw them again at the amazing Morsani Hall at the Straz Center in Tampa (more on the venue in a moment).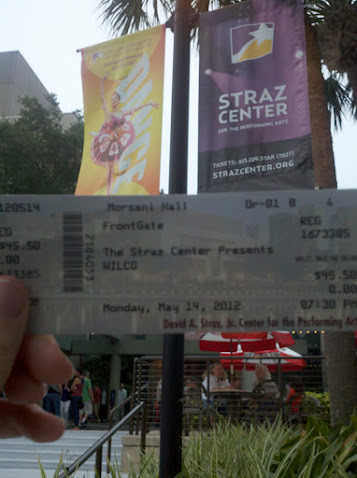 And, without a doubt, this was the best Wilco show we've ever seen. DadJovi would like to contribute a quote to this blog:
"When people talk about their favorite bands, they always say, 'Oh, I wish I'd seen them years ago when they were just starting. It would have been so much cooler then.' But with Wilco, they are so much better now than they were eight years ago when we first started going to their shows. They are actually getting better and better every year."
He's not wrong. The show was, in a word, perfection.
OK, a word about pictures at Wilco shows. The band is pretty pissy about people taking pictures. OK, very pissy. When we went to the show at Ruth Eckerd Hall in Clearwater a couple years ago, Tweedy actually stopped the show to help security kick out a girl who was trying to take a picture. Not cool, but then again, Tweedy is kind of an ass. And that's why we love him.
And I want to make out with his voice. But not his hair.
So I was terrified to take pictures at the show. I snuck three quick ones because EVERYONE around me was doing it (and being yelled at by security) but all of mine were pretty crappy. But as you can see in the above picture, we had GREAT seats. We were eight rows back, on the left side of the stage.
This is my happy place. Want to know where we sat at the show in Clearwater? Here, let me show you: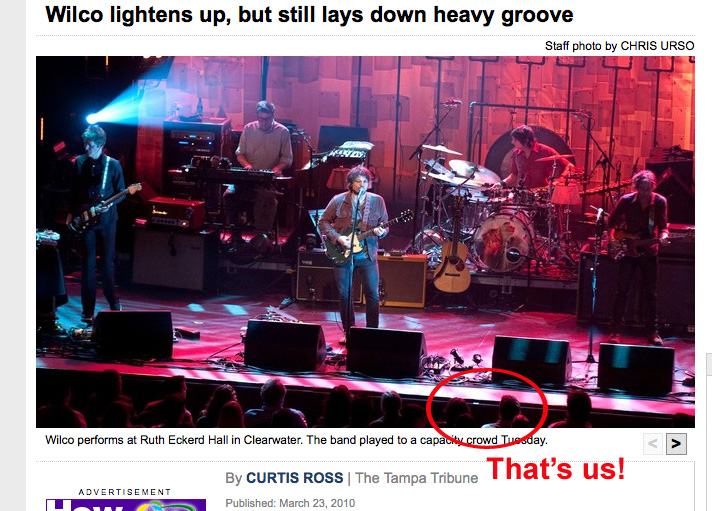 Let me give you a piece of advice — NEVER sit front row at your favorite band's concert. It may cause a panic attack, which is exactly what happened to me. I seriously couldn't handle it and had to flee for two songs. What can I say? I apparently have issues with experiencing moments of pure joy. I got completely overwhelmed. The same thing happened the night DadJovi and I got engaged. About two hours later, I had a full-on panic attack. What can I say? I'm good times.
But eight rows back at a Wilco show? Perfect. I was close enough to see the sweat on the band member's brows but not too close to get the Tweedy stinkeye for singing along to EV.ER.Y song.
The band kicked the show off with three songs off their new album, "The Whole Love." Their second song, "Art of Almost," is an instant classic. I like the song on the album but live, it completely blew me away. They rocked it so hard. During it, I said to DadJovi that this was their new "Spiders (Kidsmoke)," and sure enough, when they got to "Spiders" four songs later, they completely reworked it and slowed it down. It was awesome.
I won't bore you with my song-by-song joy (although feel free to join me in the comments if you want to) but I have to say, there are three songs I've been DYING to hear Wilco perform live for years. And dammit, they played them — "Heavy Metal Drummer," "Theologians," and "Monday." I have a few more songs on my Wilco Bucket List (namely "Poor Places") but for now, I'm very happy.
Since I know I'll want to remember the set list later, here's what they played (via Setlist.fm):
    1.    One Sunday Morning 

    2.    Art Of Almost 

    3.    I Might 

    4.    Company In My Back 

    5.    Handshake Drugs 

    6.    Spiders (Kidsmoke) 

    7.    Impossible Germany 

    8.    Jesus, Etc. 

    9.    Born Alone 

    10.    Laminated Cat 
(Loose Fur cover)
    11.    Summer Teeth 

    12.    Via Chicago 

    13.    Whole Love 

    14.    I'm Always In Love 

    15.    War On War 

    16.    Dawned On Me 

    17.    A Shot in the Arm 

    18.    Encore:
    19.    Heavy Metal Drummer 

    20.    Theologians 

    21.    Walken 

    22.    I'm the Man Who Loves You 

    23.    Encore 2:
    24.    Misunderstood 

    25.    Monday 

    26.    Outtasite (Outta Mind)
Not only was the set list perfect, I loved the stage.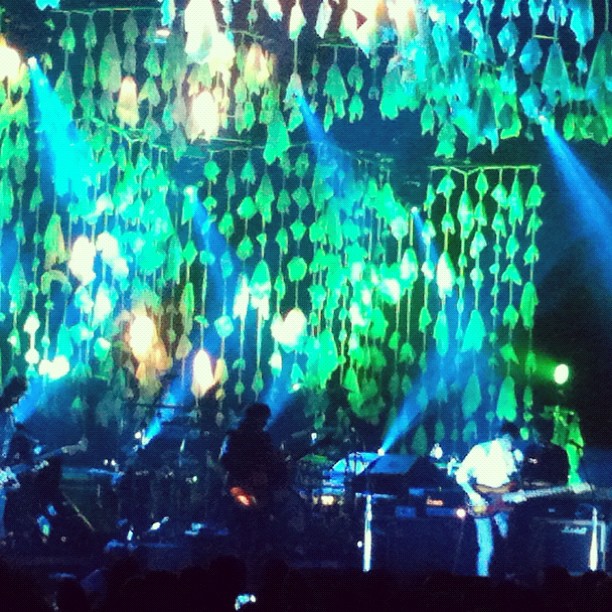 Photo stolen from fellow concert-goer @travlin_girl. Hope she doesn't mind!
See those white hanging things? Yes, they sort of looked like the toilet paper ghosts people hang up at Halloween time, but they looked beautiful with the lights, including some very cool strobe lights.
I hope there are many, many more Wilco concerts in my future. And if this week's show is any indication, they're just going to keep getting better and better all the time.
And as for the venue itself, this was the first time I've ever been to the Straz Center for the Performing Arts in Tampa. Why can't Orlando have a venue like this? Before the show, we sat outside along the riverwalk, where I enjoyed a preshow gin and tonic (antibiotics be damned) and we people-watched (including a couple who made out solid for at least 90 seconds. And they were at least 45. And it was awesome).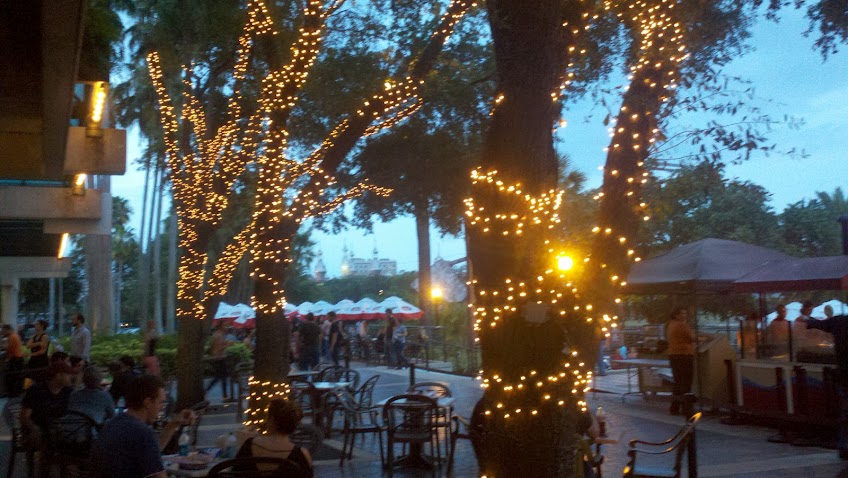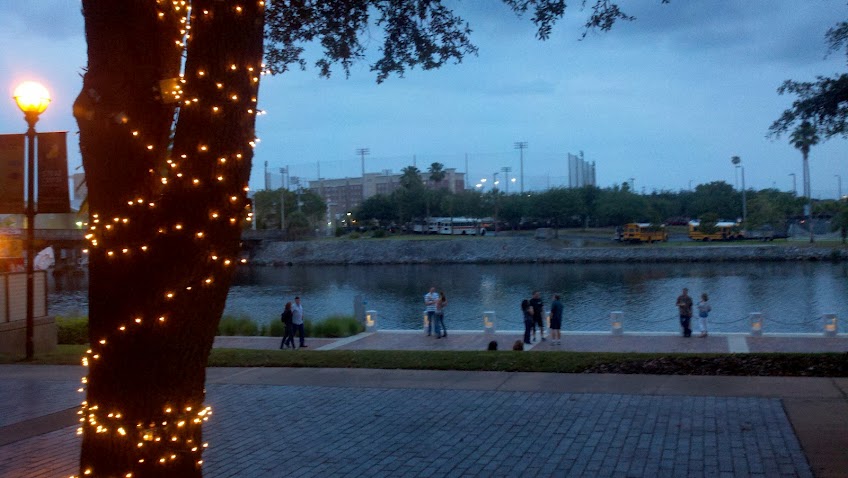 It was a beautiful evening, and it was easy to walk in and out of the venue. Plus, at the end of the show, we were able to slip out quickly and I'd say we were on I-4 within 15 minutes of the show ending. I got to say, there's a lot to be said for Dad Rock shows (that's a label that's been tossed at Wilco lately. I'd say the show was equal parts beard-sporting hipsters and dads).
And we even picked up our favorite traditional Wilco souvenir — the concert exclusive poster.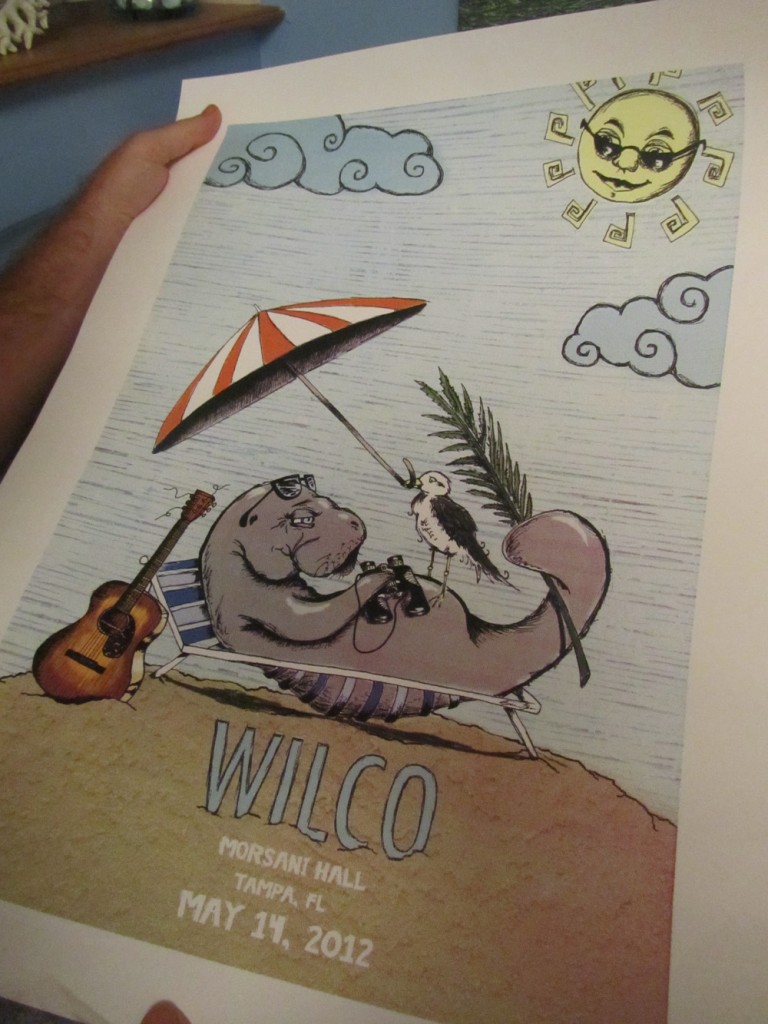 The band commissions posters for each show, so you're always going to get something different. This will be our third Wilco poster to grace a wall in our home. Too bad we already bought a piece of art for our kitchen; this would be PERFECT in our beach kitchen. I may have to rethink some things.
For some reason, I had a real hard time writing this post. Again, I remind you that I have issues with facing pure joy in the face. As a natural-born pessimist, I'm afraid if I focus on it too much, it will lose its luster. Thankfully, the glow from our evening with Wilco keeps burning brighter. I can't wait to let them top this show for me.
What's the best show you've ever been to? Have you ever seen your favorite band in concert?