It's been entirely too long since I vented via a Things That Suck List. And today has been such a spectacular fail of a day that it's left me feeling very Grinchy. The timing seems perfect to resurrect the list.
Let's get this bitch fest party started!
1. Hangovers, particularly with kids. I may have enjoyed my husband's office holiday party a bit too much last night. Don't worry, I didn't embarrass myself there (well, other than spilling an entire gin and tonic all over the pool deck. The good news is that that was only my second drink of the night, so my natural born clumsiness was to blame for that one). But I just don't know that many people that my husband works with, and the ones that I have met are all very nice — I just don't see us hanging out on a regular basis. We just don't have a ton in common. Since I didn't have too many people to talk to, I drank to pass the time. Those Tanqueray and tonics tasted great going down but left me feeling awful this morning. Which brings me to my next item …
2. Urinary wake-up calls. I brought this one on myself. Just last night I was bragging to another parent that we've reached a pretty easy stage with E. lately. She hasn't had an accident in ages, and 9 times out of 10, she just goes into the bathroom herself and takes care of business. Thanks for reminding me to tone down my cockiness, Universe. Bitch. The first thing I heard this morning was E. telling me, "Mommy, I need help. There's pee pee EVERYWHERE in my bathroom." When  3-year-old tells you it's everywhere, she's not exaggerating. The bathroom was like a lake of piss. Apparently she made it to the bathroom in time — just not the toilet. And her timing is awesome. The cleaning lady (who comes twice a month) just came on Thursday. So much for the house staying clean.
3. Sick husbands. Sometime during the night, DadJovi caught a flu. Well, at least that's what he's claiming. Whoever thought to put the "in sickness and health" vow into wedding vows knew what they were doing. Otherwise, coping with a cranky, whining spouse would be instant grounds for divorce. He has slept pretty much all day. There went all my big plans for finishing up Christmas shopping for E. and wrapping her gifts today. She and I leave a week from today for Pennsylvania and get back on the 23rd. Doesn't leave a whole lot of time for shopping and wrapping, does it? Remember when I was sick last week? Somehow I managed to get up, make lunches, get E. ready for school, do several hours of work during the day, pick her up from school, then figure out dinner. Just sayin.
4. $26 breakfasts. The only thing I know for sure that makes me feel better when I'm hungover is a bacon, egg and cheese bagel with a large fountain soda. During college, that combo made it possible for me to still write 30-page papers after binges (and may explain that weight gain). Since DadJovi was sick and I was just this side of feeling human, too, I decided to go to Einstein Brothers to get us breakfast. He wanted a turkey sandwich (weird), I wanted the bagel and we both wanted sodas. Somehow, though, E. kept adding things to my order — a chocolate chip bagel, a milk, a bag of chips and orange juice (OK, that one was for me). By the way, she had already had breakfast at home. But I was too sick to argue so I kept adding the items to the counter. When the cashier told me my total was $26 I actually almost threw up on the counter. What the hell, Einstein?
5. Being mind effed by big box stores and Christmas lights. Last year, on almost this exact day, about a quarter of our outside Christmas lights went out. They kept going on and off throughout the final couple weeks before Christmas, so we left them up but threw them away at the end of the season. This year, we put up a new string of lights (but the same kind that we had leftover from when we bought them both the year before) and they've been great. Until last night. Almost the same exact section of lights went out. On DadJovi's agenda today was heading to Target to get new lights because he said when he was there on Thursday they had a great selection. So, we got him vertical for about an hour today and headed to Target. And wouldn't you know it? The shelves are suddenly empty. What, was this National Christmas Lights Purchase weekend and I just didn't know it? So we came home without new lights. And just to further eff with me, when I plugged them in tonight, that section was back on. Well played, lights. Well played.
6. Hangover brain. That's the only explanation I have for leaving the sunroof open after our trip to Target. Well, guess what it did here for the first time in weeks? Rained. Actually, poured, to be more specific. At least I found the puddle of water on my front seat tonight rather than tomorrow morning, so I've got that going for me.
7. This caricature.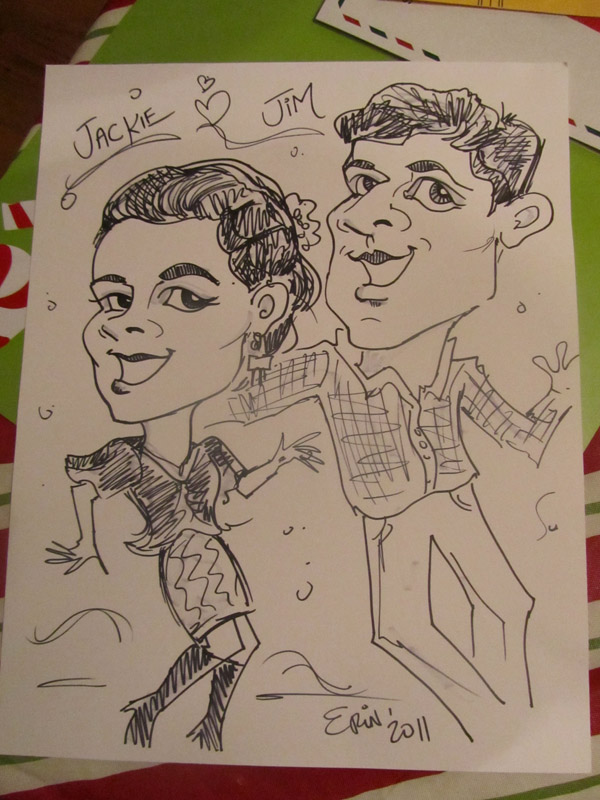 Wow, I had no idea I looked so, um, ethnic. Here's what we really looked like last night.
Katy is the world's best babysitter. Not only did she graciously offer to watch E. for the evening, she even came early to do my hair and makeup!
Somehow out of that cute braided updo the artist saw a weave (and yes, there was a caricature artist and a temporary tattoo artist at my husband's holiday party. Random, I know). I know caricatures are supposed to be exaggerated but did she have to give me SUCH thick eyebrows? Dang. At least the hooker boots look hot.
8. Christmas shopping for my stepmom. I've been to at least 10 stores, looked online and I am 100 percent out of ideas. She's the hardest person in the world to shop for. She's very particular about the jewelry and clothes she wears and she hates candles and anything remotely resembling a tsotchke. Plus, she's not afraid to tell you when she doesn't like a gift. Good times all around. I already got her a book ("The Paris Wife") and I wanted to pick up one more small item to go with it. I've got nothing and no ideas. I'm screwed.
9. Christmas crafts that take all day. I decided that E. should make crafts for all her grandparents and great-grandparents this year. I want her to know that you just don't get presents on Christmas but you also give. Since I'm trying to be better about buying people unnecessary crap, I thought we'd go the homemade route. I'll put up a full post on these crafts tomorrow but let's just say I was not counting on it taking HOURS. Maybe the hangover had something to do with it, but like a ferocious predator, E. sensed my weakness today and pounced on me relentlessly. She was WILD during the entire project and kept purposely ignoring my suggestions (related note: see item 4 above)
Phew, I feel better getting all that off my chest. You've got to have some holiday stress building up inside of you right about now, too. Let it all out here. It's a safe place to bitch about your loved ones too! 'Tis the season!