Getting away for a girls weekend may be good for the soul, but it's apparently not good for my brain. I'm still so out of sorts since getting back Sunday night. But it was worth every exhausted, scattered moment I've experienced since.
I flew up Thursday night and starting with the flight itself, it was pretty much heaven. To celebrate the fact that I didn't have to entertain a certain 3-year-old with a bag full of snacks, games and movies, I treated myself to a Venti Pumpkin Spice Latte. As you may know from personal, painful experience, hot coffee is never an option while traveling with the little monkeys.
I sat back, relaxed and enjoyed my drink, magazines and Kindle. It was the most glorious 2 hours, 55 minutes in recent memory. I didn't even care that I was crammed into the back of a Delta flight with the most annoying couple in front of me. The girl was telling their seatmate about their week at Disney and he, being the helpful local, was telling her all the things she SHOULD have done. I honestly wanted to pierce my own eardrums so that I didn't have to listen to them anymore, but I somehow resisted.
It was late when I got there, so after Missy picked me up at the airport, we just headed back to her house to enjoy wine and a DVR full of shows. General Hospital is SO much more tolerable when watching with friends. And we're similar GH watchers — we fast-forward through 85 percent of it. We're a little split on Crazypants James Franco. I kind of like his deranged serial killer. I think he just annoys Missy.
We can agree that watching GH these days is painful, yet neither of us can pull the plug. Someday.
Bright and early Friday morning, I was awakened by my new favorite 2-year-old, Missy's daughter A. She is so stinkin' cute and so much fun. It made me really sad that E. wasn't there to play with her. I can't wait until they FINALLY meet. Of course I'm already dreaming of them rooming together at Syracuse the way Missy and I did for four years. Think they'd mind if we lived with them, too?
We then headed to the airport to pick up Colie (as seen in Baby, Baby, Baby Ohhhhh and Welcome 'Lil Camper). Unfortunately, the weather was not cooperating. It was rainy, overcast and humid. After hanging out for a little bit, we decided to head to lunch at Granite Links Golf Club, which overlooks Boston. Despite the weather, we were still able to catch some glimpses of the city through the mist and had a great lunch. Given the bad weather, we realized we only had one option — getting day drunk! We started at lunch, then really got things going back at Missy's house.
Again, it felt gloriously luxurious. We just watched TV, looked through old pictures, told stories, drank and laughed until we cried. It was heaven. A. was staying at her grandmother's for the day and night, so don't worry — we weren't corrupting toddlers!
There was one big downer for the day. Our friend Mer was driving up from Long Island. We haven't seen her since she had her baby in March so we were dying to hear the stories, see the pictures and spend some time swapping motherhood stories. Sadly, Mer was in an accident on the way there. Thankfully she wasn't hurt, but her car was pretty messed up and she had to have it towed home. We felt so bad for her. Girls weekend was just a couple hours away for her and now she has to deal with this. It wasn't the same without her.
After Missy and her husband made a fabulous dinner, we settled in for the main event — Bridesmaids. It's hilarious. So, so funny. Although I thought it dragged in parts and was a lot more of a chick flick than I was expecting (I know, I know. But I thought it'd be more about the wedding and less about their relationship). My friends think I'm crazy but there was one thing we all agreed on — we loved Officer Rhodes, but he definitely had a good side …
… and a bad side.
Chris O'Dowd should only be shot from his left side — it's much more attractive. Missy's husband was getting so annoyed with us and our obsession with Two Face, but we couldn't help it. We may have mentioned it every time he was on screen a few times. It's like that Seinfeld episode where the lady looks different in different lights — he's like two different people from his two sides.
But I digress.
Saturday morning, we got up and decided to do something at least a little active to work off the wine, dinner and ice cream. Missy took us to a great park near her house.
It features a 1.6 mile loop through the woods and around the pond. My dreams for a crisp, brisk autumn walk didn't exactly come true — it was humid that day! But it was still better than Florida's humidity. And the views? Oh, how I long for moss-covered trees and rocks and hills!
After our sweatfest, we showered and headed into Boston to meet up with the rest of our girls, who had come in by train from New York that morning.
We met on Newbury Street and had big plans of shopping and walking around. But we kept finding ourselves stopping on corners and chatting. Finally we got smart — we hit a wine store and headed back to their hotel. For hours, we sat there catching up and getting day drunk (again). Finally it was time to get prettied up and hit the town for dinner.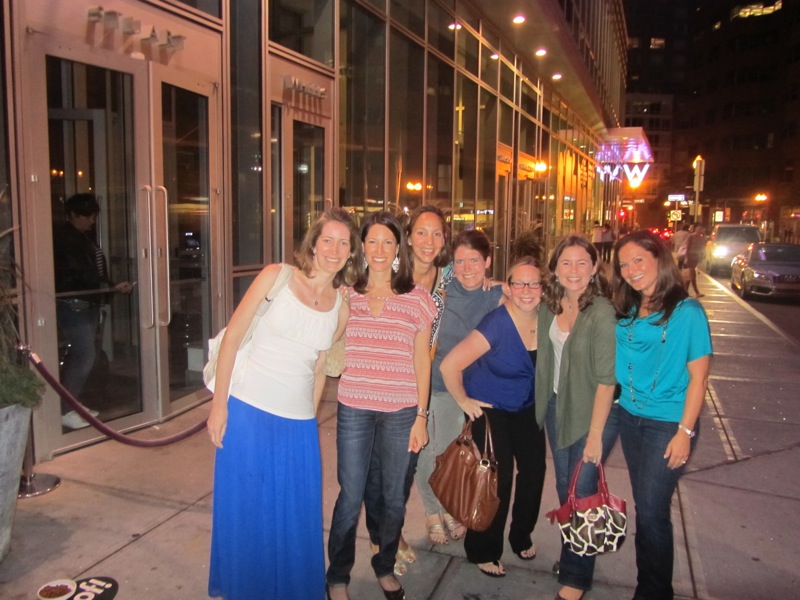 We ate at Towne, and we got a table outside in the shadow of the Prudential building.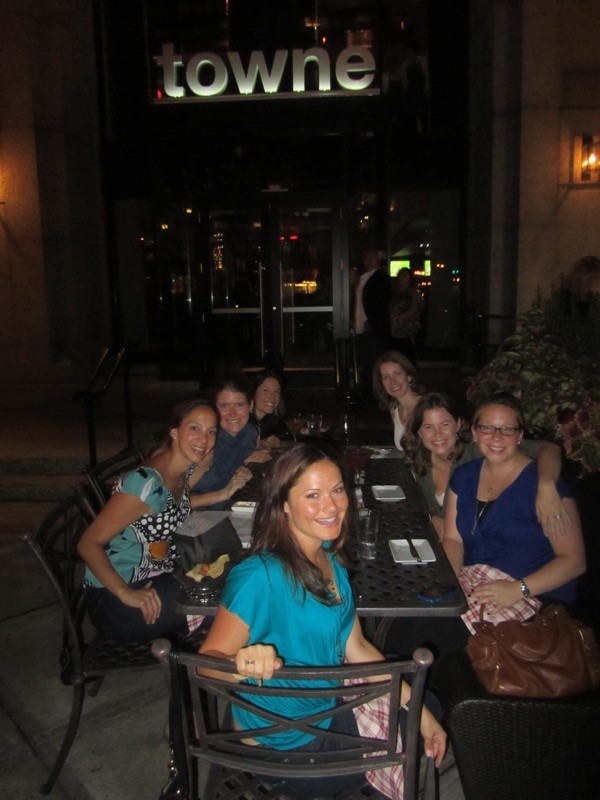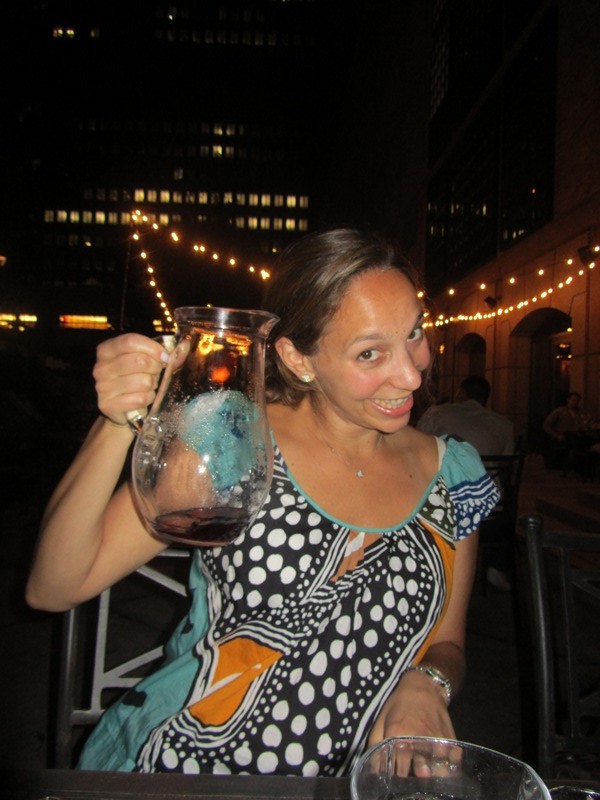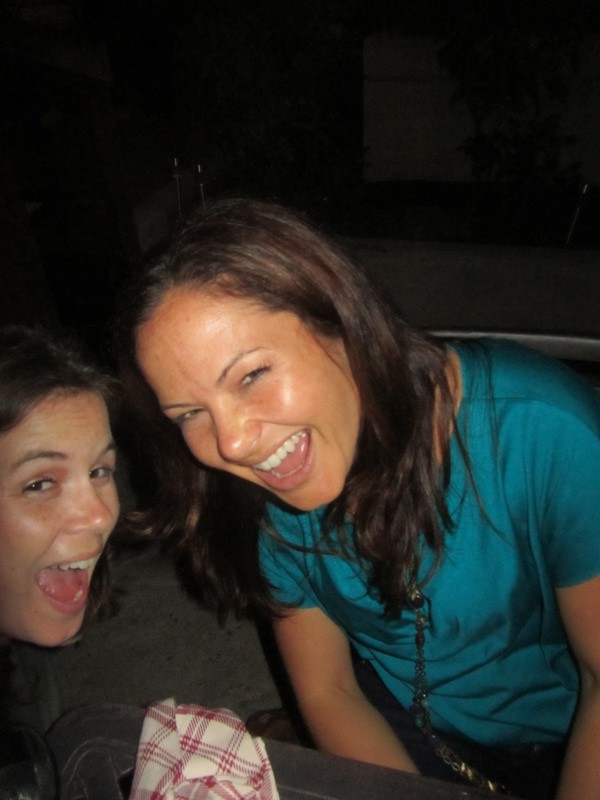 Know what's even harder than a self-portrait at a dinner table? Trying to get a self-portrait in front of the Pru. I'm blaming my freakishly short arms. Know how good I am at self-portraits? I gave Colie, the tiniest person ever, a spare chin or two. Oops!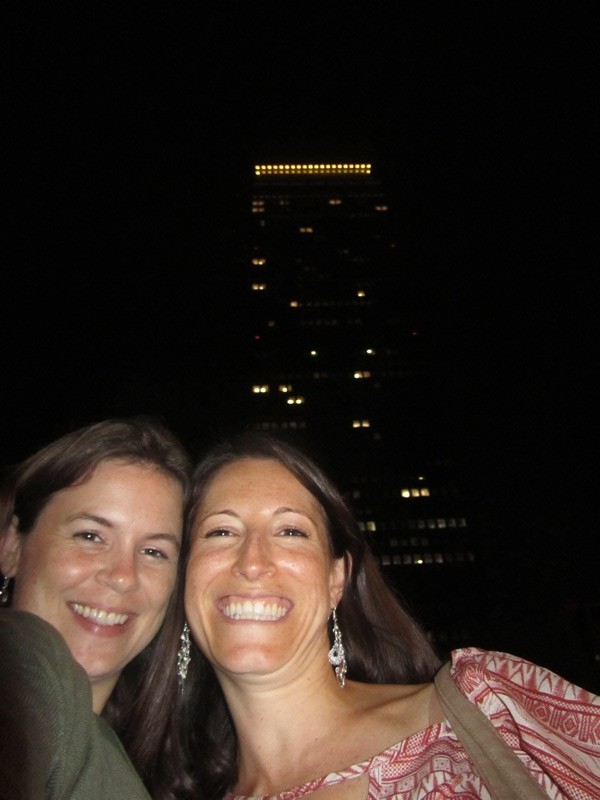 There were definitely some war wounds from the day — sore butt muscles from those hills (hey, I'm a Floridian now. Parking garages are the only hills I see these days), a lingering wine hangover, and bloody, blistered heels from walking block after block in really uncomfortable shoes. But, more importantly, I'm leaving with a fresh set of memories and stomach muscles still aching from laughing that will have to last us until our next visit.
Oh, hell, I might make myself cry again (yup, I was that girl who cried at dinner. What can I say? I miss my girls). But luckily I had a sweet little pumpkin to see me off in style the next day.
Phew! I'm sure I can name all six people (ahem, see picture above) who are still reading this, but in case there's someone else out there, tell me about your last girls (or boys, iJason!) weekend! And please tell me I'm not the only one who goes to an amazing city like Boston and only sees the inside of a hotel, a wine store, a restaurant and maybe H&M?!?