** Big fat disclosure notice: I'm going to be naming a lot of products and companies below. I paid for every single thing with my own money. I don't think anyone even knows about this blog yet, so believe me, nothing was comped! OK, on with the shower…
I'm not sure how party planners do it. This past weekend was my best friend's baby shower, and first and foremost, I'm so happy that she seemed to have a really wonderful day. But, selfishly, I'm just glad it's over because in the final days, it seems it was the only thing I could think about!
I think logistics had something to do with it. My friend Colie (short for Nicole) lives in Washington, D.C. We went to college together and after college lived together until I moved to Florida with my then-boyfriend now husband. It's been 7 years already since we moved (holy crap), but amazingly, Colie and I are still as close as always. We talk several times a week (sometimes several times a day), and there's not much that's happened to the other that hasn't been shared by both — engagement parties, bachelorette parties, bridal showers, maids of honor in each other's weddings, my baby shower. As Forest might say, we're like peas and carrots.
So whether or not I was attending the shower was never a question. However, through a series of prior commitments by others who planned to plan with me, I ended up taking the reigns on the party, and I'm not going to lie — I loved it! It was so much fun, and thanks to so many great resources out there (all of which I'll give props to below), there was no shortage of great ideas for me to steal to inspire me.
First order of business after we decided on a date was to pick the invites! Colie made things a little difficult for me — she's not finding out the sex of her baby. Who does that?? I wish I had her self-control. There was no way I wasn't finding out when I was pregnant, but she loves surprises. So, that limited my invites choices. Second, her wonderful sister (another of my former roomies and very dear friends) is throwing her a family shower next weekend. So we wanted to try and take the showers in really different routes (there's only so many ducks and froggies to go around), so I decided to capitalize on the recent bird trend (which I love!) and picked out this adorable invite: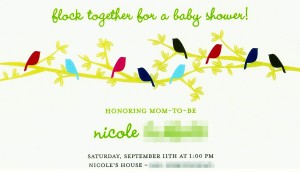 I don't think my scanner is doing the invite justice. They were so pretty. It's called Fashionable Flock on Tiny Prints. It was a hard choice, though, since Tiny Prints has so many great options. Here's their main baby shower invites page to start getting inspiration for yours. 
After the invites went out, I started surfing around Blog World looking for great ideas. A true lifeline was the awesome new site by Babies Rabies' Jill: Party Like a Kid. My inspiration for the shower actually came from something that Tiny Prints posted on its blog — DIY S'mores party favor bags (I'm pretty sure I saw this for the first time on PLaK, but I can't remember for sure anymore).
It was like lighting struck. Colie and her husband LOVE to camp (well, he does, and she's an incredibly great sport. But it's something they've done many, many times together). So I thought, what if the whole shower has a camping theme. I got some great ideas from the following blogs:
So, here's what I pulled together:
The banner:
After I found my inspiration, I headed over to dafont.com. My friend and social media guru Katy told me about this gem. It has hundreds of fonts, and most of them are free. You just download the font of your choice and drag it into your computer's font folder. Then, you'll have it available in Word, Photoshop, etc. It's UH.MA.ZING! And I found the perfect font — Pinewood. Check out that wood (that's what she said. Sorry couldn't resist)
I just printed the letters on kraft cardstock in brown font, cut them out with a paper cutter (my new favorite thing in the entire world), then hung them on twine with baby clothes pins that I got at Jo-Ann's. The result: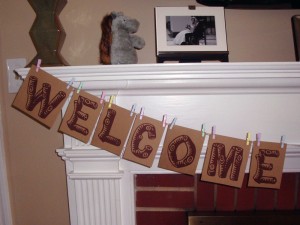 And those little squirrels you see on the mantle? You'll see them and some other friends pop up in the background of other pictures. I found them in the $1 aisle at Target! They're dog toys, but who's asking? We also set out camping lanterns around the house.
Paper Products:
Amazingly, I found paper products online that almost perfectly matched the birds from the invite. To save money, I just ordered the large plates and napkins and bought small plates and cups in coordinating colors. To keep the theme going, I used the twine from the banner to wrap up the silverware in the napkins: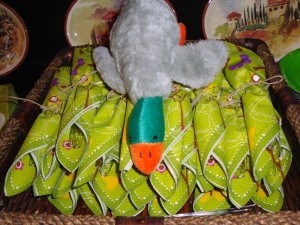 I didn't get a great shot of the plates, but here they are online.
Food, Glorious, Food:
We thought we'd keep the food really simple but fresh and delicious. Colie's sister-in-law is famous for her sandwiches, and she made up some kick-ass sammies — chicken salad wraps; turkey and swiss on baquettes and wheat and tomato, basil and mozzarella on baquettes. Plus, we had some great salads — a black-eyed pea salad with avocado and a macaroni salad. Plus, an amazing yellow watermelon that Colie's sister-in-law got from her CSA.
And what camp-out is complete without s'mores? We had a fondue pot with melted chocolate and a dish of Nutella. To dip in it, we had graham crackers and marshmallows (of course), as well as pretezel rods, strawberries and bananas. It was a huge hit: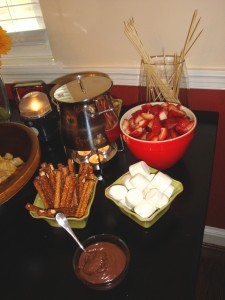 But wait, there's more dessert! (Hey, I had 7 pregnant ladies in attendance to keep happy! OK, fine, and me. I'm a sucker for dessert.) After I had decided on the camping theme, I went hunting on Etsy and found the cutest cupcake toppers. And the cupcakes. Oh, the cupcakes. They were from the now world-famous Georgetown Cupcake and OHMYGOD. Look how gorgeous these are? And these were just the standard decorations for their daily specials that day! Believe me, they tasted even better than they looked.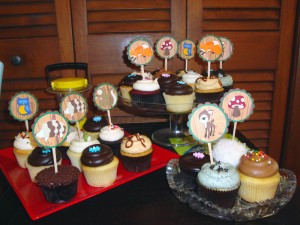 Party Favors:
Up next, the s'mores bags. These bad boys were the bane of my existence the night before the shower.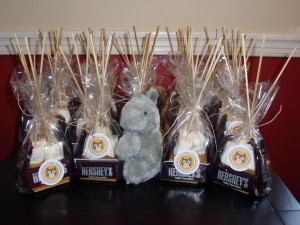 I loved the way they turned out and everyone RAVED about them, but I must tell you — I now HATE marshmallows! But in reality, they were a snap to make. I bought the cellophane bags at Jo-Ann's, ordered the stickers from Max and Bella on Etsy (I tried to order them from Tiny Prints since I completely stole their idea, but they didn't have gender neutral owl stickers!), used the same twine that I used for the banner and the rest of the supplies came from the grocery store.
The Games:
And finally, the games. Given how different our theme was, I didn't want to do the same standard baby shower games. So, I created a celebrity baby shower quiz, grabbing pictures of celebs as babies online and mixing the parents-to-be into it. I'd post a picture of it here, but I don't feel like having their copyright monkeys coming after me.
And I created an Animal Babies quiz. Here's just a little snapshot of it:
Phew! No wonder I'm so tired. So that was my first foray into baby shower planning. I hope you all get some ideas that help with your next shower or birthday party. At the end of the day, every penny and second spent on it was so worth it. Look how happy our momma-to-be was after the shower. She deserved to be showered with love!
I just don't know who looks more tired — her at 35 weeks or me post-shower!