Now that we've (hopefully) survived the horrible, painful, frustrating and sometimes rage-inducing portion of the 3s, lately we've settled into a nice little rhythm. I know this is an instant curse, but, for the most part, E. has been downright pleasant lately. No major tantrums. No major battles.
I must say, the second half of age 3 has been a lot of fun. I clearly need to start knocking on a huge piece of wood after a statement like that.
One of the most fun parts has been E.'s experimentation with the English language and her perception of the world around her. At least once a day, she says something that makes us bust out laughing. You don't realize how many colloquialisms you use on a daily basis until you have a 3-year-old following you around asking "why" about everything you say.
Here are just a few of my favorite E-isms lately:
Me, during a massive thunderstorm last week: "I'm going to make a run for it." E: "For what?"
E: "Are we going to Da's Lando today?" This one took me a bit to figure out. Then I realized that she thinks her grandfather (Da), who lives in Daytona Beach, lives in a city called Lando, like us. Yes, like us. All this time, when we've been saying that we live in "Orlando," she thought we were saying "Our Lando." So she thought he lived in Da's Lando, my mom lived in Gigi's Lando, my dad in Pappy's Lando, etc.
Recently, E. FINALLY made the cut-off to start going on the big-kid rides at Disney (well, her cowgirl boots may give her those extra couple millimeters she needs to really clear the measuring stick but please don't tell Mickey). Now, she happily gets to ride Splash Mountain, Thunder Mountain, Test Track and Soarin'. The first time we realized this, she patiently stood there as the castmember measured her, and after they waved her through, she leans over to me and whispers, "Mommy, they think I'm 4!"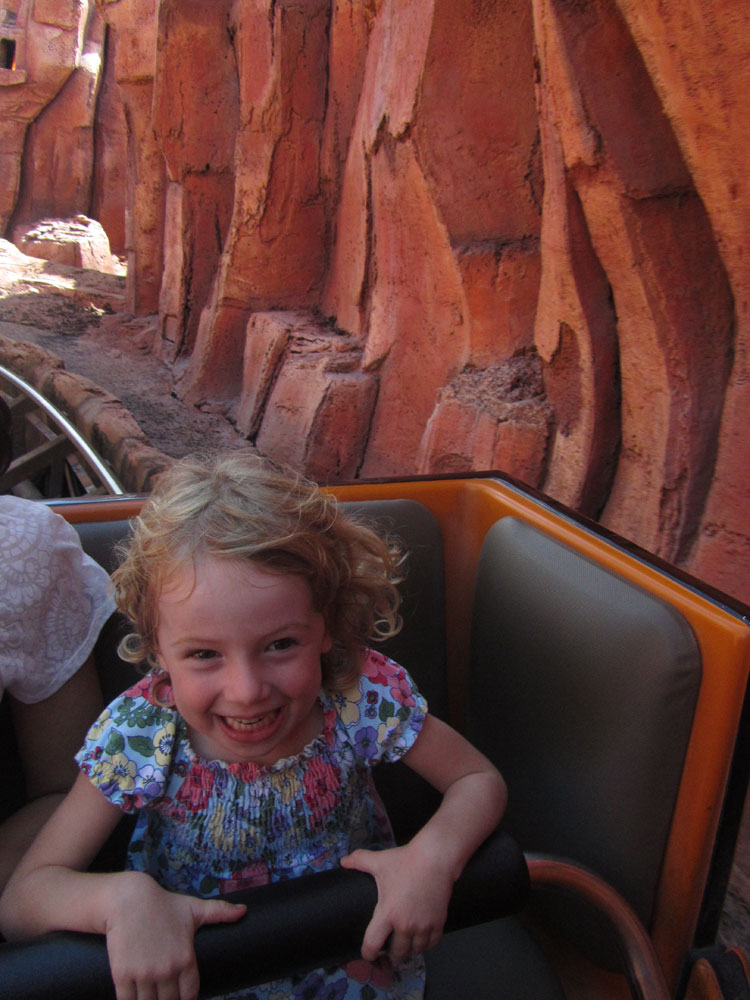 Speaking of Disney, tonight, I was watching a few minutes of "X Factor" because E. loves to see the kids perform. After the 14-year-old kid busted out with a monster rap and the judges, particularly Simon, started praising him, I started to cry. I can't help it. Motherhood has turned me into a giant, weepy sap. DadJovi of course started laughing hysterically at me, but my sweet girl came running over and earnestly asked me, "Mommy, what's wrong? Why are you crying?" (There's that "why" again). I said, "Because it's so nice to see his dreams coming true." Without missing a beat, E. says, "Hey, that happens at Disney, too!" Yes, it does, my dear. Yes it does.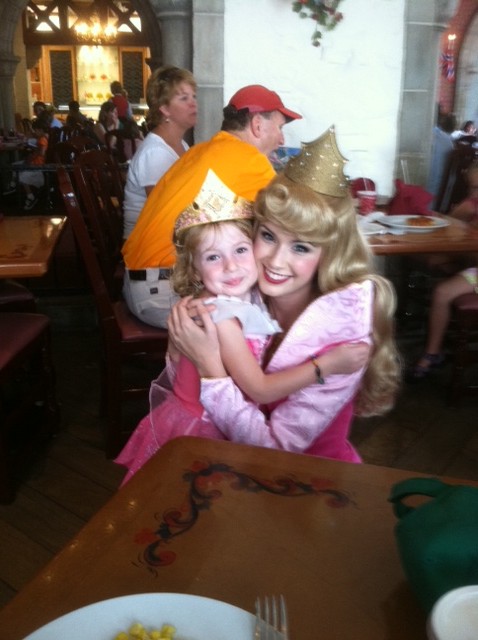 One day last week, DadJovi walked in the house and, after smelling the soup I'd been making for the past couple hours, said, "Mmmm, it smells good in here." E quickly said: "I didn't know the cleaning lady was coming today!" That one hurts me on so many levels.
And finally, we recently took E. to her first high school football game. At halftime, we went down to the field to watch the band perform. And just like it always was at my high school (no offense band peeps), the band's timing was way off. For some reason, they started their long, glorious tribute to Michael Jackson (I actually don't remember what it was but it something bizarre), as the football players came out of the locker room. As the football players stood awkwardly on the sidelines waiting to get back on the field to warm-up for the second half, E. looked from the band to the players back to the band again, and says to us, "I think they want their field back." Maybe you had to be there, but we couldn't stop laughing.
I sometimes wonder which of E's funny sayings we'll still be saying years from now. When my brother was a toddler, he used to call eyebrows "downs." We have no idea why but it was always hilarious ("Jackie, look at that man's big downs!") and we still say it in our family.
What are some of the funny things your kids have said or that you said a child?