Like everyone, I constantly feel like we never have enough money. And just when you feel like you may be catching up on bills, BAM, you suddenly need three new tires (which is what happened to us this week. Good times).
But then I try to remind myself that compared to most people in this country and the vast majority of people in the world, we're doing quite well. We always have food for meals, we're able to take a vacation each year and we have a good headstart on E's college fund.
And I want E. to know just how lucky she is. That's why I was thrilled when I saw what was on my moms' group's calendar for today: we put together backpacks for 10 children at a local homeless shelter.
We all signed up to bring various supplies. I volunteered to get one boy backpack and one girl backpack, which E. picked out.
Once we got to my friend's house, we stuffed all the backpacks with notebooks, pencils, markers, gluesticks, calculators, books, snacks, headbands and barrettes for the girls, shampoo, toothpaste, soap, washclothes, and more!
As we stuffed the bags, my heart hurt thinking of how this will be the first new things they've received in a long time. I hope it helps them start the year off on the right foot. I'm still haunted by the "60 Minutes" report last spring on all the homeless children in Central Florida. Every one of our families could be just one major medical crisis or prolonged layoff away from something like that happening.
I'm glad the other moms helped organize this event. I don't think it's ever too early to start having these conversations with your kids. In fact, over the past couple weeks, we've been telling E. that it's time to go through her toys and start picking out some to donate to other children. This playroom has WAY too many toys for one child.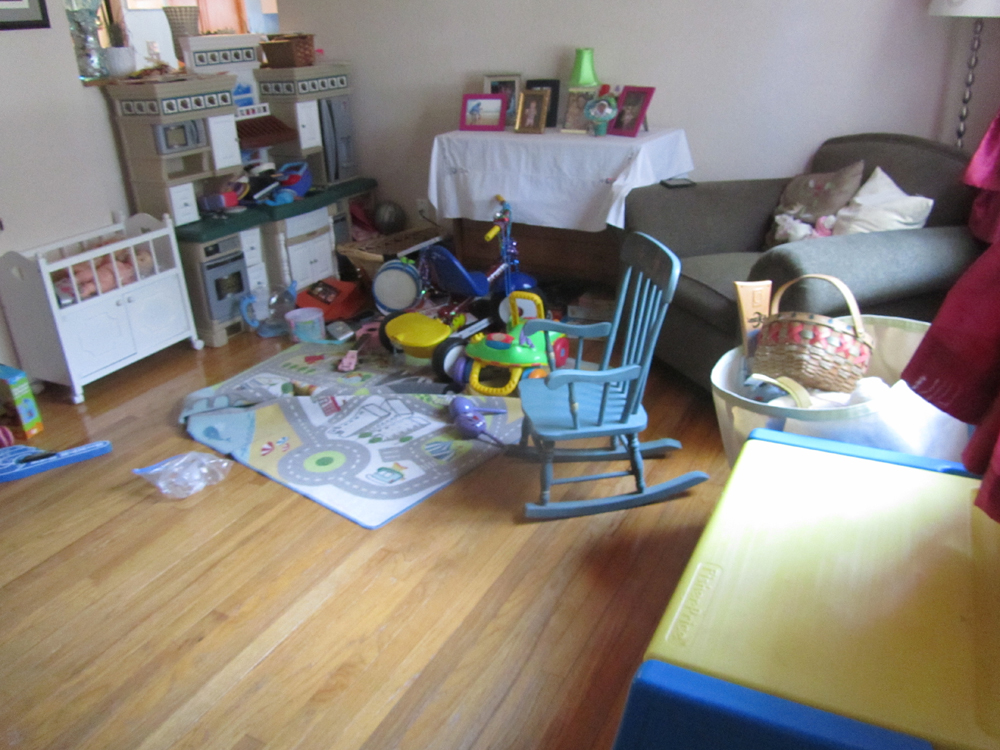 I've tried to put it in words she can understand, so now she keeps telling everyone who will listen that we're giving her toys and the backpacks to "kids who don't have any money." I guess that's technically true but I'm still trying to come up with a better way to explain homelessness and low-income families to her. Any suggestions?
I think as we get closer to Thanksgiving and Christmas that I'll look for more opportunities to have our whole family involved in charity events. Last year, I took two bags full of her old toys to a foster home foundation, and they were so appreciative. I don't think they get many donations.
But I'm looking for more ideas, particularly a way I can get E. involved. Any suggestions?
And if you're looking for ways to help, click here to visit the CBS page that features Scott Pelly's report on Seminole and Orange counties' homeless students. The page also has a lot of resources for ways you can help, too.
Let's help make back-to-school an exciting time of year for these kids — not something else to make them feel worse about their circumstances!