It's hot as Hades in Central Florida. I'm already fantasizing about fall (I think the back-to-school mania has something to do with it), but the truth is, fall won't arrive in Orlando for at least another 2 months.
But I've found something else to help us cool off — Disney On Ice presents Dare to Dream!
We went to it a couple years ago and E. looooved it … even thought she wasn't yet a Disneyphile. Seriously, I couldn't even get a non-blurred photo of her because she was jumping up and down so much, especially when Mickey came out on the ice.
We skipped it for some reason last year, but ever since the postcard arrived in the mail with Tangled on the front, E. keeps asking me about it.
And now we're going! Do you want to go, too? Here's a little bit about the show: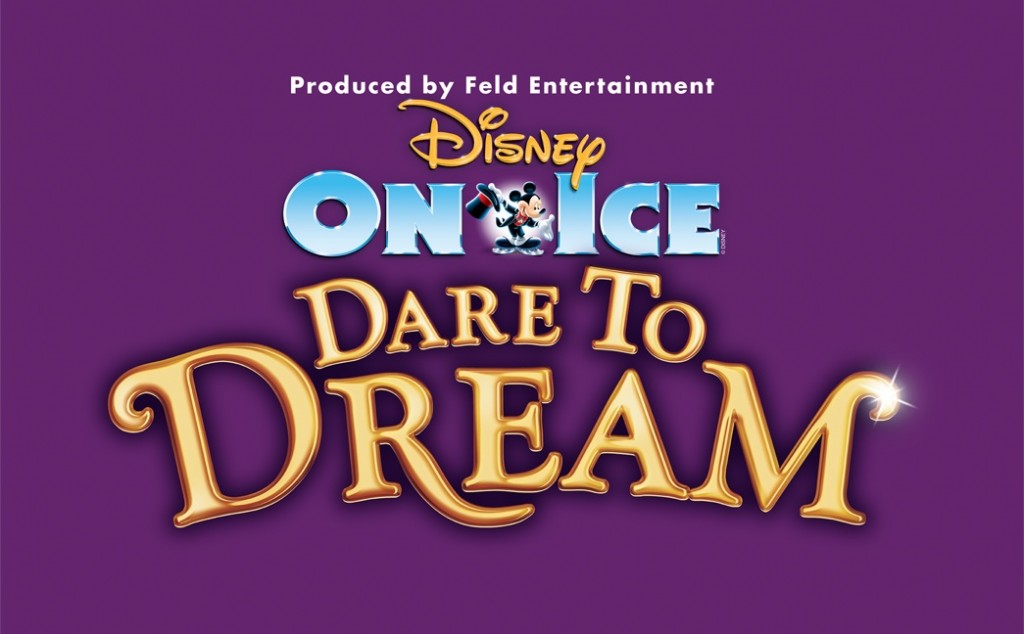 Get tangled up in the newest thrilling show to hit the ice, Disney On Ice presents Dare to Dream — the first Disney On Ice show to play the new Amway Center.  Experience Disney's hilarious hair-raising escapade, Tangled; as Rapunzel, her unlikely companion, Flynn, and Maximus, embark on an uproarious journey that takes adventure to new lengths!  Boogie to the beat of the bayou with Princess Tiana and Prince Naveen from The Princess and the Frog, in a magical, musical journey that all begins with a fateful kiss. And fanciful dreams become reality as Cinderella meets her Prince Charming, with a glass slipper fit for an unforgettable fantasy come true.
Sounds pretty fun, huh? You know I have mixed feelings on the princesses (I'll try to refrain from booing Ariel), but E. loves them so. And I'm thrilled to see the new girls — Rapunzel and Tiana, my two favorite by far — take center stage, er, ice.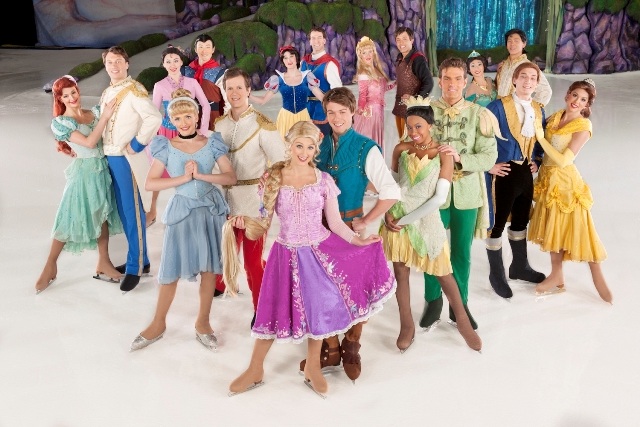 Too bad ice Flynn Rider doesn't look as hot as cartoon Flynn Rider. Oh well. I can't wait to see what they do for Maximus. Love that horse.
One of you will win four tickets (more below), but even if you don't win, I've got a deal just for you — $11 tickets for ALL performances. Those prices are good for:
— Friday, September 9 at 7:30 p.m. (opening night)
— Saturday, September 10 at 3:30 and 7:30 pm
— Sunday, September 11 at 1 and 5 pm.
Simply visit the Amway Center box office or ticketmaster.com and use promo code "MOM11" at check out!  Note, this price isn't good for Front Row or VIP seats, limit 6 ticket per purchase. For more information on the show, visit www.disneyonice.com.
But why buy when you can win? Here's how to enter: tell me your favorite Disney character and why below. One commenter will be chosen at random on August 26, 2011. The winner will receive four ticket vouchers good for any performance of Disney On presents Dare to Dream at the Amway Center.
I'll get us started. My favorite Disney character is Buzz Lightyear because pretty much everything he says makes me bust out laughing ("One minute you're defending the whole galaxy, and, suddenly, you find yourself sucking down darjeeling with Marie Antoinette… and her little sister.").
Your turn! And let me know if you're planning on going! E and I will see you at the show!
Disclosure: I will be provided with four complimentary tickets for the opening night performance, about which I may — or may not — blog. If I do post about the performance, all opinions will be mine but mostly my 3-year-old's. For more, click here to read my full disclosure policy.
NOTE: This contest is now closed. Using Random.org, I picked a winner on Aug. 26, 2011 and contacted the winner directly. Thanks for entering!