Since she was about 2, E and I have had some pretty epic clothing battles. From a very young age, she's had very strong and distinct opinions on what she should be wearing.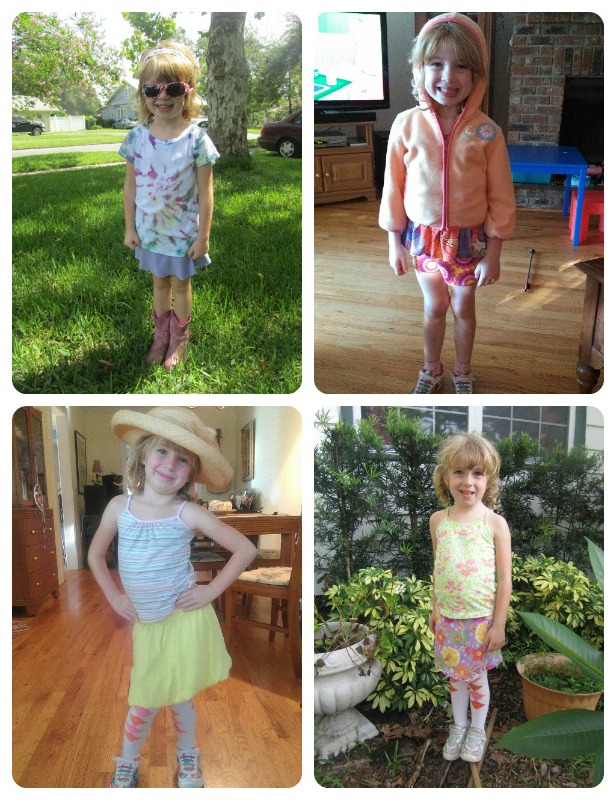 I'm a firm believer in picking your battles, and most times, clothing just didn't rise to the top of that list. Of course, there were times when I had to drop the hammer and tell her no, particularly when she opted for shorts and tanks during our Florida "winters" and heavy sweaters during the summer. But sometimes, I lost those battles, too.

When this picture was taken it was about 98 degrees (holla!), with 100 percent humidity, and she was wearing a heavy turtleneck dress. Because, of course.
The day she started wearing uniforms to school, I started crying happy tears. Our mornings got about 1,000 percent easier.
There's one rule, though, that we've never caved on — no bikini bathing suits.
It honestly was something I'd never even considered when we first had our precious daughter until someone gifted us with a teeny tiny two-piece. As soon as I opened it, it felt a bit icky but I wondered if it was just me. Nope, as soon as my husband got home, he immediately said, "Nope. No way. It's getting returned or given away. She's NOT wearing that."
I can't even remember who bought it for us, but it was very innocent. I think it may have even had a Disney character on it. It just felt wrong, though.
It's never been an issue. E's had her picks of Disney suits, two-piece sunshade shirt options and some adorable one-pieces.

For the record, I wish I had that pink ballerina suit.
This year, though, it's all changed. A couple weeks ago, I came home with a new one-piece Speedo … in DUKE BLUE … for her, and her first reaction was, "Well, Mommy, I kind of like it, but this year, I want a two-piece instead."
I kept the one-piece but told her I'd start looking around. And this is what's out there.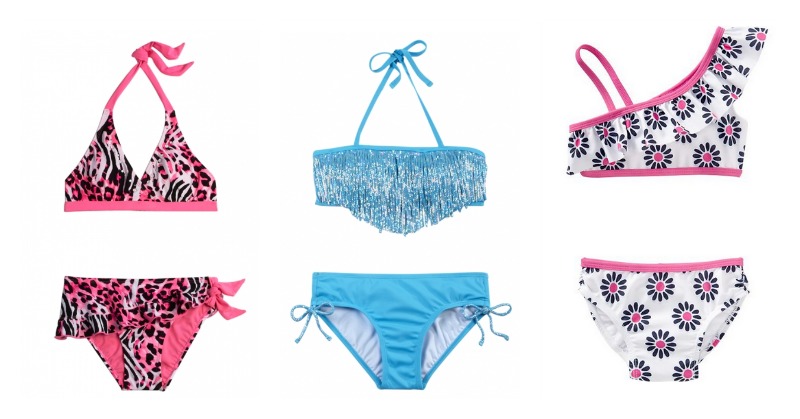 The first two are from Justice (no surprise there) and the third one is from Old Navy. And yes, all three come in my daughter's size, 6.
I finally found a tankini-style suit that I thought she'd like and again, I got a lukewarm reaction.
"No, Mommy, I didn't want one that covers my belly. I want one that just covers these (pointing to her chest)."
Sigh. Big heavy sigh. Where is she picking this up?
Am I just a prude? Seriously, I want to know. Because there is no way my daughter is wearing a suit like the ones above for some time. I'm no Jessica Simpson.
I want her to love her body and have no fear or shame associated with it. She's never heard me describe myself or anyone else (well, other than the cat) as fat. I've worn two pieces, including a mix of bikinis and tankinis, around her, and I no qualms with her being around older girls and women in them. Hell, half the time, one member of our family is walking around practically naked. We discuss bodies, we discuss being proud of our strong and healthy bodies and we discuss doing things, like eating well and exercising, to make ourselves healthier and stronger.
But bikinis for little girls? That's just something that doesn't feel right for us.
From a practical standpoint, that's just that much more sunscreen I have to wrestle onto her body. And as an avid sand-castle builder, it's also that much more of her body that's exposed to the sand as she digs massive holes and gets buried.
But it's more than that, obviously. I know she doesn't know the concept of "sexy" yet but I can't help but think these is her first time wanting to look a certain way. A certain older way. And it scares the shit out of me.
I explained to her, as she kept rolling her tankini top higher and higher on her body, that we can revisit the topic in a couple years, but for the time being, this is the kind of suit that is appropriate for an adventurous 6-year-old like herself.
And yes, I even had to drop the "I'm not Ashley's mom, I'm your mom" retort when she whined that her friend had a small two-piece. Her teenage years are going to be fun.
I think I've mostly appeased her for now. I'm already dreading the summer where we'll be sure to hang out with her friends in their inevitable two-pieces. Mostly, I'm dreading her making it a situation, forcing me to confront my rule in front of her friends and more importantly, their mothers, my friends.
This, like every other issue having to do with parenting, is totally a judgment and personal call for families to make. I hesitated to even write this because I don't want to come off as judging other moms. Hell, I'm ALWAYS the first person to share the "moms need to stop judging other moms" posts. And I know you could list 18 things right now that I do as a parent that you would NEVER, ever do.
I guess this is just another example lately of how hard parenting seems to be getting the older E. gets. Every issue just seems to feel as if it has the potential to become a big, '80s sitcom-style teaching moment. I'm probably putting too much emphasis on this point with E. by making it an issue, but it's just one of those things I know I need to trust my gut on. Even if it makes my kid temporarily hate my guts.
What's one parenting decision you've struggled to stick to your guns on? Is there a baby/toddler/kid trend that drives you crazy, too?