OK, so I've sort of shared this in dribs and drabs but here it is in black and white — as you read this, I'm probably already at the FINAL FOUR!
Here's the backstory: we found out in October that my father-in-law was getting us Final Four tickets for Christmas (and our birthdays, anniversary, Groundhog Day, etc. Basically every future holiday ever). My husband's cousin lives in Atlanta and is a Georgia Tech booster, so he had the opportunity to buy them and asked my father-in-law if he was interested in them. He wasn't but he knew we would.
And here's the back-backstory. As you've probably picked up in post after post after post after post, DadJovi and I are huge sports fans. Specifically, we're huge college basketball fans. It probably has a lot to do with the fact that we each went to GREAT basketball schools — Duke and Syracuse.
But what you probably don't know is that we met because of Syracuse basketball.
Picture it: March 2003. Washington, D.C. A bar called Park Bench in Cleveland Park. It was the diviest of all dive bars packed full of college basketball fans, especially a huge crew of Syracuse grads gathered at our traditional game-watching bar.
It was the night of the Sweet 16 and Syracuse was playing Oklahoma. As with most games, I was a nervous wreck and trying to get rid of all the obnoxious Texas fans who had gathered to watch their game, too. Didn't those Texans know this was OUR bar? We'd watched every game there all season. Get a new bar, dammit! (see, 10 years later, I still get angry)
I was with a big group of my friends, mostly guys, and at one point, they sent me over to another group to ask them to move their table over a bit. They had (obnoxiously) pushed it out into the aisle, which was jamming the crowd into our standing space.
I walked up to the table and said, "Excuse me, do you think you could scoot your table back some? We always watch the games here and it's kind of pushing the crowd into us."
And one of them said, "No, I'm not going to do that."
"Excuse me?"
"No, I'm not going to move it."
"But it's a fire hazard. You're blocking the exits." (Editor's note: this was shortly after the Whitesnake club fire in Rhode Island and I was always paranoid about seeing a direct line to the exits)
"Trust me, you'll thank me."
At that point, I booed the jerk and stormed back to my friends. No, seriously, I booed him. My friends and I were in a big booing phase at the time.
But, Syracuse won the game, sending us to the Elite Eight and more importantly, putting me and my friends in a great mood. After the game, the Jerk came over to our group to congratulate us and came bearing two pitchers of beer. Of course, the guys pounced on the beers, leaving me to talk to the Jerk alone.
And he opened with a killer line.
"That's a nice necklace."
"Thanks, I got it in Cancun when I was 18. I'm surprised it's lasted all these years."
"Oh, were guys sucking on it in Cancun?"
WHAT?? Who says that. By now, I'm sure you can guess who said that — DadJovi.
We talked for about an hour. It turns out he was at the bar because one of his friends had gone to SU Law School and heard this was where the Syracuse club would be watching the game.
Eventually Colie talked me into giving him my number. We ended up talking later that night (at the completely decent hour of 3 a.m.) and I agreed to go out to dinner with him the next night.
And the rest is history.
By the time the following weekend rolled around — Final Four weekend — we were nearly inseparable.
And on the night Syracuse played Kansas in the National Championship, he was already a part of our crew.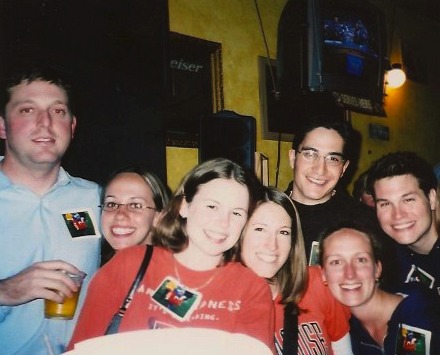 That's the first photo we ever had taken together (even if my roommate Kathleen did get her head between us!). What's even greater is that at the time this photo was taken, the six of us in this photo (other than Kathleen) were all merely dating. Now, we've all been married 6 years, 7 years and 8 years, respectively.
For those of you not familiar with your Syracuse basketball history, Syracuse won the game, thanks to Hakim Warrick's Hand of God (a description DadJovi and I still fight about, but I digress).
Whatever you want to call it, when Warrick blocked that shot, mayhem broke out at the bar.
In case you can't tell, that's me and my girl Colie laughing, hugging and just living in a moment of pure euphoria — no matter how much beer was getting sprayed on us. At least it wasn't this much.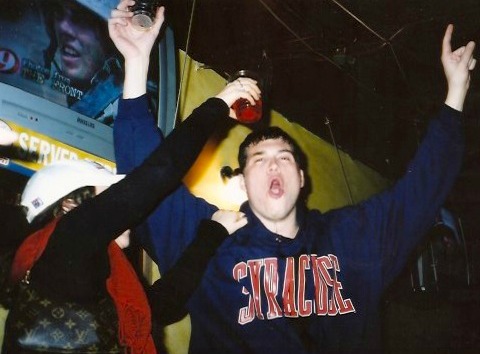 Ah, Karp. I love you.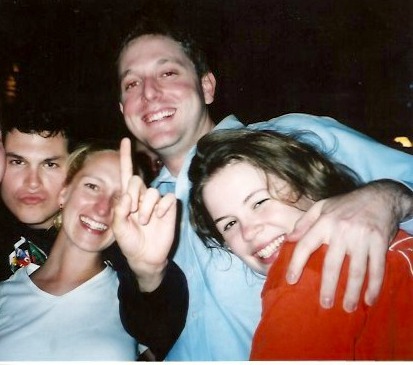 It was a night to remember.
Even though it was our first National Championship, it wasn't our first title game. There were two before my time, and then my freshman year, in 1996, we had a great team. Throughout the season, Missy and I attended every game in our lucky-as-hell lottery seats — 10 rows behind the basket. It was amazing, and there were some really memorable games, including a court rushing or two.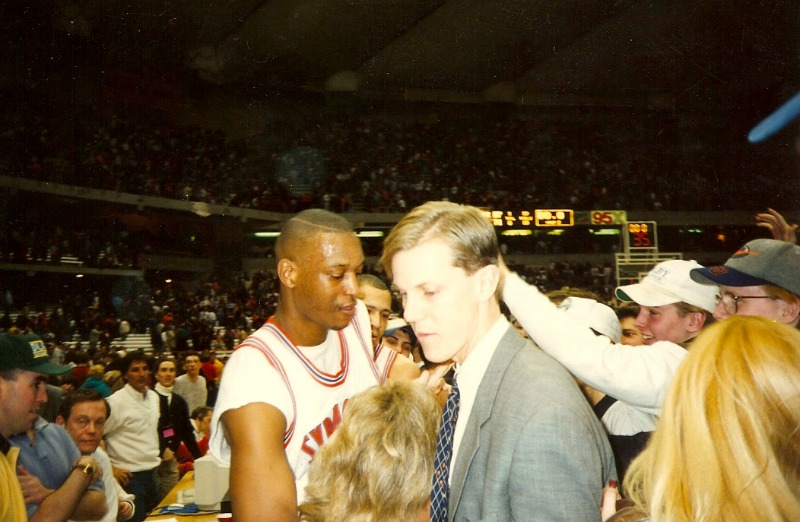 That's John Wallace, our big star. Trust me — if you watch our game this weekend, you'll see him. He's been at most of our games during the tournament this year. Of course, he's no superfan Derrick Coleman, who I swear is at 90 percent of Syracuse's games each season. He's our No. 1 cheerleader, and it's my sole goal this weekend to get a picture with him.
But Missy's and my big claim to fame our freshman year was somehow befriending starting player Todd Burgan in a philosophy class. And during the Georgetown game, we made him a Catch Burgan Slamming sign (the game was on CBS) and we were beloved. During a court rushing, he even parted the crowds to get to "his girls." Sadly, in the pre-digital camera era, this was the best shot we ever got and poor Missy was manning the camera.
Damn you pre-selfie era. And Freshman 15 chins. Actually, in retrospect, Missy lucked out not being the one in this shot.
(Oh, P.S. see that necklace in the picture above? That's the famous Cancun necklace. So yeah, it's apparently my good luck necklace. Any guesses what I'm wearing to Atlanta? Best $25 I ever spent).
Needless to say, though, Missy and I thought we were THE SHIT for this pseudo-friendship. You'll be happy to know that I stalked him on Facebook and we're now friends. And, well, that surely means we were real friends, right?
Perhaps the greatest night of college ever, though, was the night we beat Mississippi State in the Final Four to earn a spot in the National Championship game. As soon as the game ended, everyone rushed to M Street and stormed the bars.
RIP 44's.
So, when I head to Atlanta this weekend, I'm bringing a lot of memories with me. For the past 17+ years, Syracuse basketball has brought me so much joy … and it even brought me to my husband.
In a way, Carmelo Anthony is directly responsible for the existence of E. No wonder she loved her hair in the Bahamas. She knows it's her legacy.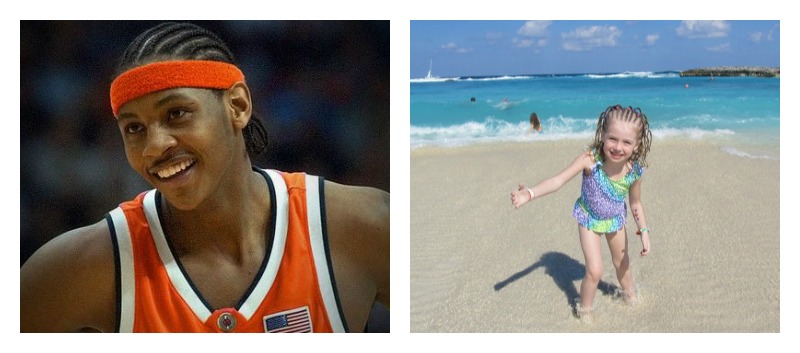 I just can't believe this weekend is happening though. I'm telling you — from the start of our season this year, I knew there was no way in hell we'd be heading to the Final Four since I would be there. And the fact that it's happening, especially during the 10th anniversary of our last championship AND DadJovi's and my fateful meeting?
Well, that's just freaking awesome, no?
Life is good.
LET'S GO ORANGE!