Helllooooo! Despite my team's depressing loss in the Final Four, I'm still here.
We didn't get home until Tuesday night, and I've been trying to catch up since. For starters, a certain little someone needed a LOT of TLC.
This was the longest we'd both ever been away from E. She stayed with her grandparents (my in-laws) and did GREAT. Every time we called, she barely wanted to talk to us because she was having so much fun. She visited with a great aunt, climbed a lighthouse, went to a church picnic, got ice cream and spent lots of time with her favorite doggie Toby.
They kept her with them on Monday, then drove her back to Orlando from Daytona on Tuesday morning and took her to school.
And that's when she stopped being OK. By lunchtime I'd received this photo from her teacher with the text message, "E said she misses you guys so we wanted to send you this."
Apparently the apple doesn't fall far from the tree. That pose looks familiar.
I got a few more texts during the day. My poor baby. I think being back in the normal routine made her (FINALLY!) realize that she missed us.
The feeling was mutual.
We landed a bit too late to get E. from school so she went home with one of her friends. They went to the park right after school, and as soon we pulled up to the park, I knew my girl wasn't doing good.
She'd just fallen and cut her nose and was sitting crying on the picnic table. When I got out of the car and got over to her, I swear, I thought she was never going to let go of my neck. Poor, sweet baby. I haven't had a hug like that from my independent big girl in entirely too long. So I picked her up and carried all 45 pounds of her around the park to the car.
By the next morning, my happy girl was back.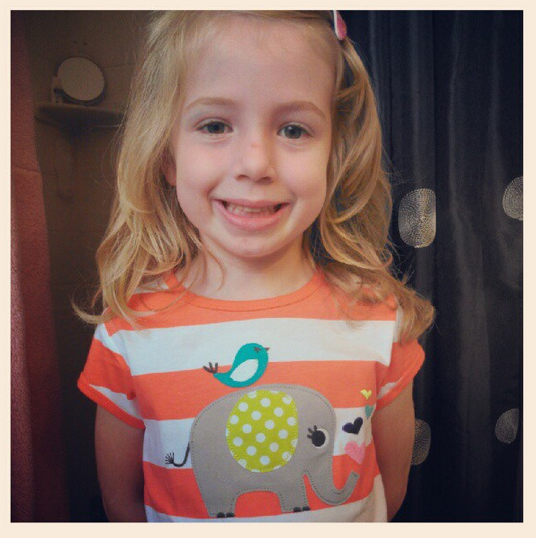 I swear when I left for Atlanta she was still a baby-faced preschooler. Suddenly, she's a kid. How did that happen? She even learned how to whistle while we were gone. WHISTLE. I can't even really whistle but her grandfather told me she practiced all weekend as a surprise for us.
Sweet girl.
On Wednesday night, DadJovi had a work event at the Magic game, so it was just me and my girl. Since it was such a perfect evening, she rode her bike around while I followed.
I even caved and told her we could watch a little bit of a movie before bed. Then, at about 7:15, I had an awful — and completely first wold problem — realization: it was Wednesday night. In other words, the night before our cleaning lady's bimonthly visit. And the house was as much a disaster as it's ever been. I hadn't unpacked for the three of us, clothes were strewn everywhere, and the house is still in disarray from our new washer and dryer being delivered the day before we left for Atlanta.
FFFFFFFF.
So much for watching Snow White with E. I went on a three-hour straightening sprint, pausing only to put E. to bed. I swear, I will give up almost anything in life to always keep this luxury. Having someone else clean my bathrooms and kitchen (which is primarily what she foces on) is fantastic but even better is that this scheduled appointment forces me to not bury our house in clutter and messes. I sometimes think I should just pretend she comes every week to force me to clean up more. But who has time for that?
On Thursday night, I finally even cooked our family dinner again. So, we're slowly getting back in our routine.
Well, all but one of us.
Poor Blue is still mad at us, I think, for abandoning her for four days. We left her here in the house with tons and tons of food and water and a clean litter box. But girlfriend is PISSED at me. She has kept me up all night Tuesday and Wednesday nights, biting my neck, pawing on my chest and just being a general nuisance. Yet, for some reason, she ignores DadJovi. What's up with that?
When I finally lock her out of the room (which I'd been avoiding since I felt guilty for leaving her alone all weekend) she meows at our door all night long.
Then Wednesday night, just 20 minutes after I booted Blue, E. decided to climb into bed with us at 3:45 a.m. and proceeded to kick me all night long.
So much for banking that sleep in Atlanta.
Blue must have been eating her feelings all weekend. She seemed fatter when we got back. I noticed her stomach was drooping a bit so I made her long overdue new pet appointment for next Friday because I already have a few things planned for tomorrow. Then, when I got home from work on Thursday, her stomach looked even lower to the ground.
The most troubling part is when you touch it, it feels like she has a set of testicles on either side of her belly (TWSS). Of course I'm paranoid that the shelter never actually spayed her and instead she's pregnant. Or worse — has tumors.
So I moved her appointment up to this week and did what I do best — whined on Twitter. Thankfully my cat expert Emily came through as always.
[blackbirdpie url="https://twitter.com/ekjohnston/status/322468102690451456″]
[blackbirdpie url="https://twitter.com/ekjohnston/status/322468210077208578″]
And she was right! When I stand her up, it all but disappears. I'm still glad I've moved her appointment up and hopefully, it's nothing.
UPDATE: Since I wrote this post Thursday night, we went to the vet and the good news is that Blue is neither pregnant nor tumor-riddled. The bad news? She's just a fat cat! Apparently I've been way overfeeding her. Oops! ugh, she's going to hate me. You have no idea how much that cat meows in the mornings to get her wet food. This should be fun.
So that's what I've been doing instead of blogging. I'll be pulling another Doris Kearns Jovi and blogging WAY after the fact about our Atlanta trip, so brace yourselves. You'll read about it in novel form … eventually.
Unless I'm delivering kittens, of course.