Long blog alert! Feel free to break it up into multiple readings or skip it entirely. As I said before, I blog for me and my memories, and well, this weekend was too good not to remember it all. Consider yourself warned!
At last, the moment you've been waiting with bated breath for — my Final Four weekend recap! My goal was to get it finished by the next Final Four, so I'm glad I was able to achieve that lofty goal.
First of all, thank you all for all your sweet comments on my How I Met E's Father post. And judging from all the comments, Tweets and IG comments I got, I appreciate you pulling a wee bit for my Syracuse Orange just for me.
I wish all of our collective rooting would have been enough. But we'll get to that in a moment.
The trip didn't exactly have the best of starts. Since we were flying out of Orlando Saturday morning, we sent E. to her grandparents on Friday night. Since he'd made all the arrangements, including printing our boarding passes, I asked DadJovi what time our flight was. His answer? 9:50. That meant that we didn't have to leave our house until about 7:45ish. We weren't checking bags and we already had our boarding passes.
Simple, right?
We left the house at about 7:50 and DadJovi decided to make a stop at Starbucks. I was not happy. He clamied he'd padded in that time. Sure. Then, we still had to stop at the ATM and get gas. We ended up getting gas out of our neighborhood, more than halfway to the airport. And when he got out of the car to get gas, guess what he realized — his ATM card was still in the ATM.
Awesome.
By this point, it was about 8:10 and for a moment, he debated going back. I said, "No way. There's no time." So I started calling friends in our neighborhood and asking them to go and try his retrieve his card. Yeah, we have good friends. Eventually, one of them got there and his card wasn't there. So there were two possibilities — someone else got there first or the ATM ate it. We were REALLY hoping for the latter.
Meanwhile, we'd made it to the long-term lot and were waiting for the shuttle. We pulled out our boarding passes to confirm the airline and guess what? Our flight wasn't at 9:50. It was at 9:20. It was 8:30 and there was no shuttle in sight.
Cue my freakout.
I'll save you all the gory details but it involved the most tense shuttle ride to the airport ever, followed by us SPRINTING through OIA, getting stuck in a 20-minute security line, then SPRINTING again to our gate. We made it with no time to spare, but the important thing is we made it.
We even had time once we were on the plane to get ahold of the bank and confirm that they had DadJovi's ATM card. Let the vacation begin!
(And for the record, my husband would like for me to insist that he's normally an excellent trip planner. That is true, but apparently he was off his game for the beginning of this trip)
As soon as we got off the plane in Atlanta, the Final Four hype — and excitement — began. And my near-constant cravings for Diet Cokes kicked in. Damn you Atlanta marketing!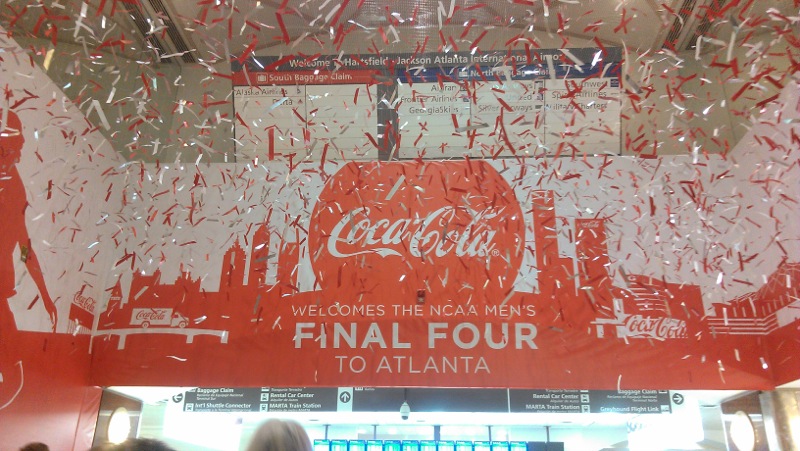 Almost immediately, we split up, though. DadJovi was desperately trying to make a Christian Laettner appearance (yes, you can roll your eyes at him … but if you stick with me for my next post, I have a great ending to that story).
I headed to the hotel and tried to sweet talk them into getting us into our room early. Me and about 20 other people who'd just arrived from the airport.
As I waited at the hotel bar, I started knocking back some Bloody Marys (what? I was on vacation. Drinking before noon is cool) and I happily looked around at all the orange shirts in the place. Then, this group came up and sat down and one of them looked so familiar. After doing the whole, "I graduated in 1999, what about you?" game, I realized how I knew him — he was in my college boyfriend's fraternity and I hadn't seen him since I graduated (he was a year younger). So funny!
After a couple hours, DadJovi returned a bit dejected. He'd missed the Laettner event. The upside was that he was able to get a lay of the land (he described it with one word: mayhem) and we were finally able to get into our room.
We got all our stuff into the room, then headed back to the airport via the hotel's free shuttle to grab a MARTA train downtown. It was a pretty easy and quick process and we were feeling good about our plan to rely upon public transportation for the weekend (foreshadowing alert!).
We got off at Five Corners and started the walk toward the center of activity. As soon as we got off the train, I couldn't believe the crowds. And I was psyched to see so much orange in the crowd.
And just seeing my team's logo displayed throughout the city? Well, I just kept getting goosebumps.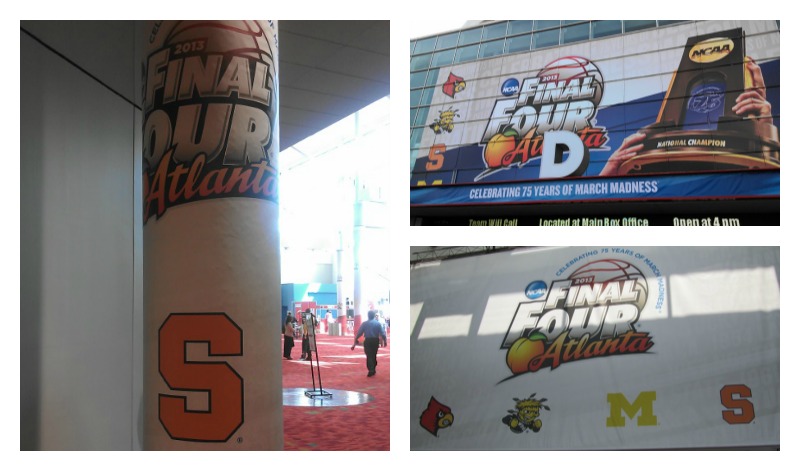 We had a list of Syracuse gathering spots and made a beeline toward the Hudson Grille, just beside the CNN Center. It was the SU Atlanta Club's official meeting spot. I think they effectively got the word out.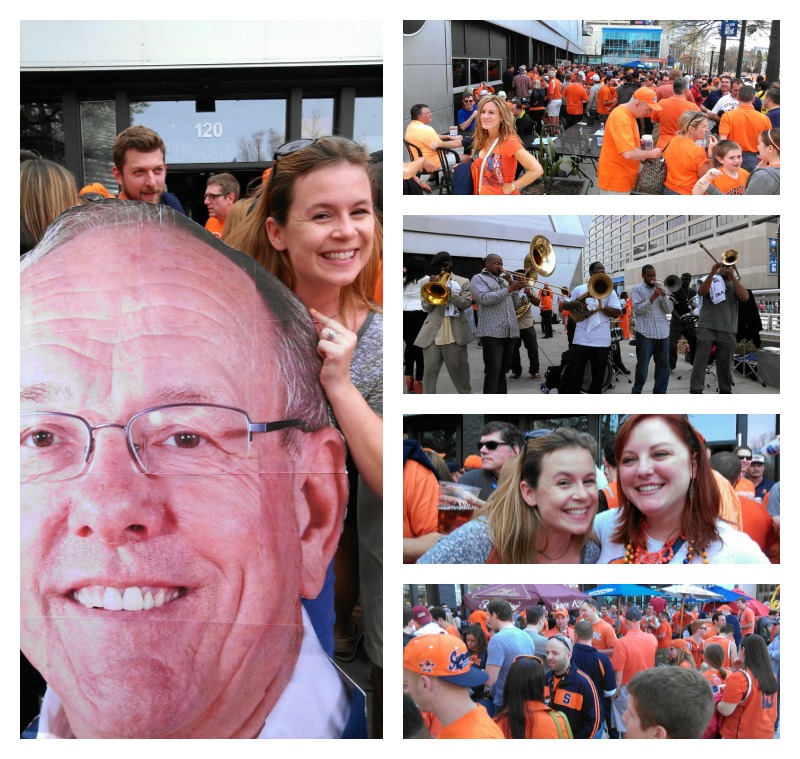 Here's how packed it was — they'd run out of beer … at 4. And the first game wasn't until 6:30. Supposedly there was beer inside but the line was seriously 300 deep. But all was not lost. See that girl in the necklace above? That's the lovely Amanda. She and I have been Twitter friends for years, tweeting about all the Syracuse games, but we'd never met. Somehow I not only recognized her but I ran into her within two minutes of being at the bar. And I got my picture wit the famous big head Boeheim so that was pretty cool.
We decided to try our luck elsewhere and headed toward Olympic Park for the free concerts. Saturday's performers included Ludacris, Macklemore and Lewis ("Thrift Shop") and my favorite, Flo Rida.
We made it past the first round of security pretty quickly but then it just got even more crowded. There was no hope of getting onto the field for the music. It was just way too packed. Since we had about two hours to kill before the game, DadJovi said I might as well get a beer.
I headed to the beer tent and only 45 minutes later (I wish I was joking), I emerged with beverages.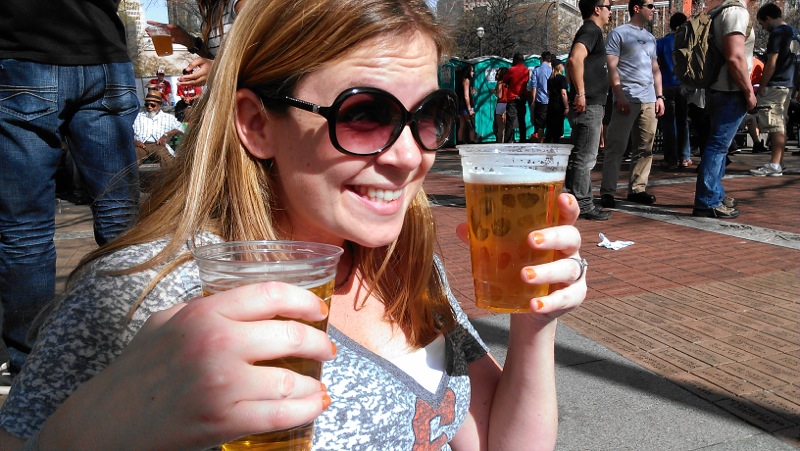 As I chugged my beers, we watched Flo (since we're both Floridians now I feel I can call him that) on the big screens. DadJovi claimed he didn't know who he was, but of course he knew every song.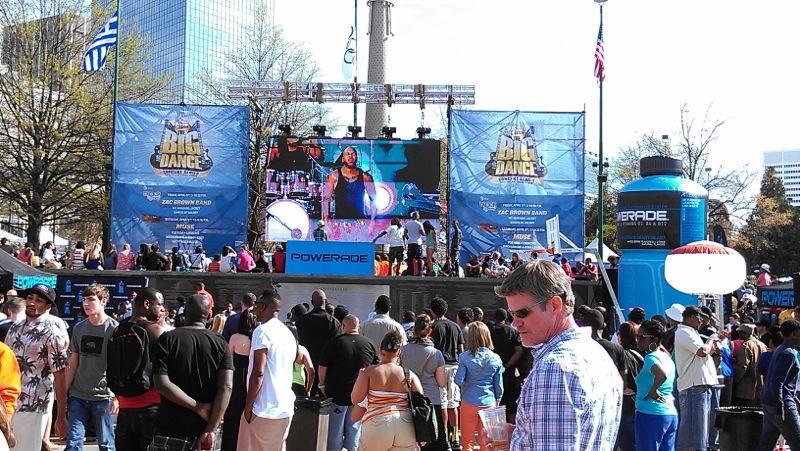 Just to give you a scope of the crowd, look at all those people watching that screen. Flo Rida was actually behind me. But the crowd between us and him was thousands and thousands deep, so they turned their backs on him to look at these screens.
I'm not going to lie — the crowds made me a bit nervous. It didn't help that we were standing very near the spot of the 1996 Olympics bombing. I'm finishing up this post in the wake of the Boston Marathon bombing, and the timing is ironic because we seriously discussed something similar happening at the Final Four all weekend long. Everywhere we went near the Georgia Dome was just jammed with tens of thousands of people and there was little to no security. Well, I take that back. There was a pretty decent sized police presence outside and a thorough security process to get into the Dome. But in the most places, you just were walking around with mobs of people. And forget cell service. We didn't have it all weekend.
Oh, I forgot, there was one crack investigator on patrol.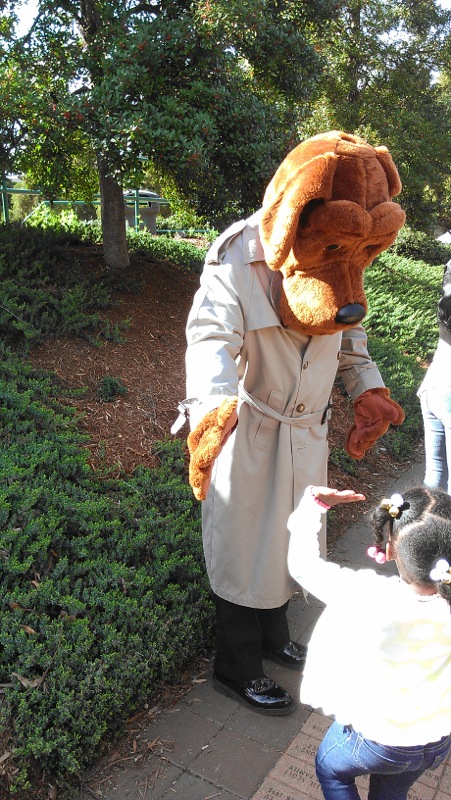 Did you know that McGruff the Crime Dog was still a thing? I'm not going to lie — I yelped in excitement.
But, the best part of the crowds was that everyone was really just happy and excited to be there. It could be that there were no natural rivals at the Final Four, but we never saw any fights or arguments. For the most part, all the teams' fans got along great, and most people were just there to cheer hard for their teams, not against the others.
It was a pretty great atmosphere.
We decided to take one more pass by Hudson Grille and DadJovi ran into an old friend of his from DC (on the left). Fun fact: she was at the bar the night we met.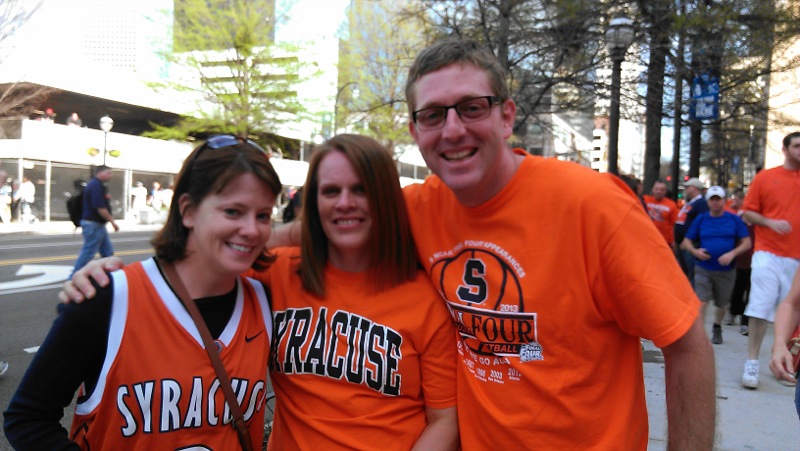 And then I ran into my college friend again, too. In really was like being on campus for a game. It was probably where we were standing but it felt like Atlanta was all orange.
Around 6, we decided to head toward the Georgia Dome. As we approached it, I just couldn't believe that was my team up there  with the other Final Four teams.
Yup, I'd busted out my CJ Fair headband for luck.
We headed inside and made our first lap around the Dome to start checking out some merchandise. I spotted a long-sleeved Syracuse Final Four shirt that I liked but I made the mistake of not buying it on the spot because I wanted to wait "just in case" we won that first round game. Sad foreshadowing alert.
DadJovi decided to head to the seats while I walked around a bit more. When I finally got to our section, I knew we'd be in the nosebleed seats, I just didn't know we'd need oxygen masks, too. See that standing, waving orange figure below? Yup, that's DadJovi in our seats.
And yes, that guy is laughing at the pained look on my face. Rude.
Yes, the court was far away but I was surprised by how much it really didn't bother me.
Then again, maybe I just had altitude sickness.
The first game was Louisville v Wichita State. Other than that section of red you see on the right side of the picture, the entire Dome seemed to be cheering for Wichita State. People love an underdog, and the atmosphere was a so much fun.
Despite a really great game (and a great lead), the Shockers (it's OK, you can snicker, too) couldn't pull it off though and Louisville advanced to the championship game. Ugh, Louisville.
Just before the game ended we had the brilliant idea that we should head down to the 100 level and try and buy tickets of sad Wichita State fans leaving so we could go down to their seats (they were very strict about letting people into different sections). I can't say that I blamed them, but none of the Wichita State fans were willing to part with their Final Four ticket. Stupid souvenir keepers.
We gave up and headed back to the not-so-cheap cheap seats. Besides, I had an outfit change to make. Bring on the tattered, lucky '96 shirt.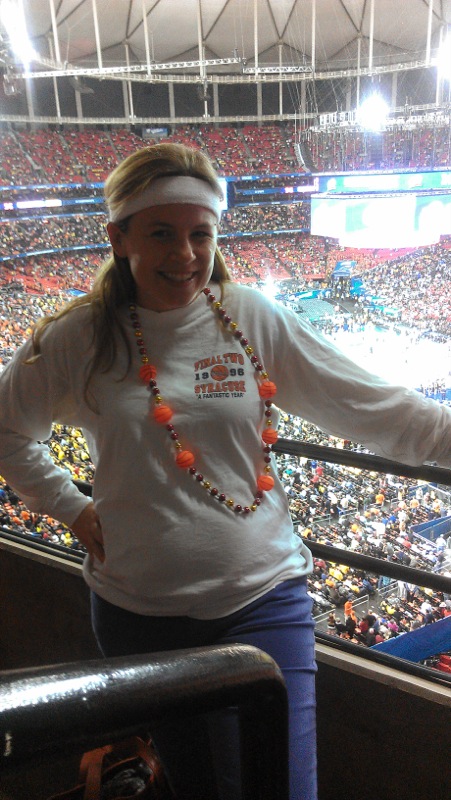 Enjoy that shirt while you can. It will never see the outside of my house again. It failed.
But at the time, I was thrilled and excited to be watching my boys hit the court.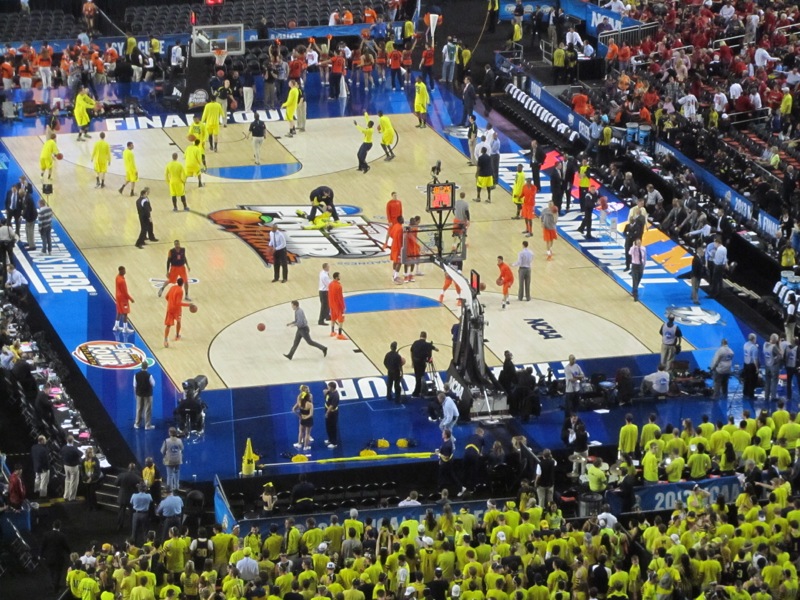 As the team was still warming up, DadJovi's friend called us to say the people next to her left between games. She was also in the 300 level but in the Syracuse section and much lower than us. You didn't have to ask us twice.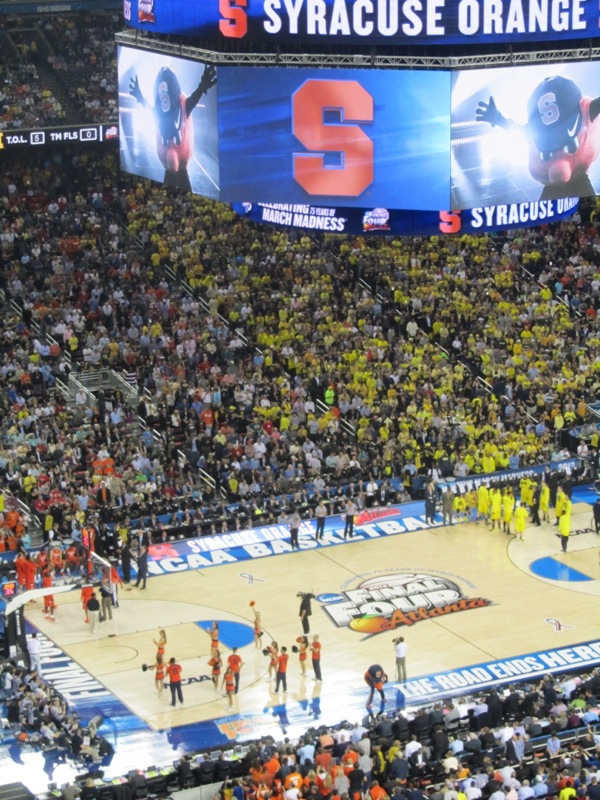 And then it was the moment we were waiting for — tipoff!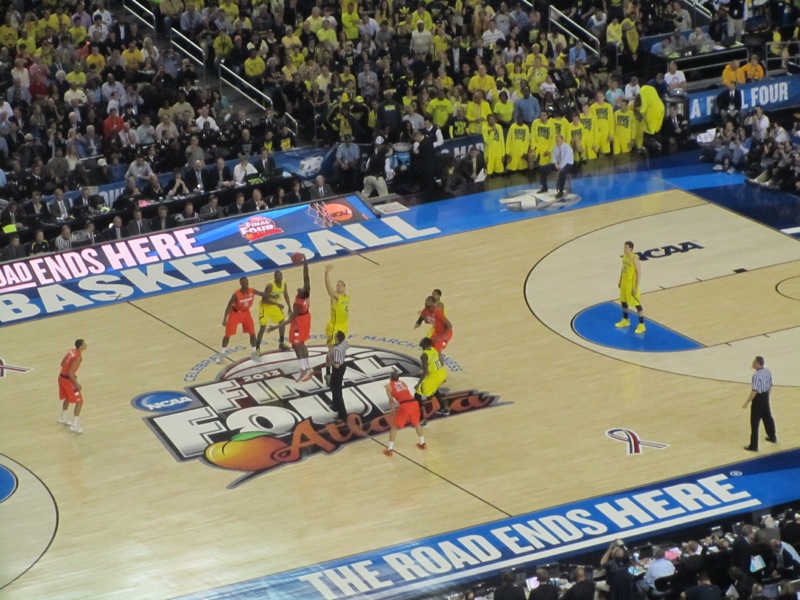 And now my memory ends because due to the pain of the loss, it's all been blacked out. We lost. Badly. Sure, we made a run toward the end but it was too little too late. When your two top guys both have horrible games, well, you're just not going to win a Final Four game.
It sucked.
Around 11:30, we started the dejected departure from the building. We walked a few blocks out of the way to get on the MARTA train at a different stop and pretty quickly hopped onto an empty train. At least there was that. It made a couple more stops and quickly filled up, but it was only a few stops to the airport.
And that's when things came to a screeching halt. Our train ended up stuck on the tracks for about an hour. Thankfully we were in seats but it was so packed and there was this obnoxious guy yelling homophobic, racial and anti-Syracuse slurs and insults at everyone. Yes, he was wearing a Michigan jersey but every Michigan fan on the train quickly disavowed him and led the charge in yelling at him to shut up. Midwesterners are nice people. In fact, they were pretty sure he was an Ohio State fan dressed up as a Michigan fan to give them a bad name. Ha!
Finally, close to 1, we pulled into the airport station. Almost home.
Wrong.
It was a scene like nothing I've ever seen before. There were hundreds and hundreds, if not thousands, of people trying to get onto hotel shuttles. It was a madhouse.
After watching our hotel's shuttle somehow arrive full twice, we knew getting on it anytime soon was not going to happen. We tried to make our way to the taxi stand but before we even arrived, we saw the line wrapped around the building with at least 300 people in it.
Nightmare.
We got on our phones to try and figure out other hotels near ours (it was in a busy area). We found a Hilton Garden Inn nearby and shockingly, its shuttle was nearly empty. We hopped right on.
We were tired but feeling pretty proud of ourselves as the shuttle made two other stops. Then, as it approached the Hilton Garden Inn we realized something horrible — it was the wrong one. And we were a LONG way from our hotel. The driver said he'd have to take us back to the airport. Honestly, we debated getting out and trying to get a room there. But thankfully, we weren't the only ones who'd made the mistake (there are 3 airport-area Hilton Garden Inns. Of course). So he decided to quickly, and I mean quickly — it was one of the scariest rides of my life — drive us to the right one.
We tipped him well, but our journey wasn't over yet. No, we still had about a 3/4 mile walk, along Bobby Brown Parkway, naturally, back to our hotel.
By the time we got to our room at 2:30, almost 24 hours after we'd woken up, I was so tired I wanted to cry. And my team had lost. It was a low moment.
But Sunday dawned much better.
OK, this is where I'm going to leave you. I'll be back with the exciting conclusion. Eventually. Thanks for hanging in with me.