When you blog long enough, you begin to anticipate two eventual things: 1) at some point, you'll discover someone has scraped your content off your site and/or plagiarized one of your posts and 2) someone will take one of your photos and use it without credit and out of context.
I guess I've officially arrived in the blogging club now.
About a year ago, I had the joy of experiencing the first blogging pitfall. I tried to chase the person down and get my post removed for awhile but eventually, I got tired of the back and forth. It just wasn't worth my time.
But now they've brought my kid into, and it's less OK.
The only reason I even discovered it is because of my eagle-eyed editor at work. He's a huge film buff and is always watching interesting videos about the art of filmmaking.
He came into work today and said, "Hey, Jackie, I was watching this video this weekend. It's a really long and funny review of 'Titanic' and at one point, they use a still photo of a crying baby and it looked a lot like E. to me."
He had me at "Titanic."
He pulled up the video in his office and pulled up the appropriate moment: 16:20 into Part 1. Check it out for yourself.
(p.s. I have no idea why the video's embed code is making it so narrow. To see it in its full-screen glory, click on the link later in this post)
Yes, wedged right between Amy Winehouse and a boyishly young Leo is my crying daughter at her 1st birthday party.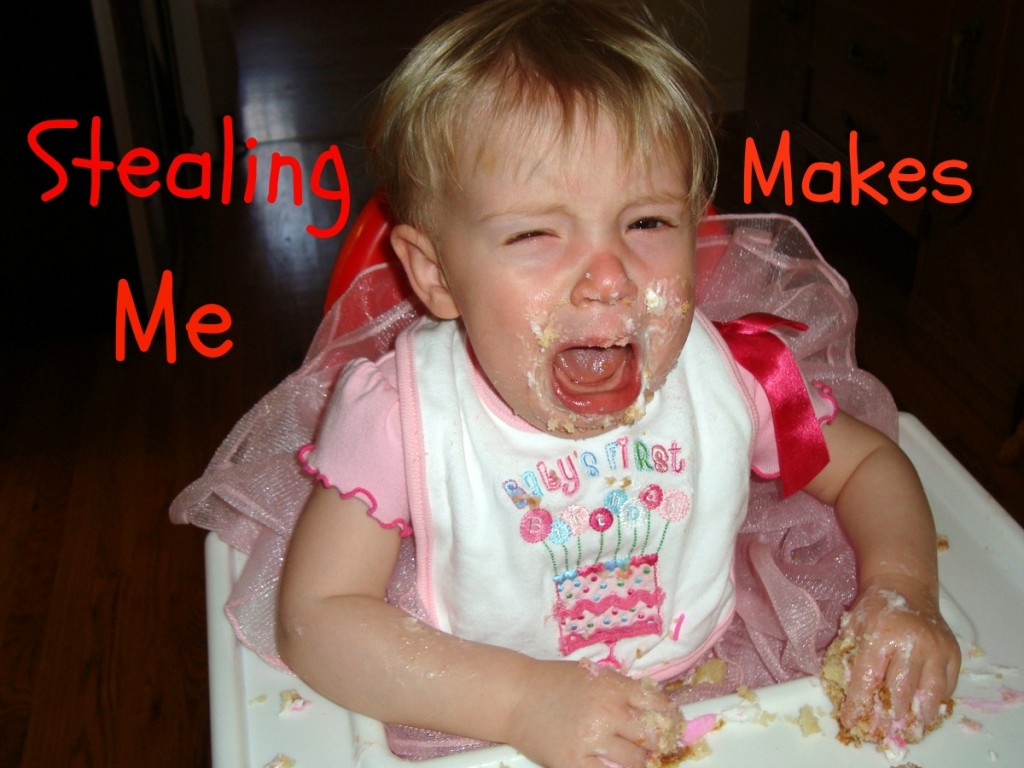 WTF?
It is a great picture, though.
I seriously don't know whether I'm more angry or more amused. I mean, I feel it must be some kismet since "Titanic" is, as I've revealed before, my husband's favorite movie. C'mon, we were JUST at the Titanic Experience over the weekend … again … because he loves it so much.
Of all the movies in the world.
And the surrounding voice-over leading up to E's picture is also pretty hilarious. If you have trouble playing the video for some reason, allow me to share it:
"The original tagline was 'Collide With Destiny.' And then it suddenly became 'Nothing on Earth Could Come Between Them.' But something did come between them — an iceberg. Oh wait, they mean on Earth. An iceberg's in the water. Oh, I get it. Then we all got inundated with this fictional Jack and Kate (NOTE: Obviously he meant Jack and Rose) story crap and we forgot about the other 1,500 people that died, especially that baby. Your baby is fu*!ed lady. Then everything about this damn movie became about these two, even f#@*!&g horrible fan art. This one doesn't even make any sense. People cried. Kids cried. Little girls cried. Babies cried. And because of 'Titanic,' Leo got to f#*k all these women." 
He does make some excellent points.
All in all, I was prepared just to let it go. Sure, I wish I had at least a text credit. The site that created the video, Red Letter Media, is apparently kind of a big deal in film circles. The post with the "Titanic" review has nearly 700 comments, and the company has 20,000+ Twitter followers and 46,000 Facebook fans.
To quote Walter Sobchak, they're not exactly lightweights.
But I was curious — how exactly did they end up with this picture. I started entering some obvious search terms into Google, i.e. "crying baby," and my image never popped up. At first, I wasn't sure I'd even shared it on the blog before since I wasn't blogging yet when E. turned 1. Did they take it from Facebook somehow?
But then I started searching my site's media library and finally found that I'd used it in a post about being sad on my own birthday. I'd called the image "Sad Birthday." I tried entering that into Google, and pretty quickly got a hit — for YET ANOTHER SITE RIPPING IT OFF!
And this one? Well, it pissed me off. It's on a post "celebrating" Obamacare's second birthday and the caption under E's picture says: "Obamacare at age two crying its eyes out."
First of all, geniuses, she's wearing a bib that says "Baby's First Birthday."
Second of all, clearly you've never seen this picture: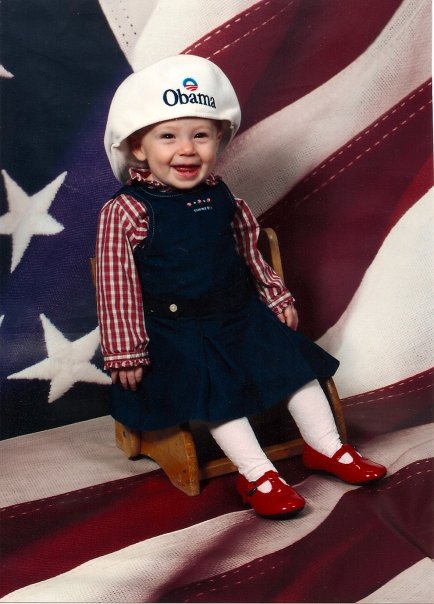 For this site, I'm actually tempted to send some sort of cease and desist letter.
So, what to do, what to do?
I'm frankly relieved that these are my first two experiences with something like this. When you put a picture of your child on the Internet, of course you take the risk of someone taking the photo and doing something with it. I'm not naive; I knew the day would come. This situation could have been a lot worse and scarier.
These two instances? They're both actually pretty hilarious.
That doesn't mean I like it necessarily and I certainly don't condone it.
But what's the solution? Start watermarking my pictures? I was emailing with some of my fellow lady blogging friends and we discussed this, but my point was that the place I'd most likely put a watermark — across a bottom corner — is kind of pointless. If someone wants the photo, they're just going to crop that out. I don't think putting a watermark on pictures magically protects them from being stolen. I could put them smack across the middle of pictures, but what fun is that for you all?
Oh wait, maybe that IS fun. Hmmm, so much to consider.
So, for my blogging friends, has this ever happened to you? How did you respond?
For the rest of you, can we all agree that, at the very least, the randomness of this whole incident is pretty hilarious?
And for future photo stealers — KNOCK IT OFF ALREADY, DAMMIT! 
What would you do in my shoes?