Happy day after Christmas! I really should try and hit a sale somewhere but I'm not sure I have the energy!
It's been a holly, jolly jam-packed few days!
On Christmas Eve, E. and I hit the kitchen for a very important task — making cookies for Santa and the Blue Devil.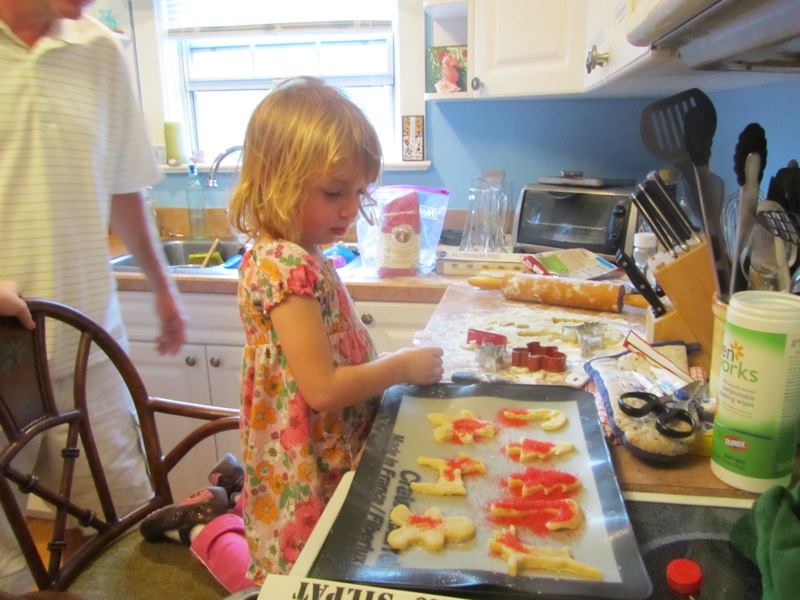 It was even more special this year because for the first time I used my late grandmother's rolling pin. My dad brought it down to me this summer, and since I don't do much baking, this was the first chance I've had to use it. I don't think I really did it justice (man, rolling out dough is hard, huh?) but it still was really nice to use it.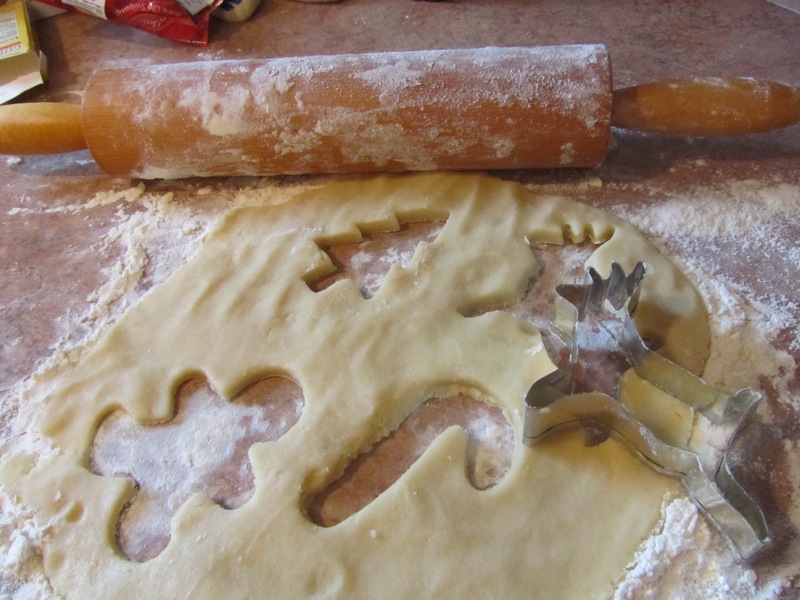 E. said we had to decorate Santa's cookies red and the Blue Devil's blue (obvs). I couldn't find any blue sprinkles this year but glitter gel worked in a pinch!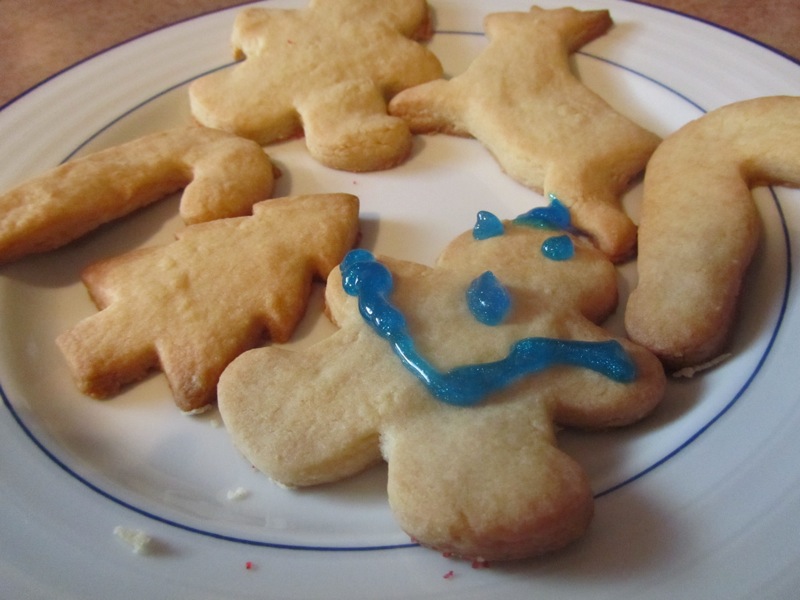 And DadJovi couldn't resist decorating one of the cookies with Duke's championships years. And I was pretty proud of E's decorating skills on the Christmas tree and gingerbread man. She's a much better pastry chef than me!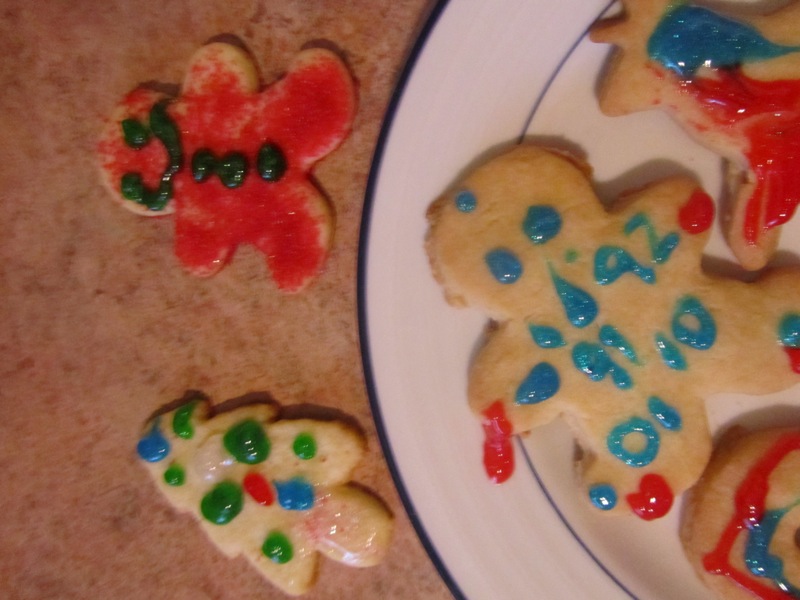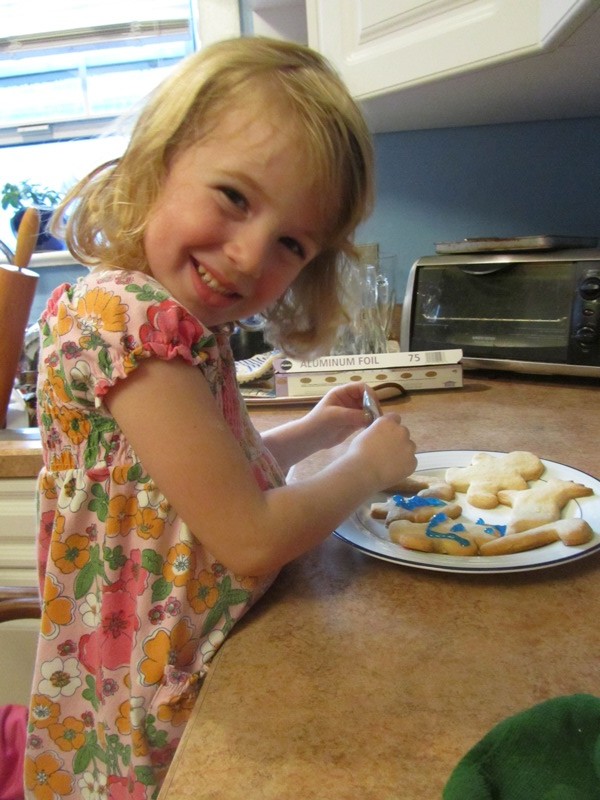 After cookies, it was time for our traditional Christmas Eve dinner — surf and turf! We had filets that my father-in-law got us for Christmas and the most delicious Canadian lobster tails that my mom and her boyfriend got at Whole Foods.
Then it was time for E (and me! Thanks Mom!) to open our traditional Christmas Eve presents.
Pajamas! She got a new pair of ballerina princess PJs and a pair of Jesse (from Toy Story) ones. Hmmm, guess which ones she chose to wear on Christmas Eve.
Someone was a little excited that Sound of Music was on TV. During commercial breaks, we tracked Santa's progress and set out all the goodies on the fireplace.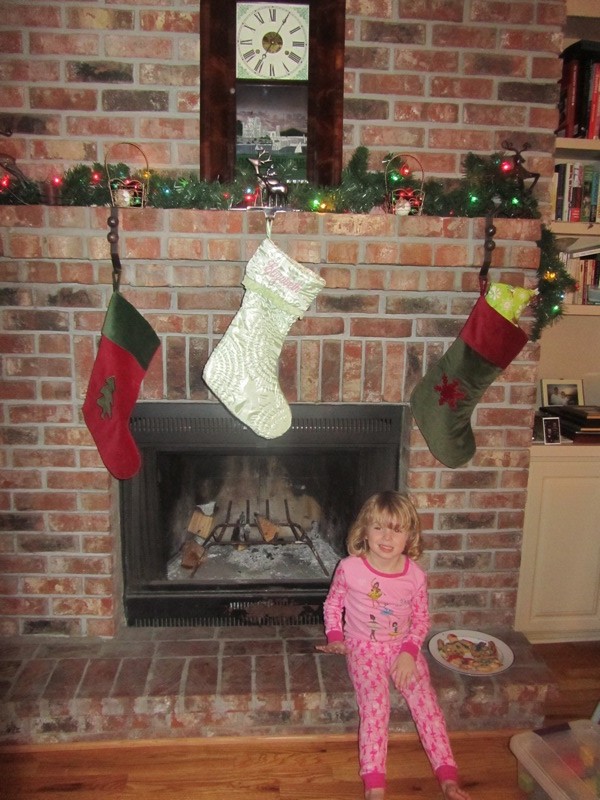 Finally, under threat of Santa skipping our house, we got E. into bed. I think it was probably 10:30 until she fell asleep, but then the mad rush was on to wrap the big gift … her new keyboard!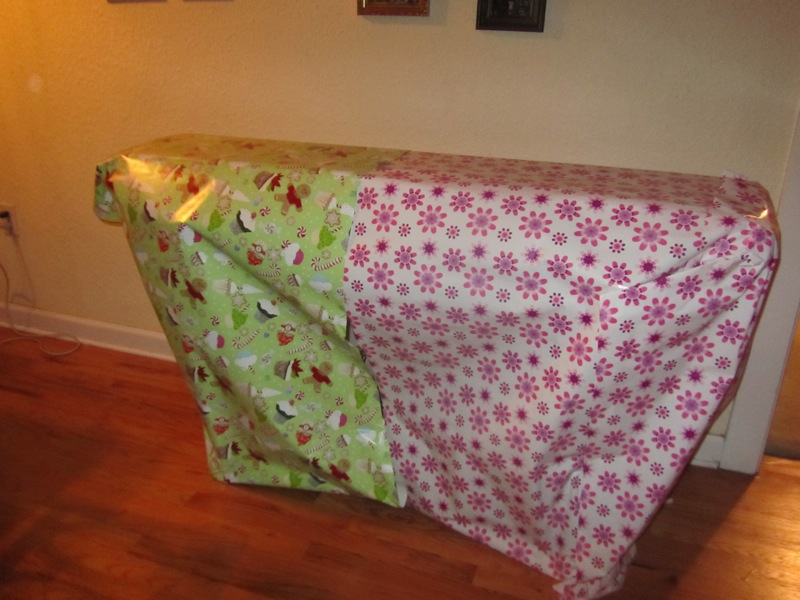 Why yes, we did run out of Christmas paper halfway through the job. Oh well.
After everything was stacked under the tree, it was time for another Christmas tradition — starting the latest season of Dexter.
Nothing says Christmas like a serial killer! At least this season seems to be religious-focused, so that counts, right?
On Christmas morning, I heard E. rustling in her room around 4:30 and I started groaning. But then, it was a Christmas miracle — she fell back to sleep. By 8 a.m., the four adults were up, drinking coffee and waiting for her to rise. By 8:30 I was getting anxious but DadJovi told me to just let her sleep. FINALLY, at 8:45, she made her way out to the living room! She immediately ran to the plate of cookies to see how many Santa, the Blue Devil and the reindeer ate. She even found a little note from them.
In case you can't read the Blue Devil's handwriting, his note says, "I kept the Tar Heel from stealing your toys since you were a good girl this year. Love, the Blue Devil." Our poor brainwashed child.
Up first, we hit the stockings.
The Blue Devil may bring toys, but Otto the Orangeman needed to be represented (finally!) too!
Surprisingly, she didn't start tearing into all her gifts right away. I think she was feeling a bit overwhelmed. After she walked around the tree checking it all out, she was finally ready to start ripping off the paper.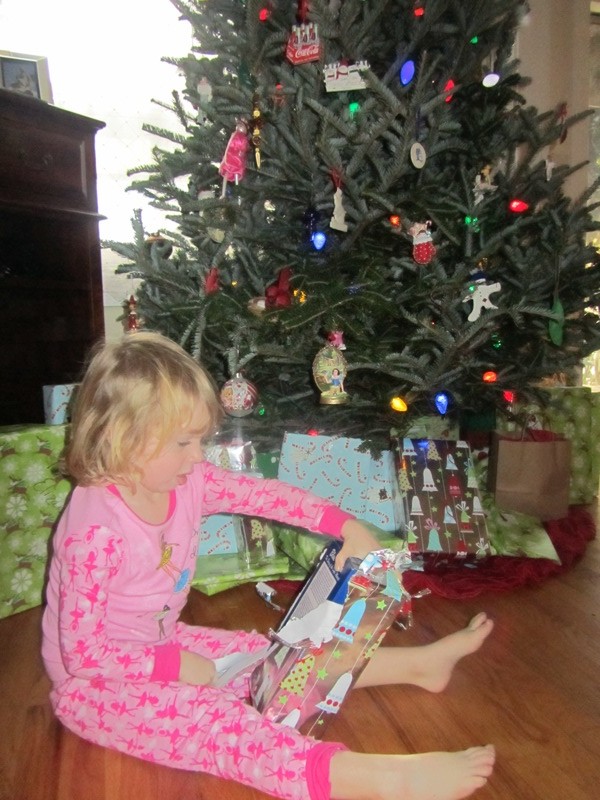 She and her Daddy were very excited for one particular present from the Blue Devil — a Blue Devil bobble head to replace the one that Mommy allegedly broke.
E. quickly got back to opening gifts, and I knew there was one particular thing that she was looking for.
She finally found it — the Strawberry Shortcake that she asked Santa for four times this year (three visits and a letter). She really wanted that doll! Thanks Santa!
Somehow, throughout all the gift opening, she never even saw the big one until we told her to look around the room very carefully to make sure she got them all.
Hope she still loves it just as much when the lessons start in January! I know someone else who's already obsessed — DadJovi. He and I both always regretted that we don't know how to play. Since E. unwrapped it, he's been devouring YouTube piano lessons and he and E. have already spent hours playing their new game "Find the x key." I'm thinking Santa should have added a pair of headphones to the gift.
For the next couple hours, we just relaxed, ate breakfast and watched the Disney parade on TV. My grandparents came over around noon and then about 1:30, we all loaded into the cars and headed over to Daytona Beach for Christmas dinner at my father-in-laws. It's his first Christmas as a newlywed, and they put on a great feast — turkey, ham, stuffing, sweet potatoes, crispy baked potatoes, green beans and corn casserole. Not only was it all so good but I didn't have to make any of it! Two of her daughters were there, so it was great to spend the day getting to know them (we've only met them once before). It was a very, for lack of a better word, joyous day for us all to see them so happy and in love.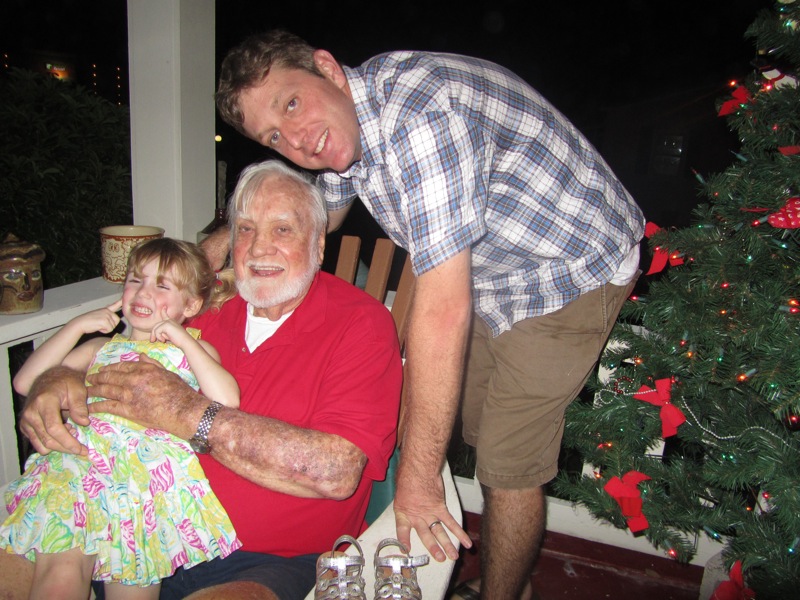 Next Christmas, though, I need to be much better about taking pictures. I got none of E. with my mom or grandparents (or even me!) this year. We may have to do some staged re-enactments over the next couple days!
All in all, though, it was a great day. And the there's a lot more fun to come this week, with a few days in the office sprinkled in. After being away for more than a week, though, I'm craving the time at my desk.
What was your favorite gift or memory this year? Or what was the best thing you ate? I'll be thinking of that lobster all year long!