I've posted about my struggles with raising a daughter in a girly girl world before. The book that really opened my eyes about many, many things, including the influx of unhealthy messages girls receive on a daily basis, was "Cinderella Ate My Daughter" by Peggy Orenstein.
Last week, my book club finally met to discuss this book — a book I've been boring them telling them about for months. I honestly expected most people would say they found Peggy to be a bit extreme and perhaps even too much of a worrywort about these issues, but I was pleasantly surprised to find that everyone else had similar feelings on the book — we were all terrified.
Even the moms who only have sons said the book really opened their eyes about a lot of issues they hadn't considered before — like the fact that Pixar movies never have female lead characters or the sheer over-saturation of pink products aimed at girls from birth. Sure, I like pink as much as the next girl (um, hello, look left and right) but I've never understood why EVERYTHING must be pink, particularly products that are aimed at both boys and girls. I remember someone bought E. a pink pull-along telephone for her 1st birthday.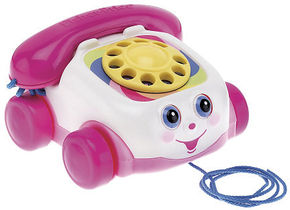 I loved that phone as a child and E. did, too. It's a classic toy that has always been blue and red. So why must there be a "girl" version and a "boy" version now?
This gender v. gender indoctrination begins so young now, and Orenstein makes a really strong case in the book that this is responsible for many, many future battle of the sexes.
One of my biggest takeaways from the book is focusing less on separating the sexes. I haven't quite gotten brave enough to broach the subject with E.'s school (Orenstein quotes studies that show when teachers divide students into two mixed gender groups rather than girls v. boys, it has a big impact on their overall inner-gender relationships), but I've been implementing some of her tips in our life. For example, I try not to simply praise E. as a "good girl," especially when she's playing with some of her boy friends. And I make sure there's a mix of "boy toys" and "girl toys," and I've noticed that to kids — toys are toys, at least until a certain age.
So, even if I do my best and E's school does her best, there's another stumbling block out there — the rest of the world. Case in point. This weekend, we ate at Flipper's, one of our favorite pizza places. They have this really great chicken, pesto, spinach and artichoke flatbread that I love to get.
When we sat down at the table, the waitress brought over a cup of crayons and an activity placement for E. I wasn't really paying attention at first until E says to me, "Mommy, do you want to color this purse with me?"
"This what?"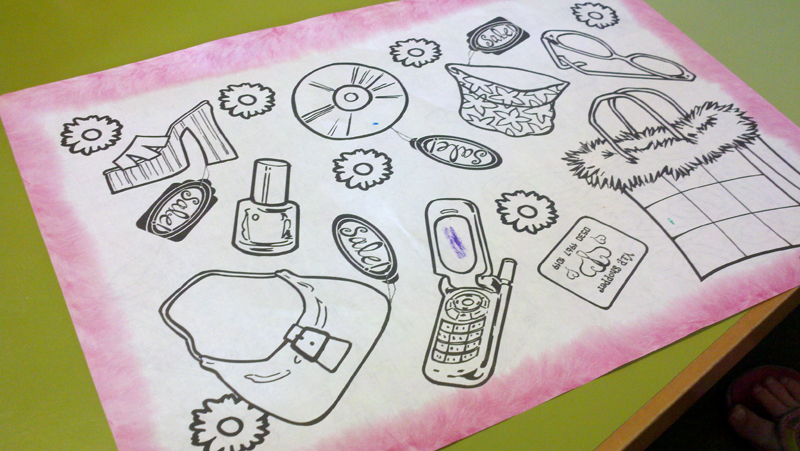 In case you missed all the super awesome cool things that my 3-year-old daughter got to color, the placemat includes: two purses (you know, day and evening wear), a cell phone, nail polish, a shoe, a hat, a CD, a CREDIT CARD (gah!) and, of course, nail polish.
But wait, there's more! Look at these brain-boosting words she got to search for: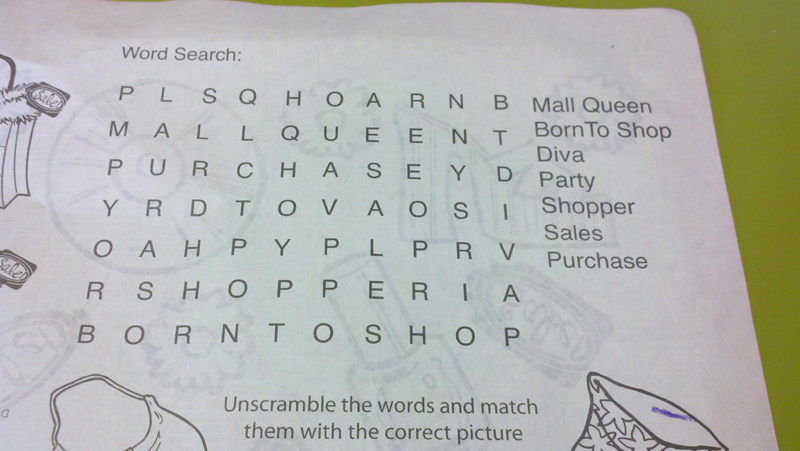 Why, yes, how did they know that my toddler is a mall queen diva who was born to shop, party and makes purchases, preferably when there are sales? Give me a freaking break.
And just in case the accessories messaging wasn't clear enough, there were two more chances to drive the point home — a word scramble and a maze.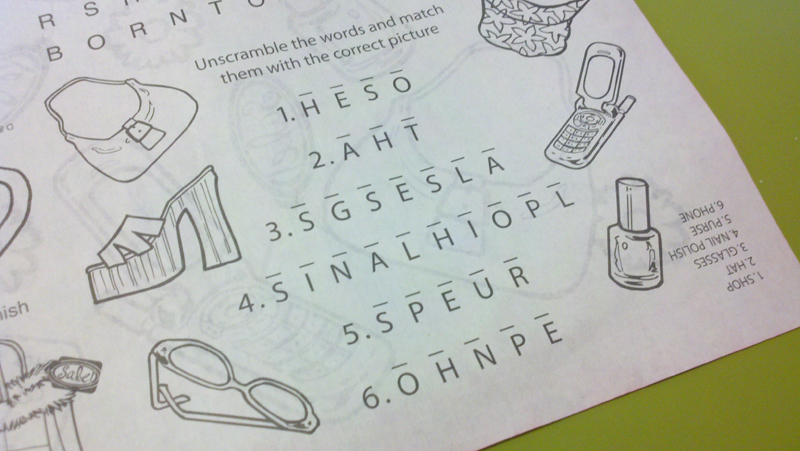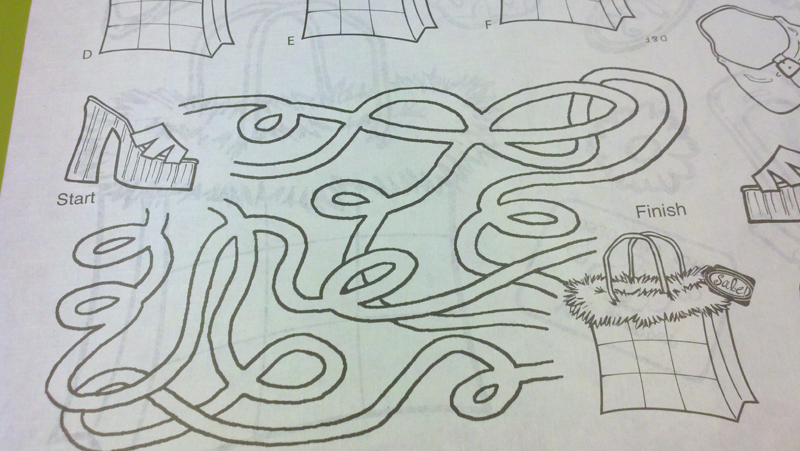 This placemat right here represents everything that is wrong with the way our girls are treated today. I don't mean to sound dramatic but how can this constant barrage of marketing focused on beauty not have an impact on our daughters?
And it's exactly why books like Peggy's are so important. Without people like her or Melissa Wardy of Pigtail Pals fighting the good fight, the rest of us are screwed!
I'll sure miss those flatbreads now that I'm boycotting Flipper's.
So, even though I may not battle E. on her on-again, off-again love for the princesses or even object when she wants to play dress-up by putting on a little bit of play make-up from time to time, I will NEVER, ever stop trying to shield her from the blatant sexist marketing that permeates our world.
It's the least I can do for my incredible, smart, funny, brave, and yes, beautiful, daughter.
What's the most egregious example of "girl" products you've seen? And what could have been a worse word to search for on the placement? I'm thinking "boy crazy" would have taken it to a whole new, awful level.