I love my daughter's preschool. I really do. Since she started there a year ago, I think she's really thrived. She LOVES going to school every day, which was not the case at her old school (you can read all about our tough decision to leave her old school in favor of the new one here).
One of the things that I've liked best is that E. seems to hang out and play with boys more than girls. Now, I obviously have nothing against girls, but I just think at this age, I'd like for her to play and play hard — and I feel like, generally speaking, boys tend to do that more than girls. And her teachers have fostered this and I'd yet to witness or hear about a "girls play with this" and "boys play with this" incident. Until today.
When I picked E. up at school, she couldn't wait to show me today's art project — crowns and wands.
OK, that seems OK. I know they're in the midst of a fairy tale unit, so this seems appropriate. But then she says to me, "And look, Mommy. These are the swords that the boys made."
"Why didn't you make a sword, too?"
"Because, Mommy, only boys play with swords."
And just like that, my heart broke a little bit. I know it sounds dramatic, but I've tried really hard to avoid genderizing toys and games. I'm not trying to make E. hate all "girl" things, but I silently cheered when she spent the last couple years picking Mikey, Goofy and friends and the Toy Story gang over those spineless princesses. Yes, yes, I know progress has been made (you know, it's been years since one of them literally gave up her voice for a man she'd never spoken to, but I digress), but c'mon, must everything be pink and focus on making yourself pretty?
So, while the boys made swords, my daughter instead got to attach glittery stickers to a fairy wand. I guess I should just be thankful it's not pink. Sigh.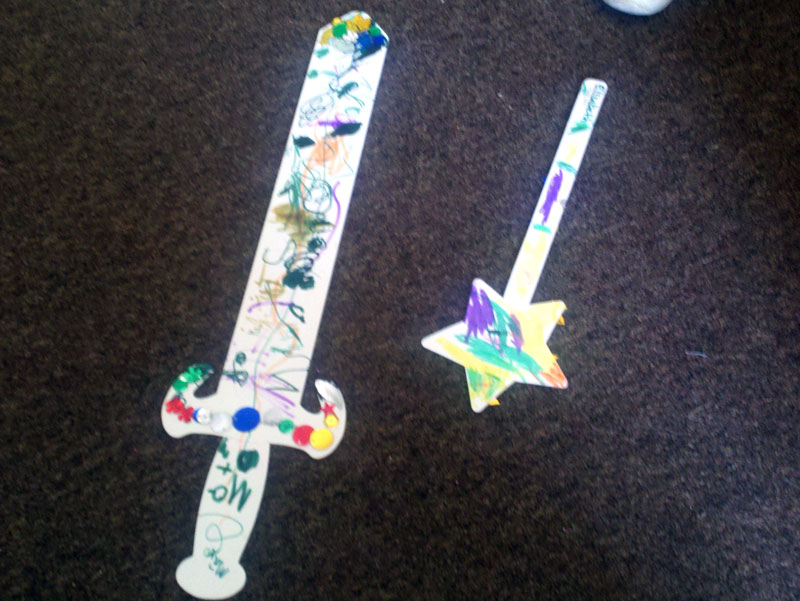 Perhaps I'm reading too much into this. And, to be fair, her teacher was gone when I got there, so maybe E. just got it into her head that the swords were only for boys. But I doubt that.
I've mentioned it before, but if you haven't read "Cinderella Ate My Daughter" by Peggy Orenstein yet, YOU MUST! It's been such an eye-opening book for me. And don't worry if you don't have a daughter — it deals with gender bias and the genderfication of both sexes.
One of the interesting things she discusses is how powerfully gender roles are shaped in preschool. Simple things, like a teacher saying, "Boys line up over here and girls over there" have significant impacts on how children see themselves and how they interact with each other. A growing field of research shows that daycare and preschool teachers who eliminate such gender identifications and instead say "Kids line up over here" or choose two random sets with mixed gender dramatically changes those relationships. Fascinating! (I'm paraphrasing from memory, so check it out for yourself and prepare to have your mind blown).
Before we left school, I told E. I wanted to take her picture with one of the swords (that's called Advance Blog Prepping 101). She was not happy. "No, Mommy, that's for boys."
By this point, I was starting to get really pissed. And I don't get it. Know what toys she plays with more than anything? More than her dollhouse? More than all her dolls? More even than her dress-up clothes (which she loves)? Her Legos. That girl spends hours making houses, shapes and castles.
So maybe all hope is not lost.
I explained to her that girls and boys both can play with swords. Sadly, I couldn't think of any examples from any of her movies or shows off the top of my head (the closest I got was the girl knight with a shield in "Dora Saves the Crystal Kingdom." There's just so much wrong with the fact that I knew that nugget).
And whether she liked it or not, she was going to pick up that sword, dammit.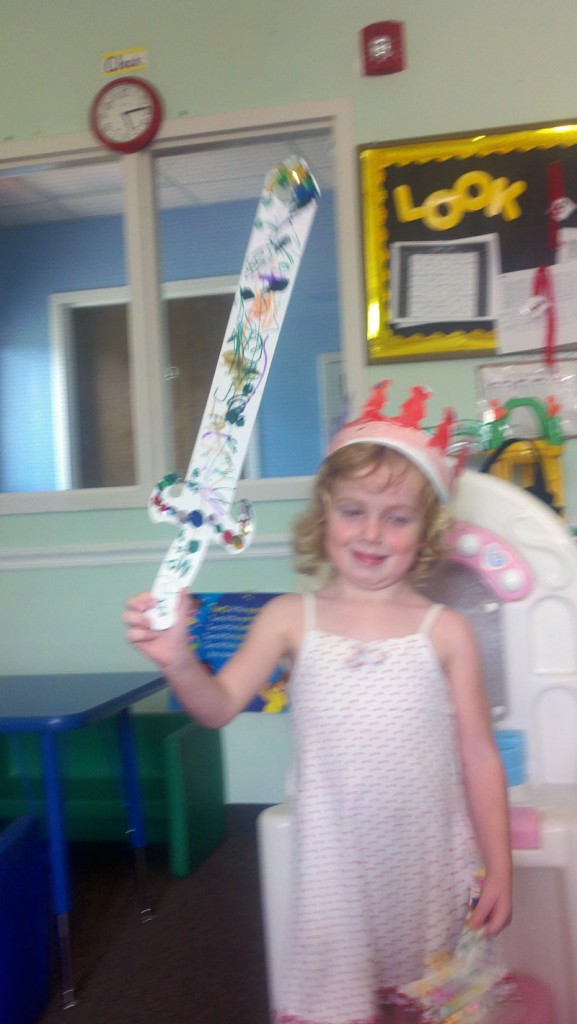 Maybe the real scandal is that they were even making the swords at all in a Christian school. I guess it's Old Testament justice.
I'm just afraid that this is the beginning of Girly Girl Mania. Think I can use her new wand to wish it all away?