Today's run started out awesome. It was lightly raining and the sun was shining. There was a slight (very slight) coolness to the breeze, and even though I could feel last night's three beers sloshing around in my stomach, I was feeling pretty good.
Before I left, I saw a beautiful, complete rainbow, and it followed me throughout my run. I was feeling pretty lucky indeed and thought if only I saw a unicorn along the way, then I'd be convinced that I was actually in a fantasyworld.
I was feeling so good that I decided to go a little further than I initially set out to run. Since it was a weekend morning, I knew I had the time to keep going, even if it required a walk break (or three).
As I entered the homestretch, I looked to my left and saw not one, but TWO complete rainbows. Double complete rainbows! What does it mean?!?
I picked up my pace some for the last quarter-mile. I saw a couple walking down the sidewalk towards me. I was already anticipating moving to the right, when, suddenly my true nature caught up with me. I tripped. As I hit the ground, first I slammed my two hands into the sidewalk, and then, for some reason, my body thought it needed a full roll to complete the fall. When I finally came to a stop, I had rolled all the way to the corner — about 7 feet beyond my tripping point.
I'm pretty sure this is who tripped me.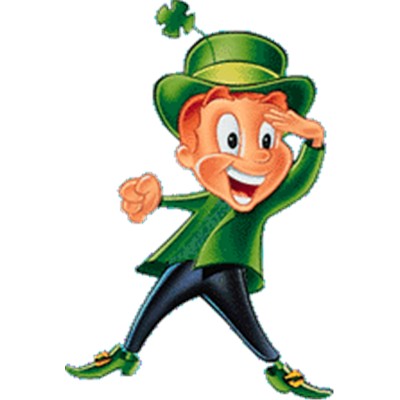 Of course, the two people ran up to see if I was OK. Body fine. Ego, not so much. The guy gave me a courtesy, "Yeah, this stretch of sidewalk has a lot of raised edges. The city really needs to fix it." I appreciated him throwing me a bone.
I hobbled home to whine to DadJovi. He was on the couch, almost asleep. He had a reason to be tired. Now that he's back in full-fledged marathon training mode, he ran 35 miles this week, including 11 yesterday and 8 today. As I started moaning about my scratches on my hands, I looked down at his feet. They're a hot, bloody mess. For some reason, though, he was actually sympathetic to my hands and reminded me of his own wipeout. He tripped and fell while crossing a street, with tons of cars around. Yes, much more embarrassing.
As I headed into the bathroom to shower, I noticed that he really is tougher than me when it comes to running injuries.
Exhibit A: His bloody footprints on the floor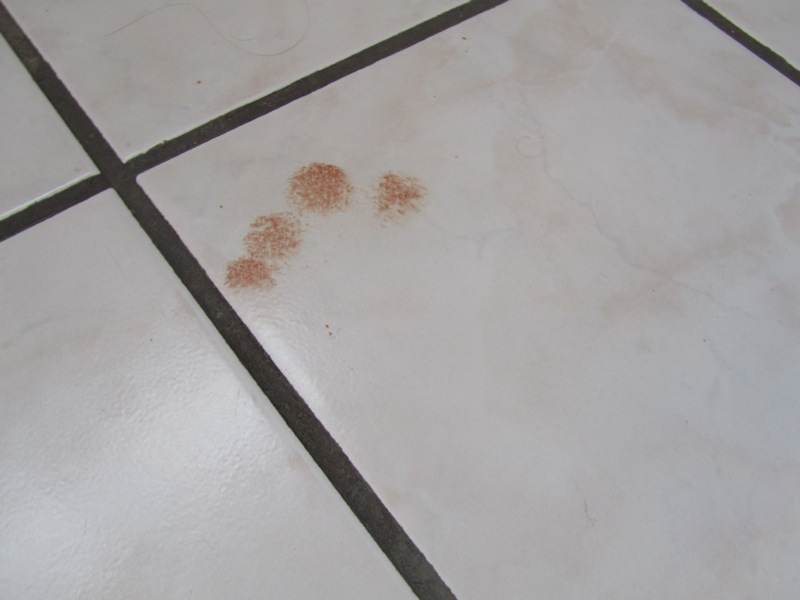 Exhibit B: His bloody running shirt.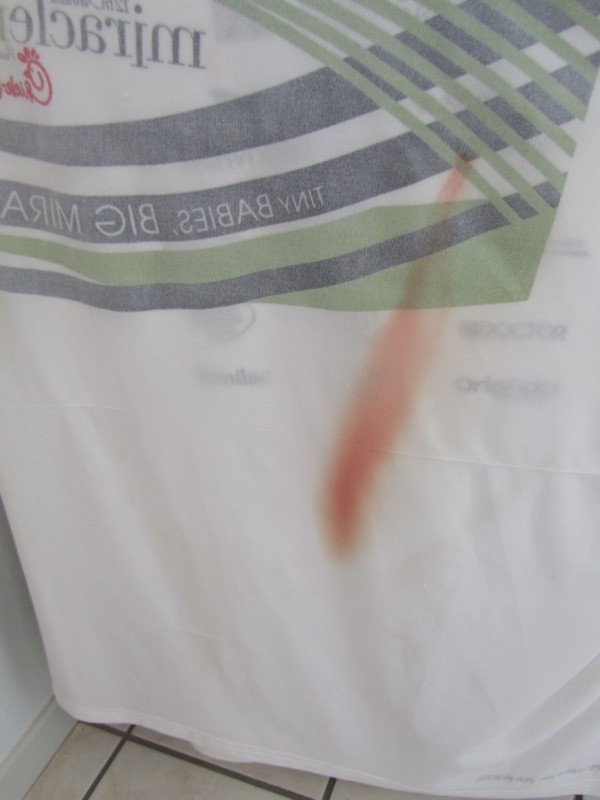 I had my share of bloody nipples during my early days of nursing so I know just how painful those are. I always tell him at least he doesn't have a newborn sucking on his painful, cracked nipples every hour. But thanks to my experience, we've discovered the best treatment for his bloody post-run nipples — Lansinoh Lanolin. That stuff is miracle in a tube and it got me through 16 months of nursing.
So after I saw the evidence of his runs, this suddenly didn't look so bad.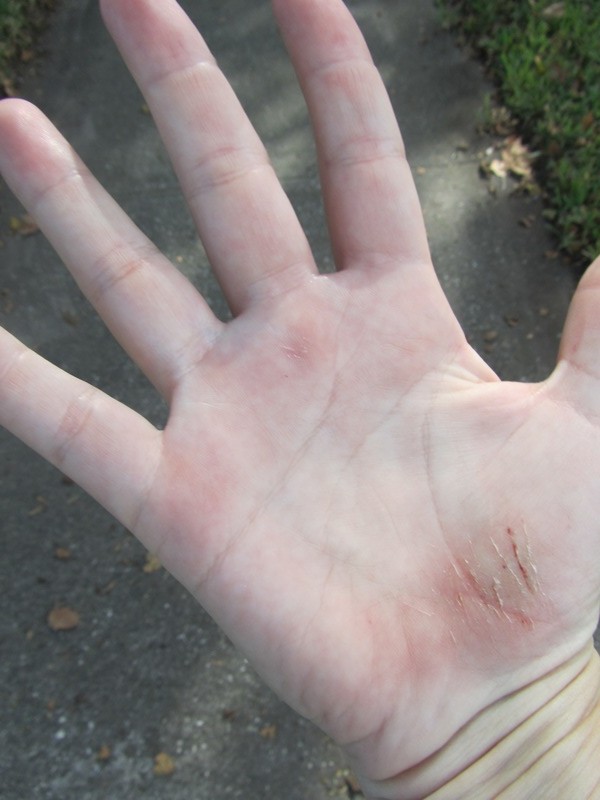 See, it's not so bad, although that one scratch is pretty deep and I have a growing bruise on my upper thigh from my roll. Showering wasn't fun. I had to shampoo with my left hand, which was not easy. And does anyone else's fingers swell up like sausages after running? I can't wear my rings during and after the run.
I feel as if I've been initiated into some running club now.
Why is it that everyone says running is good for you? This shit is hard on the body!
What's your worst/most embarrassing running injury?