When I picked up E. from school today, I had this lovely note waiting in her folder:
Well, at least I got the hair back. At first, I didn't get who the "someone" was. E's school's policy is that its teachers will not tell who the perpetrator is when it comes to things like biting, kicking and scratching. I naturally assumed, at first, another kid had done it and I sort of chuckled. It's not that much hair, after all.
So, I ask E, "Who cut your hair?" She immediately casts her eyes down and says, "I don't know." I was trying to figure out which of her buddies she was covering for, and I pressed her again.
This time she said to me, "I don't want to tell you" and that's when I realized who the Edward Scissorhands was — E.
"E., did you cut your hair?"
"I don't know."
"E"
"Yeah, it was me. Don't tell Daddy!" (as if he's the mean one. Ha!)
And then I had a sudden realization. This is totally my fault. Well, not exactly my fault. But it's 100 percent the library's fault. You see, this was one of the books E. picked out on our last trip there.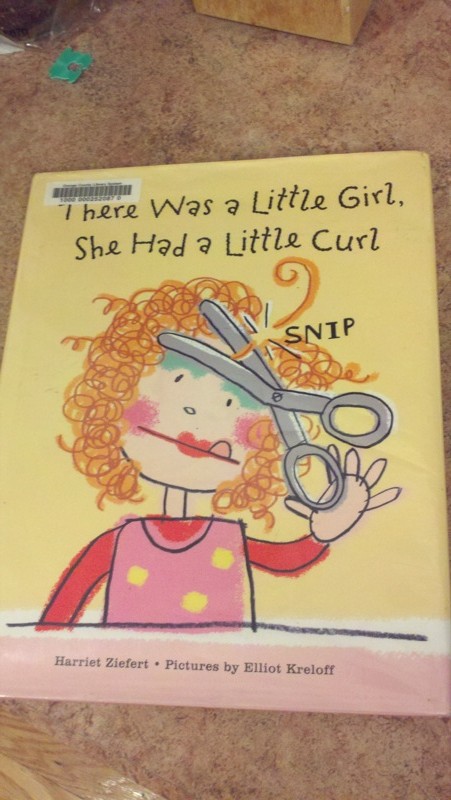 I thought the title "There Was a Little Girl Who Had a Little Curl" was cute, and since E. has curly hair, I thought she'd enjoy it. The giant pair of scissors on the cover should have been a clue. What can I say? I'm more concerned with getting E. out of the library without a major incident. Who has time to actually read the books before bringing them home?
In the future, I think I'll give them a least a glance-through. This page should have raised a red flag.
Who would write such an evil book? Why give my daughter such dangerous ideas? Can I nominate this to some sort of banned books list?
Thankfully, unlike poor Isabel in the book, E. stopped at one snip.
And it was hard to stay mad at her too long when she was THIS excited for her second ballet class.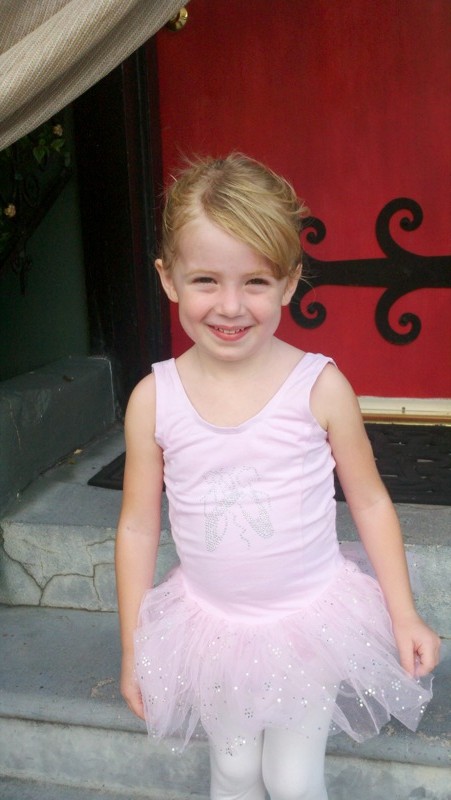 Now that we've survived our first DIY haircut, what else do I have to look forward to? Home hair dying parties? Head-to-toe body glitter? Testing out of her design skills on her clothes?