After our trip to Key West in June, it seemed like the entire summer was stretched out in front of us, blissfully unencumbered by a lot of plans. For the first time in ages, we had no weddings, no extended family trips and no major events planned for the summer.
But then August snuck up on us and we realized that our family has spent the past six weeks or so running around like crazy. Birthday parties, book clubs, blogging events and more just seemed to eat up more time than we anticipated. And I missed our family!
So when I got an email from Dena, the general manager of the Holiday Inn Express in Orange City, offering us a staycation, we jumped at the chance (full disclosure details below).
Orange City is located about 30 miles northeast of Orlando.
Perfect distance. We decided to head up there on Friday evening after work so that we'd have Friday night and all day Saturday. On yet another hot and humid summer afternoon, we had one thing on our mind — the pool!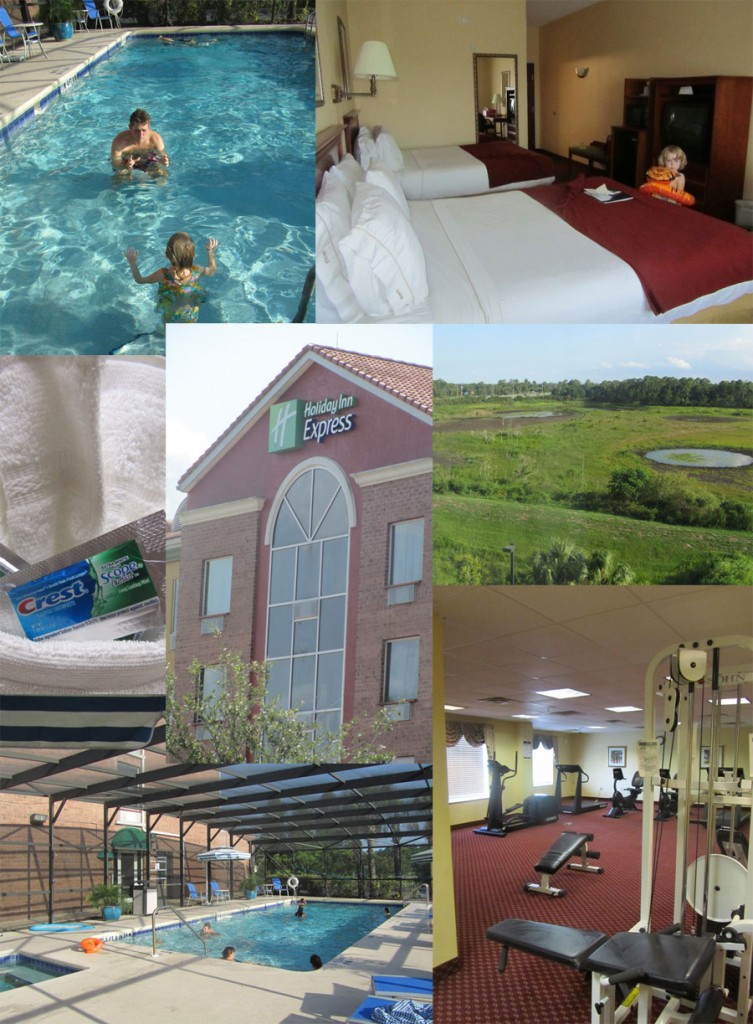 The rooms were nice and had a surprise that I still don't know why every hotel doesn't carry — toothpaste! Dear every other hotel — see how simple it is to carry toothpaste samples? I've never understood how hotels can carry soap, shampoo, conditioner and lotion but no toothpaste. Bravo Holiday Inn Express!
Our room also had a nice view of the wetlands behind the hotel and — brace yourselves — I even got some use out of the gym! I would totally work out a lot more if I just had to head downstairs. I hit 30 minutes on the elliptical and did 3 sets of reps on the weights. This is how long it's been — my arms were so sore for three days!
After relaxing for awhile, we made the short drive to the Swamp House Grill in nearby DeBary, where Dena had reservations waiting for us.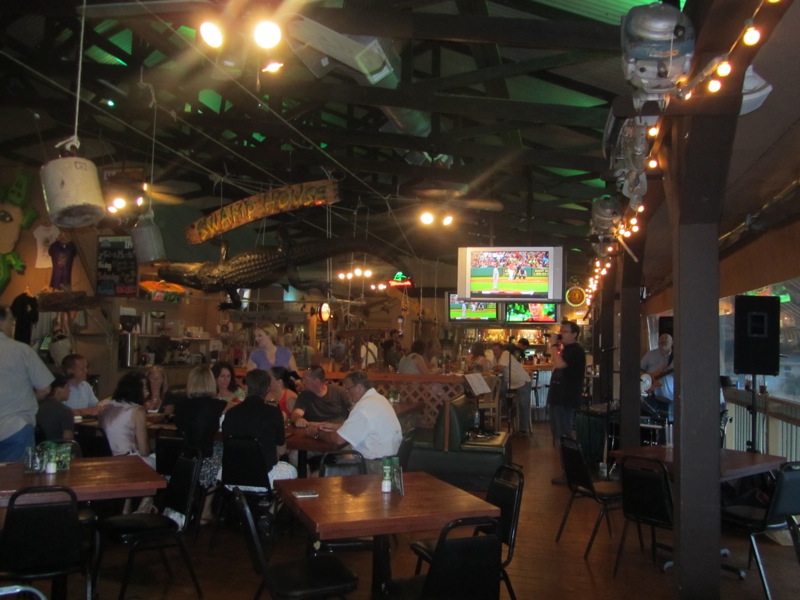 It was, in a word, fabulous. I can't believe we've never heard of this place. It sits right on the St. Johns River, and we were there as the summer sun was setting on the water.
We had a table with a view of the water, and as I sat there with a nice chilled glass of wine, something caught my eye in the water.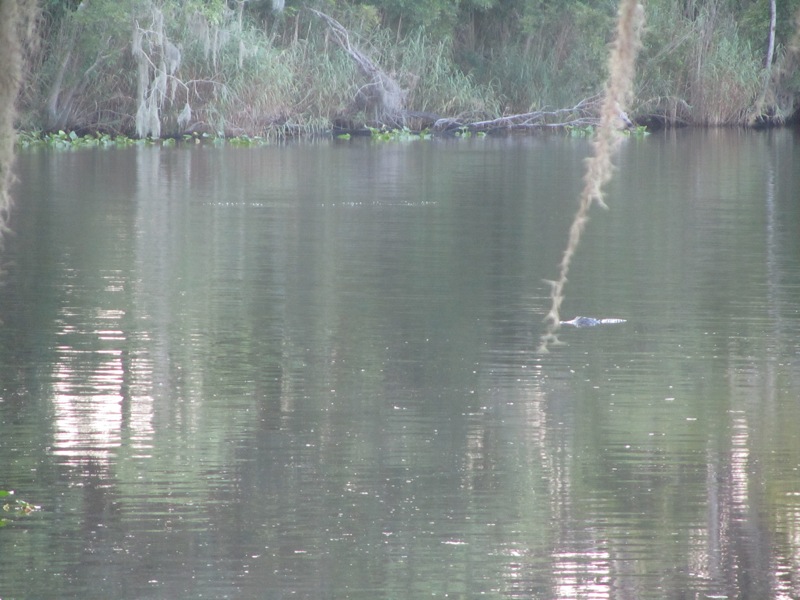 See that head popping up? Gator! It was actually one of four that we saw in the water. Yikes! Note to self: never go swimming in the St. Johns River, particularly at sunset. But they sure were cool to watch … from a distance. As we waited for dinner, DadJovi and E. even headed down to the boat docks to see a smaller one up close.
The restaurant was a lot of fun! There was live music, fresh fish on the menu and a really friendly staff. Our great server Kat even brought E. a present — "gator blood!"
The food was great too. DadJovi had a dish with steak tips over mashed potatoes and I had the grapefruit grouper. Why have I never thought to pair grapefruit with fish before? Delicious.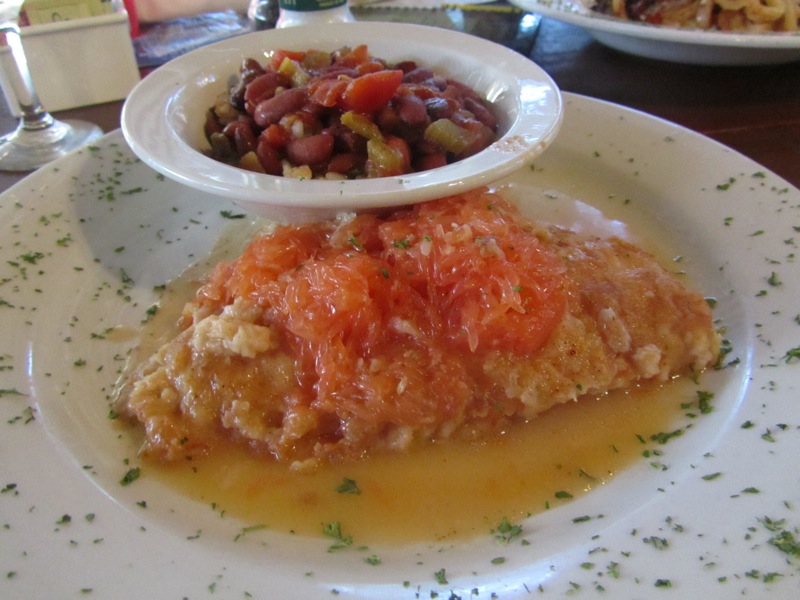 It was great. We had the phones tucked away, E. happily drew (and impressed us with her new skill — drawing smiley faces!) and we just sat back and enjoyed the view. I think we've found our new spot for bringing out-of-town guests!
The next morning may have been the biggest highlight for some members of our party. You want to know how Dena found me to offer me this amazing opportunity? From this post right here, in which I explained our family's obsession love for the automatic pancake maker at the Holiday Inn Express in Key Largo.
Bright and early the next morning, we were ready for some pancakes. Seriously, you press a button and it's like magic!
You have no idea how happy this invention made two members of the Jovi family.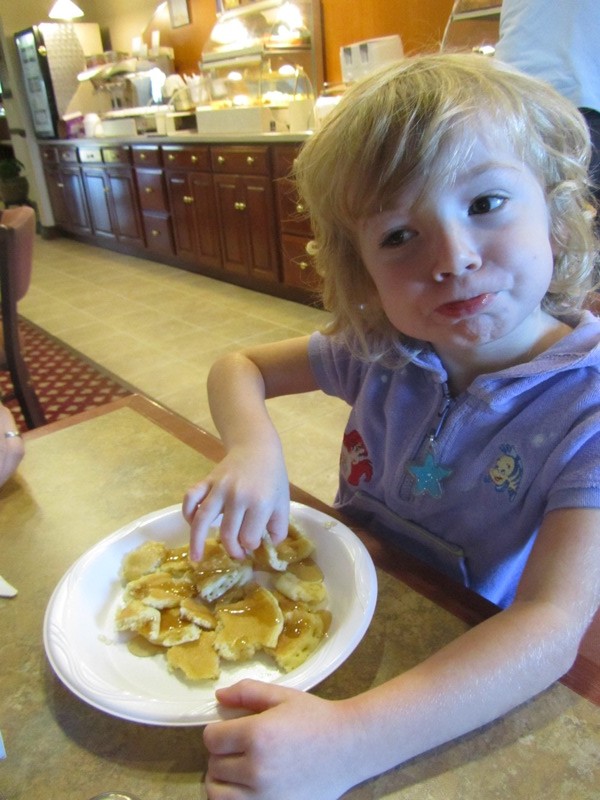 That, my friends, is how memories are made.
The rest of the breakfast was really nice too. I resisted the urge for the pancakes (you know, after my big workout) and was happy to find oatmeal, fresh fruit, a fridge full of milk and lowfat yogurt and cereal. DadJovi also tucked away some eggs, bacon and biscuits. And let us not forget the cinnamon rolls. Yum. The breakfast is included with all stays, so this visit just confirmed what we learned in the Keys — when traveling, we'll always keep our eyes open for Holiday Inn Expresses.
Are you ready to make some memories of your own? Then get ready for my very first giveaway!
The Holiday Inn Express in Orange City, Florida, is giving you the opportunity to experience your own staycation, too! Here's what you'll get:
— A 2-night stay in a Standard Room with either one King Size bed or Two Queen Beds (or you can upgrade to a Whirlpool Suite,  at no extra charge!)
— A voucher for 50 percent off your meal at Swamp House Grill
— A $20.00 Gift Certificate to Bob Evans (which is right across the street from the hotel)
— A coupon for Free Bowling (which we did and loved!)
The room certificate expires on 12/31/12 and there are blackout dates during Race Week, Bike Week, and Coke Zero 400 Week. Reservations are based on availability, so if the hotel is  sold out for some reason, you'd have to pick another weekend.
How rad is that? You know when the perfect time to use this would be? When the manatees return for the winter to the nearby Blue Spring State Park! It's one of my favorite things to do in Central Florida!
Here's how to enter:
1. Leave me a comment and tell me your favorite Florida getaway!
2. Want a second entry? Tweet a link to the contest (including my Twitter handle @momjoviblog) and leave a comment here telling me you've done it! Here's suggested copy: "I want to win a Florida staycation from @momjoviblog. http://bit.ly/natsYp" Or, get creative and write your own!
That's it! One winner will be randomly selected on Monday, August 15, 2011. Good luck!
Editor's Note: This contest is now closed! On Aug. 15, 2011, I selected a random winner using Random.org, and the big winner is commenter #12 — Carrie with Children! Thanks for all your comments! There are some great ideas for Florida getaways here thanks to all of you!
Disclosure time: The Holiday Inn Express provided me with one night's lodging, dinner at the Swamp House Grill, gift cards to Bob Evans, and a voucher for free bowling. I was not compensated in any other way. All opinions are mine (well except for the Gator Blood — E was the only one who liked that!). For more, please see my full disclosure policy.