More Key West posts:
I heard a story on NPR recently that talked about how hard it is to recall a meal, particularly how it tasted. Years later, you may remember the dinner itself, who you ate with and perhaps even what you ordered, but you'll rarely remember what it tasted like.
Meals are one of those things that I always obsess over on vacation. Where will we eat? What are the reviews like? Should we go back to favorite places or try something new? Can I fit another meal into my stomach?
While the tasty Cuban flavors are still fresh in my mind, I thought I'd tell you about all our Key West meals! Spoiler alert: it involves a lot of Cuban. When in Rome …
On the way to Key West, we ALWAYS stop at the Lorelei Bar and Restaurant in Islamorada. If you need help finding it, just keep your eyes open for the giant Mermaid on the right side of U.S. 1.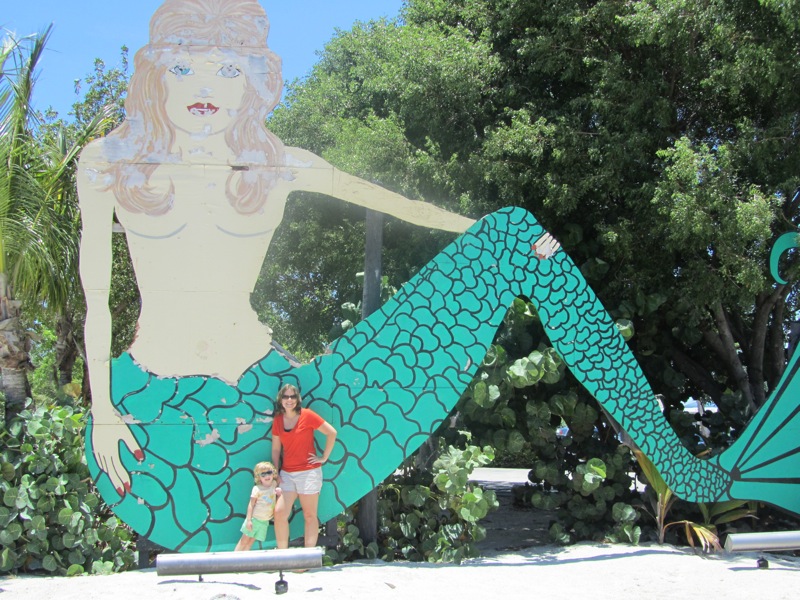 We were trying to be very budget conscious on this trip, so we had packed lunches for the drive down. So, we weren't very hungry when we got to Lorelei but tradition is tradition. And how can you pass up eating with views like this?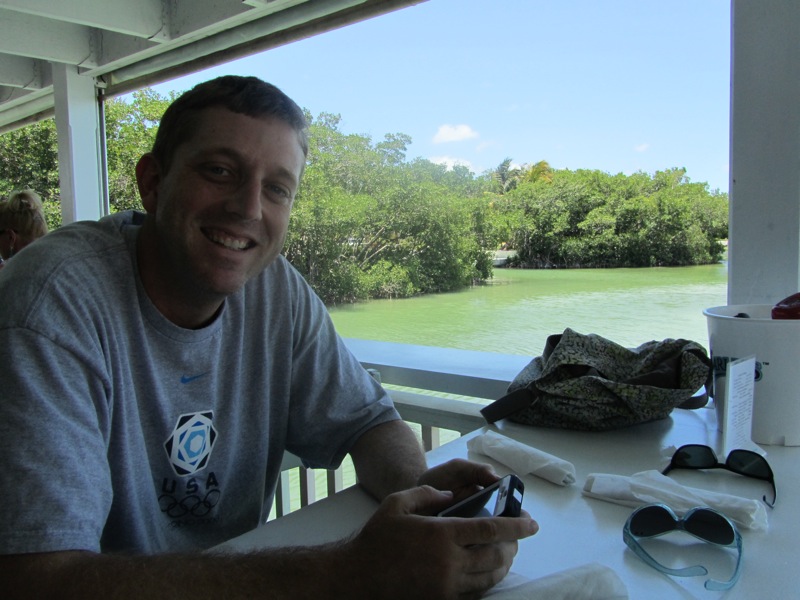 I was talking about the water, but yeah, the man candy isn't bad either. No, THIS is the view that makes it worth stopping.
We ordered E. a pink lemonade. Ever since the toddlers got drunk at Applebee's, I'm paranoid about booze getting slipped into drinks. We both tasted it and it seemed alcohol-free, but in the Keys, you never can tell. And she did really like it. A lot.
We decided to order a couple snacks to tide us over until dinner. We ordered a half-pound of peel and eat shrimp, and they were huge, plump and DELICIOUS. Ahhhh, island living.
With full bellies, we hit the road, then the beach for a couple hours at the Bahia Honda State Park.
We left the beach happy but hungry, sandy and sunscreened out. On the way to the beach, we passed something that made DadJovi yell out in joy — an old-school Pizza Hut. Yeah, you know the ones. Slanted roof. Lunch buffet bar. Tiffany lamps. And the thing that DadJovi wanted his pizza served in more than anything — those big, deep black pans. He was a happy camper.
The littlest things make men happy, huh?
Saturday night, we stayed in the Holiday Inn Express in Islamorada because our Key West reservations didn't start until Sunday night. I mention this because I have to say — we were OBSESSED with it. A lot of the Keys hotels are quaint mom and pop little motels and when it's just us, that's fine. But there's just something about traveling with a kid — you want clean, new, and spacious rooms. And the Holiday Inn Express delivered! (Seriously, I'm the world's biggest HIE fan now!). But here was the best part of the hotel — free breakfast in the morning.
I wish there had been a little bit more fruit — only bananas (boo! I'm allergic). But there were several cereal choices, oatmeal and good coffee. First E. devoured one of these giant cinnamon buns (hey, I didn't say it was a healthy breakfast, just good!).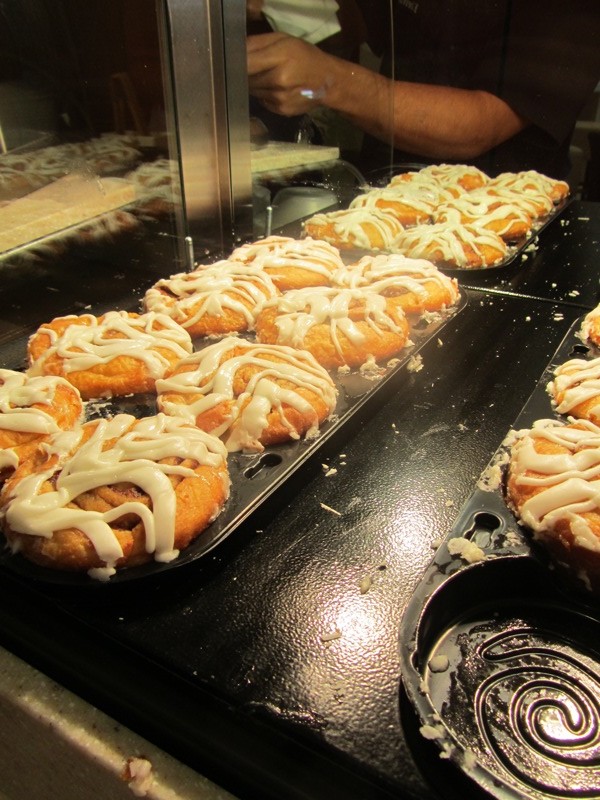 The thing probably weighed as much as her. I thought there was no way she could eat anything else, but then she and DadJovi spotted this. It could be the most miraculous invention of all time — an automatic pancake maker!
You pressed that big OK button, it poured pancake batter onto a conveyor belt and in about a minute, a piping hot pancake popped onto your plate on the right side. Genius. E. ate two pancakes.
Sunday was another travel day, so by the time we got to Key West, got settled into our hotel, I survived my panic attack and a little dip in the pool, we had one thing on our minds — a quick and satisfying dinner.
We hopped on our bikes and headed over to one of our favorite Key West spots —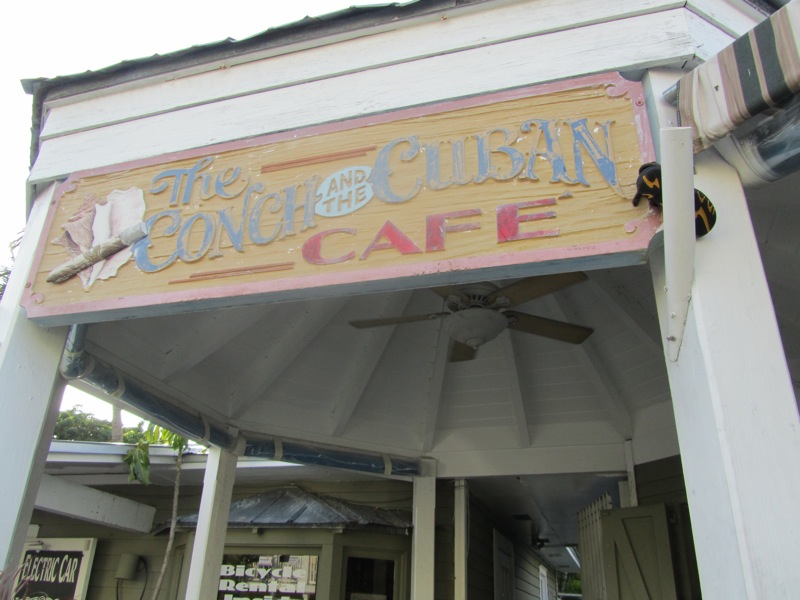 We love it. You walk up to a window and they make you some of the freshest, tastiest Cuban food this side of Havana (not that I've ever been — but someday soon I hope!). We ordered a plate of the ropa vieja and a plate of picadillo. Each came with beans and rice, Cuban toast and plantains.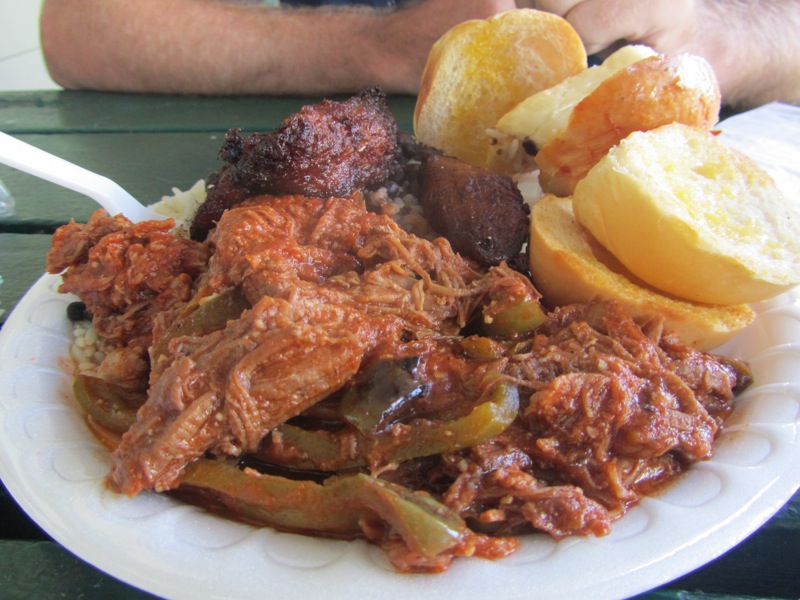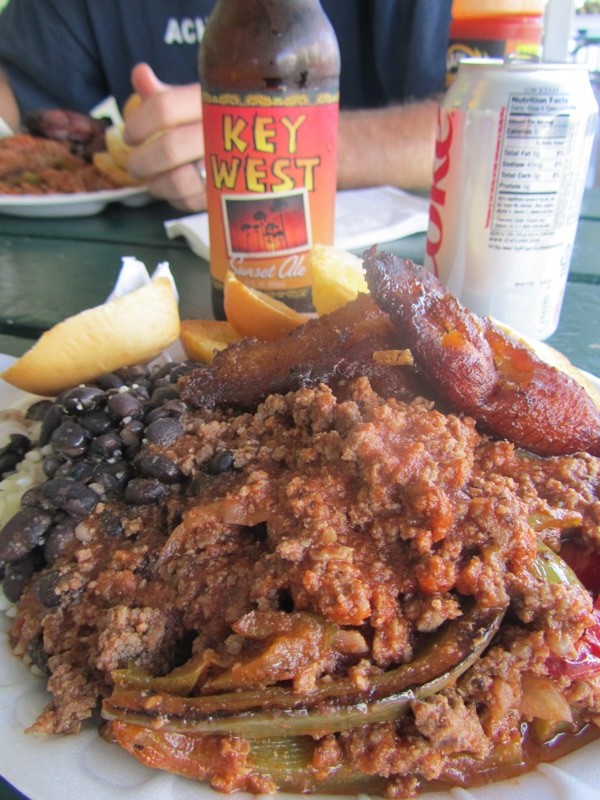 So good. Soooooooo good. Now THAT's how you start a vacation off on the right dining foot.
After dinner, we rode down to Mallory Square to watch the sunset and as we were about to head back to the hotel, E's ears honed in on the thing she loves most in the world — live music. She took off and this is how we found here, getting her salsa groove on.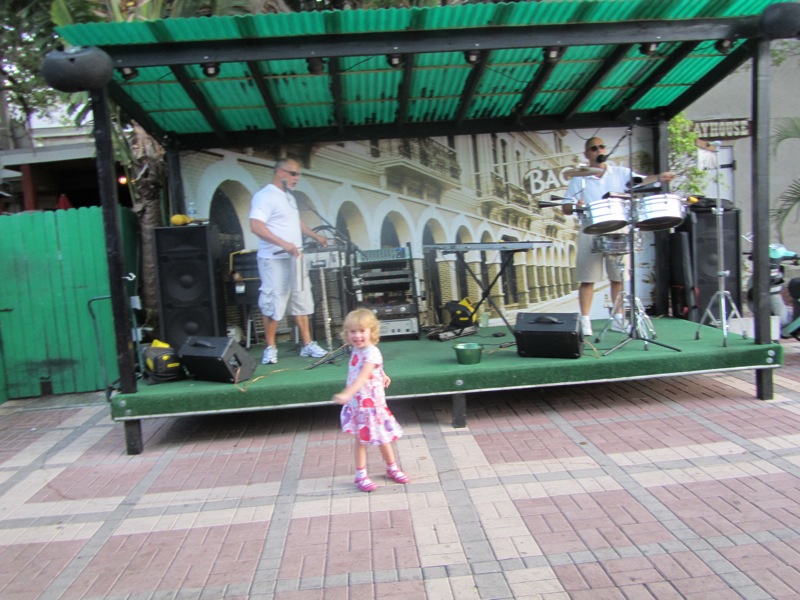 She's literally jumping for joy here. Once we spotted the outdoor tables, we knew we'd be back the next night.
This trip, and particularly for E. who is in a picky eating phase, we brought a lot of food along with us. It saved us money and it was faster and easier to just eat in our room. So we brought cereal and milk for breakfast and bread, peanut butter and jelly for lunches. And the in-room espresso maker was pretty sweet. No wonder I'm addicted to caffeine again; I had about 5 of these bad boys a day. It was a little Keurig like espresso maker. Must own one of these immediately.
On Monday night, our second night in Key West, we decided to try something we usually avoid — one of "the" signature restaurants on the island. El Meson de Pepe is a giant touristy type Cuban restaurant that's just off Mallory Square. It's a little overpriced, certainly a bit kitschy but it has something that makes it a must-do — nightly Latin music outside. It's where E. got her groove on the night before, so of course we had to go back. And she couldn't have been happier.

Although, I think DadJovi was even happier — more ropa vieja for him and I ordered the Lechon Asada, roasted pork marinated in cumin-mojo (lime and garlic) sauce and served with yucca. Plus, we started with the Cuban nachos — ropa vieja, guac, tomatoes and melted cheese served over oven-crisped plantains. Wowza. For being a sort of tourist trap, we couldn't have been happier with our food.
It's a good thing there was so much dancing and bike riding — we needed to work those heavy Cuban meals off. But I think vacation calories are negative, right?
On Tuesday, we decided to switch things up some. For years, we've been dying to try Louie's Backyard, which is one of the most renowned and raved about restaurants in Key West. It's also the restaurant where celebrity chef Norman Van Aken ("the founding father of New World Cuisine") became a star and created his style.
But for one reason or another, we've never made it there. On Tuesday, we got there when they opened for lunch and decided this was the time to give it a chance. We knew we couldn't bring E. back there for dinner (it's not exactly a kid haven) but for lunch, it was perfect.
We got a table on the back deck and well, I'll let the view speak for itself.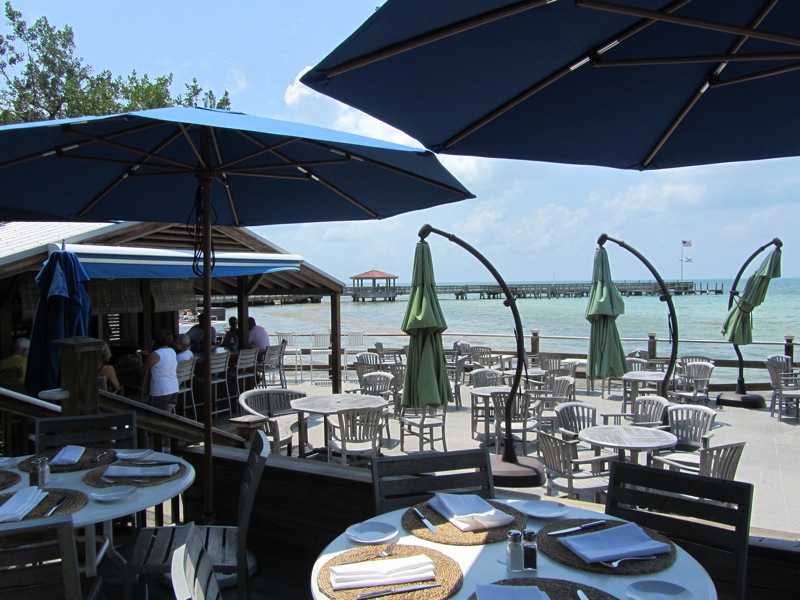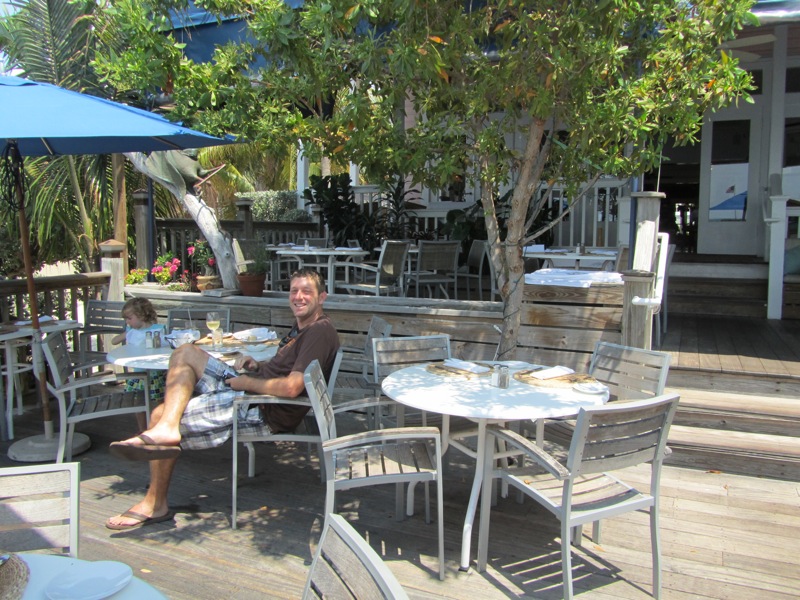 And look at this hidden little bar. Next time we come without the kiddo, I plan on spending some quality time here.
Since we decided this was going to be our big meal of the day, we went all out. Wine for me (because that's how Ladies Who Lunch roll) and we started with the conch fritters appetizers. Wow. That's all I can say. Normally conch fritters are like hush puppies inside — mushy with the faintest taste of conch, which if you've never had it is a bit sweet and chewy, sort of like octopus. These were not mushy fritters. They were perfectly crisp on the outside and perfectly chewy inside with just the right amount of bite from some chopped peppers. They were served with a hot pepper jelly. Drooling yet? No? OK, get ready.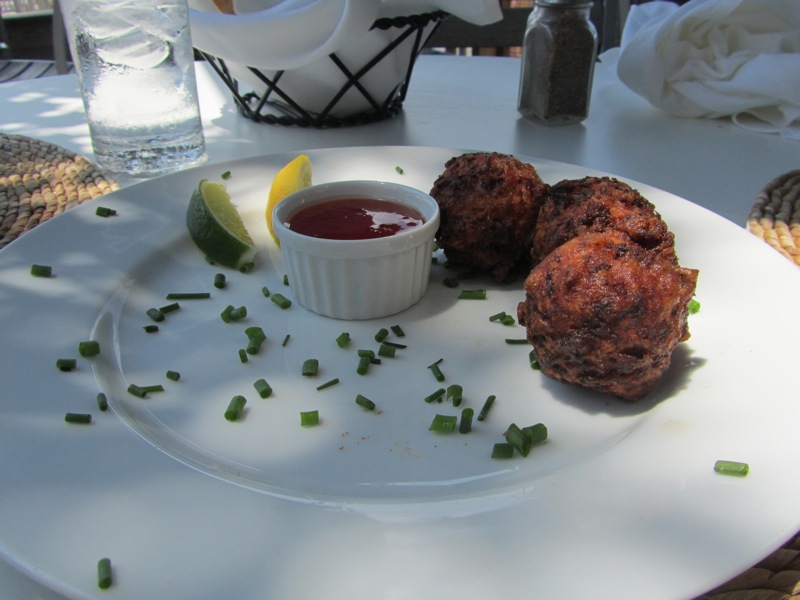 It was a hot day, so I decided to go with a salad. Since I hate lettuce (weird, I know), they kindly subbed the field greens out for spinach. So I had a flank steak salad with sunchokes, roasted red peppers and a chimichurri vinaigrette.
It was amazing. The meat was cooked perfectly with a generous sprinkling of sea salt. And the vinaigrette? Um, it didn't suck. I was feeling pretty good about my choice, until I got a good look and more importantly, a big bite of DadJovi's.
It was the daily special — grilled grouper served over spinach and Israeli cous cous and topped with a crab and shrimp ragout. The sauce was a miso sauce and there was something sweet we couldn't place at first. I thought it was a fig but then the waitress told us they were dried strawberries. For reals guys. This was one of those meals you remember the rest of your lives. We were fighting over his dish. I wanted to lick the plate. I'm not kidding.
Lordy, I've got the sweats just thinking about that meal. I think I need a cigarette now just reliving it for you. Give me a moment.
Phew. Well, after a glorious meal like that, we decided we were going to go light for dinner. So we headed back to Pepe's because our girl had some more dancing to do. And she made some new friends.
And she finally found a way to play along — spoons. I'm seeing a cowbell in her future.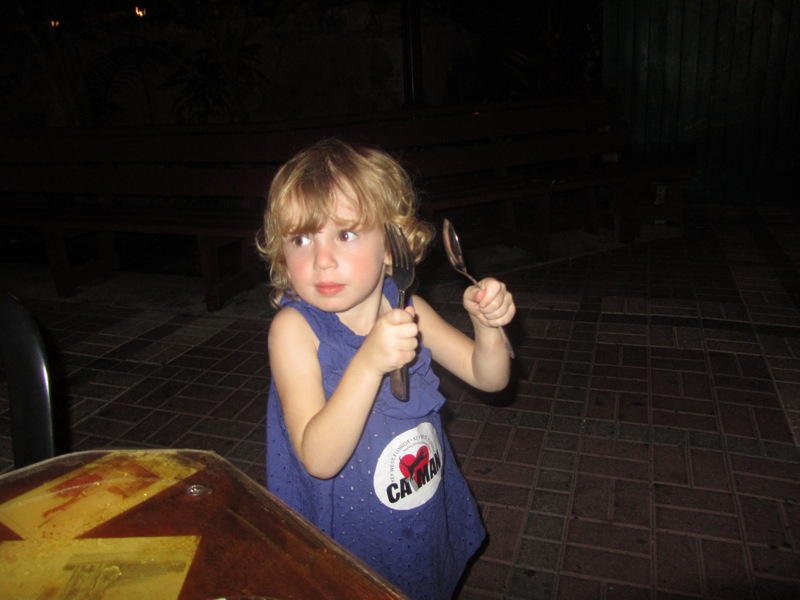 And so much for eating light. After sitting there for a few minutes, DadJovi decided to order the sampler for us. It included the ropa vieja, the Lechon Asada and picadillo. We each nibbled off of it while E. danced.
By this point, you must be thinking that we HAD to be sick of Cuban. Nope. And when we go on vacation, DadJovi loves to go on streaks. On our Disney cruise two years ago, he ordered steak every single night. Every single night. I almost became a vegetarian because it was just so much meat. Almost.
The next morning, we got up and swam for awhile and then headed to one of our favorite places not only in Key West but anywhere — Blue Heaven. It's a funky little outdoor restaurant with the world's best breakfast, roaming chickens (including some chicks!), lots of entertainment for kids and live music.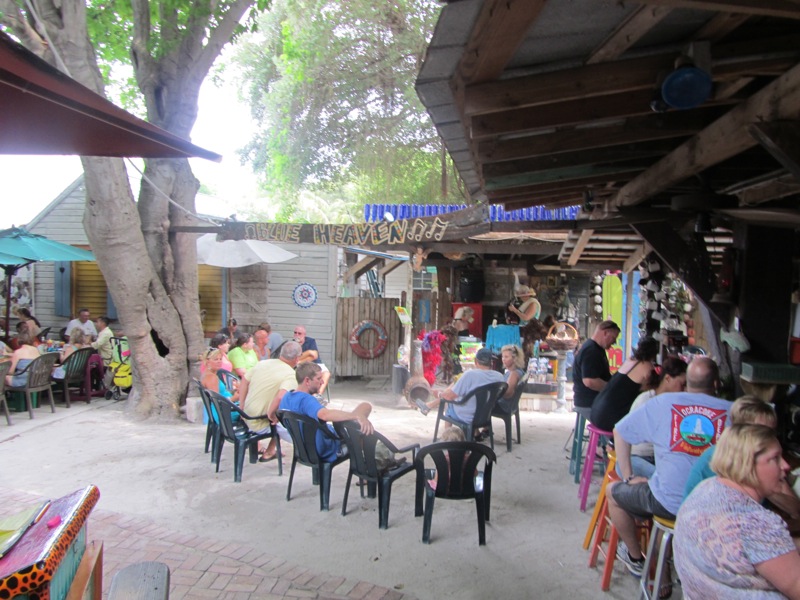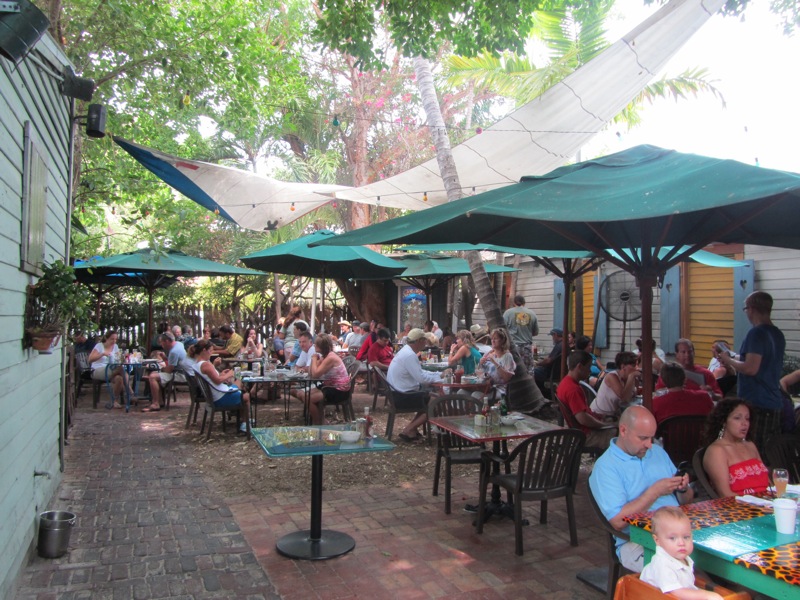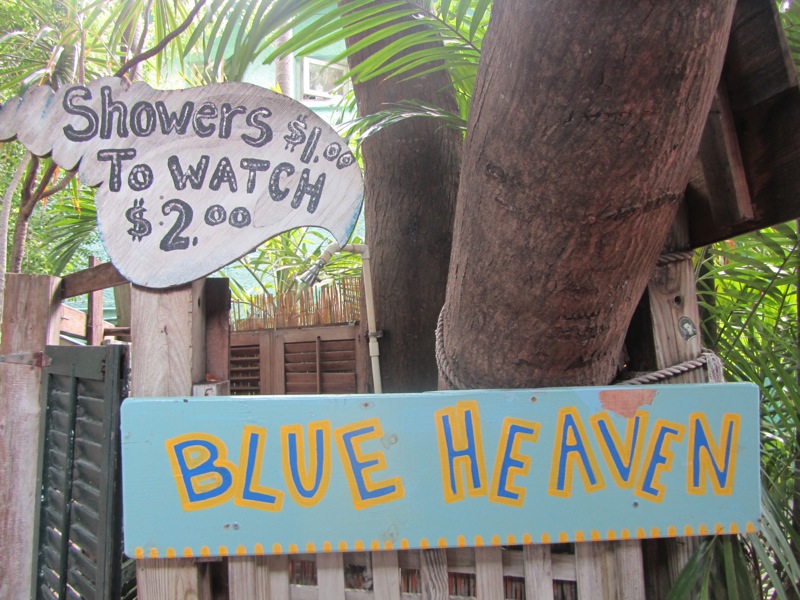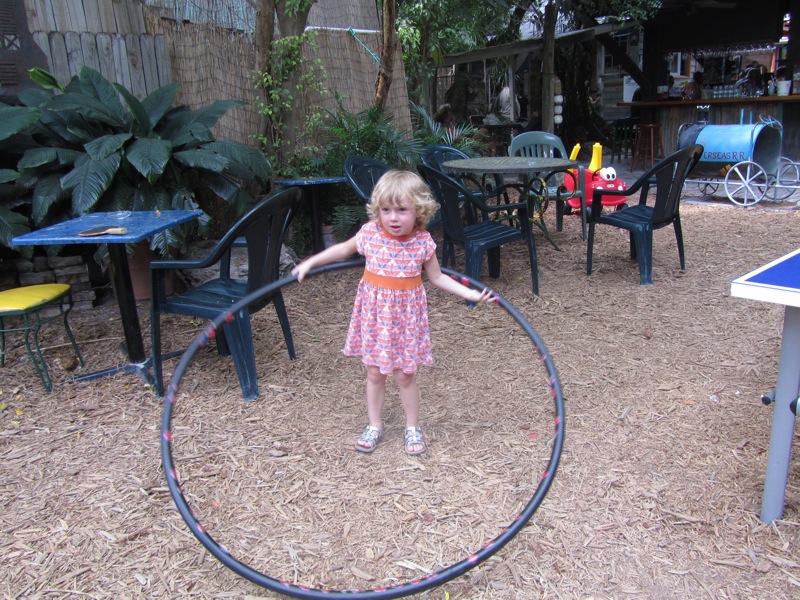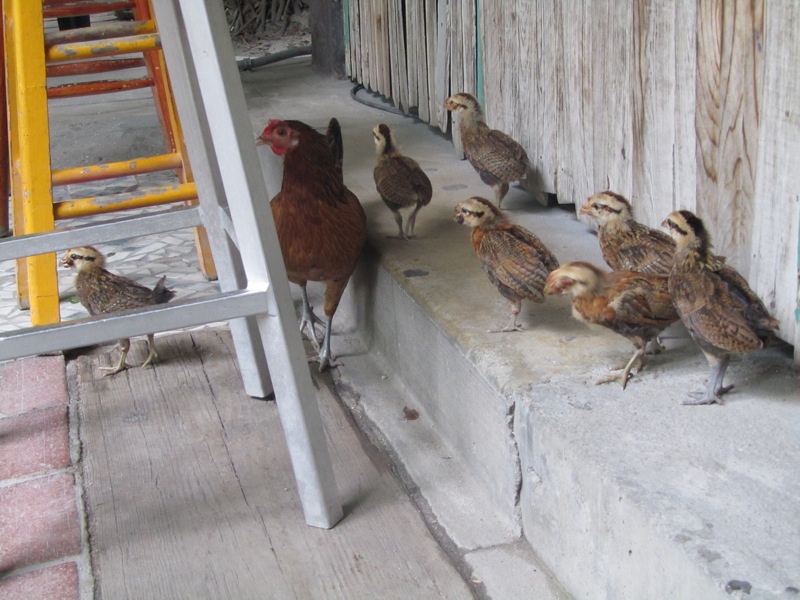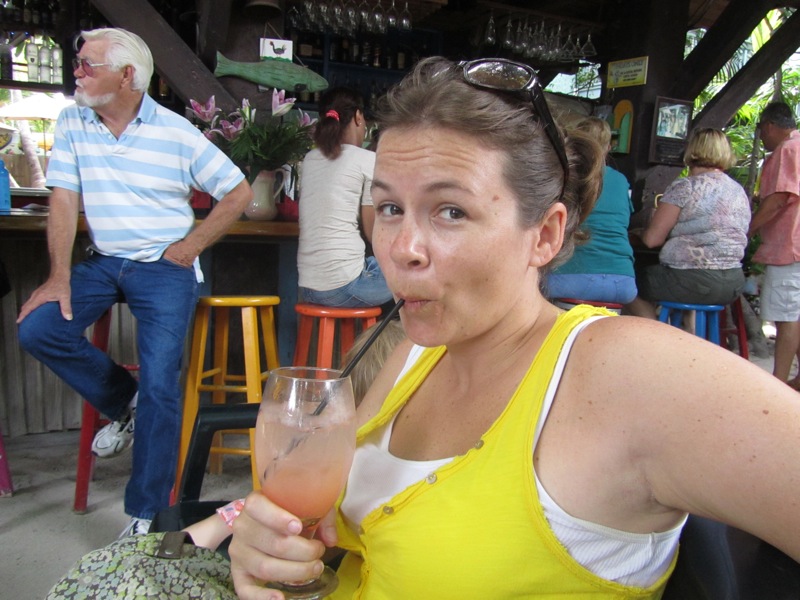 Oh, and did I mention the cocktails? That's the world's best greyhound right there — freshly squeezed grapefruit juice with Grey Goose vodka. It was so tasty I had to have more than one.
DadJovi says I have to include this. So, we're sitting at our table, listening to the ladies singing, and I say to him, "This may be the second greyhound talking, but I think they're really hitting their groove." In my defense, it was nearly 1 and I had eaten NOTHING yet that day and it WAS my second (OK, third, I spilled my second) greyhound. Still, it was good times.
Finally, breakfast came. As soon as we sat down, we asked them to send out banana pancakes as soon as possible for E. They warned us that it was three huge pancakes, so DadJovi said he'd share them with her. Yeah, not likely. She HOUSED them.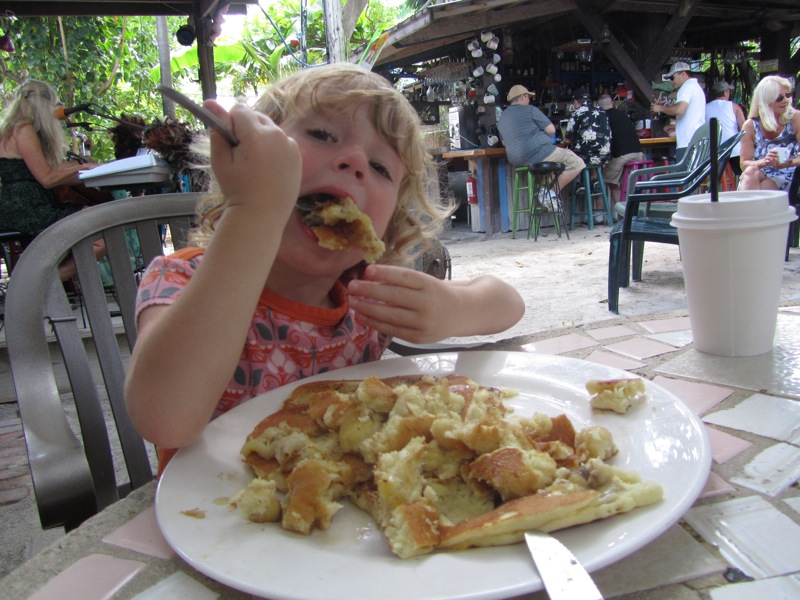 Mine was also some good stuff — succulently sweet Gulf shrimp, tomatoes, spinach and gooey cheddar cheese in an omelet. And check out how thick that multigrain toast was? Amazing.
DadJovi ordered the breakfast tortilla — scrambled eggs with onion, peppers, herbs and cheese topped with sour cream and salsa.
After such a late and fabulous brunch, we decided to stay in for dinner. DadJovi headed back to the Cuban porch cafe (shocker) and came home with piccadillo for him, a grouper sandwich for me and a banana shake for E. Don't worry, she had cereal too. We're not completely negligent parents. And we sat out on our back patio and just watched the ocean. Ahhh.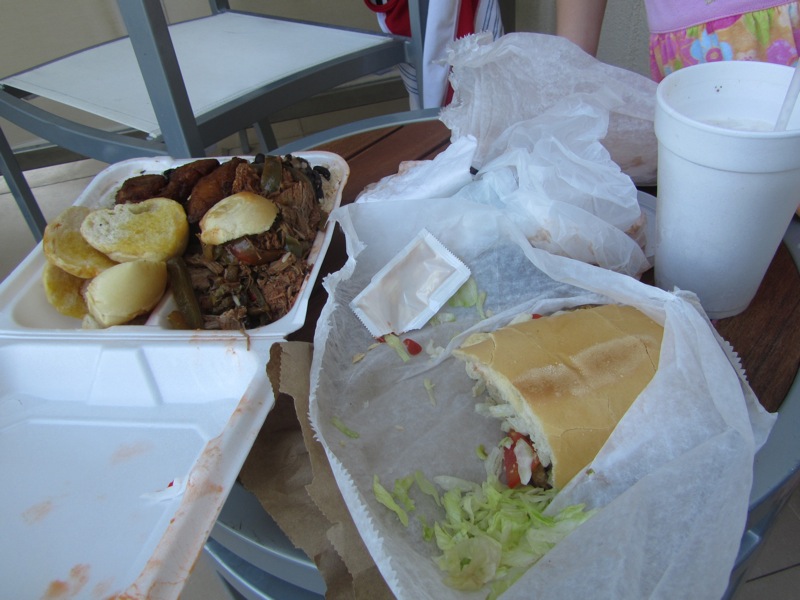 On our way out of town Thursday morning, we stuffed ourselves one final time at Banana Cafe, a wonderful French-inspired restaurant with a tropical twist.
My order was a smoked salmon, cream cheese and the most ridiculously amazing caramelized onions I've ever had surrounded by a perfect crepe.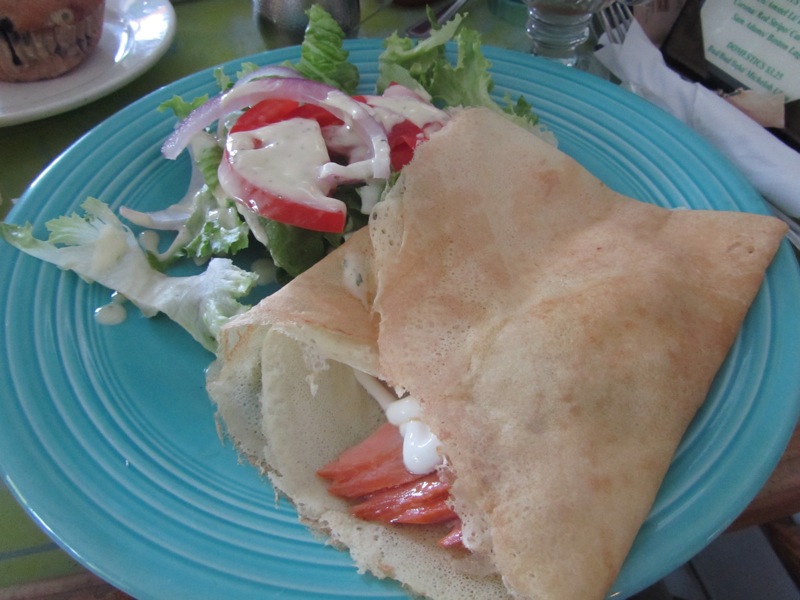 And DadJovi FINALLY departed from Cuban to go American — his crepe was filled with a burger, bacon and cheddar cheese. So good. Soooooo good. Somehow I didn't take a picture of it. Sacrebleu! But I did get a picture of E's piping-hot-out-of-the-oven blueberry muffin.
OK, NOW we're done eating. If you stuck with me the whole way through you must love food or be my mom (hi Mom!). DadJovi told me I should record an audio version of this and make a podcast for people to listen to while running. I think he's onto something.
If nothing else, I hope this post helps commit some truly great meals to memory!