One of the best wedding gifts we got five years ago was a record player. We love it and love to collect old and new records. We're lucky to have two really great record stores near our house, but one of my favorite places to pick up records is yard sales.
When my pal Missy was here this spring, I hit a goldmine: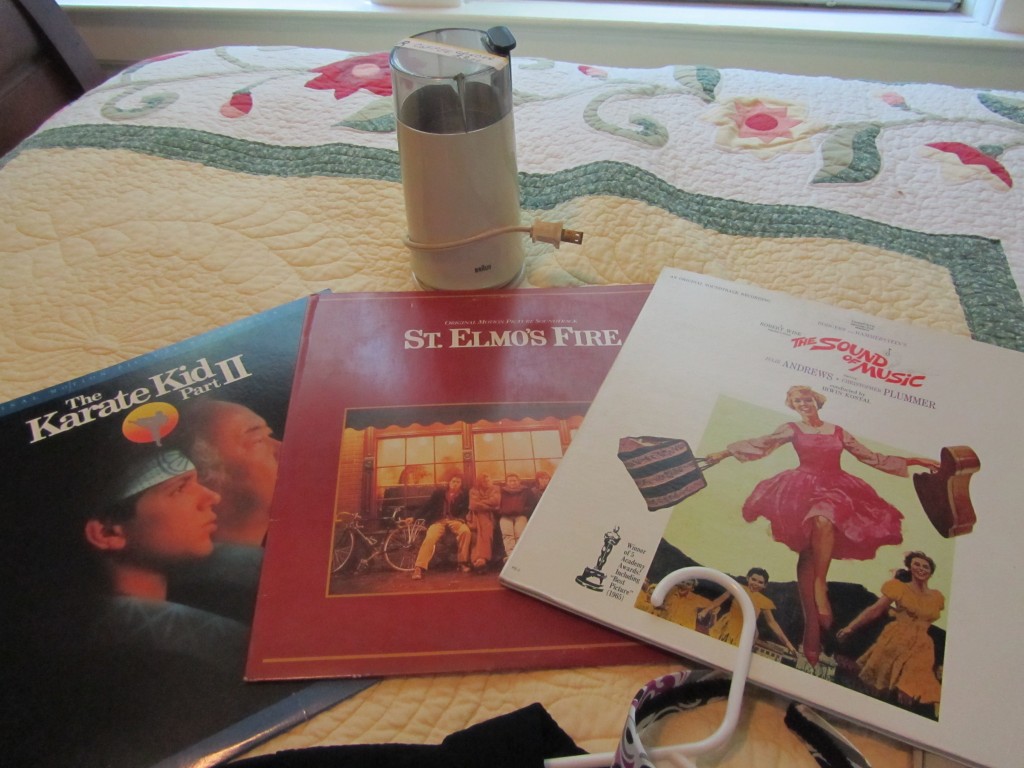 Your eyes are not mistaken. Those gems are the "Karate Kid 2," "St. Elmo's Fire" and "The Sound of Music" soundtracks. Amazing. And I got all of them for $3!
There's nothing I like better than cranking some records while making dinner or cleaning up. Most of the time E. kind of dances along but doesn't take much notice to any one song or album. But — be still my heart — she has recently become OBSESSED with the "Sound of Music" album.
Tonight, DadJovi had to work late so as soon as we got home from her school and the grocery store, E. and I put on our jams. As soon as I headed over to the stack of records, E. said, "Mommy, I want to hear the one with the kids and the running." Translation: she wanted to hear Do-Re-Mi ("Fa, a long, long way to run.").
So we put it on and pirouetted around the house. I was trying to remember all the moves to "So Long, Farewell," and decided to check out the videos online. That's when I stumbled across this treasure trove of videos:
E. was mesmerized. She made me play through all the clips from "Sound of Music." It was actually really cool because she knew the songs before she'd ever seen the movie. When was the last time that happened for you?
I thought we were years from watching "Sound of Music," but now I'm thinking we're going to watch it soon! Besides, if she can sit through all of the Star Wars movies, she's totally ready for the Von Trapps.
After I shut the computer down and started cleaning up from dinner, I kept hearing her sing some of the "Sound of Music" songs to her dolls and herself. I've created a mini-Maria and I LOVE IT!
And it got me so excited about what else we're going to watch in the coming years — Wizard of Oz, ET, Goonies, Karate Kid (natch) and White Christmas at Christmastime. We watched Rudolph this past year for the first time and it was so much fun.
There really is something magical about rewatching these classics through your children's eyes for the first time.
What are some of your favorite movies that you've passed down?