Thank you all for your very sweet comments about our Atlanta trip. It was an action-packed couple days, but I'm so glad we were able to squeeze in trips to the Georgia Aquarium, the Atlanta Botanical Gardens and Stone Mountain in just 48 hours! I'm certainly no expert on Hotlanta now but I whole-heartedly endorse a trip there. I'd be glad to offer any advice or tips I can!
But after all those stops, one mission remained: finding our traditional souvenir.
You may remember at Christmas time I told you that DadJovi and I collect Christmas ornaments from our travels.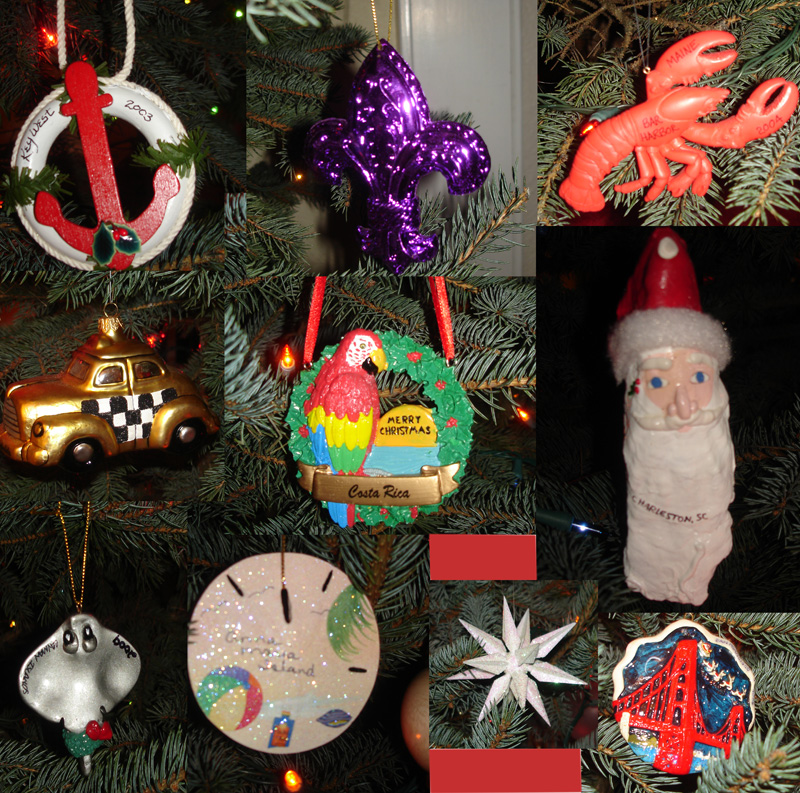 On our very first trip to Key West, we realized it'd be a perfect and affordable way to commemorate our trips. Usually it's an easy task. Once you've got your eyes opened for them, it's usually pretty easy to find one in any given city.
We have a couple criteria we try to adhere to. First of all, it should represent something we did on that trip (i.e. we walked across Golden Gate Bridge in San Francisco and snorkeled with stingrays in Grand Caymen, as seen above). Secondly, and most importantly, it needs to have the year. It's hard to see, but most of the examples above have the years on them. If we can't find one with the year, I'll write it on the back with a Sharpie.
We were looking from day 1 in Atlanta. We saw some at the aquarium, but none had the year. So we figured we'd keep looking. After all that was the first thing we did. Would you believe there were none at the gardens? At Stone Mountain, there was a glass blower who had made some gorgeous ornaments, but none of them were very representative of Atlanta or Georgia. They were just very pretty glass creations. In retrospect, we probably should have just grabbed one of those.
But honestly, we've yet to be in a city that didn't have a least a couple cheesy souvenir shops with a selection of ornaments. That is, we hadn't until Atlanta.
Saturday morning, we got up, checked out of the hotel and drove around the area around Centennial Park and Peachtree Street (where our hotel was located). Nothing. There were hardly any of these shops and the only ones we saw only had Braves swag. And as a lifelong Phillies fan, there was NO WAY I was putting a Braves ornament on my tree next year.
So we decided to try the Underground mall. Most of the things we'd read had warned it wasn't anything special. But again, the only thing we really wanted was one cheesy souvenir store. Is that so hard? And, to top it off, we had to pay $6 for the 20 minutes it took us to park, take a swing through the Underground and head back to car empty handed. Rip off. Even tipping a very nice — and informative — homeless man didn't get us any closer to our goal (we were getting desperate — DadJovi was so beyond ready to hit the road to head home by this point).
We finally realized that our ornament choice was inevitable. All weekend long, we joked that all roads were leading to one place: the World of Coca-Cola. I told DadJovi there was no way we were going to this marketing extravaganza disguising itself as an attraction. I'm squarely in Camp Coke (Diet and Zero are my poison of choice, in case you're curious) but I saw no reason to go look at marketing campaigns of the past (hello Polar Bear) and sample Cokes from around the world. We can already do that at Epcot.
For some reason, EVERY guidebook, website and review of Atlanta highly recommends this place, but I won out and we never went. But there was no escaping Coke, even without being forced to listen to "I'd like to teach the world to sing" on repeat. Everywhere you look in Atlanta, the Coke logo is on every billboard and building and served in every restaurant. I found myself craving Diet Coke all weekend like never before. Overt advertising DOES work.
So when we hit a dead end in the Great Ornament Hunt of '11, we knew there was only one place to go: World of Coke.
DadJovi pulled up along the curb, and I sprinted toward the gift shop (I mentioned that he was in a hurry, didn't I?). Luckily, I could go right into the gift shop at the end without having to do the whole tour first. Go figure.
For a few minutes, I was worried that Coke, the company that has created an entire industry out of putting its logo on everything from kitchen decor to chapsticks, was going to let me down. But I finally found the Christmas section. I'm not going to lie, I was disappointed. No World of Cokes/Atlanta ornaments. And of course NONE with the year on it. By this point, I was obviously beyond caring. Here's what I got:
I figured I'd go with classic Coke, and yes, I do find Coca-Cola delicious and refreshing, so it works for me!
It may not be the perfect ornament but it's certainly one we're not going to forget hunting down. And I guess that's just as much a part of the experience as hanging the ornament on the tree.
What souvenirs do you collect from your travels?