Previously on MomJovi, we had just wrapped up our morning at the Georgia Aquarium. Since none of us really had breakfast (unless you count splitting a Starbucks muffin three ways), we were FAMISHED.
So we hit up Frommer's for a good lunch place. (Side note: my husband is OBSESSED with Frommer's. If we're even thinking of going on a trip, the first thing he does is buy a Frommer's. Personally, I think he's trying to amass the world's largest private collection of Frommer's books, but that's just a theory.)
This entry caught our eyes:
"The Varsity: Atlanta grew up around The Varsity, the world's largest drive-in restaurant, opened in 1928 by Frank Gordy … This fast-food mecca's greasy feasts are an essential element of the Atlanta experience, and the Varsity draws more celebrities than any other restaurant in town."
Since it's clear we had already dove headfirst into unhealthy eating with a dose of star-hunting thrown in for good measure, The Varsity seemed like a good fit.
When you walk in from the side doors, you're quickly overwhelmed by the number of rooms with tables. There's at least six or seven rooms with a variety of tables and booths, but my favorite room was this one, which featured the school table/chair combos. Flashback!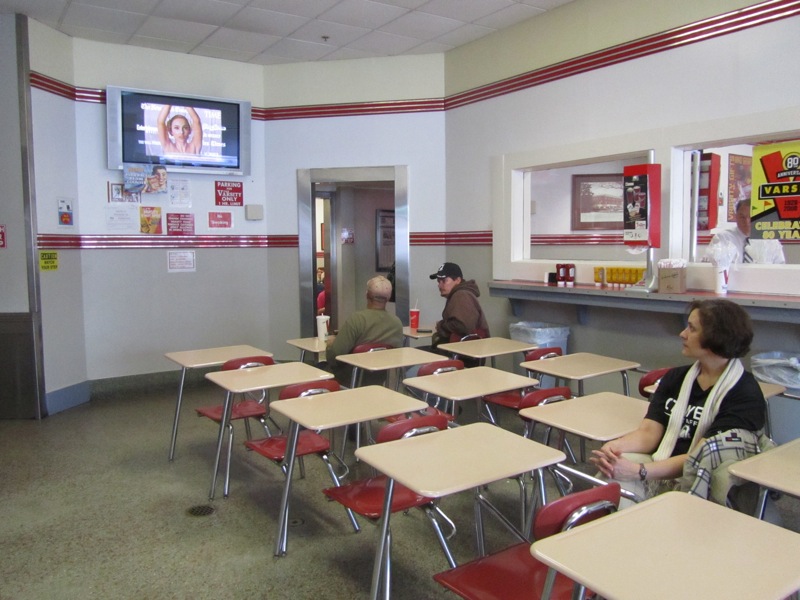 The next thing that was overwhelming was the crowd waiting to order. We actually got there and ordered just in the nick of time and were able to walk right up to the cashiers. This influx arrived just after our order.
The menu was pretty basic — chili dogs, slaw dogs, burgers, etc. Unfortunately, I got flustered by the cashier's constant "What'll you have?" (that's their schtick) and ordered poorly. I just got a single cheeseburger with the side of onion rings. DadJovi went with the two chili cheesedogs and E. had heart attack chicken nuggets. Can't you just smell the grease through the computer screen?
The onion rings were pretty good but the burger was pretty awful. DadJovi claims the hot dogs were great but I think he was just saying that. I was a little disappointed. I know it's always a gamble going for the most well-known tourist restaurants in a town. Sometimes it's totally worth the hype (the beignets at Cafe du Monde in New Orleans spring to mind). But then, sometimes you're left with a greasy, lifeless and very unsatisfactory burger. You live, you learn.
One thing did exceed my expectations though. The F.O. — Frosty Orange.
I was expecting orange sherbert and instead it was like frozen Tang. I was instantly transported back to drinking Tang at my grandmother's in the summertime. It was pretty awesome, in a nostalgic sort of way, which I guess is the whole point of The Varsity.
After lunch, we clearly needed to walk off some of that cholesterol.  Since the weather was starting to improve some, we decided to head to the Atlanta Botanical Gardens, the only thing our cousin who lives in Atlanta said we *had* to do.  It was time for some flower power.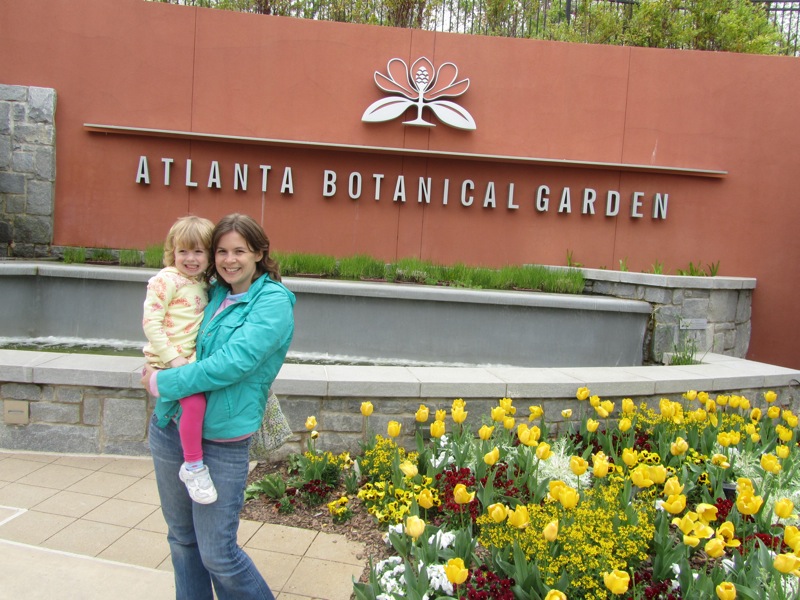 Even though the weather was less than perfect, I'm pretty convinced that this was the perfect time of year to see the gardens. Spring flowers were just bursting out of every nook and cranny. We were told that this was the most tulips they've ever planted. Lucky us: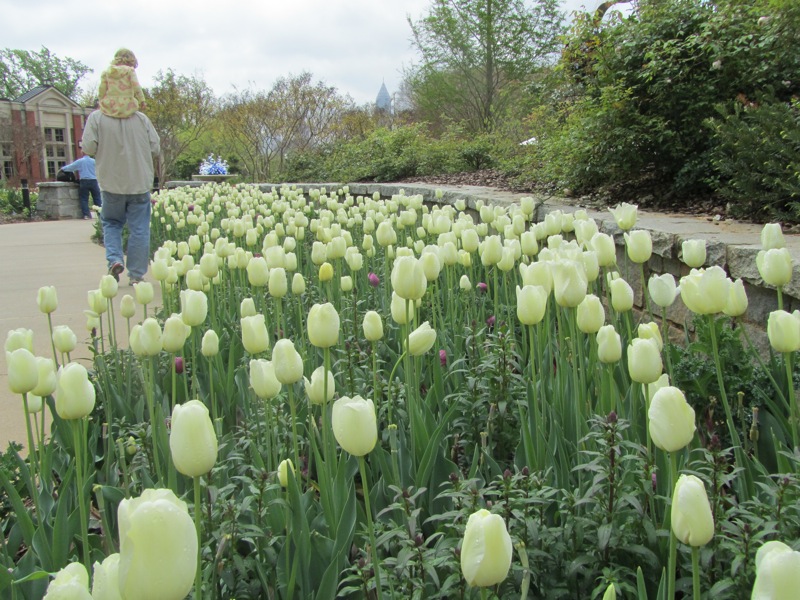 And there were little surprises around each corner:
Some of us weren't amused by Mommy's antics. Lord help me. Is my 3-year-old already embarrassed by me? Then she's in for a looooooong 15 years.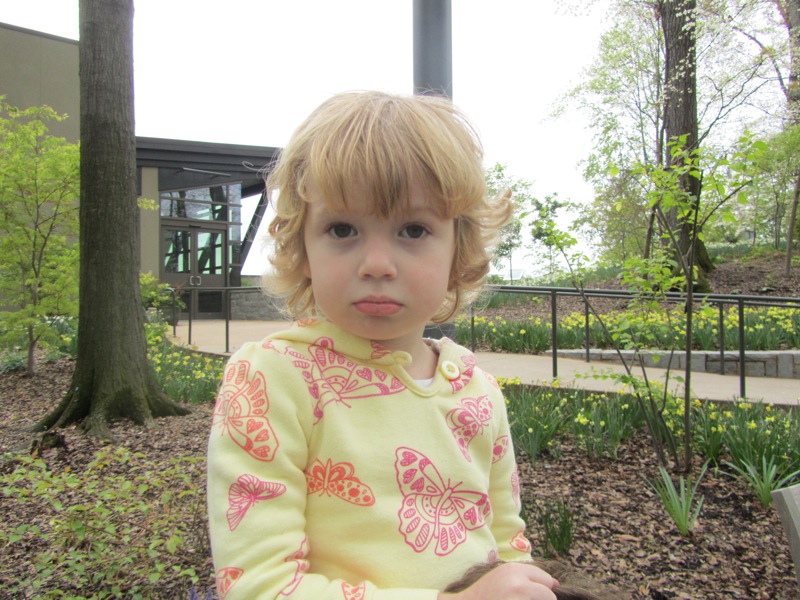 I've always loved orchids but their collection stunned me. I had no idea that there were so many varieties and colors of orchids in the world. Amazing.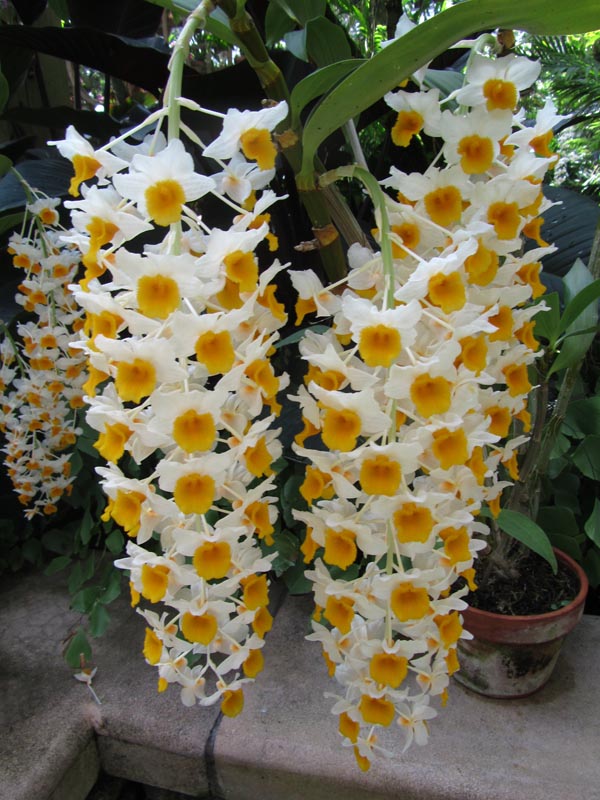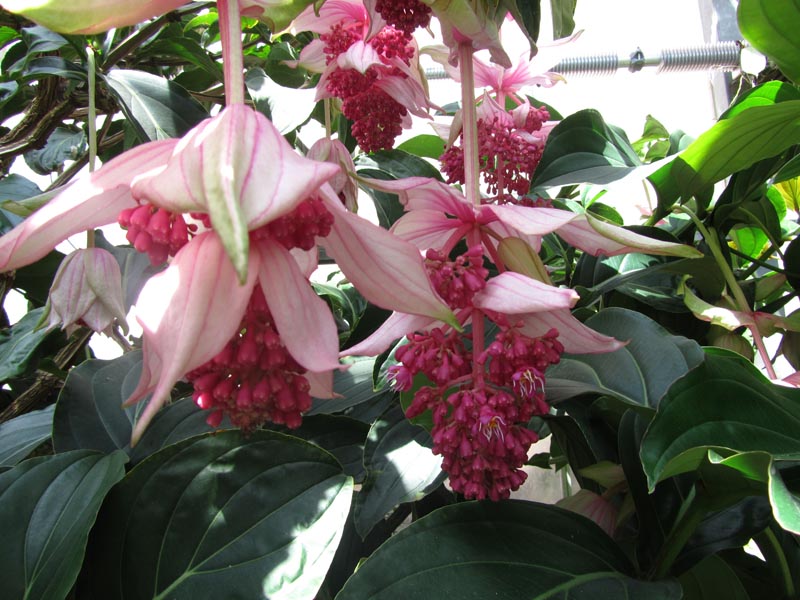 There was also an amazing Tropical Rainforest house. Not only was it nice to warm up, it was like being transported to another world. As soon as we saw this, DadJovi and I both said, at almost exactly the same moment, "It's like Pandora!" (That's from "Avatar" for you non-James Cameron geeks).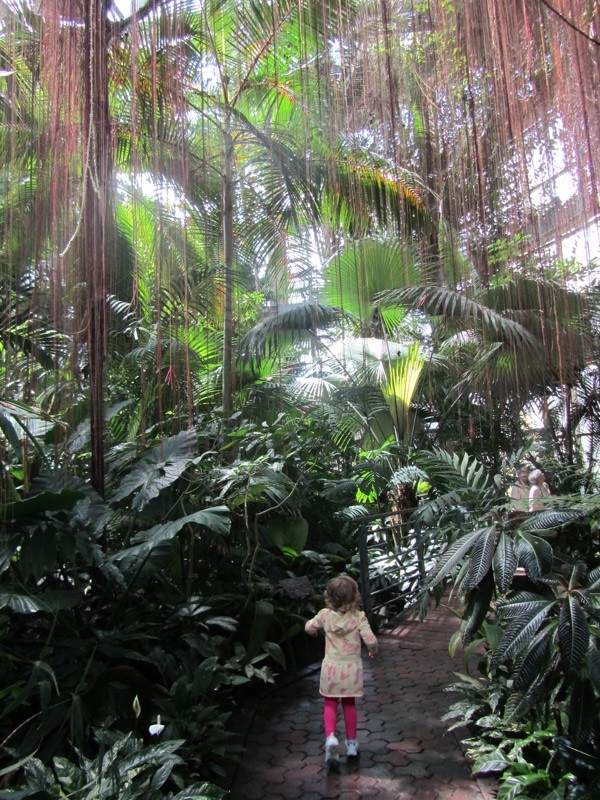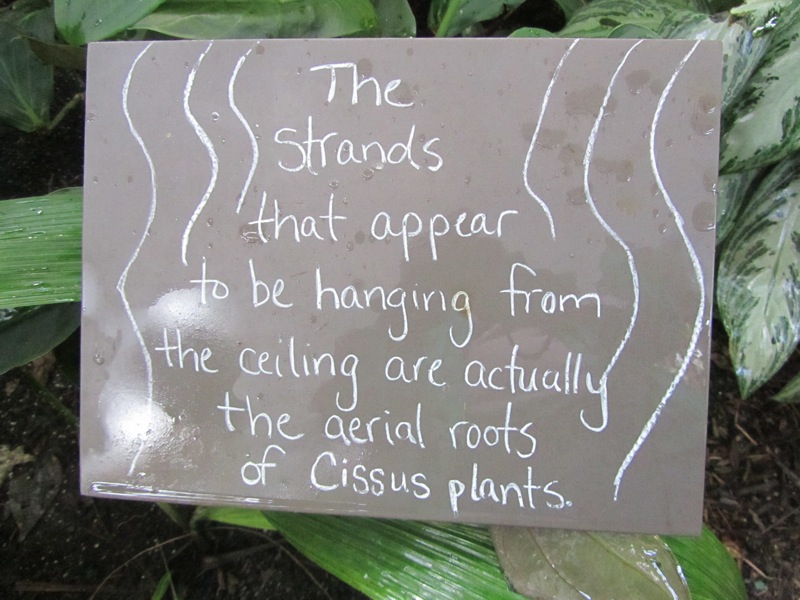 And apparently we were lucky enough to experience a rare treat — the jade plants were blooming. Two volunteers told us they only bloom twice a year. They were gorgeous and so otherworldly. James Cameron would love these.
E. was so excited when we told her she could pick up the claw-like blooms from the ground. I wasn't so excited by those chipped nails. And she was even more excited when we found some turtles in a pond (see them chilling on the log behind us?).
After humoring us through the orchids, the rainforest, the tulips and the edible garden (oh the kale. Ooooooh the rows and rows of kale, gorgeous broccoli flowers and a flowering apple tree), we decided to set her loose on the Children's Garden. And she was off!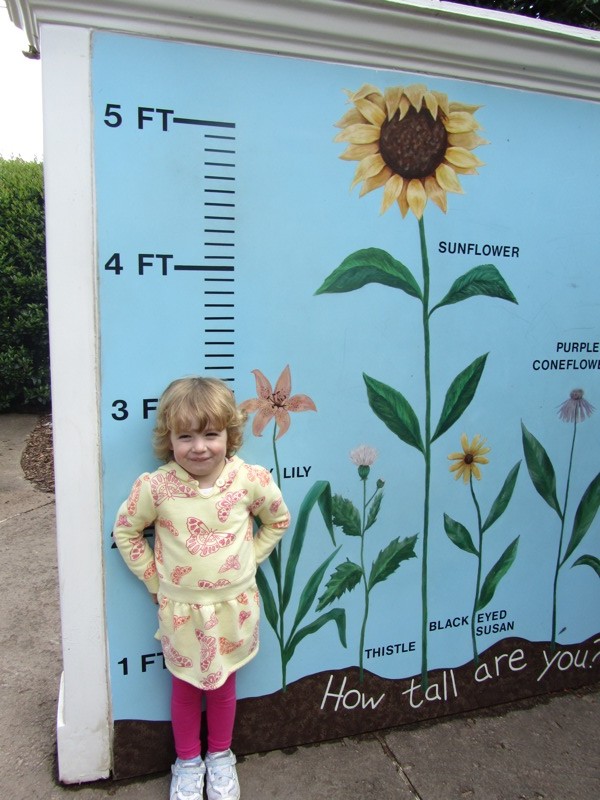 And our diva even found a stage to put on an impromptu concert. It took her awhile to find the perfect mic, but once she found it, we were treated to a two-song set.
She even convinced Daddy to race her down the slides.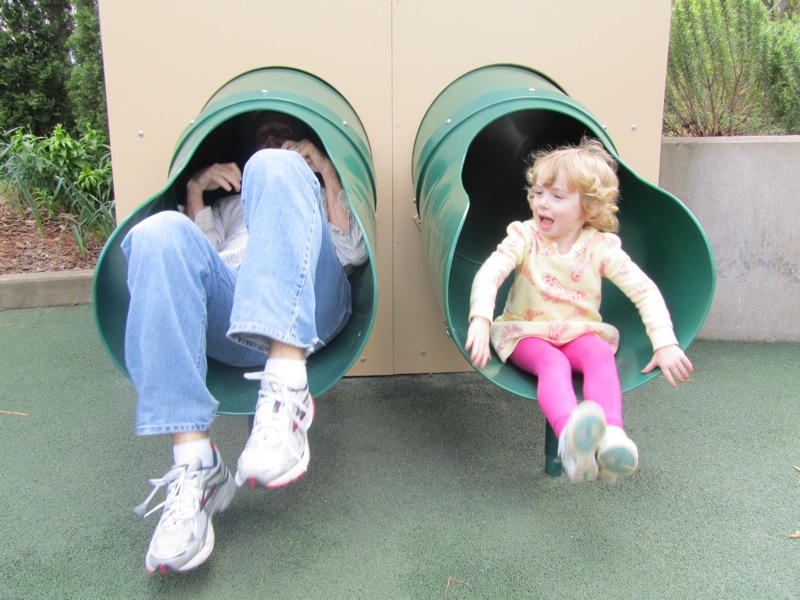 And Mommy found another friend: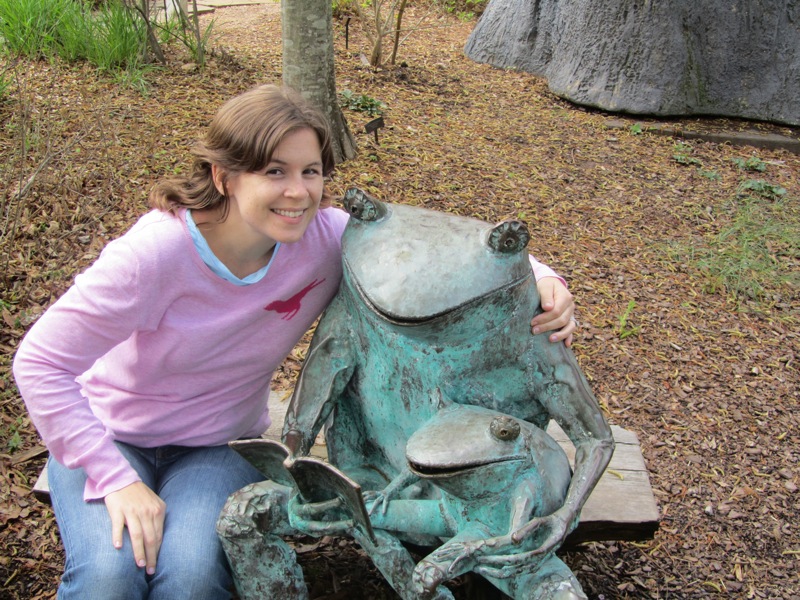 Hey, our girl was even cheered up enough to finally join in on the fun, too.
So if my obscene number of photos isn't proof enough, let me also urge you in writing — if you're ever in Atlanta, GO to the Botanical Gardens. You won't be sorry.
Can you believe our day wasn't over yet? We headed back to the hotel to chill for awhile. DadJovi and E went swimming in the indoor pool and I went hunting and gathering for dinner. We knew we couldn't stomach anymore grease, so I found some salads in the Peachtree Center food court and had dinner in our hotel room.
After fueling up for our next adventure, we headed down to Centennial Park for a really exciting event:
When we first booked our trip, we got excited when we saw the play was there but then it was scheduled to close a few days before we arrived. But after we left the aquarium Thursday morning, we wandered over to the ticket office and were thrilled to find out its run had been extended!
The ticket lady was very nice and did caution us that they recommend the show for children 5 and over because of some scary pirate scenes and language. Hello? Our swashbuckling-obsessed daughter ain't afraid of no pirates. Remember, this is the child who demanded a pirate party for her 3rd birthday. And language? Well, I've had my struggles in controlling my sailor mouth.
We were more worried about it holding her attention for 2 1/2 hours (plus an intermission) and without music. It's based on the original J.M. Barrie play, so it varies slightly from the Disney version. But her absolute favorite movie in the world is Peter Pan (hell, I have to sing her a medly of 4 songs from the Disney version every night at bedtime and she demanded a Tink costume last Halloween) so we decided to take a gamble. And boy am I glad we did.
She sat enthralled through the entire show. With the first cannon shots, she climbed into DadJovi's lap and stayed there for the whole show — both acts. But she never made a peep, never wanted to wander and the few times I tried to whisper to her about specific parts she shushed me. Yup, I was shushed by a 3-year-old at a play.
We even had families all around us go out of their way to tell us how well behaved she is and how much they were enjoying watching her reactions to the play. I'm going to file that in my memory bank for the next tantrum and remind myself that she truly is an exceptional child.
Since pictures weren't allowed in the show, I have none but if you're interested, definitely check out the show's website. It travels and you can see videos on the site of this extraordinary production, which includes flying actors, a very naughty and hilarious Tink and an amazing CGI ceiling that makes you feel like you're flying right along with Peter, Wendy, Michael and John.
So, that, my friends is how you do Atlanta in a day. We fell into bed around 11 p.m. and E and I slept in until about 10 the next day while poor DadJovi got up early to do some work.
Next time, I'll tell you what adventure we set off for next …