Since last summer, E. has been telling us she wanted a pirate party for her 3rd birthday. We're not really sure where the idea came from, but our best guess is either Peter Pan or Dora's Pirate Adventure. Whatever the case, she's a pirate nut. As her birthday got closer and we realized she wasn't going to change her mind, Operation Pirate Party went into full effect.
After scouring the Web for the perfect party invitations and debating whether to invite the whole preschool class (we caved and invited them all. It just seemed easier than only inviting a few, and I really didn't want to cause any hurt feelings. As it was, 8 out of the 15 came. Two others RSVPed that they couldn't come and I never heard from the rest. Sweet.), it was time to plan a perfectly purple and pink pirate party.
First things first, securing a pirate bounce house. Check.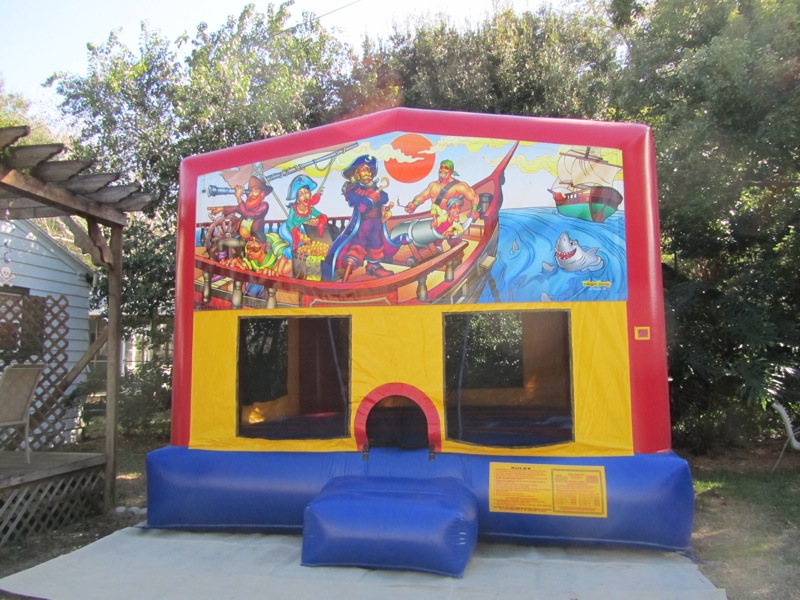 Then, we headed to our favorite bakery, Sprinkles of Winter Park, and ordered the cake. We weren't really specific but said we wanted it pirate-y. I also emailed the invitation to them to use if they wanted. And ohmygosh, look at how cute it turned out: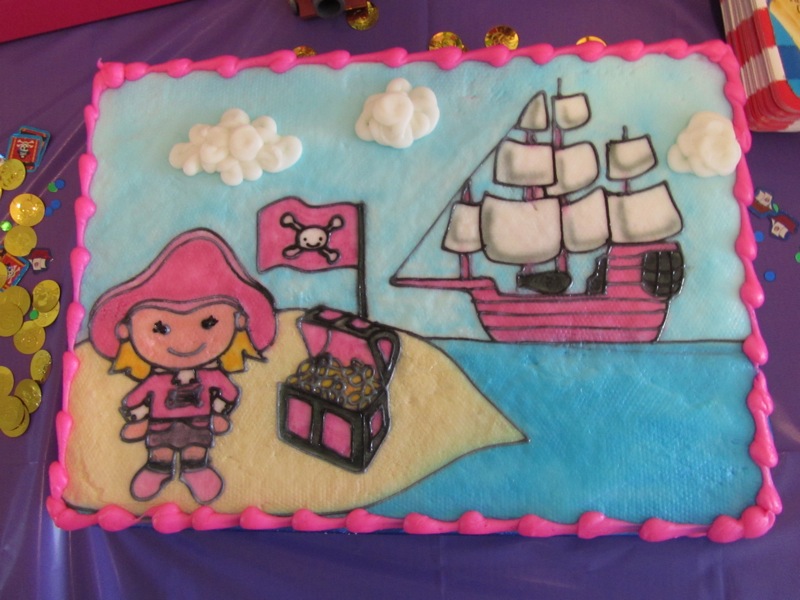 For decorations, I hit up the Party Store and the Dollar Store (I'm not proud. But I'm cheap). To keep it simple (and cheaper), I went with mostly black and purple paper products, with pirate accents. We also used a recent photo of her with Pirate Goofy from Magic Kingdom as a centerpiece.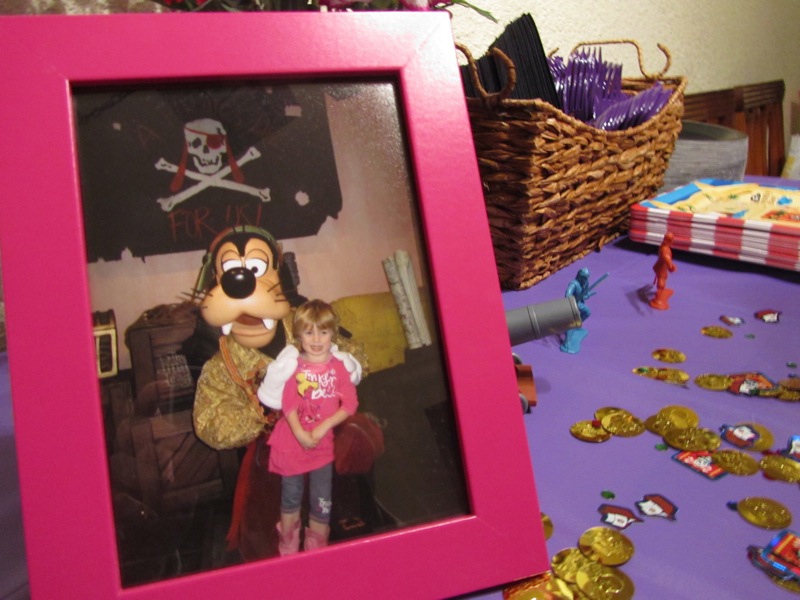 The color scheme was largely inspired by the birthday skirt she picked out a few weeks ago. We got the sparkly purple tutu with leggings at Costco, and I ordered the adorable "Argh! I'm 3!" pirate shirt from My Emmy Baby on Etsy. And the large inflatable pirate was a $5 CraigsList purchase. Arrrrgh!
Pirate gift bags were easy because there's so many pirate tschotskes out there these days (coins, temporary tattoos, erasers, stickers, etc.) but I was trying to think of a cute way to display them. Then one day I was browsing my favorite party planning site, Party Like a Kid (they even featured the camping baby shower I threw for my best friend last fall), and I saw the greatest idea — a treasure chest toy box from Ikea. It was only $13 and look at how perfect it was. Plus, now I have a new toy box for all her birthday party loot.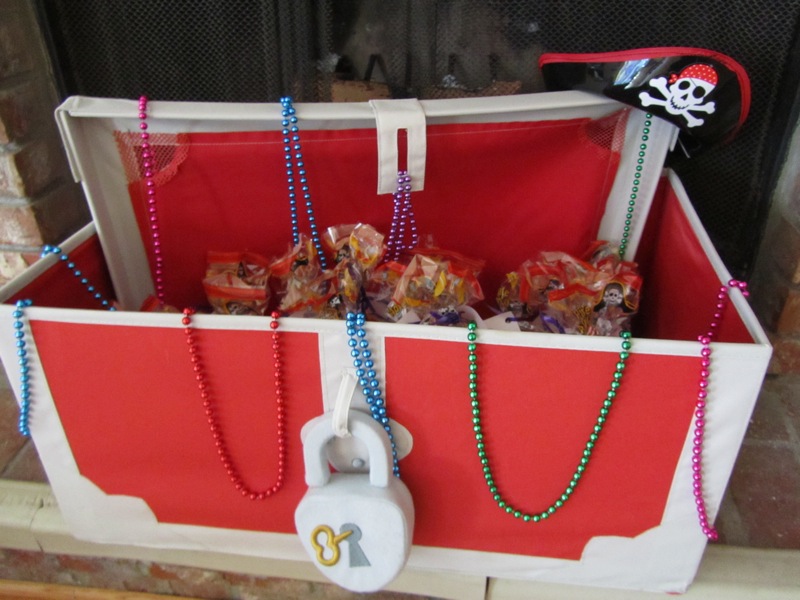 I used the pirate girl from her invitation to make thank-you tags for the bags.
From past preschool party experiences, I knew just a bounce house wasn't going to be enough to entertain the tots. So me and my friend Google came up with some fun activities for the kids: a treasure hunt in our new sandbox; a pirate hat making station with $1 hats from Michael's and lots of pirate stickers; and a walk the plank area, which featured two 2x4s across a blue tarp, surrounded by plastic sea creatures like sharks, eels and squid.
For the signs, I headed over to my old friend Dafont and finally settled on Rapscallion. Then I printed them on leftover brown cardstock from the camping shower and glued them to paint stirrer sticks (only .28 at Wal-Mart!).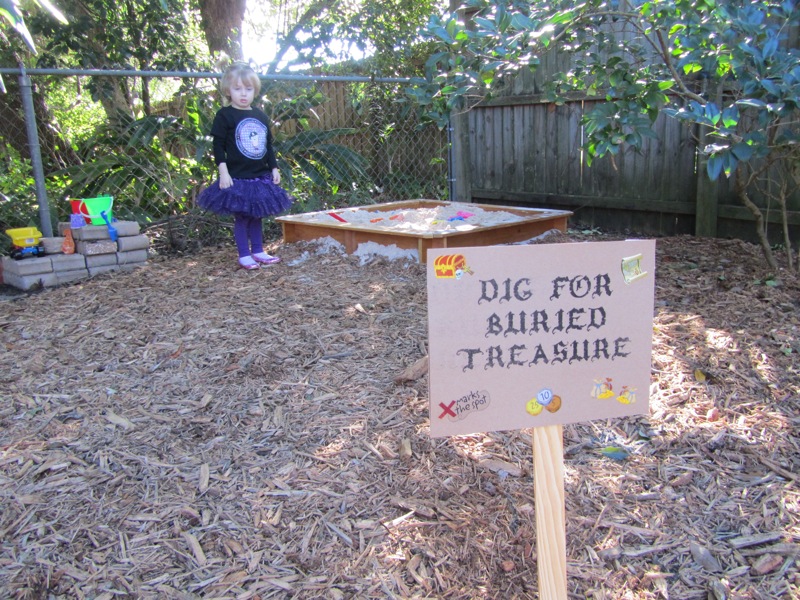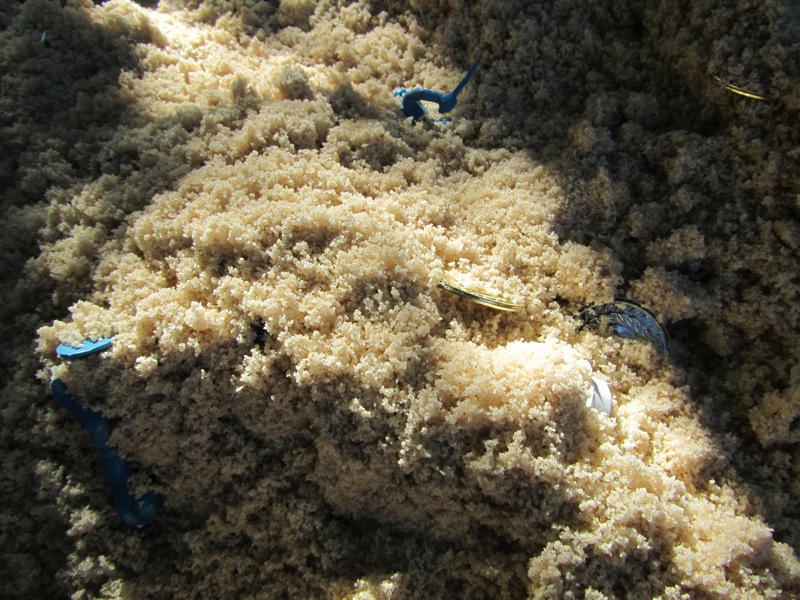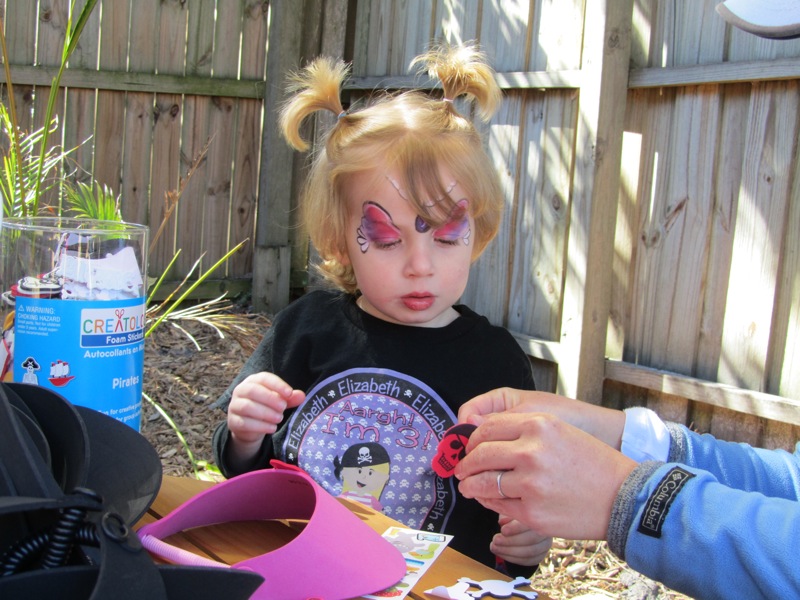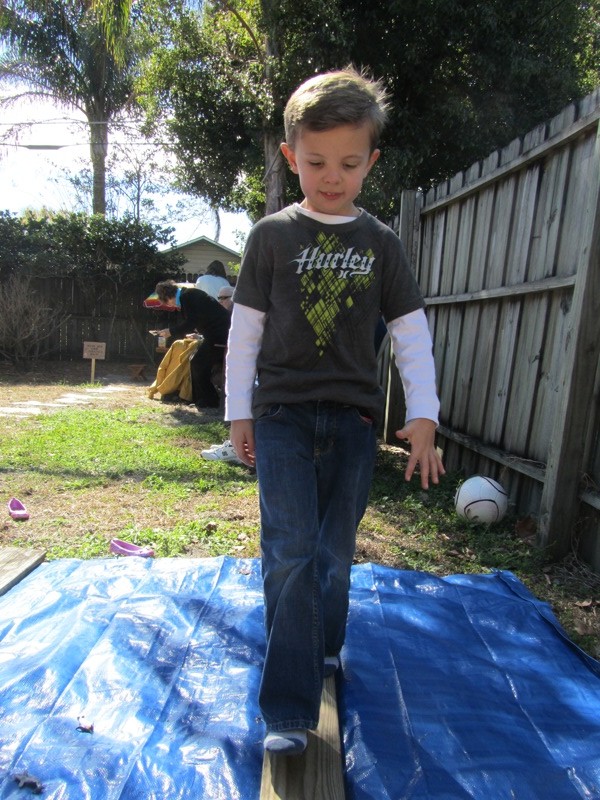 At first DadJovi said these were unnecessary and a waste of time and money, but he gladly admitted being wrong after the party when we saw how much fun all the kids had at the stations.
One of the biggest highlights was our Pirate Clown. Since my mom couldn't be here, she hired the entertainment and she delivered! She did some great face painting and pirate tattoos and some kick-ass balloons. E. sat like a champ.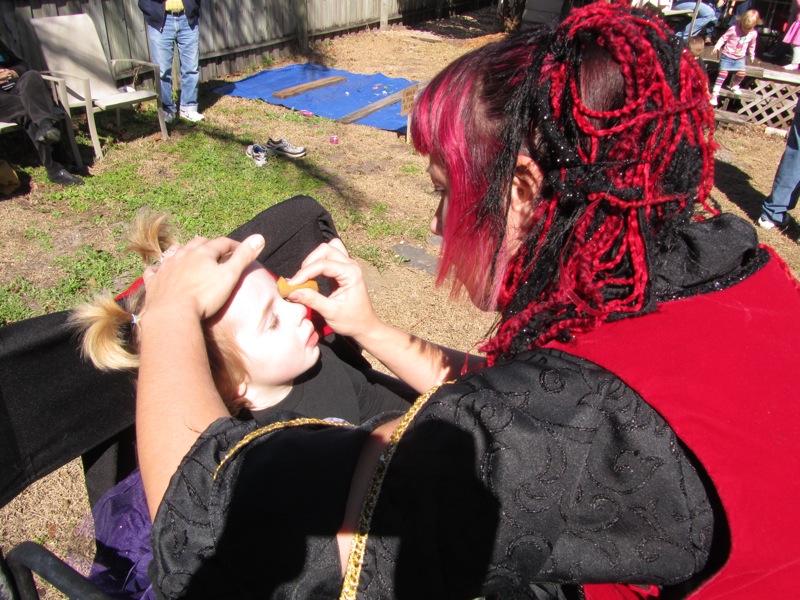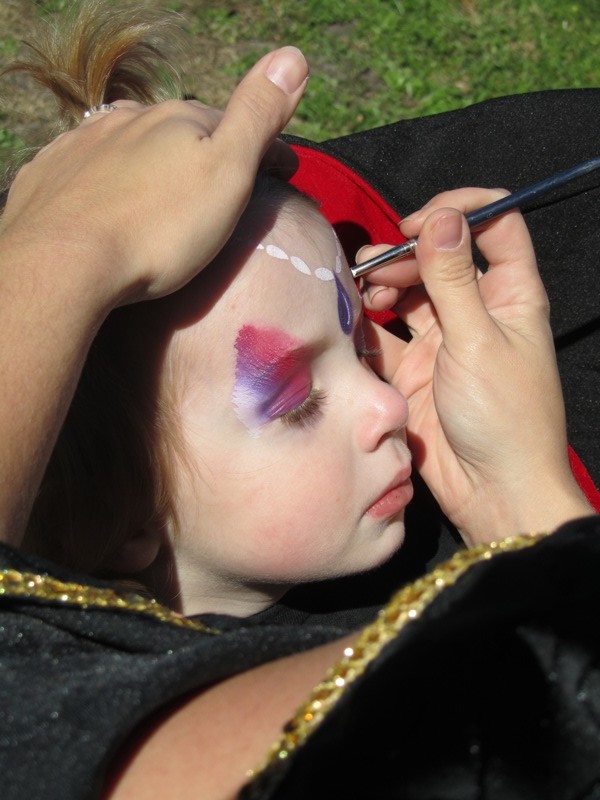 DadJovi even tested the bounds of her talents by bringing out a picture of the Duke Blue Devil and demanding requesting she paint it onto his face.
I never noticed before how similar their profiles were. Hmmm….
It was a great afternoon. Perfect weather. Good friends. Family. And a lot of beautiful memories.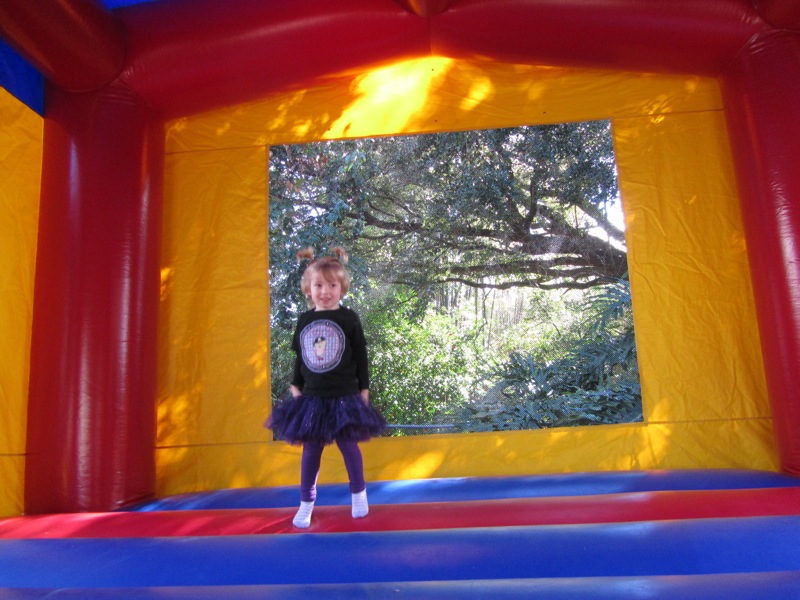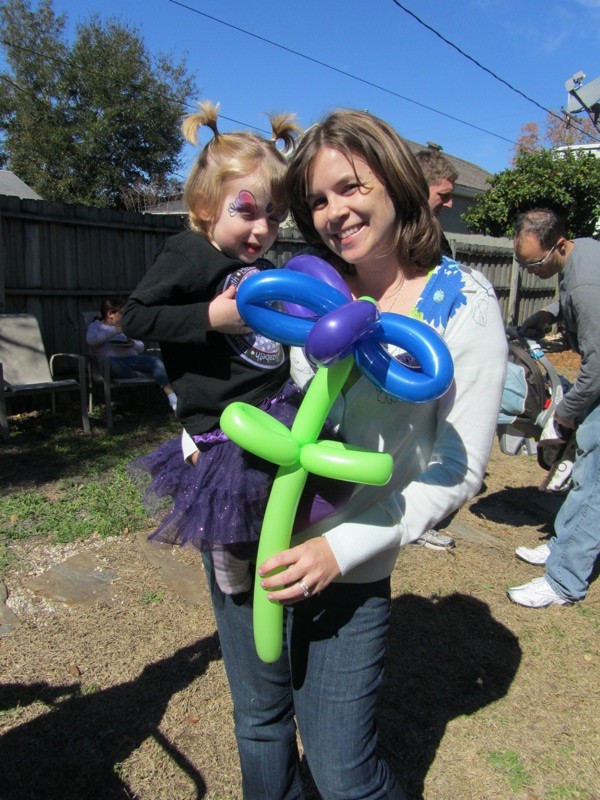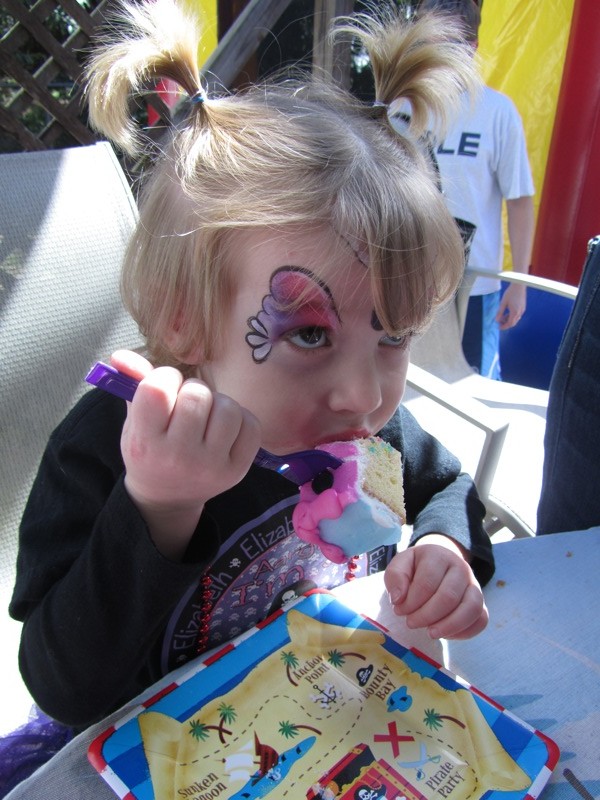 It was A LOT of work to get ready for it and we spent way more than we thought we would, but I don't think either of us would change a thing. Hopefully she'll remember pieces of it for years to come. She better — she may never have another party again!
Now, do any of you want to write thank-you cards for me?