My baby is 3. Three. Gah! How'd this happen so quickly? Here's how the birthday girl's day started.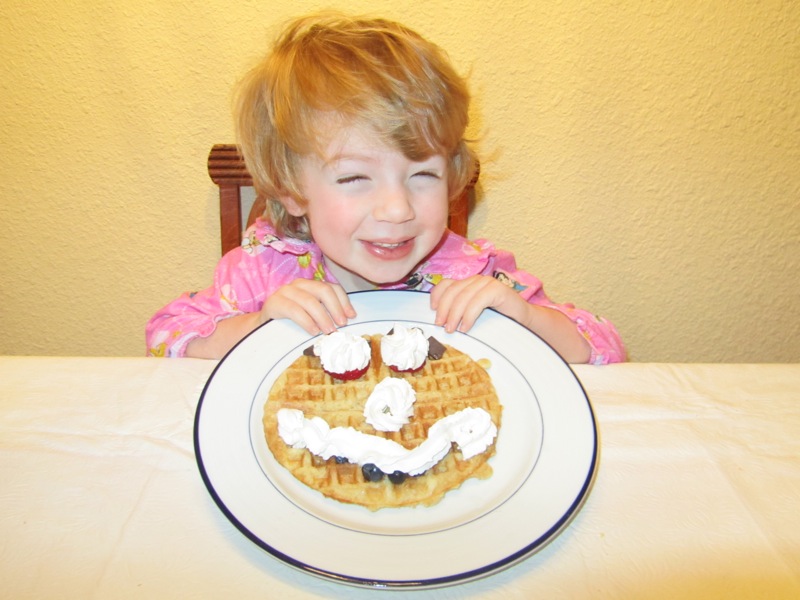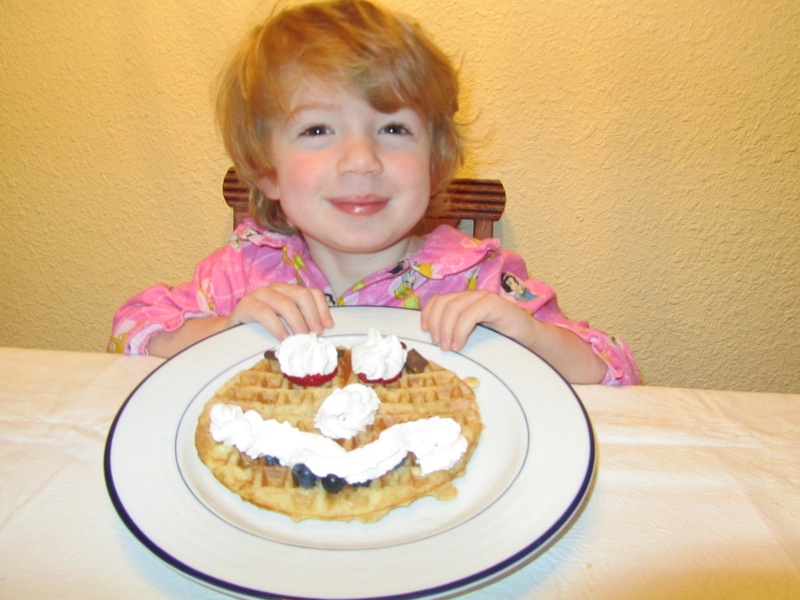 This girl loves herself some waffles and pancakes, so we thought this would be a fun start to her day. She looooved it. There was even a present.
(Yeah, we were sorta out of birthday wrapping paper. Mom fail. But it's February, so polar bears totally work, right? She didn't seem to notice). The morning gift was a new DVD: "Muppet Treasure Island." As you may remember, she's very into pirates these days and she's a new fan of the Muppets thanks to trips to Disney's Hollywood Studios and the fabulous Muppet 3-D Show. She was so excited for the movie (oops, missed the after shot!). It was tough to get her out the door for school after seeing that.
DadJovi and I got out of work a wee bit early to go pick up our birthday girl. Since we were having our mega Pirate Party this weekend (more on that later — I'm too exhausted to tackle that one yet), we kept it easy for our weeknight birthday celebrating and went to one of our favorite places — the bowling alley!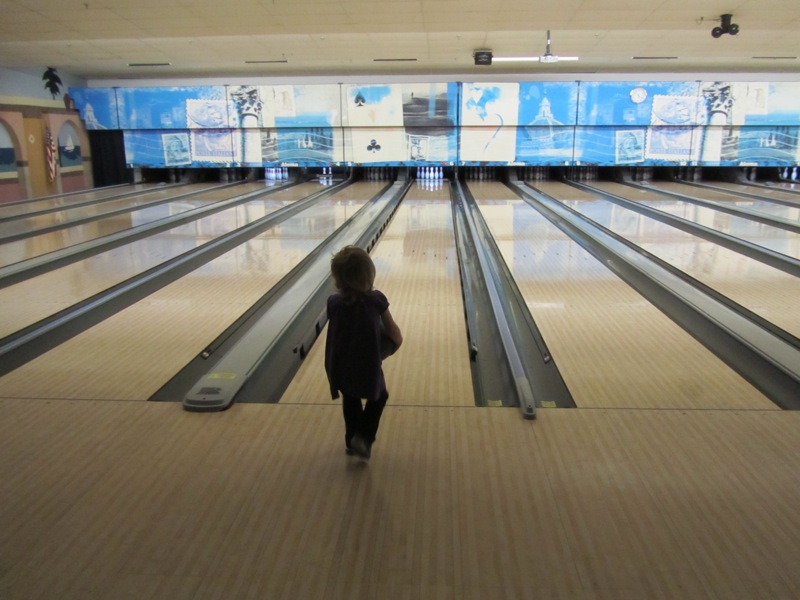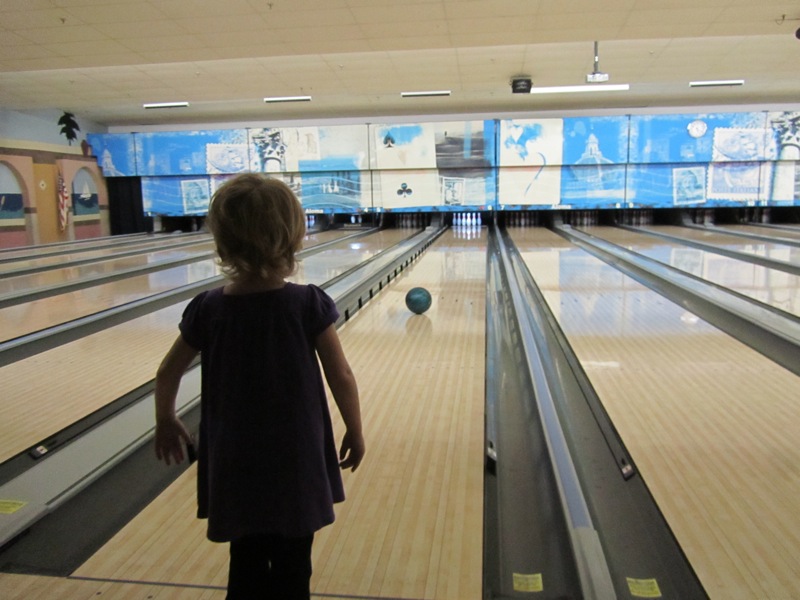 For dinner, I had a special birthday surprise up my sleeves. As soon as Katy told me about the Cake Batter Pancakes on How Sweet It Is's blog earlier this week, I knew we had our birthday dinner!
Basically, just add some yellow cake mix to basic pancake batter (oh, and sprinkles, too!), and you've got some out-of-this-world yumminess.
Just add a powdered sugar glaze, some more sprinkles and voilà, you have yourselves a recipe for birthday magic.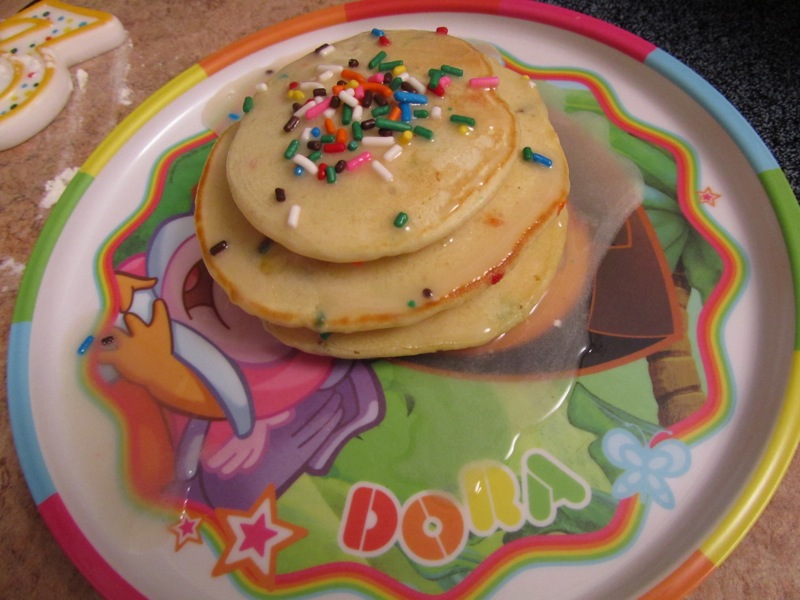 Need proof? Look at the joy on this child's face: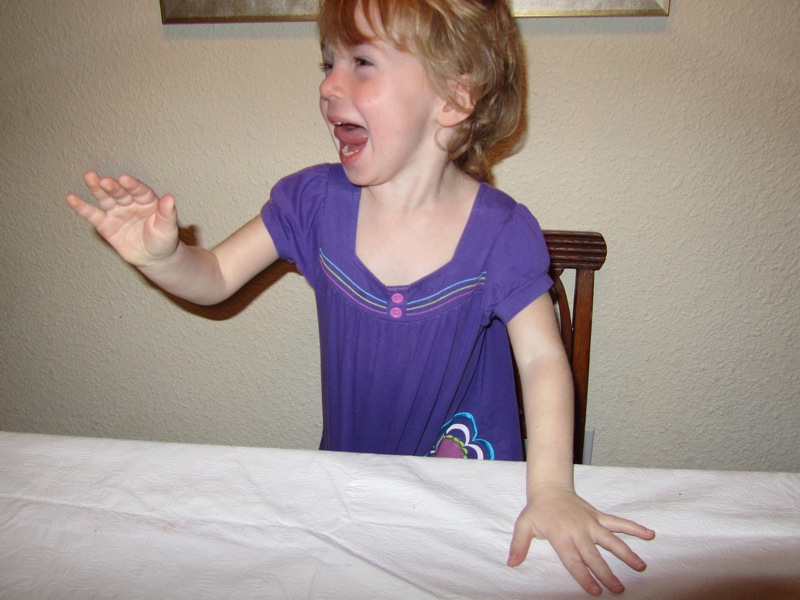 Honestly, she was one happy chick. Not only did she get pancakes/waffles twice in one day, the second batch was full o' sprinkles and extra sugar. What's not to love?
With food this good, who's got time for utensils?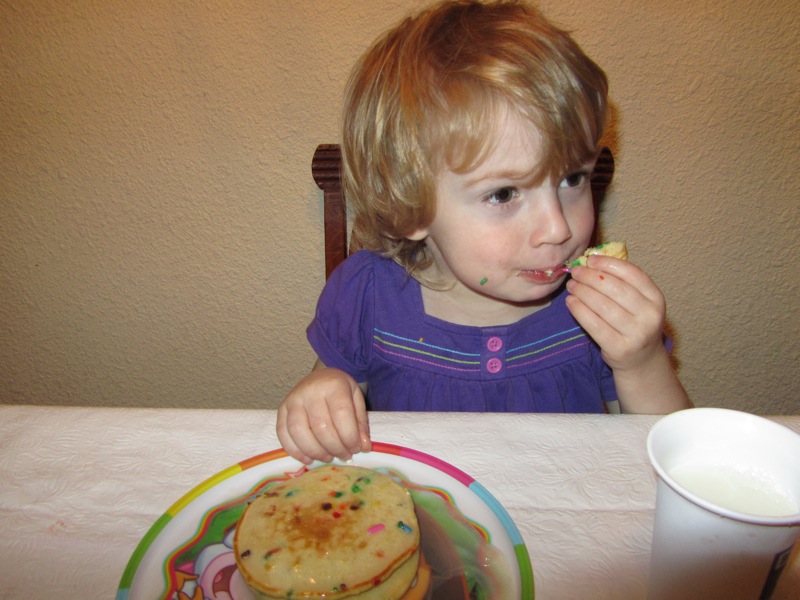 OK, fine, I'll use a fork. But I'm not waiting for you to cut it up, Mom.
These bad boys were definitely sweet, so I don't think they'll be a regular breakfast staple around these parts. But for special occasions (or when I need an extra-special bribe to use as a bargaining chip), they'll make some special guest appearances.
We ended the night by Skyping with Gigi and Dee Dee in Pa. E. even got a special acoustic guitar birthday serenade. But don't worry, the cake batter pancakes were never out of her hands. A girl's gotta have her cake.