Since E's school was closed for spring break last week, we decided to take a mini-vacation to Atlanta. Other than some connecting flights and endless Real Housewives of Atlanta marathons (which I think totally counts as having a working knowledge of the city), neither DadJovi nor I had ever spent much time in Atlanta.
We booked our hotel near Centennial Park, but we set off on Wednesday with very few concrete plans for the weekend. It's about a 7.5 hour drive from Orlando to Atlanta, so we were a little worried how the youngest member of our traveling party would handle the trip. Other than some severe weather and a couple of unexpected stops along the side of a highway:
it was an uneventful and fast trip. I gotta say — my new Droid was a LIFESAVER. I've found some games and ebooks that kept her entertained the whole drive. The flip side is that it's now hard to get my phone away from her!
But at last, we were there .. HOTLANTA!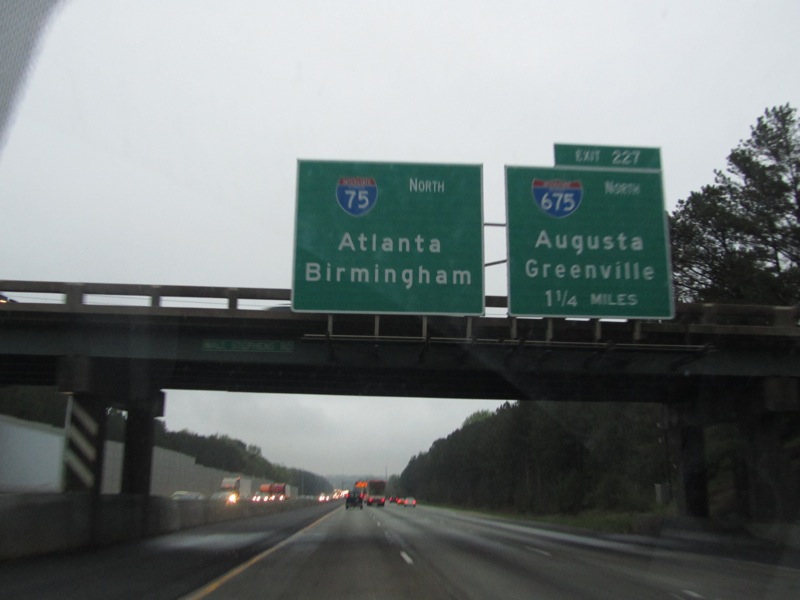 Too bad it was freezing. I know I'm a Florida wimp now, but the city was hit with some cool, rainy weather for most of our trip. And I don't know what I was thinking when I packed but … spoiler alert … you're going to see all of us in the same long-sleeved shirts and sweatshirts all weekend. Oops!
After quickly checking into the Westin downtown (and biting my tongue when they only had a room with one king-sized bed available, even though our reservation made months ago stated we were three people), the famished travelers had one thing on their minds — waffles. Specifically the waffles made by one Empress of Soul.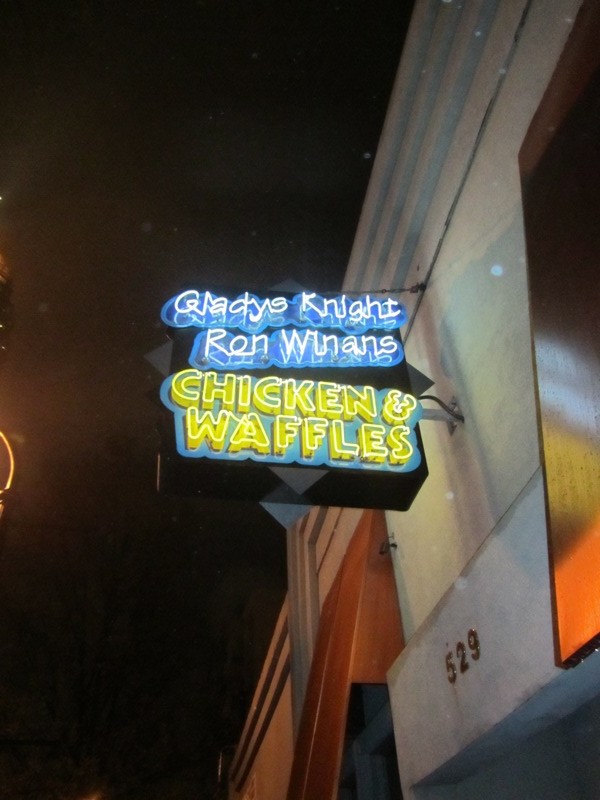 Ever since we saw this place on Man v Food, there was no doubt we'd be hitching a ride on that Midnight Train in Georgia. Plus, anyplace rockin' a security guard during the dinner shift on a random Wednesday night is something I want to be a part of.
OK, I know this is going to sound a bit weird and I hope that it doesn't sound too lily-white, but since I was in Atlanta, home to everyone from Lil John to Ludacris to Young Jeezy, I was convinced I was going to see a famous rapper at Gladys' joint. I mean, security WAS there. To be honest, Jay Z could've have been there and we wouldn't have noticed him. After a day on the road, this was all we saw … WAFFLES!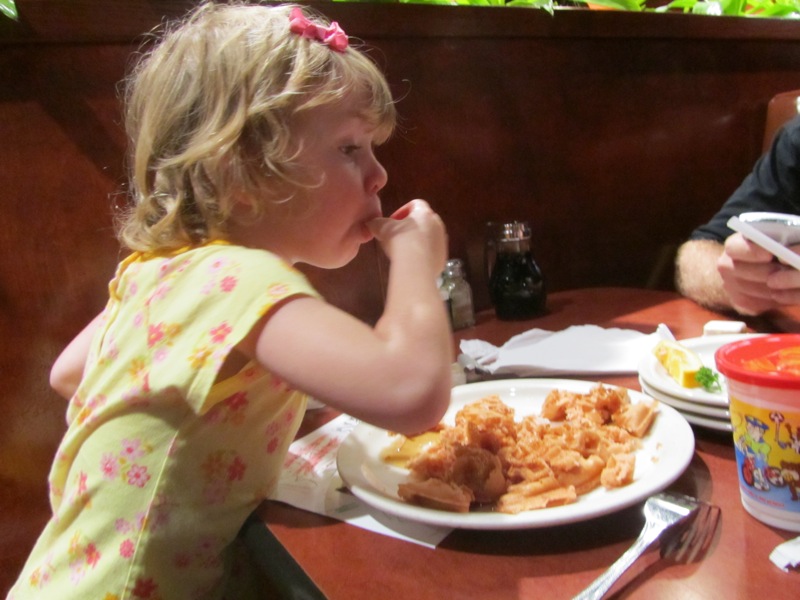 I think E. out-ordered us all with the special of the day — strawberry waffles. The strawberries were pureed and mixed right into the batter. Oh.my.awesome.
DadJovi blew his order by getting the Southern Sampler appetizer plate, with fried green tomatoes, collard green spring rolls, and wings, with a waffle on the side.
Everything was good but for some reason, the wings on the sampler were different than the fried chicken-esque GIANT wings normally served with the waffles (and that everyone else there ordered) so he was bummed he didn't get to experience that (side note: we tried to eat there again on Friday night and right his wrong but there were — no joke — about 50 people waiting outside for a table at dinnertime. We kept driving).
I ordered the shrimp and grits.
The shrimp were good, although I wasn't expecting that they would come fried. But the grits? They were a thing of beauty. I've never been a big fan of grits but this was the dish that may have changed my opinion forever. Go to Gladys' restaurant and ORDER THE GRITS! Trust me. (and yes, that's a side of cinnamon raisin toast. No idea why that's the standard side with that order but once I slathered the peach butter on it, I wasn't complaining!)
One more funny thing about the place. Guess what time it's open until on weekend nights? 4 a.m.! Lordy what I wouldn't have done to have KILLED some chicken and waffles during drunken college nights. Every Emory and Georgia Tech student must eat their weight in those waffles each semester.
Thursday
We had one item on our Atlanta agenda — the Georgia Aquarium. We'd heard stories about the massive crowds so we pre-bought our tickets for 9 a.m. on Thursday to try and beat some of the crowds. And it's a good thing that was our gameplan because the weather was pretty awful Thursday morning. See that building in the mist? That's our hotel. We were on the 44th floor (whoop! whoop! You 'Cuse fans know why that rules).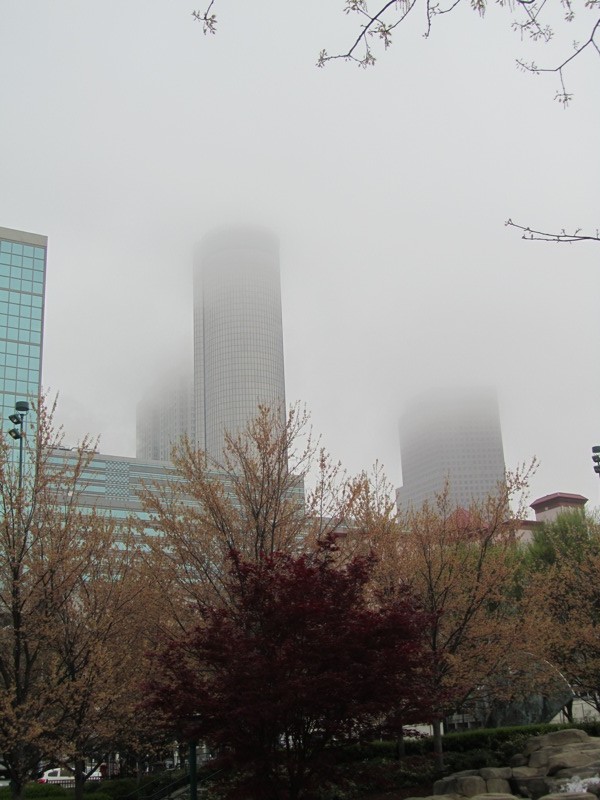 Luckily, it was only a 10-minute walk from our hotel to the aquarium, and despite the Seattle-like conditions, it was cool to see the Olympic Rings fountain (even if it was turned off) and the CNN building. What wasn't fun was walking by not one but two playgrounds and trying to convince E. that they were "closed" since it was wet outside. I think our white lies days are numbered.
I'll save you from boring you with all the details about the Aquarium itself but I will say — you must go at some point in your life. It's amazing. It's beautifully designed and planned, with tons of interactive experiences, creative ways to get up close and personal with the exhibits and just awesome displays of amazing creatures. Here were a few of our favorites: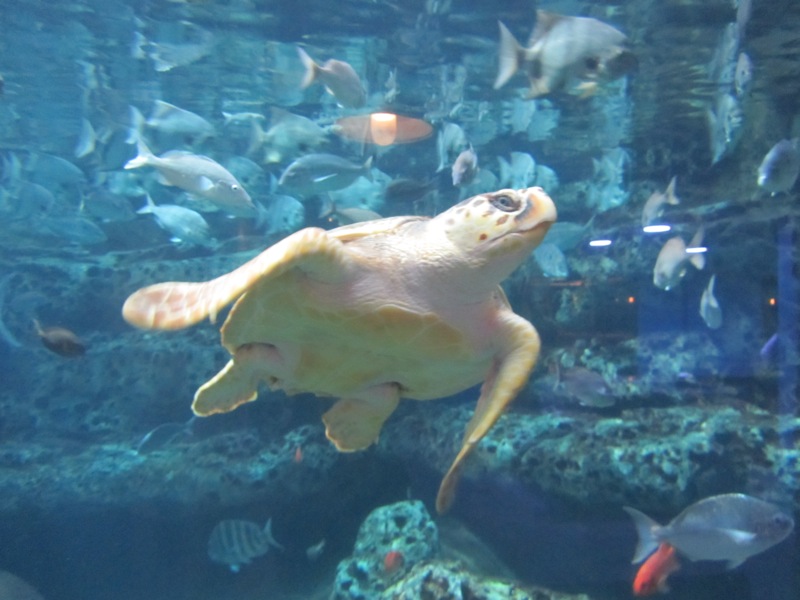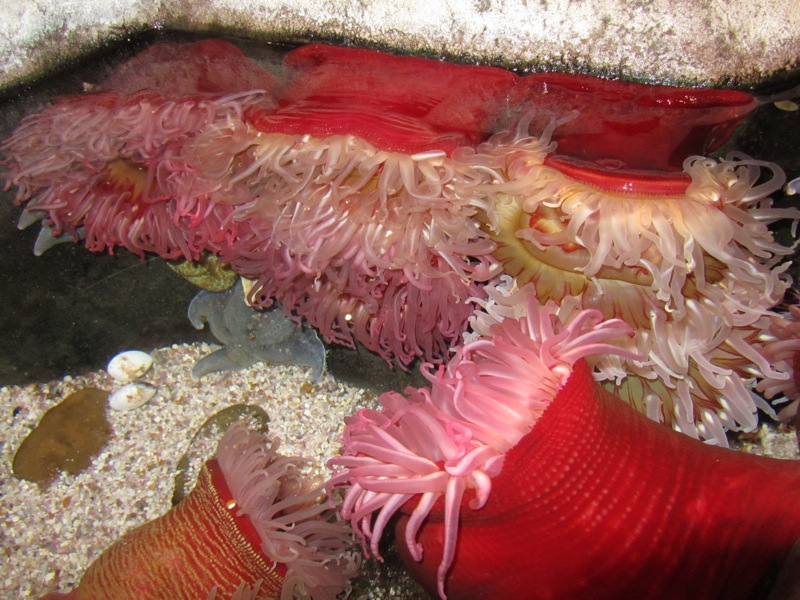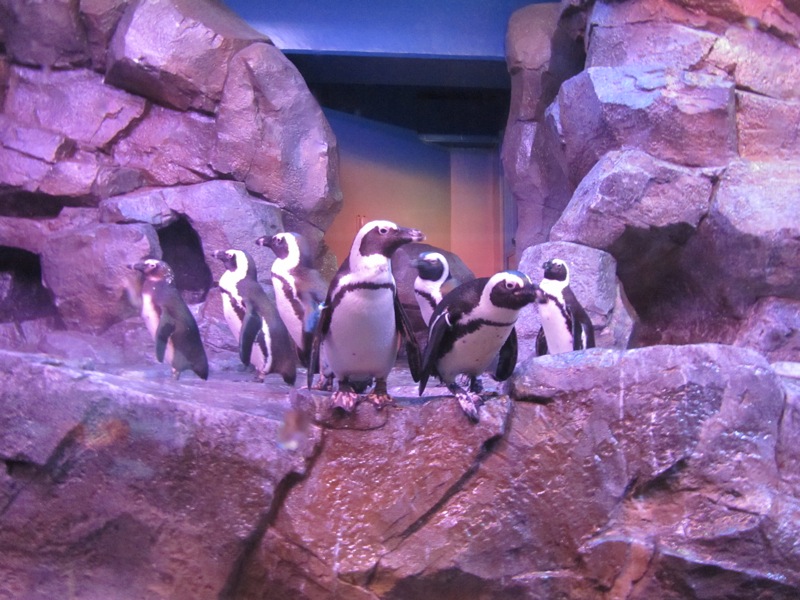 We pretty much made it through all the exhibits in about 90 minutes. We missed their much-heralded new dolphin exhibit by two days! The grand opening was on Saturday. I was hoping for a soft opening while we were there, but that section was under lock and key. Oh well. Ever since seeing The Cove, I can't really stomach seeing dolphins in captivity anyway. It's why we no longer go to SeaWorld. I know it makes me a bit of a hypocrite for going to the aquarium but I'm still sorting through my feelings on zoos and aquariums. I see their educational benefit (you should hear E. reeling off — ha, get it! — the names of all the different kinds of fish, sharks and whales were saw) but I have a hard time emotionally processing what it means for me to see these gorgeous creatures in captivity.
OK, off my soapbox for now. I will advise you to get there early. By the time we were leaving after the 11 a.m. 4D movie showing, the place was PACKED with school groups. Tons of screaming and texting tweens made it hard to enjoy the serene silence of the exhibits.
Phew! I'm not even to lunch yet. I think it's time to break these blogs into separate posts. Stay tuned for our further adventures in Hotlanta!