With many apologies to one of my BFFs in the world and my social media guru, I'm about to totally rip off Katy Widrick. She has this awesome weekly feature on her blog called Five for Friday. If you're not reading it, you're missing out. She lists some of her favorite posts, photos and links from the week the was (yours truly has even been mentioned from time to time. Makes me feel like I'm momentarily big time).
Anyway, I'm still celebrating my birthday, or at least that's what I'm telling myself, so I've had more than my share of wine tonight. Remember that scene in the second Bridget Jones book when she writes her Christmas cards drunk? This may be a little like that.
So, before I think twice about it, I give you my Nine From Wine:
1. First and most importantly, as predicted, as the sun rose this morning, the day after my birthday, the blues vanished, too. But, to be fair, they were barely even blue anymore. More like a dirty white. I had a fabulous day yesterday. There was UM-mazing cake at work: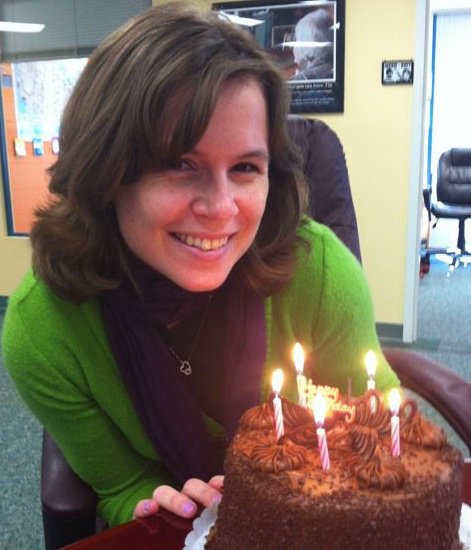 And it was enjoyed by all: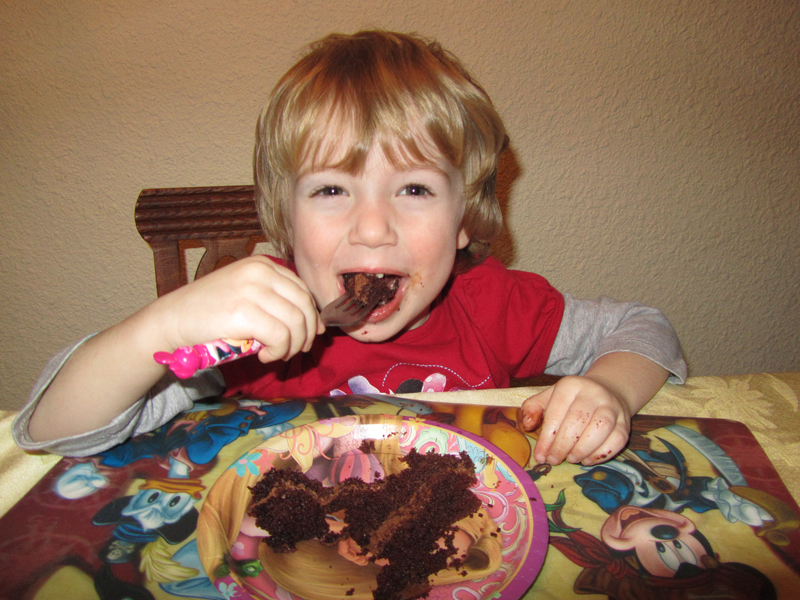 And I got maybe the greatest present of all time. It's my boyfriend Eric Ripert's cookbook: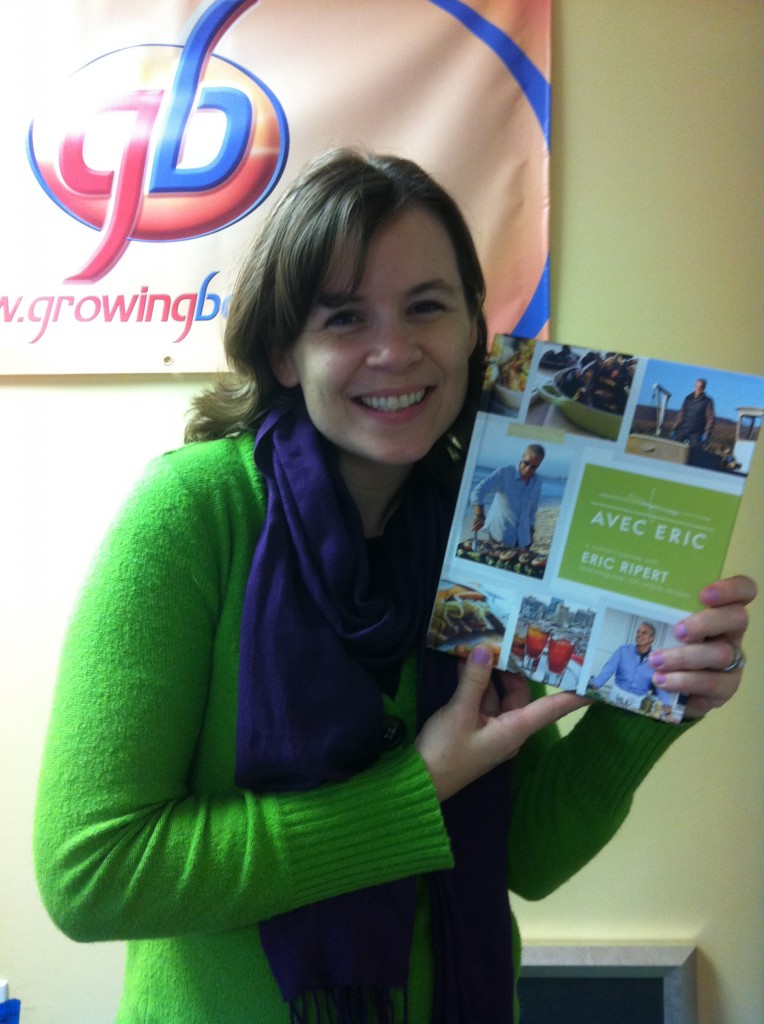 But that's not all — it's personalized! His hand wrote my name! Swoon! That Katy Widrick is the most tenacious, single-minded journalist around. She sets her mind to it and it gets done. Thanks again Katy for one of the most thoughtful, kick-ass gifts ever.
We're doing our family celebration tomorrow night with dinner at the California Grill at the Contemporary Hotel at Disney. Can't wait! I've been wanting to go there forever. Plus, we made late reservations so that we can see the Magic Kingdom fireworks from there. I'll let you know how it is.
2. How much better does Facebook make birthdays? It was so great to hear from friends and family, near and far, even if it was a simple "Happy birthday." It was a good reminder to always check that little alert in the upper right-hand corner for birthday notices. People do appreciate the gesture.
3. Remember that whole "Am I Over Twilight?" post. Um, yeah, I was dumb to forget the crucial element to the Twilight movie's greatness when I wrote that: wine. I'm about three glasses in right now and just came across "New Moon" on Showtime. It's amazing how amazing it is suddenly with a little vino pumping through the veins. Even with Edward's creepy over-the-shoulder tidbits of advice and Jacob's aversion to shirts. No matter. I still love my RPatz like no one's business.
4. Someday I'm going to invent a computer with charger inputs on both sides. Sometimes it's OK in its normal spot on the left, but nights like tonight, when the charging iPod is sucking the battery out of my laptop and I'm too lazy to move closer to the outlet, is really make this left-side input difficult. I'm contorting my body to keep it charging. Steve Jobs, make a note. This idea will make you another $100 million.
5. DadJovi and I watched "Joan Rivers: Piece of Work" tonight. You must watch this documentary IMMEDIATELY. I can't praise it enough. She's hilarious, hard-working, angsty, dark and twisted, depressed, an over-bearing mother and just so human. I'm now pulling so hard for her in anything she tries in life.
6. How do you and your spouse/SO coordinate exercise schedules? We just can't seem to get it together. I thought after DadJovi ran the Disney marathon earlier this month that things would get easier. They haven't. Since we have a little one at home, only one of us can exercise at the same time. So we're fighting over mornings and then today, DadJovi went and made plans to play soccer tomorrow morning without consulting with me first. That means now I can't go to Dance Trance, like I planned. So annoyed. Someone please schedule our work-outs for me please. I'm no good at it.
7. I really need to stop with house envy. I went to a playdate today at an AMAZING home. It wasn't a McMansion or very fancy but it was my ideal home. An old house with so much character, very lived in and very awesome. It was like something out of a Pottery Barn catalog and the hostess is one of my favorite people in my mom's club. Just such a sweet, enchanting and easy, breezy mom of two. Hate her, huh? Wish I could, too. I just kept walking around the house, green with envy. Oh, and she also happens to be a great photographer, so there were all these gorgeous photos all over the house of her children.
But I need to remind myself how lucky I am to have the house we have when so many people don't have a home anymore. I've never been one to try and Keep up With the Joneses, but I'm sometimes subject to envy. It's a bad habit. So, say it with me: it may not be perfect, but it's home sweet home and it's ours (well, at least it will be in 40 years).
8. Have I ever told you about the nuclear option? E. pulled it again tonight. That's what happens when we try to "force" her to eat something she claims to hate (even if she's never had it before), in exchange for dessert or something special, like a new movie. Tonight, the poison was greens beans and Panko-crusted tilapia. Know what she does when she decides she's going to outsmart us? She vomits. Everywhere. It's not pretty. She pulled the nuclear option tonight. And it ended her torture. Food wars are exhausting. Someone please teach me how to win at least one battle here and there.
9. I need some new ideas for food to take to sick friends. I have a friend recovering from surgery and I signed up amongst our group for dinner duty tonight. I told her I was bringing a lasagna, and bless her heart, she told me she already had one lasagna, one pan of baked mac and cheese, chicken and a meatloaf. What she was really craving was a salad. So I made her a beautiful salad of mixed greens, sliced grapes, feta, almond slices and a dressing I made. But that really felt like cheating. I mean, it was a four-ingredient salad that took 10 minutes to toss together. I need some new, healthy and light ideas for situations like this. Share away, please!
Phew, I wasn't sure I could make it to 9 but I did. If you're still reading I hope a) it made some sense and b) you'll come back again. For some reason lately, whenever I post a new blog, my feed subscriptions go done. Go figure. I must remind people how much they don't like me.
Happy weekend!