As you know, we go to Disney a lot. A lot. Over the past six years, we've had season passes to the parks and the water parks, we've been on a Disney Cruise and we've even reached first-name status with the Princesses. But there was one thing we'd never done — stayed at a Disney resort.
Every winter, during the slower periods, we get passholder emails about discounted hotel rooms but we've never been able to make it work scheduling wise. This year, we had an added incentive to stay at a resort — to FINALLY get our hands on MagicBands. Now that the paper Fastpasses have been phased out at the parks, we knew we had to get our own MagicBands. You don't expect us to wait in lines, do you?
A couple weeks before my birthday, my husband surprised me with this picture.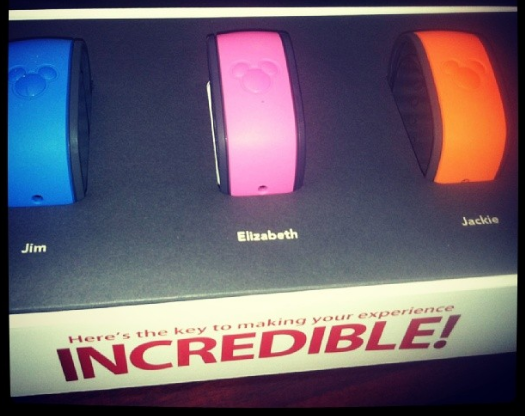 I immediately knew it meant one thing — we're going to (a) Disney World … resort! After going through all the rates and options, he settled on the Wilderness Lodge. For starters, we hadn't stepped foot on the property in about nine years but we remembered it fondly. I actually stayed there with my family about 13 years ago and loved it then. The biggest plus is that it's near Magic Kingdom and we already had late reservations at 'Ohana at Polynesian.
So, last weekend, two days before my birthday, we checked in for our one-night staycation at the Wilderness Lodge.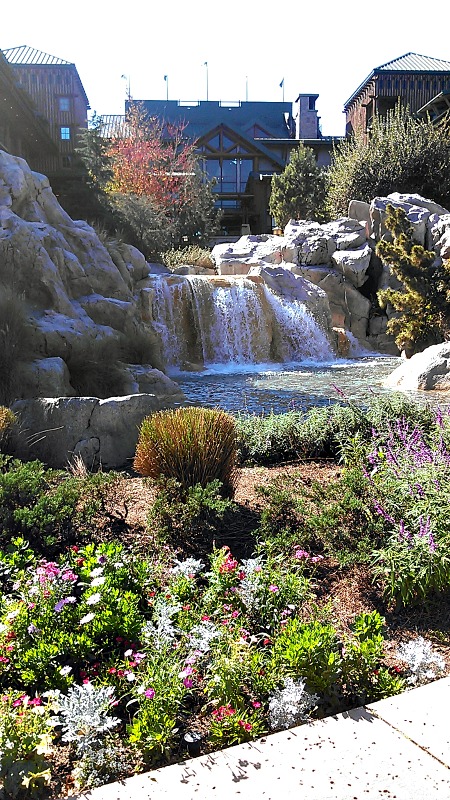 Our room wasn't ready when we got there, so we headed down to the pool area. Even though it was only in the mid-60s, E. and DadJovi weren't going to let a pool go to waste. I settled myself into a deck chair to watch them play.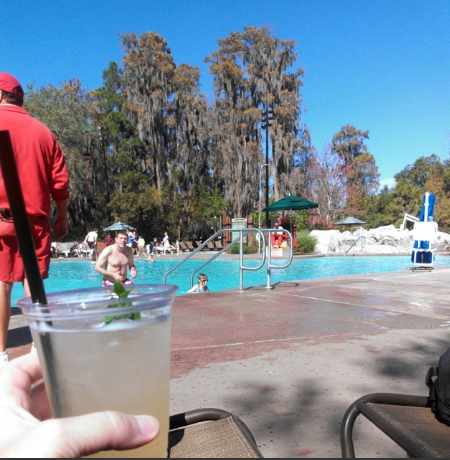 After all, it'd also be a crime to let a good pool bar go to waste. They kept insisting that the water was warm, but that doesn't fix the air outside. Nope, I was good, but it was fun to watch them have a blast.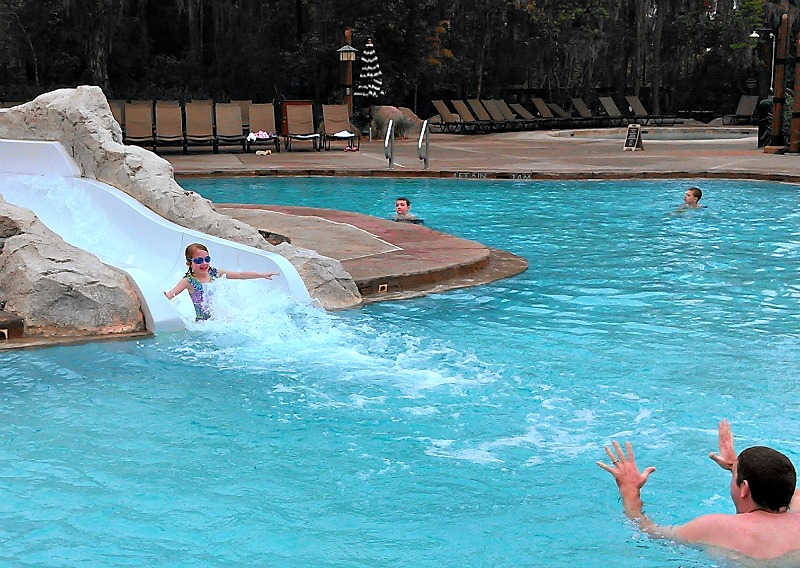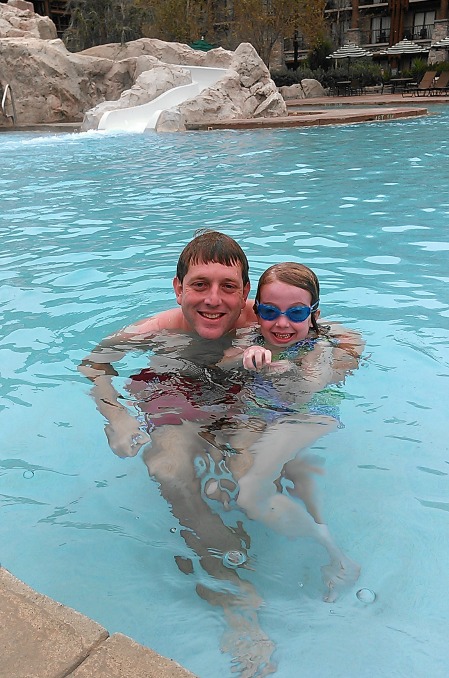 While they were still in the pool, we got a text message from the front desk that our room was ready. I love technology.
E's lips were starting to turn blue anyway, so it was a good time for them to get out. When we got to the room, Mickey was waiting to say hello.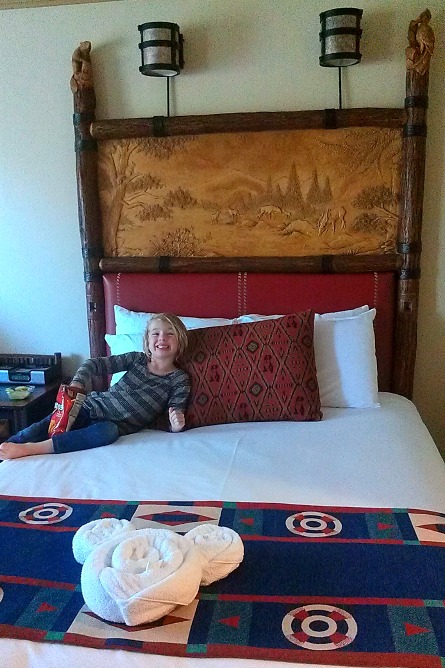 We also found a few other friends of the woodland variety.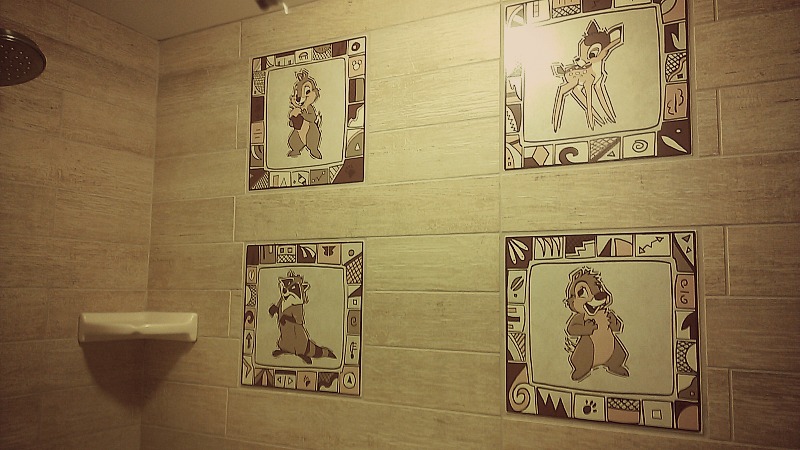 We also had another surprise — Mickey and Minnie left a voicemail singing me "happy birthday" on our room's phone. So fun! We played it about four times.
After relaxing for a bit, we walked around to check out some of the sights of the massive lobby.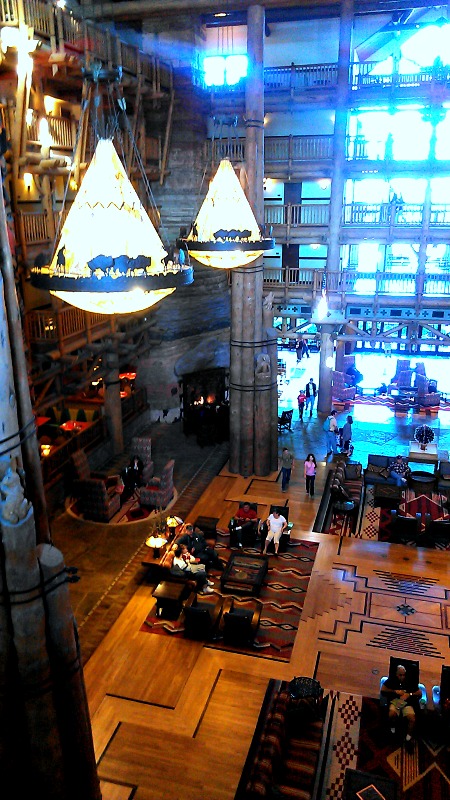 A quick note about my crappy pictures. My point-and-shoot broke after one picture at Wilderness Lodge, leaving me with only  my phone for the weekend, which mysteriously has decided  to take yellow-tinged photos indoors lately. But I kept trying to make it work because the lobby was just too cool not to photograph.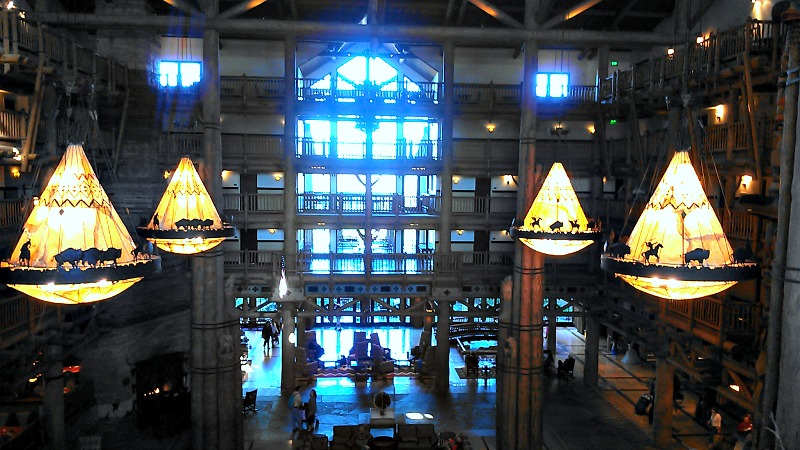 We were on the fifth floor in a room overlooking the lobby. On each floor, there were little nooks and crannies to relax on either end of the lobby. In the back (straight ahead in the picture above), there were outdoor balconies overlooking the pool and Bay Lake. In the front, there were fireplaces, comfy chairs, and even desks ducked into cozy corners.
The hotel pays homage to the Pacific Northwest, particularly Native American culture.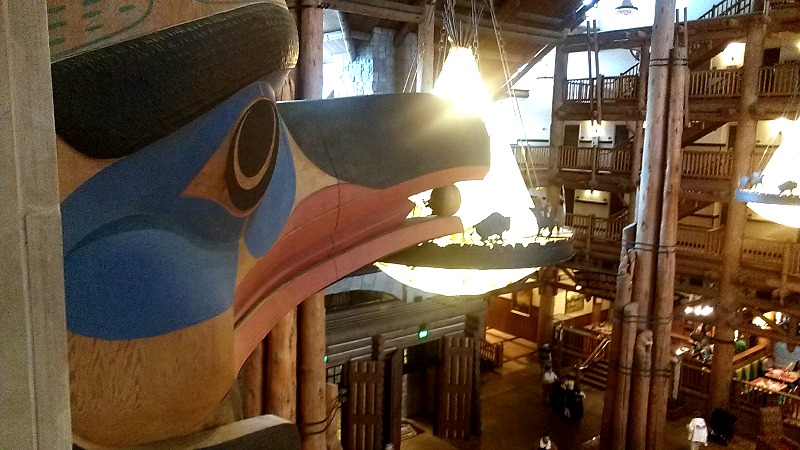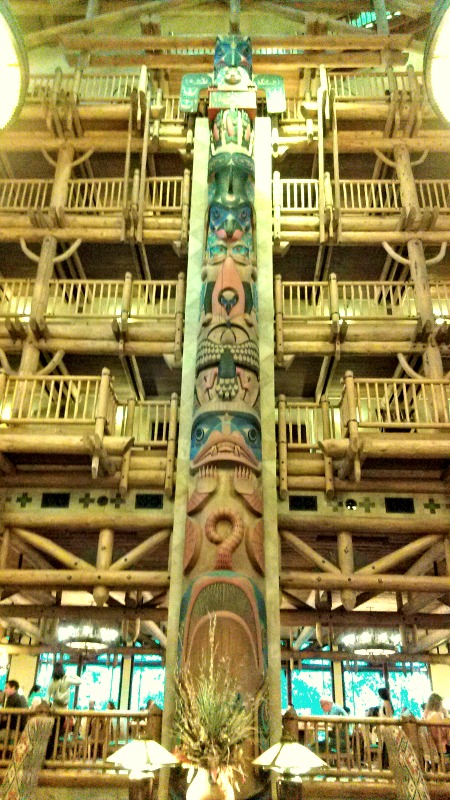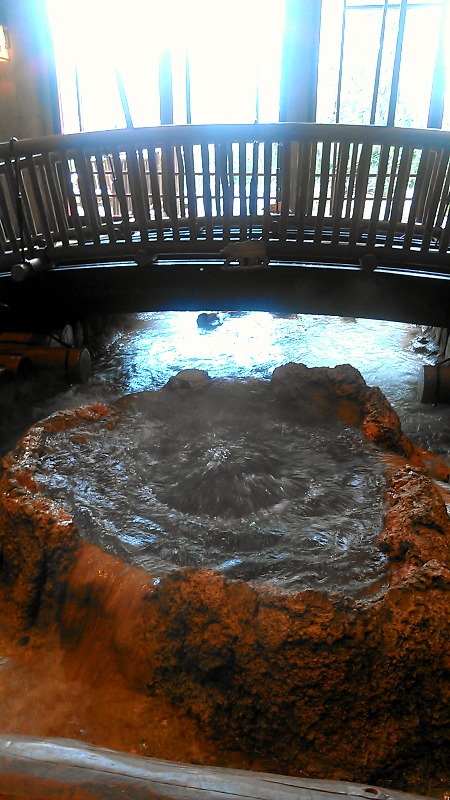 We also walked around the grounds a bit, too.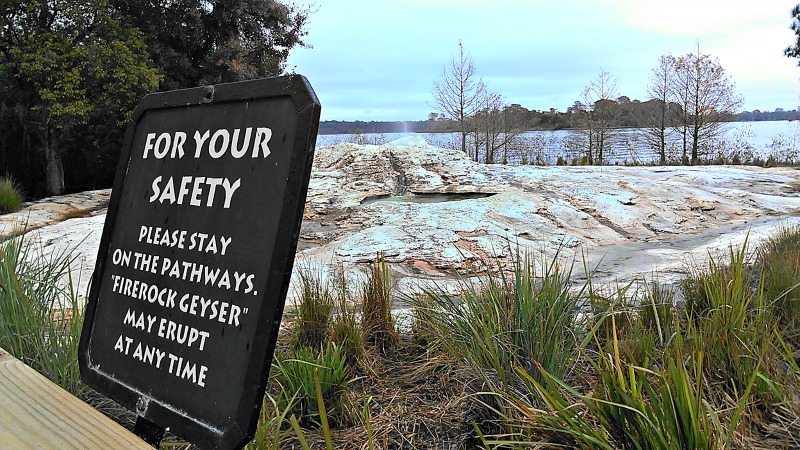 Every hour, on the hour (actually we found it to occur a few minutes before the hour), the geyser sends a powerful stream of water high into the air. Of course, I missed it every time with my camera, but it was still a lot of fun to see.
Since it was my birthday and we were doing it up Disney style, we decided to take advantage of one of the hotel's amenities: boats!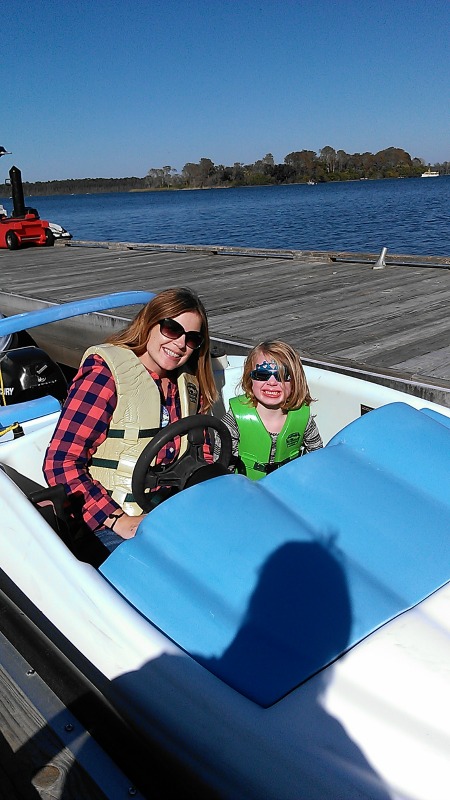 Unfortunately, the boats are only two-seaters so DadJovi volunteered to stay on the shore. I love playing the birthday card! It was a glorious day to be on Bay Lake. There were dozens of great big water birds, such as egrets and herons, along the shore.
We did a loop around the backside of Bay Lake, swinging by the Fort Wilderness Campground (and trying to stay out of the way of the fishing boats) before heading toward the Seven Seas Lagoon.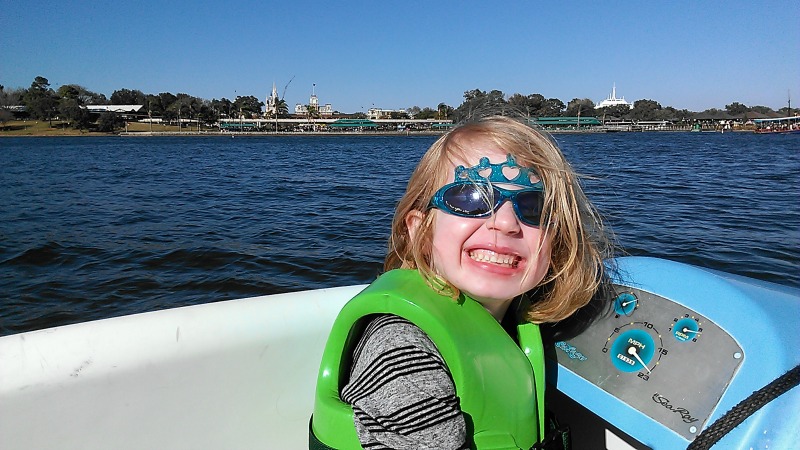 In case you can't tell, in the background you'll see (from left to right) Cinderella's Castle, the Main Street train depot and Space Mountain.
As we were dodging the ferries traveling from the TTC to Magic Kingdom, we also drove by the Grand Floridian and the Polynesian, where E excitedly pointed out the volcano at its pool. Ah, maybe next staycation.
We returned to shore after about 40 minutes out, mostly thanks to getting stuck behind a ferry transport. Thankfully the desk agents were very generous with our out and in times and only charged us for 30 minutes. Oh, don't forget to ask for discounts. We got 15% off for being AAA members. Full annual passholders (not seasonal like us) get discounts, too. I think our total came to about $35. A little pricey but I guarantee it's a trip neither E nor I will forget any time soon.
In fact, E is already counting down the days until she turns 12 and can drive the boat herself. They don't go very fast and there are a lot of patrol boats circling around to help protect the recreational boats from the bigger ferries.
We then took a different boat over to Magic Kingdom to spend a few hours before our 'Ohana reservations … and to give our MagicBands their first test run! I'll post more on them after we use them another time or two, but my first impression is that I'm conditionally a fan. I worry they'll impact the spontaneity of park visits but I'm willing to keep an open mind.
And surprisingly they didn't bother me on my wrist, even when holding onto a bunch of balloons. Happy birthday to me!
We had just enough time to do our three pre-planned FastPasses: Enchanted Tales With Belle, Buzz Lightyear and Space Mountain. Don't let her face fool you; Space Mountain is hands-down E's most favorite ride.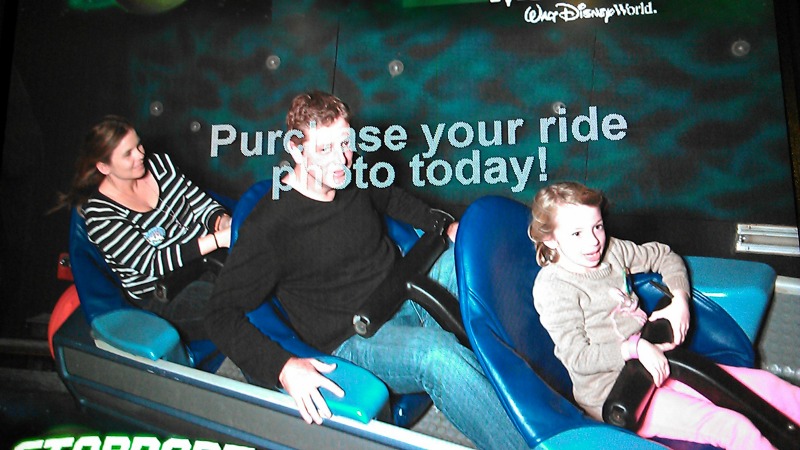 I'll also save my 'Ohana review for another time, but here's a preview: it's always fun drinking out of a pineapple bigger than your head.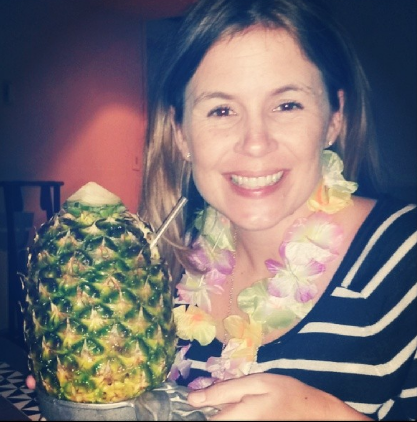 After our late dinner, we weren't up for big breakfasts, even though everyone insisted we HAD to eat at Whispering Canyon Cafe. Next time. Instead, DadJovi did what he did every morning of our Disney Cruise — he brought breakfast to us in our room. Mmmm, Mickey waffles.
E had a birthday party that morning so we had just enough time for the final item on our Wilderness Lodge wish list — finally renting our first surrey bike!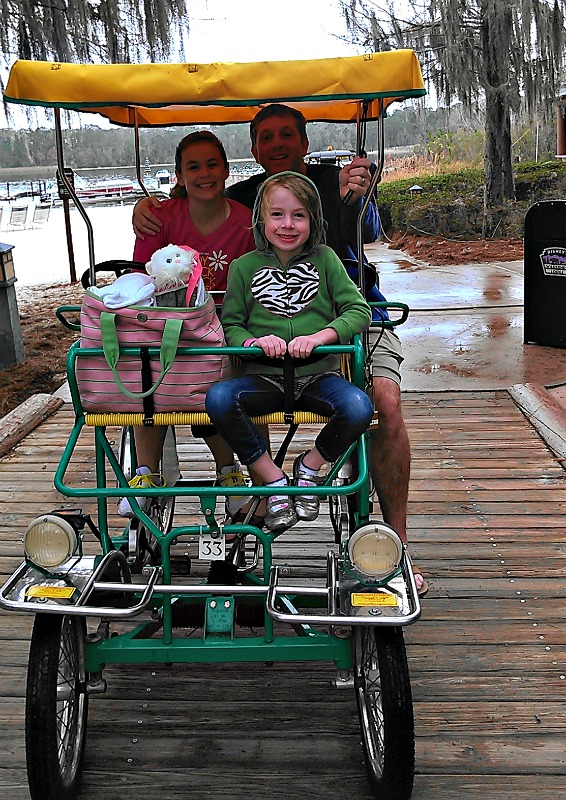 There's a great bike trail that runs between Wilderness Lodge and Fort Wilderness. And how's this for wilderness?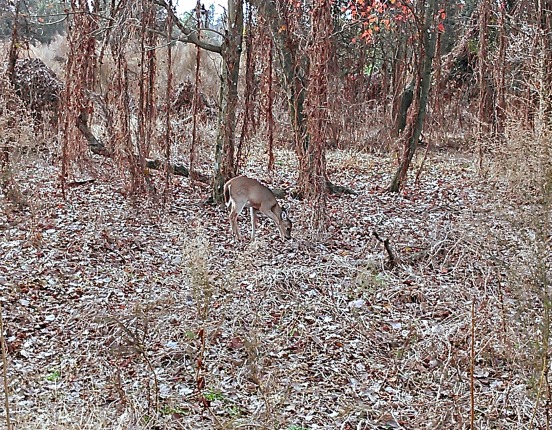 Do you see what I see? DadJovi had run on the same path earlier that morning and didn't see the deer so we were really glad to see it with E.
We also spotted a few other surprises.
We rode the 1.5 miles over to Fort Wilderness and went to visit our old horse friends at the Tri-Circle-D Ranch. It brought back fun memories of E's 5th birthday party.
As we were walking around, we even met some new friends — a flock of turkeys.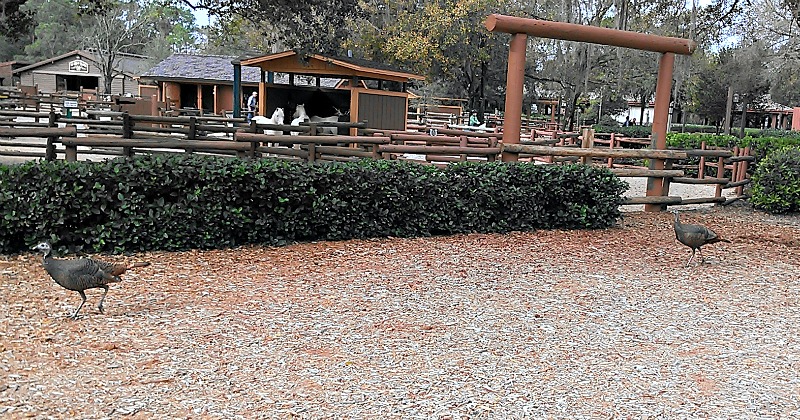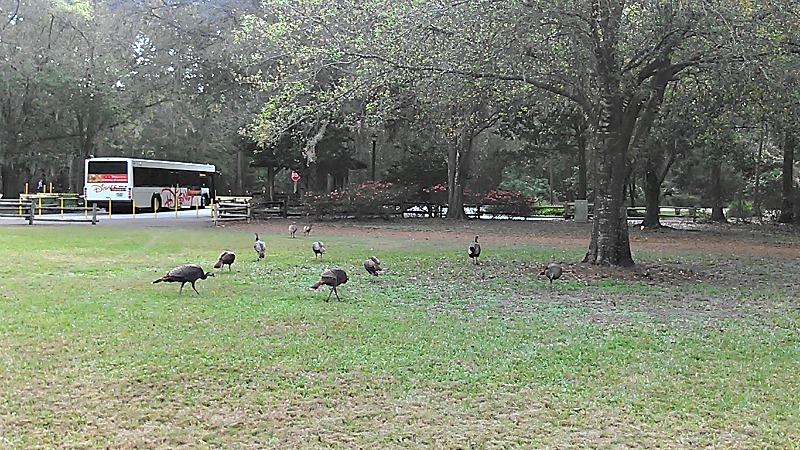 DadJovi and E took the bike back while I went for a run. He'd done a 5.5 mile run that morning around the campground and on the path to and from the hotel, but of course, somehow I got lost and mine ended up being much shorter.
Oh, well, at least the views were great.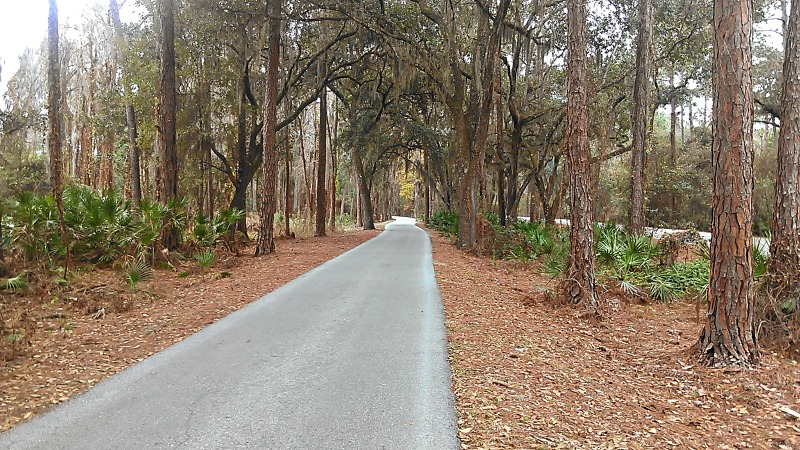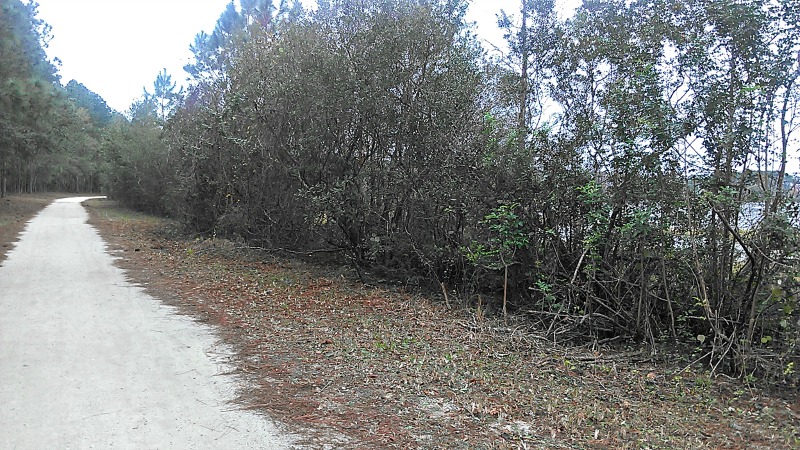 If you're ever running on the bike path, look for the cut-through to the nature trail along Bay Lake. It felt great to run on gravel after so many painful weeks running on sidewalks and concrete. I need to find more trails.
So, that was our first Disney staycation. And it certainly won't be our last. Where should we stay next? It's going to be hard to top the Wilderness Lodge, though. From top to bottom, it was fantastic. The staff was incredible, the room was great and the grounds were impeccable. Who knows. We may just go back to Wilderness Lodge next year.
What's your favorite Disney resort? If you could stay anywhere, where would you stay? I'd love to stay at the Art of Animation but given its popularity, I don't see that happening any time soon.