Hi, my name is Jackie, and I'm addicted to Disney.
Now that our summer blackout period is over, it's ON again.
Our seasonal passes are a mixed blessing. In case you don't know about them, they're like annual passes but they have blackout dates: Spring Break, nearly the entire summer and two weeks around Christmas. They're about $150 cheaper/year than annual passes (no blackout dates, plus parking included) and frankly, save us from the most crowded times of the year. And hot, let us not forget Florida summers.
What they also do is actually make us miss Disney during those periods when we can't go. We probably wouldn't go during those periods but it's the fact that we CAN'T that makes us miss it so.
This weekend is traditionally one of our favorite weekends of the year because the rest of the country is busy with that whole back-to-school business. On Saturday, DadJovi and E went to Animal Kingdom for a few hours while I did a bunch of stuff around the house. They had a blast trying out the new (to us, anyway) Wilderness Explorers game. E. has not stopped talking about it. It's based on the Wilderness Explorers in UP, and kids are given a booklet that guides them to activities around the park that earns them badges (stickers) for their book. There are so many activities to do that it's going to take us a few visits to finish it but she can't wait to get back and collect more badges.
On Sunday, we got up early to hit Magic Kingdom for a few hours before it got too hot. We even made it in time for rope drop.
And of course I then had the "Good Morning" song stuck in my head all morning. There are worse things in life.
In days gone by, we'd make a beeline for Fantasyland when we arrived at opening. Now that we have a big kindergartner, there's a new ride at the top of her must-do list: Space Mountain. So Tomorrowland it was.
Since we were there so early, we decided to hit the one remaining ride or attraction at Magic Kingdom that we'd never done (at least not in the past 10 years): the Astro Orbiter. It's one of those rides that always has an obnoxiously long line, and we're strict followers of the "we don't wait in lines longer than 15 minutes" rule. Plus, it always struck me as carnivalesque.
I wasn't wrong. Someone loved it though.
DadJovi kept yelling at my rocket ship: "WHY IS IT LEANING TO THE RIGHT? IS THAT JUST OURS???" No, it wasn't. Seriously, that thing leans so far right, you feel like you're going to fall out at times. It made snapping pics of the view difficult.
By the time we got off, I was pretty dizzy and woozy. In case there were any doubts remaining, I'm officially old now.
We needed to hit this ride in order to start working on our plan for completing what those guys couldn't do this summer — riding every ride at all four Disney parks in one day. Oh, we will do it someday. Mark my words.
We took advantage of a quiet Tomorrowland and hit Space Mountain and Buzz Lightyear before making our way over to Storybook Circus for E's other must-do, Dumbo. Lucky us — there was no line there either. In fact, they tried ushering us past the playground but E wasn't having it. So while she played for a bit, we enjoyed the glorious dark, air conditioned room. Seriously, did the inventor of air conditioning win the Nobel peace prize? When I see post-apocalyptic movies and everyone's miserable I'm never surprised — they have no A/C, people. I'd be ready to eat someone's face off like a zombie, too.
Since we were crossing Never Dones off our list, we also took advantage of the short lines for the new(ish) character greeting area in Storybook Circus.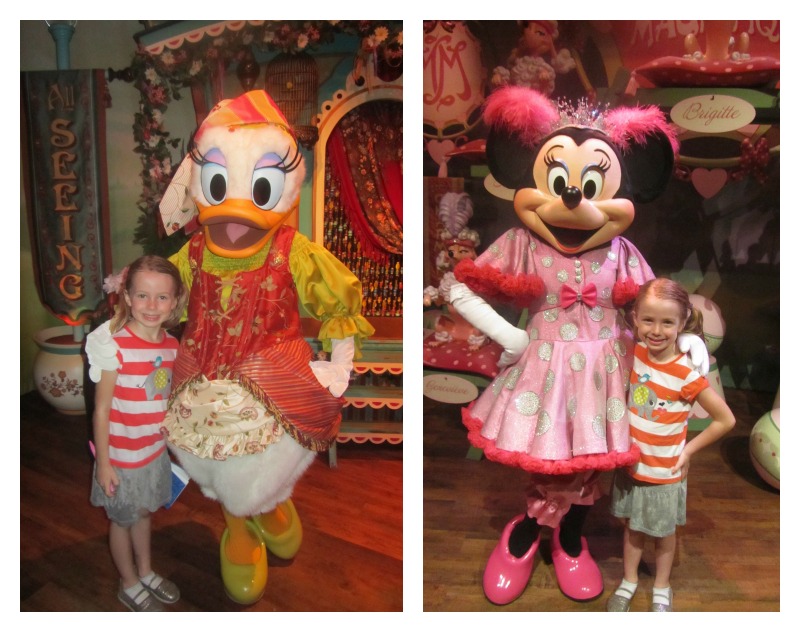 How cute are Madame Daisy Fortuna and Minnie Magnifique? And you know the blogger's arm-on-the-hips pose has truly jumped the mouse when even Minnie is doing it. But of course, I made my 5-year-old do it, too. Because that's what good moms do. And no, E didn't wet the front of her skirt. She decided to run through the Casey's Splash Zone on our way into Pete's Silly Sideshow. Thankfully, Daisy and Minnie didn't turn her away.
We decided to save the Great Goofini and the Amazing Donaldo for another trip this fall.
As we were leaving the bigtop, E realized she didn't have her new princess crown sunglasses anymore (you can see them in the Astro Orbiter picture above). Using my investigative journalism skills (aka looking through pictures on my phone) we figured out she'd last had them at Dumbo. We headed over to look around the Dumbo photo opp area. No luck. E started getting very weepy. I then asked a castmember at the spinner we were on to see if they'd been turned in. She went over to the booth, and a few minutes later came back and said, "Sorry, we don't have them. But here, take this to any gift shop to get another pair."
And then Mommy got weepy. I know Disney isn't everyone's cup of tea, but it's moments like this that keep me coming back again and again. I guarantee you go to any other park in the world and the workers would have given you a (hopefully) polite, "Sorry, you're out of luck" but what other place would go this over the top to dry up a child's tears and to make someone's day that much better and easier?
No where, that's where.
It took us three shops to find the same exact pair, but we finally found them … and got a nice sprinkling of pixie dust to make the moment complete.
Thanks PicMonkey for the extra pixie dust.
And that, my friends, is what makes Disney Disney. They can charge me $5 for a Mickey ears ice cream all they want as long as they continue to empower castmembers to make magic on a daily basis.
And speaking of overpriced food, I couldn't leave Magic Kingdom without one final first — checking out the new Starbucks in the renovated Bakery on Main Street. I was so hot by this point that Starbucks finally tempted me into trying one of the Refreshers.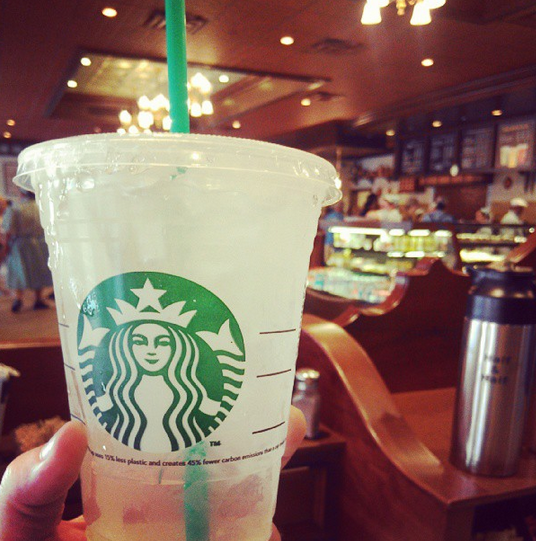 I didn't want to love it, but that Cool Lime was one of the most refreshing drinks I've ever had. Great, another Starbucks addiction. Don't worry, PSL, you'll always be No. 1 in my heart.
So, in my five years of having a seasonal pass, who knew that we could have a day full of so many firsts.
Disney magic is a real thing, my friends.
Have you ever had a special magical moment at Disney? What's the one ride or attraction you've never hit at any of the four parks? And what's your go-to Starbucks order? Apparently  I need to expand my horizons.