I find it a little fitting that the whole world (well, at least the mothers who blog world) is seemingly consumed this week with the hubbub surrounding the 10-year followup story on the so-called Opt Out Generation just as I'm about to go through a working mom milestone myself.
Ove these past 5+ years, I've had an ideal and all-too-rare situation. Due to a variety of reasons with our small company, the first year after E was born, I (unexpectedly) went down to working 10 hours a week — almost exclusively at home — with my job. In year 2, that went up to 20 hours and at some point (I forget when), that went up to 30 hours a week. For the past couple years, that's meant I've worked all day Monday through Thursday and been off on Fridays.
It's been glorious.
A few months ago, our company got more and more projects and my boss and I discussed me returning to full time. He graciously allowed me to extend that 30 hours a week through the end of the summer. So when E. goes to kindergarten in just over a week, I'll return to the full-time workforce.
Gulp.
Knowing that, I've been especially savoring these final few mother-daughter Fridays. We've revisited the Pinocchio Marionette Theater in the Altamonte Mall for its production of "Aladdin."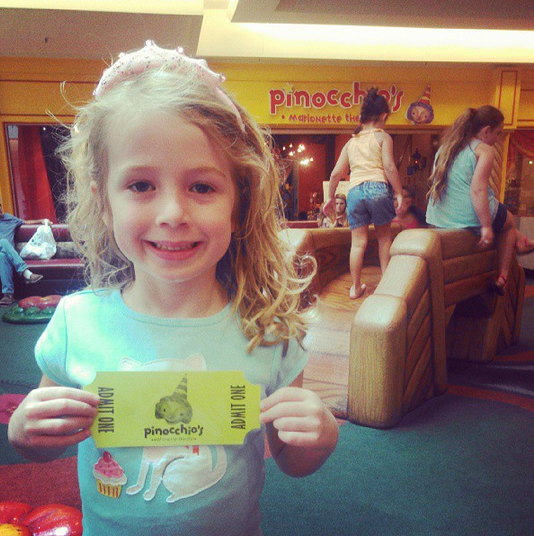 Last Friday, we spent the whole day (post coming, I promise!) at Kennedy Space Center, checking out the new Atlantis exhibit.
And today, on our final Friday, we did it up for one last hurrah. I gave E the choice of doing anything she wanted today. Her only request? Chuck E Cheese. Naturally I turned that one down. But I countered with something awesome.
DadJovi always makes fun of me because I push Gatorland HARD to out-of-town visitors. I know it seems odd that me, one of the most snake-fearing people you'll ever meet with PTSD from a place called Reptiland, would love a place dedicated to our native reptiles, but I freaking love that place. Long before we had Disney season passes, we used to go to Gatorland fairly regularly.
E's been there a handful of times but it's been well over a year since her last trip. Her last trip there, she was still snake obsessed but lately (and it's probably my fault) she's been squealing and claiming fear of them when we see the one that's apparently decided to call our back deck its homebase. Gross.
I've been meaning to get there all summer since they're running their usual summer Florida resident special — $10 admission for both adults and kids (I think it's normally $25 for adults). Well, it took us til the end but we made it.
And apparently I had no reason to worry about E suddenly being afraid of snakes. One of the first things we did when we got there was attend the Upclose Encounters show. Those Gatorland entertainers/animal handlers sure know how to put on good shows. Each show it about 15 minutes long, and even though they're filled with some corny jokes, they're hilarious. For real. I can never help but laugh hysterically … even as I'm being terrified.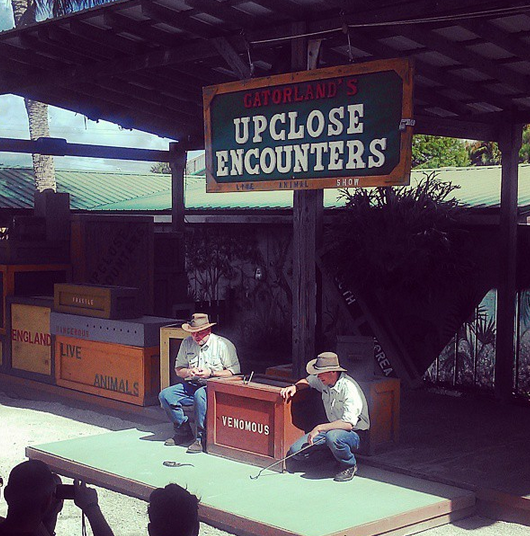 That snake may look small, but that's because it's a pygmy rattlesnake. And they're apparently all over the place in Central Florida. Right, Kate?
After the show, they invite people to come down to the front for a chance to really get up close with one of the show's stars. For a small fee of course ($5).
Surprise, surprise, Guess who was all about doing this.
So much for being afraid of snakes.
Thank God the whole thing was over in about 30 seconds. I'm not sure I took a breath the entire time she was up there with her new 9-foot-long BFF.
After that, I needed to decompress so we sought out the exact opposite kind of attraction — tiny, beautiful birds.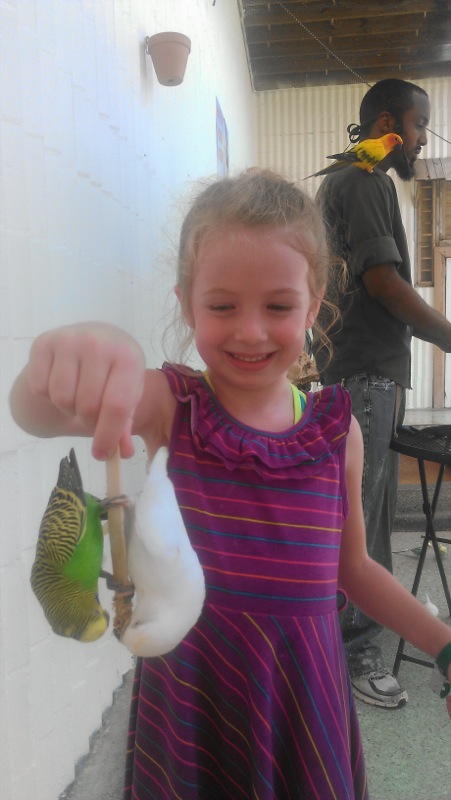 Photo by E. So much for the mom staying in the pictures, huh?
The best part of Gatorland is how relaxed the day is (well, other than the sheer terror I feel walking around with venomous snakes all over the place). It helps that the gators don't bother me. Well, other than the white ones. Those ones are freaky.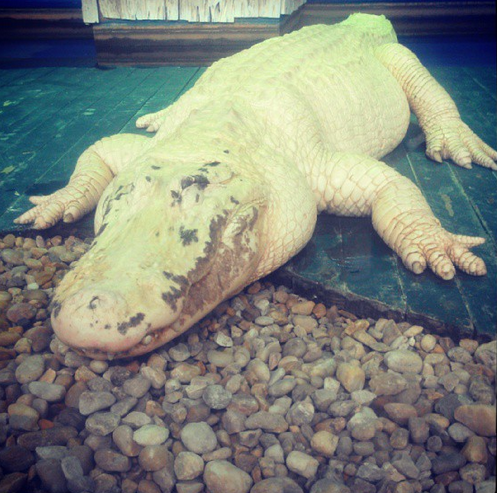 We spent some time walking around the other exhibits, including the petting zoo with the most aggressive goats I've ever seen, and watched the Gator Jumparoo show, where they make the gators jump for (dead) chickens. That's just good Florida fun.
When we arrived, I'd opted to pay the $2 for the train ride.
That was $4 I could have saved. Not worth it.
But you know what is worth the price of admission? The Breeding Marsh. This is hands down, my favorite part of Gatorland. We've been there during all four seasons throughout the years (yes, Central Florida has seasons), and I've always said that the spring is my favorite because you see all the birds in the rookery with their flamboyant plumage building their nests and preening for each other. I take it back. This is my new favorite time of year. There were dozens and dozens (probably hundreds) of adorable BABY birds.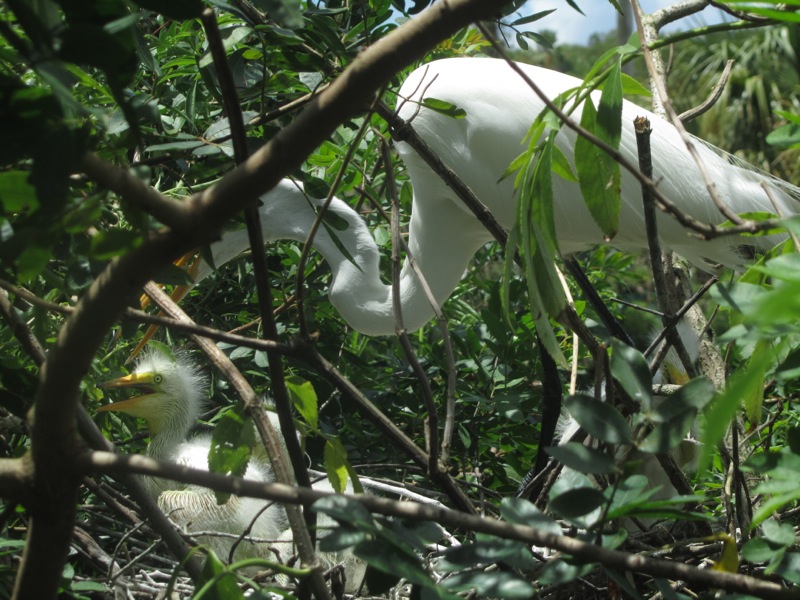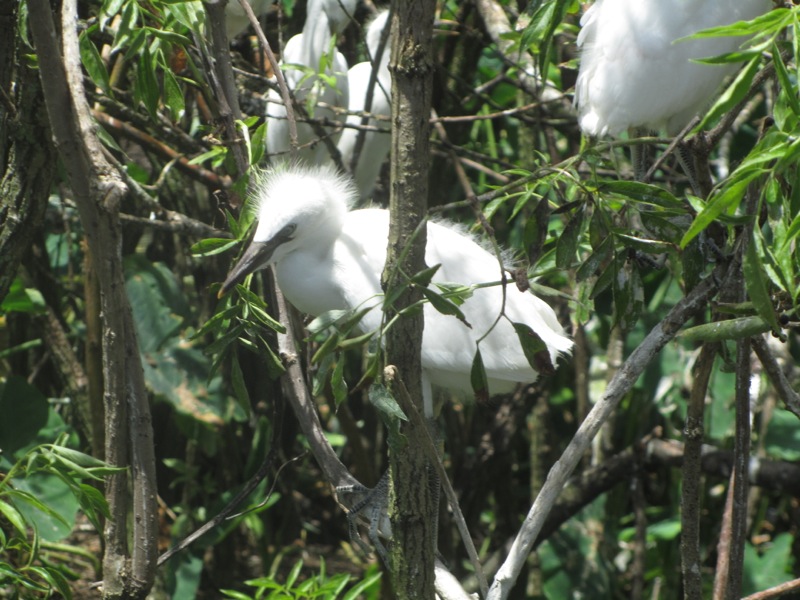 Impressive right? Who knew I was basically a Nat Geo photographer. Oh, you meant the birds. Yeah, they're pretty impressive, too.
Just look at all those birds. Everywhere we looked, we saw momma birds with their babies in the nest.
There are also a ton of gators in the water, too. Obviously.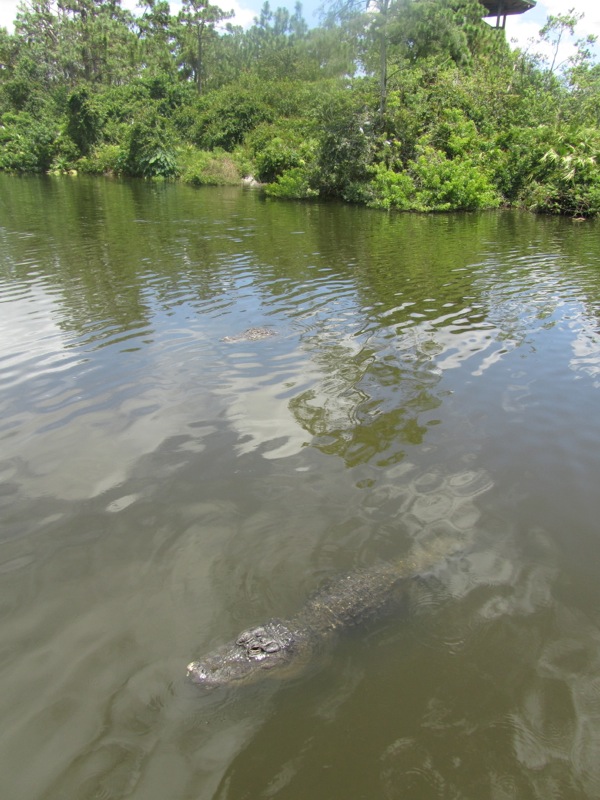 And you can see those younglings near the front of the park.
These guys and gals are probably teenagers (and older). I forgot to snap a pic of the babies.
By this point in the day, we were starting to melt so we headed for the splash pad area. I really should have worn my suit, too.
What a fun Friday Funday with my girl. I'm really going to miss these Fridays. I know starting school isn't the end of the our time together, but there has just been something so special about these free days. The weekends tend to get booked up with piano lessons, birthday parties, chores, travel and more. But Fridays have always been this secret day that allows us to just play while the rest of the world works.
We've both been spoiled with it, and it's been so special to have these adventures with my little partner-in-crime. In my sadder moments I realize she probably won't remember these Fridays. Do you remember life before kindergarten? I barely do.
But at least I'll remember them. I forget a lot of things (hence the blog), but the sweet memories I'll have thinking back on this gift of mommy and E Fridays will always be there.