One of the expenses that I always forget about when planning a trip is the airport parking. Unless DadJovi or I are traveling alone, we've always paid to park somewhere near the airport. Friends don't ask friends to pick them  up and drop them off at the airport, especially once you have kids. It's a rule. I promise.
In our pre-kid days, we used to park at an off-site parking lot, with the understanding that the shuttle ride would take a long time, both to and from the airport, and your car was going to roast in the hot Florida sun while you were gone.
Over the past couple years, in the interest of keeping our sanity while being a part of the Traveling With a Kid caravan (there's a reason I call myself my kid's roadie — kids need a TON of crap to travel), we've started parking at the airport's long-term parking lots. They're more expensive than off-site parking but not as expensive as the airport's attached garage.
But all too often, we've found ourselves waiting and waiting for the airport's shuttles to pick us up in the lot (and never anywhere near our car) or at the airport itself on our return trip. We've had some not-so-fun experiences, including the time we almost missed our flight to the Final Four.
When I was contacted to try out Fast Park parking at the Orlando International Airport (MCO) for our trip to DC, I jumped at the chance. I've been telling my husband that we should start checking out off-site parking again but he was hesitant to try it out. Apparently all I had to mention was the magic words: "free parking for five days."
He was suddenly feeling experimental.
For our trip north, we had a really early flight out of MCO. We checked the night before to make sure we knew where the parking was located (and of course still got off at the wrong exit for it — but we quickly found it).

When you pull into the front gates, they direct you to a specific parking area. Every spot in the lot is covered, which is HUGE during our brutally hot summers.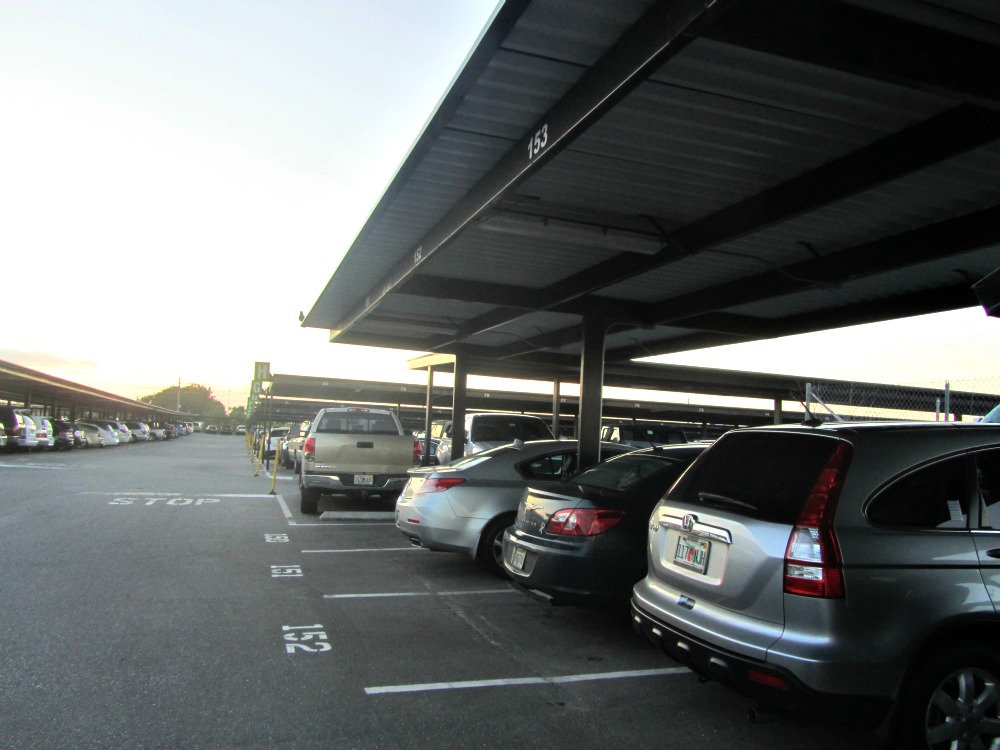 Before you're even out of your car, a shuttle is there waiting to load your luggage onto the truck — right from your car and for free!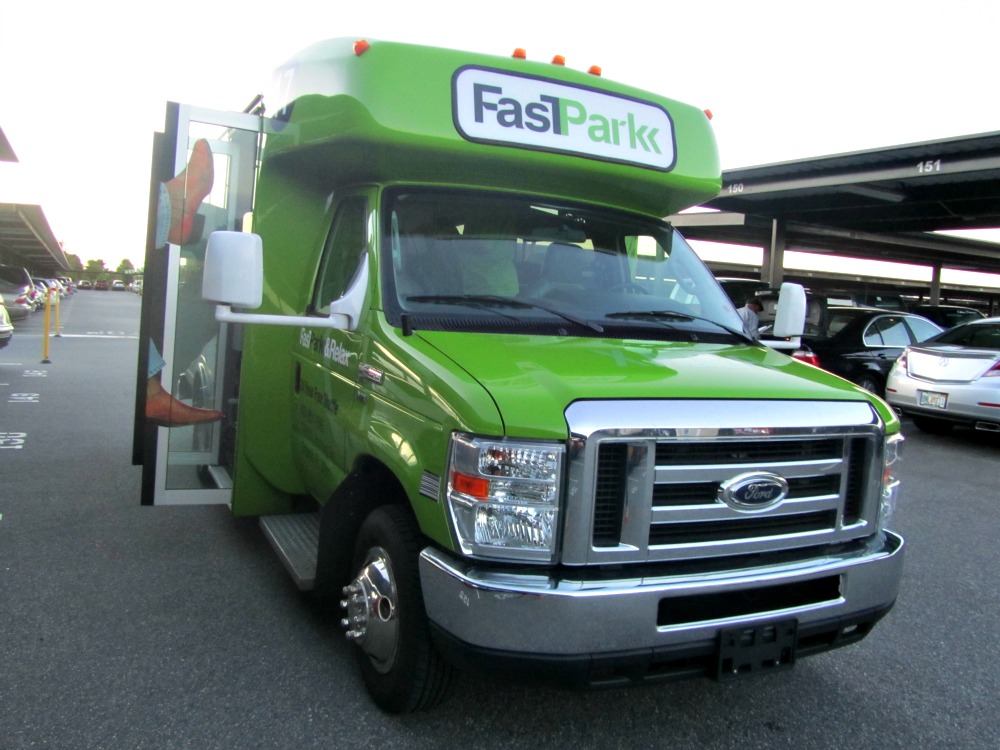 Remember the whole traveling with a roadshow comment? Yeah, the nice driver loaded ALL of our crap in less than a minute.
Before we knew it, we were arriving at the airport's departure drop-off. We were there in less than 10 minutes from the time we pulled into those front gates. Crazy fast, huh?
Sure, leaving was easy, but we were convinced the breakdown would come upon our arrival back in Orlando.
To speed things up, when we landed, I headed for baggage claim and DadJovi headed to the curb to get a shuttle to our car. I kid you not — he was circling and waiting for me long before I'd collected all our luggage. And they gave him a free bottle of water.
Now that's service!
We're now such big fans that when DadJovi went on a guys' trip last weekend and had to drive to the airport since he'd be arriving home so late, he parked at Fast Pass and paid for it out of his own pocket (no blogger comps). And he reported that the process was just as smooth, even when he arrived in Orlando at nearly 1 a.m. Once again, he caught a shuttle from the airport within a minute or two and they drove him straight to his car. He said there was a single woman on the shuttle, and the driver took her off the shuttle and made sure she was safe in her car before driving away.
How would you like to try Fast Park for yourself on your next trip? Fast Park is giving one lucky MomJovi.com reader a free FIVE-DAY parking pass that you can redeem at any of its 17 facilities in 13 different markets. Visit www.thefastpark.com to see if there's a location in your area.
But wait, there's more! The lucky winner will also get this travel blanket, perfect for picnics or days at the beach because of its plastic backing.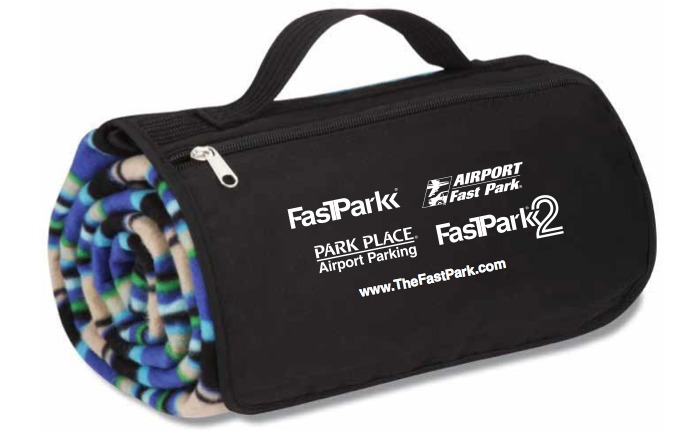 And even if you don't win, families traveling with little ones still have a chance for some free stuff through the end of the summer (as supplies last). Fast Park is giving kids between 2 and 8 a FunTime FastPak, which is a small backpack stuffed with a variety of items including a coloring and activity book, crayons, Wikki Stix® and a snack.
One of my tips that I always give parents traveling with young kids is to give them a "present," no matter how small, and to WAIT UNTIL TAKE-OFF to give it to them. That time between getting on the plane and the all-clear signal to use electronics can feel like an eternity to parents. This could help a lot. Give some of the stuff to kids on take-off and some during the no-electronics portion of the descent. You're welcome.
And I'm not the only one with some good, cheap ideas for keeping kids entertained. I actually picked up a few new tips on the Fast Park's Family Travel Guide section of its site.
So, to recap, here are some of the features Fast Park is most proud of and that made us big fans:
• No walking. No waiting. No worries.® Car to airport terminal service
• Complimentary luggage assistance
• Complimentary newspaper for the trip from car to airport (available Monday through
Friday from 6 a.m. to 8 a.m. while supplies last)
• Complimentary bottle of water upon exit
• Emergency car service, including battery charging and tire inflation
• Clean, well-lit and fully fenced facilities
To win your free parking pass, just enter using the Rafflecopter box below. You have multiple ways to earn entries, but the only one you're required to do is to leave a comment on this blog. Tell me something fun about one of your summer vacations!
Disclosure: I was provided with a complimentary five-day parking pass (and then we paid for the additional two days following our recent trip to DC). I was not required to blog about the experience or give away a parking pass, but we were so blown away by the experience, that I just had to share the discovery with you, friends.