Our DC trip:
— Day 1: The Udvar-Hazy Air and Space Museum
The problem with going to DC is there's never enough time. In case you're new to these parts, here's a tiny history lesson. I moved to DC after college with a crew of my friends. During my four years there, those friendships strengthened and I made some friends for life through my two jobs. DadJovi attended law school in DC and stayed on afterwards for several years. In 2003, he dragged me away, kicking and screaming (I'm only sort of half kidding) to Florida. But many of our friends are still there.
Over the past 10 years, we've made many trips back, including many solo trips each to hang out with our own groups of friends. This was E's third trip up in her first 5 years and certainly the first one she'll (hopefully) remember. Of course, over these 10 years, many of our friends have also started their own families and bought homes. So, Sunday was visit day.
We left the friends' house we were staying at around 9 to head (way) out to Annandale to visit one of DadJovi's best friends and his wife at their new house and to finally meet their 11-month-old son. OMG, he was so stinkin cute. You'll have to take my word for it. I forgot to take pictures.
After a nice breakfast with them, the tour took us back to Arlington to visit a couple DadJovi went to law school with (but 10 years in, they're both my friends now, too) and their two kids. This family was recently down at Disney and their 6-year-old daughter and E were fast friends. We arrived at their house and didn't see E until we left 2 hours later. It was like a mini-vacation for us, too! We sat in their gorgeous backyard and I enjoyed one of their pumpkin spice homebrews. Ahhh, vacation (and yes, it was still before noon. That's what vacations are for). They even showed us their earthquake damage. I still can't believe DC had an earthquake.
Since we had plans to meet some of my friends in the afternoon, we couldn't stay as long as we would have liked (or as long as E would have liked. Between princess and Star Wars stuff, their house was E heaven). We quickly grabbed lunch at DadJovi's favorite Arlington spot, Harris Teeter grocery store. Clearly when I go on vacation, stopping at a favorite grocery store is always high on my list of priorities. We stopped back at our friends' house where we staying to pick him up and drive into DC. We even scored a free parking spot right on Constitution, which never happens on a Saturday afternoon.
Hello, old friend.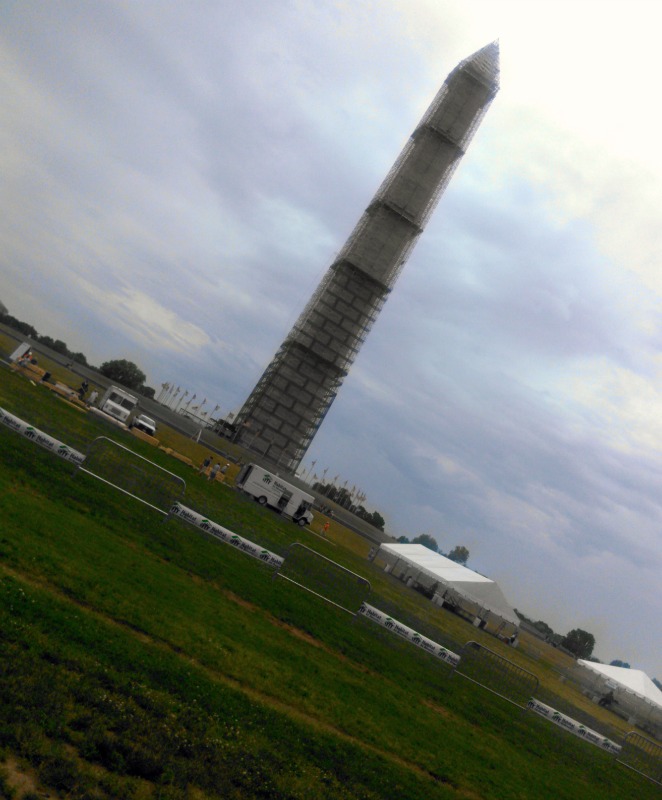 Remember that earthquake I told you about? Well, the Washington Monument was another casualty so repairs are now underway. Some day, I'll actually make it to the top. It was constantly being repaired when I lived in DC and/or too packed. Some day I'll get up there. Some day.
Another fun history lesson: during my DC years, I played on the Syracuse alumni softball team and all of our games were in the fields right in front of the Monument or across the street on the Ellipse. Of course, the real game was always the drinking games that followed at the Bottom Line afterwards. But walking around there brought back a lot of fun memories. And my still-present seething anger for the kickballers. I saw a few people walk by in their kickball league t-shirts and felt an overwhelming urge to kick them in the shins. What the hell. What are you? 8? And learn to apply for the proper permits, dammit, and stay off our fields! </rant>
Anyway, as Mommy reminisced, E. enjoyed making her father nervous by walking the walls.
We'd made plans to meet my friends in the Natural History Museum. We came in the back doors, so I still wanted E. to have the excitement of the museum's biggest star and the one thing I knew my elephant-loving girl would remember forever. So I carried her into the atrium with my hands over her eyes and presented her with this sight.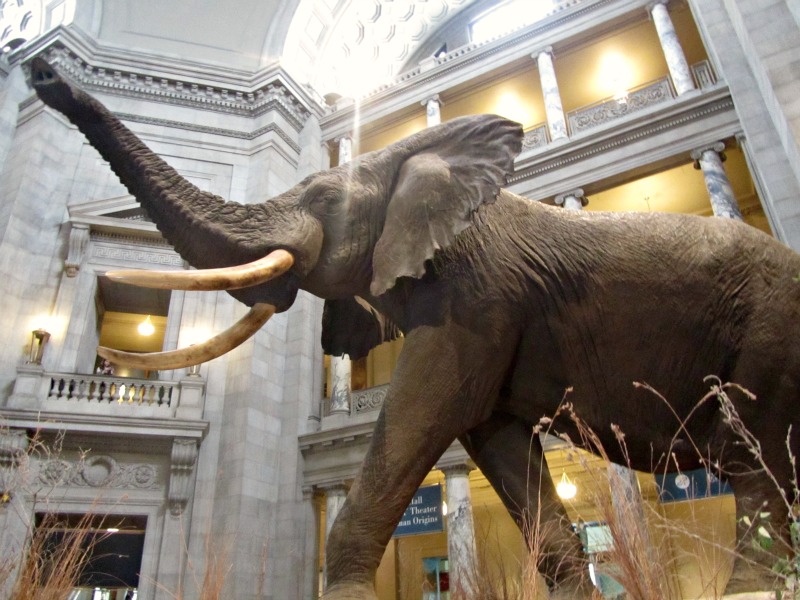 She seriously squealed with excitement, breathlessly saying, "Oh Mommy. It's amazing."
Since it was a summer weekend, the museum was packed with large groups but we did our best to get a family picture with the elephant.
I appreciate the girl smiling for our photo. Little grumpy boy, please try to do better next time.
While we waited for my friends, we let E channel her inner bug in the Insect Zoo.
We wanted to visit the butterfly exhibit until we saw how much it was — $6/adult, $5/kid. Granted, we'd gotten into the museum for free, but we've been to the butterfly house at Epcot enough time. We opted to skip it. Instead we spent a lot of time checking out tarantulas. E claims she hates them but she is definitely fascinated by them and would stand and watch one for hours.
After the Insects, I dragged everyone across the museum to my favorite spot — the gems and minerals. Along the way, we got another cool view of E's elephant.
I'm not sure what's more impressive — the elephant or the atrium but they're both spectacular sights.
When we got to my  necklace, it was jammed as always. I elbowed my way patiently waited my turn to get a glimpse.
I know the picture is crap but trust me, the Hope Diamond is glorious. E, DadJovi and his friend all declared themselves underwhelmed and escaped the crowds. But I stayed for just a minute. Another DC fun fact: sometimes on my lunch break, I would walk to the Smithsonian just to see this necklace and the other jewels in the collection. I don't know what it is but it always draws me back. It also reminds me of my cousin Rachel because we went to go see it together, too, and years later, when she took her kids to the museum, she texted me a picture of it. I miss her.
Finally I tore myself away, and we headed back downstairs to check out the Ocean Hall and Skeleton Hall (I don't know if that's it's exact name but it has a lot of skeletons).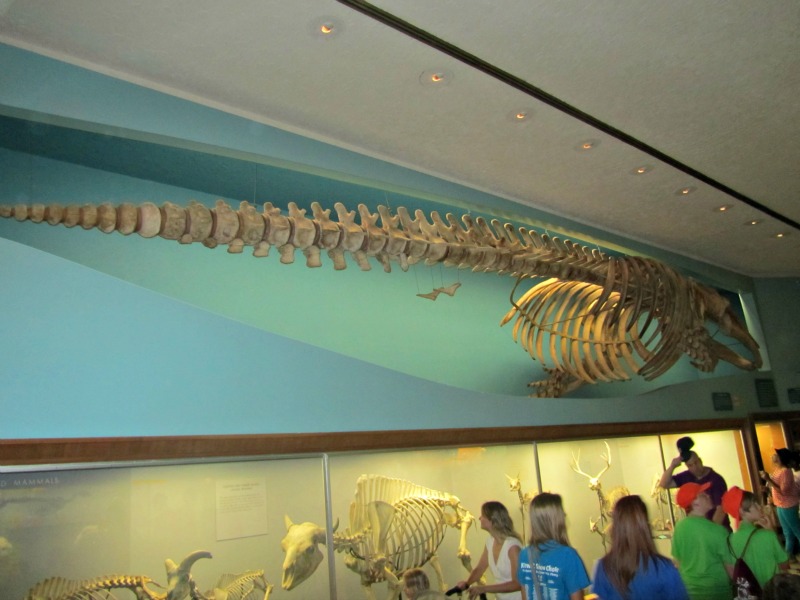 It sounds weird but it's actually really cool to see the skeletons of all kinds of animals. From whales (like above) to the tiniest snakes, it's so cool to see what's under the hood of all the creatures in the animal kingdom. We spent a lot of time in this area.
It's also a lot less creepier, to me, than the Mammals Hall with all of its taxidermied animals. That room gives me a weird feeling, as if they're all about to spring to life. I think I've watched Night at the Museum too many times.
While we were in the skeleton wing, DadJovi insisted I take a picture of one specific relic — circa 1960s museum furniture. I'm not sure if it's more Mad Men or The Jetsons, but it's pretty amazing.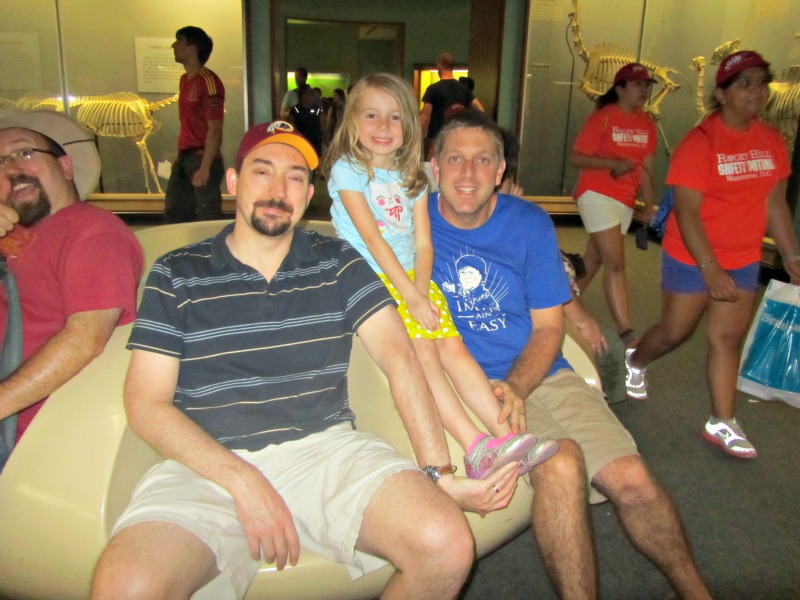 The guy on the left shared our enthusiasm. Damn photo bomber.
Speaking of skeletons, we couldn't leave without seeing the dinosaurs.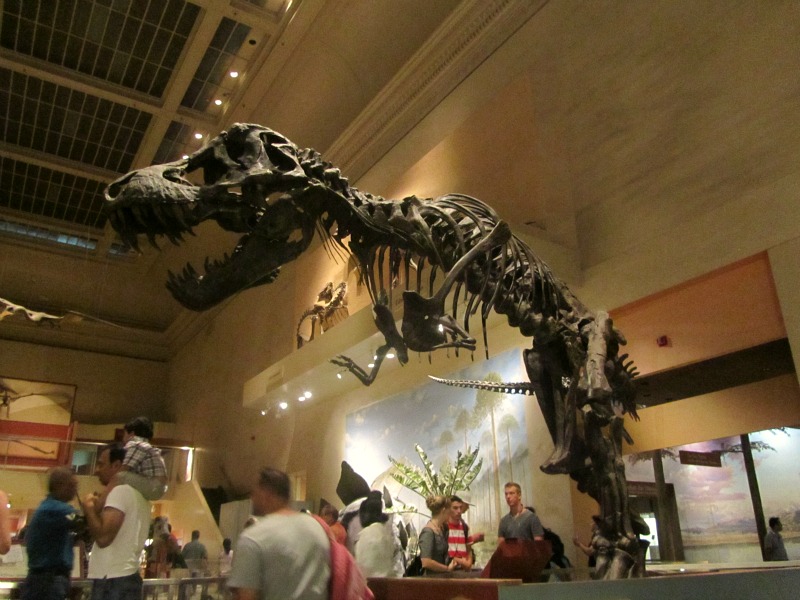 After about 90 minutes (and a few dead ends — that's the good and bad of old museums: design flaws), we'd had our fill. So we headed down the Mall to meet our friends at the American History Museum.
Ever since we booked our trip to DC, I'd been telling E. about one particular object at this museum. Every time we told someone we were going to DC, she told them she was going to see this famous footwear. At long last, my Wizard of Oz-obsessed child saw what she'd been waiting for — Dorothy's slippers. Commence Squeal Moment #2.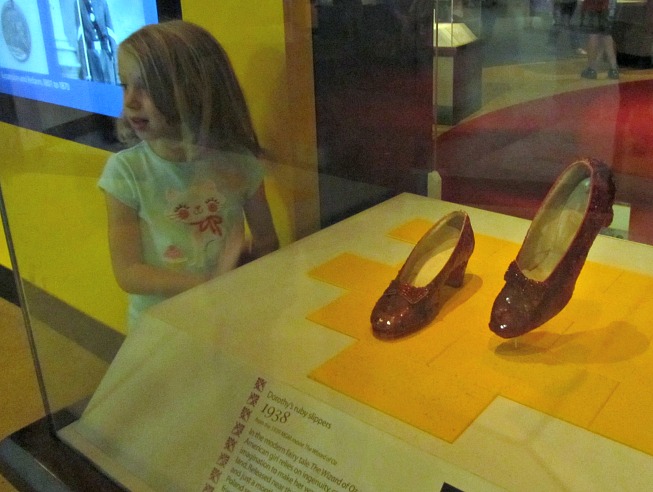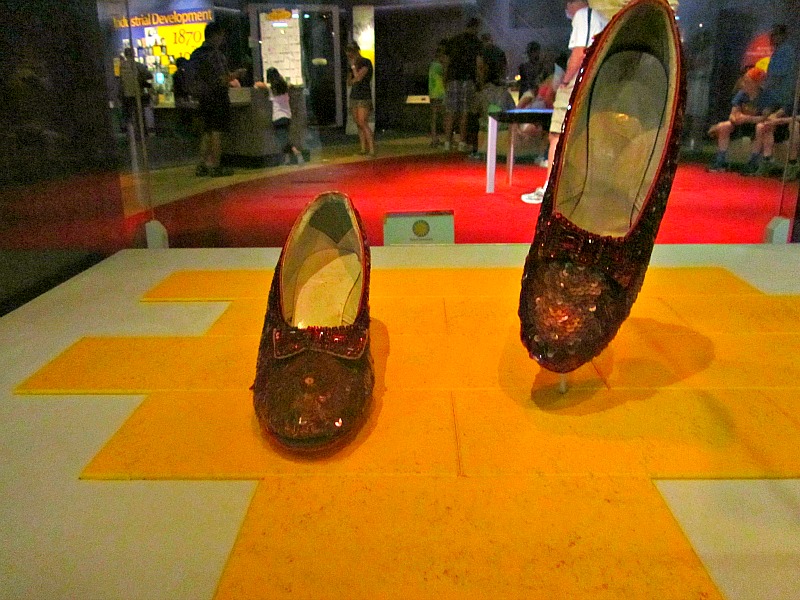 It was not easy getting her away from those shoes. I honestly thought she'd be underwhelmed but she loved them. We'd walk away from them and visit some other cool things, like a certain green fellow …
… but she kept coming back for more.
And her little friend is my friends' Steve and Jenny's 2-year-old daughter. You may remember him from my Back to Syracuse posts. It was SO good to hang out with their adorable little family for a couple hours.
I'm not sure how much she got out of them, but E was also enthralled by the interactive tables.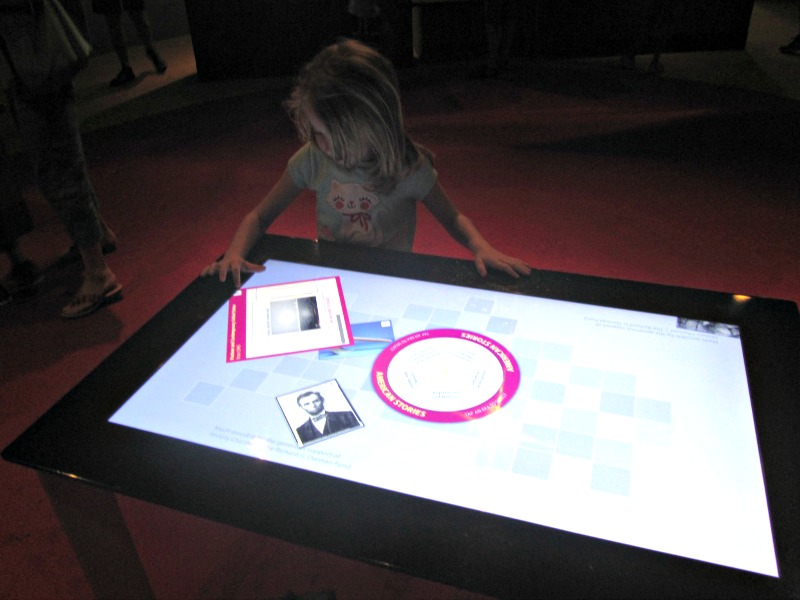 And no trip to the American History Museum is complete without seeing the First Ladies' gowns. I was excited to see Michelle Obama's Jason Wu inauguration dress from 2009 for the first time.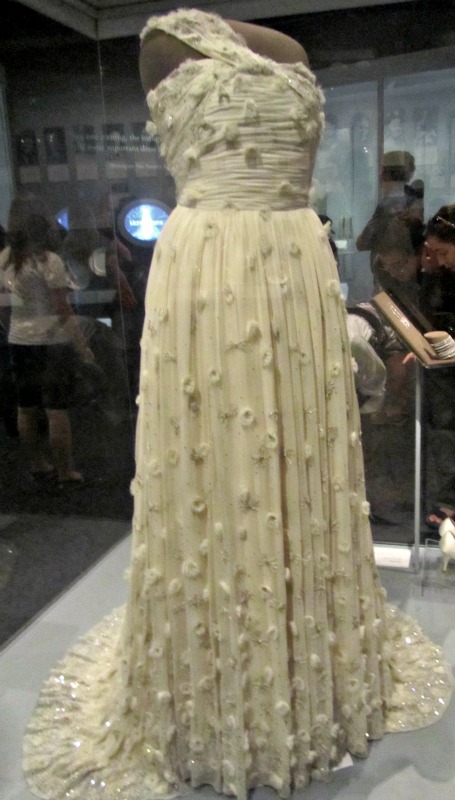 That would be the most terrifying part about First Lady to me — your dress forever going into the Smithsonian. It's really interesting to see all the actual dresses, from Martha Washington through the modern ladies, on display. It's also eye-opening. When you see photos of Dolley Madison, you may think, "Oh, she was sort of old-fashioned plump but adorable." But then you see her dress and it's teeny tiny. Stupid old-fashioned portraits.
And then there are the stunning (Jackie Kennedy) and the cringe-worthy (Hillary and Barbara Bush). It's all good fun.
Because I was too busy talking and catching up, I didn't take any other pictures in the museum but we also saw Julia Child's kitchen and the massive Star-Spangled Banner from Fort McHenry.
On the way out, we were even able to cross a huge item off our vacation to-do list — the gift shop sold ruby red slippers Christmas ornaments! (Read about our tradition here)
All too quickly, it was time to say good-bye to our friends.
We would have stayed longer but there was some cooking and pre-gaming to do. Pre-Games of Thrones that is. The friends we are staying with are huge fans. They're snobs and have read the books too (OK, I say that out of jealousy because I haven't quite gotten there yet). They gently teased all day that that night's episode was HUGE, but we didn't know how they could be so sure that what they thought was going to happen would actually happen.
Whoever out there read the book and never hinted at the Red Wedding to me over the past decade, I salute you.
HOLY SHIT.
That is all. I won't ruin it for others to follow. But HOLY SHIT.
But before the main event, they made us a feast fit for the King in the North out of the Games of Thrones cookbook (how did I miss their foreshadowing). Before and after dinner, we also poured over their elaborate maps of the Seven Kingdoms (what did I tell you about the big fans part) and got ourselves all pumped up for the episode.
It did not disappoint. Nearly two weeks later, I'm still in shock. And mourning.
But watching it there with them is something we'll always remember and made one of the most memorable episodes in TV history even more memorable.
To the old gods and the new, I thank you.
And that, my friends, was our second day in DC. More to come!
What piece of Americana would you select to put in the American History Museum? Surprisingly, there's nothing Star Wars there, so I'd go for  R2 and C2P0 (Note: there are Star Wars props at both Air and Space Museums). Plus, who else is a Game of Thrones watcher? Have you recovered from the Red Wedding? No spoilers for our friends who haven't watched it yet. Because they will. It should be required viewing for ALL TV watchers.