Our DC trip:
— Day 1: The Udvar-Hazy Air and Space Museum
— Day 2: Smithsonians and Friends
On Monday, we packed up our bags, said good-bye to our friends and hit the road for the next stop on our adventure — the Omni Shoreham Hotel in Woodley Park. It felt good to back staying back inside DC proper again.
The hotel was in the PERFECT location. It's right on Calvert Street, just north Dupont Circle and a block from the Woodley Park Metro stop. We got a great deal on it on Hotwire, and I'm so glad we were able to find something in DC rather than Virginia still in our budget. Plus, it's always an added bonus to stay where the Beatles stayed and where Bill blew his sax.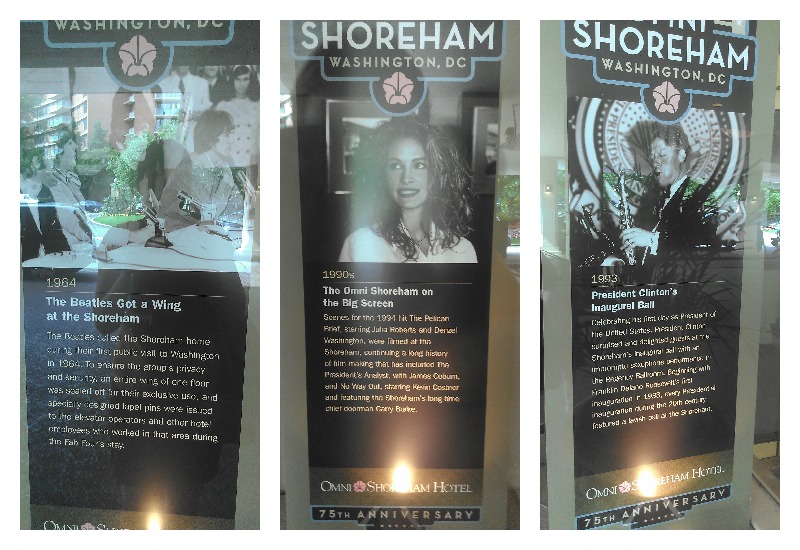 Our room wasn't ready, so we quickly dropped our bags and hopped on the Metro to head downtown. I forgot how deep the Woodley stop is. I got to experience my first of 1,489 heart attacks of the next couple days watching E. race down the stairs. She's sometimes a dangerous combination of no fear and too much independence — heaven forbid she ever stand within 10 steps of us on the escalator.
We decided to head toward the MCI Center (old habits die hard) Verizon Center area because it was raining so we thought we'd wait the weather out at the Spy Museum and grab lunch somewhere around the arena. It's amazing how much that area has changed over the years.
By the time we made it downtown, the rain had stopped. We decided to still check out the Spy Museum and see if we wanted to stay. We ended up starting in the gift shop and E. picked out her trip present.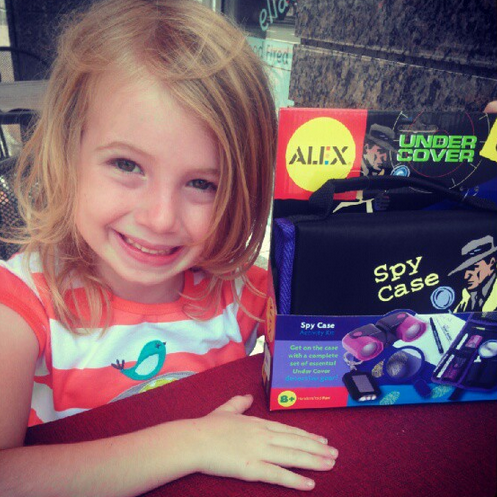 We figured, "Well, that's probably enough here." Besides, we had free things to do instead of heading into the one museum in DC that charges admission.
After a quick stop for lunch (pizza, which I couldn't even eat because I was having serious stomach issues for some reason that day. But DadJovi and E. highly endorse the pizza at District of Pi), we hopped in a cab and headed over to see Mr. Jefferson.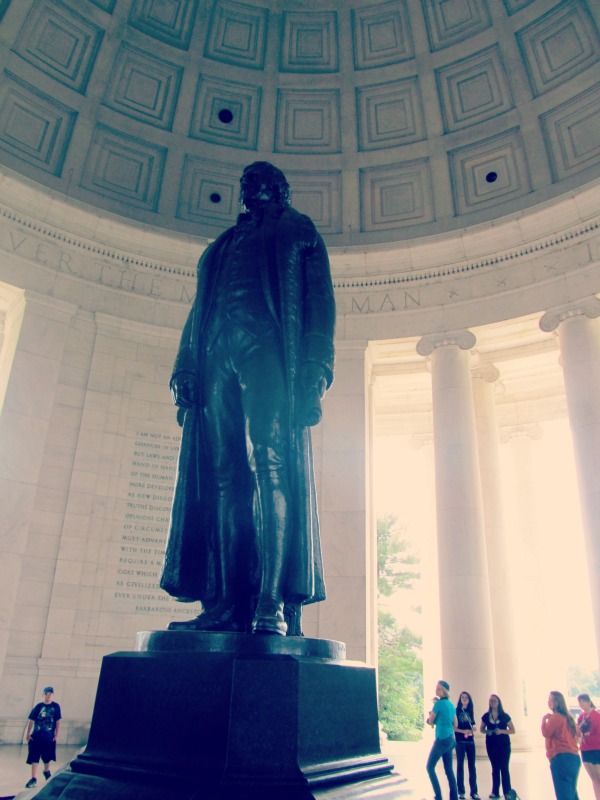 Ahhhh, it was so nice to be back, walking amongst Jefferson's words and looking out onto the Tidal Basin.
Yeah, remember that independent streak of E's I was talking about? There she is, sitting on the ledge over the Tidal Basin, legs dangling. I missed the photo of her father RUNNING down to her to pull her back just a bit from the ledge. When we got down there, she was very focused on her mission.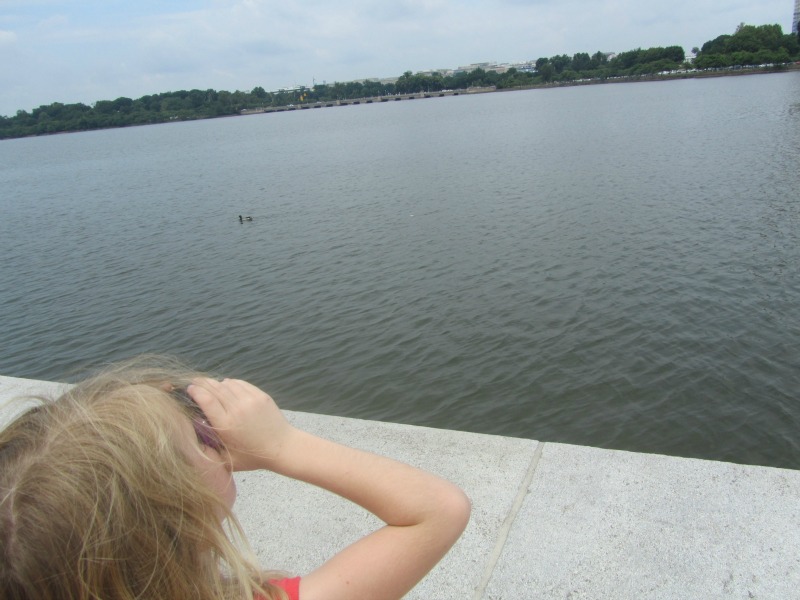 "E, what are you looking for?"
"I'm trying to see if I can see President Obama at the White House."
Well, alrighty then. Dear NSA — she's just a fan, even if she thinks she's a spy girl now.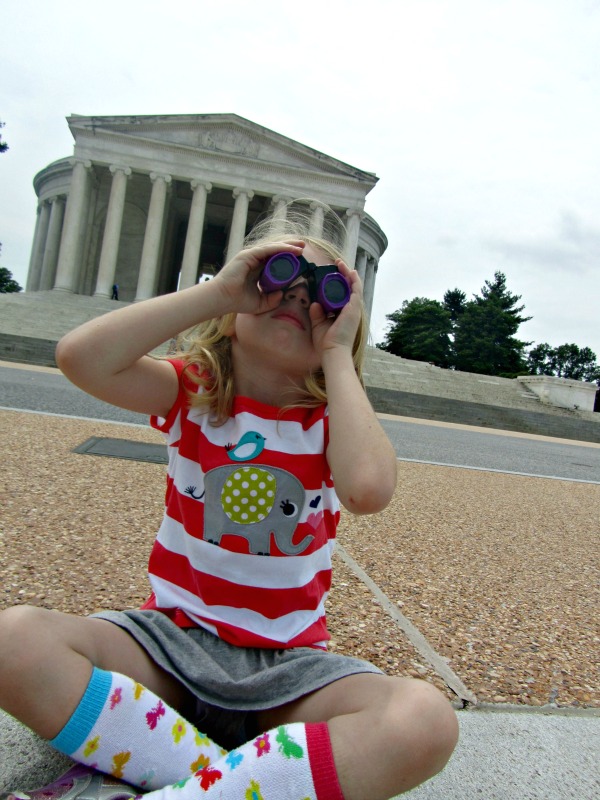 After we pulled Secret Agent E off her mission, we started our trek around the Tidal Basin. Our next stop was one of my favorite monuments.
It's certainly a massive, grand and interesting monument befitting our longest-serving president. And my girl Eleanor, too!
Sadly, a lot of the fountains that are incorporated into the monument were closed for cleaning, but if you've never been, definitely swing by the FDR on your next trip to DC.
And it was the site of one of my prouder E moments of the trip. We were sitting on a bench (in the shade, we needed the break) and I was explaining that President Roosevelt was president four times.
"But, Mommy, you told me presidents could only be president two times."
I told her that in November when Obama won re-election. I can't believe she actually remembered. SHE DOES LISTEN (at times).
The break was short. We had more walking to do!
Next, we headed toward the newest addition to the Mall — the Martin Luther King Jr. Memorial. As soon as you walk in, you're greeted by a huge wall inscribed with MLK's stirring words, including one of my favorite quotes.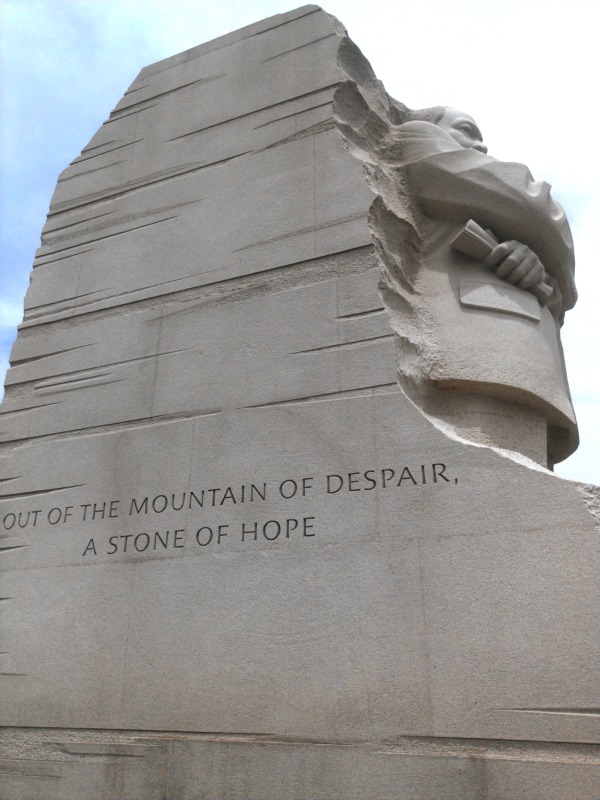 I would have liked to spent more time there with Dr. King's words, but E. was getting tired and antsy. So, the tour moved on.
We headed toward Lincoln, crossing Independence, and as soon as we crossed the street, something under the trees caught my eye. Could that be what I think it is? No, there's no way. Not down here on the Mall, just feet from the heavy crowds. But sure enough, there she was — the fantastic Mrs. Fox!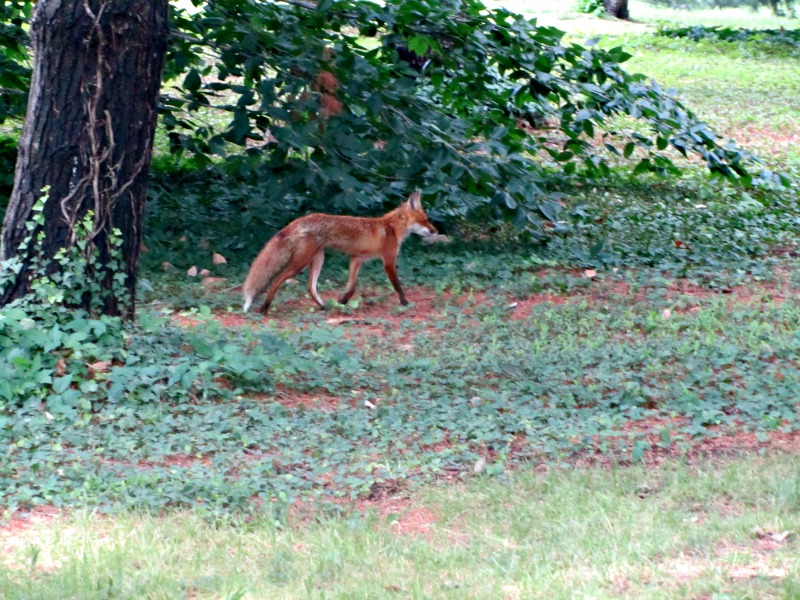 How crazy is that? I'll tell you how crazy — crazy like a fox! Sorry, couldn't resist. And we couldn't resist following our foxy lady. How do I know it's a girl? Well, because she led us right to her baby!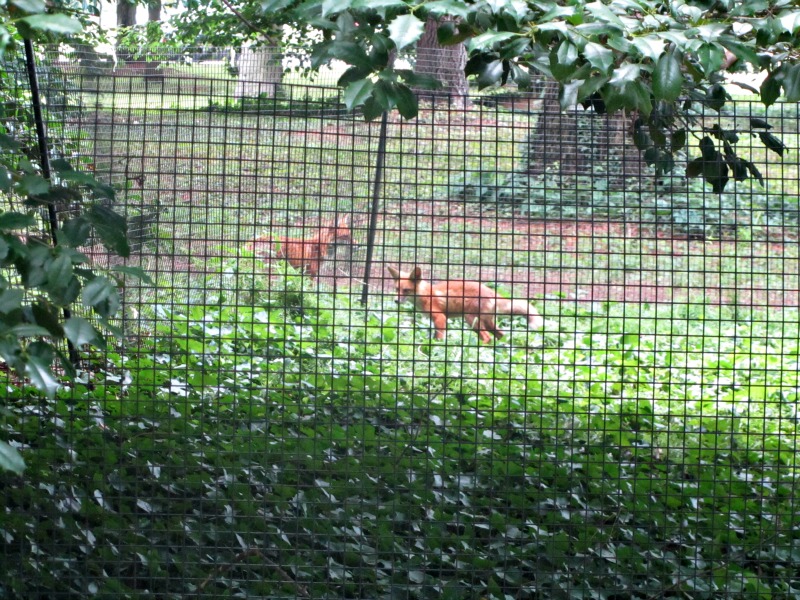 Um, did I mention that these two were hanging out about 100 yards from the Reflecting Pool in front of Lincoln? So crazy. Now there was a DC first for me.
After we intruded on their space enough, we headed over to see Mr. Lincoln.
OK, you two, now pivot!
I think they're over me. But their fun wasn't over yet. It was time for the quintessential DC family picture.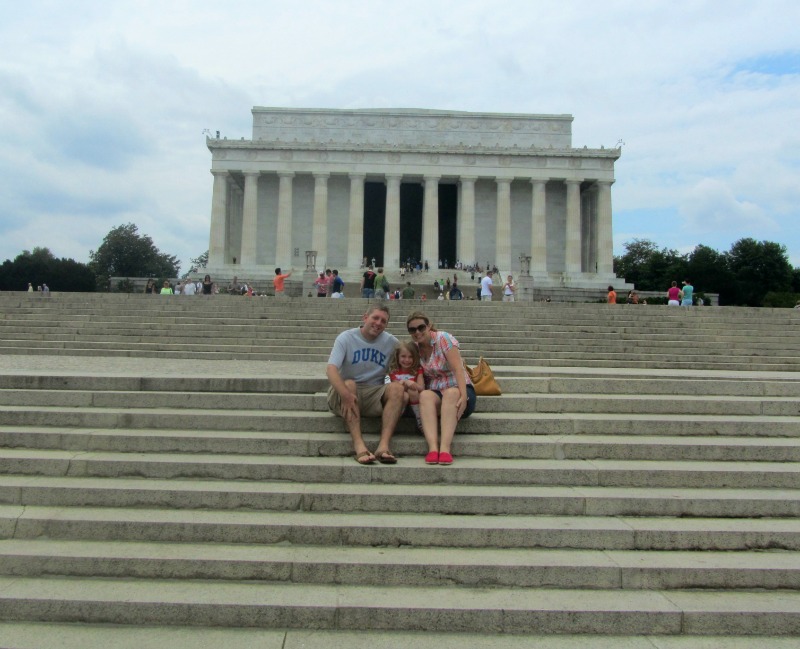 Then it was time to climb some stairs. A lot of marble stairs.
But the view from the top was worth the climb.
In every direction.
I know you're the easy pick, but I don't care — I love you best of all, Lincoln Memorial.
We spent a lot of time sitting on the stairs and soaking in the view and the hugeness of the monument.
And taking Lincoln selfies while Daddy made a call.
After we had our fill of the 16th president, we headed down the stairs and around the other side of the Reflecting Pool to walk through the Vietnam Memorial. It's always so poignant to see people using sketching paper to trace their loved ones' names from the wall. And the sheer number of names on that wall was, as always, haunting and devastating.
We then walked through Constitution Gardens and swung by the World War II Memorial.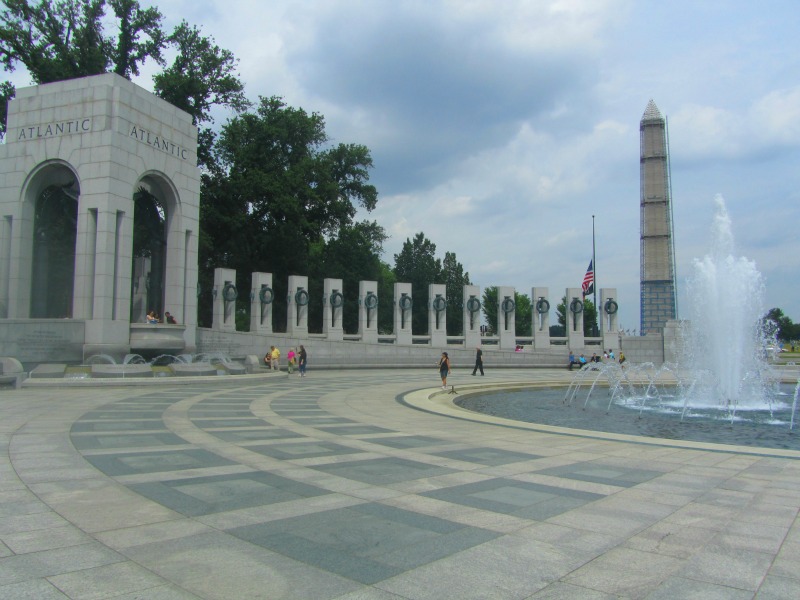 And while we were there, I wanted to have E and her Daddy recreate one of my favorite photos from her last trip to DC in October 2009, when she was just 20 months old.
This was then …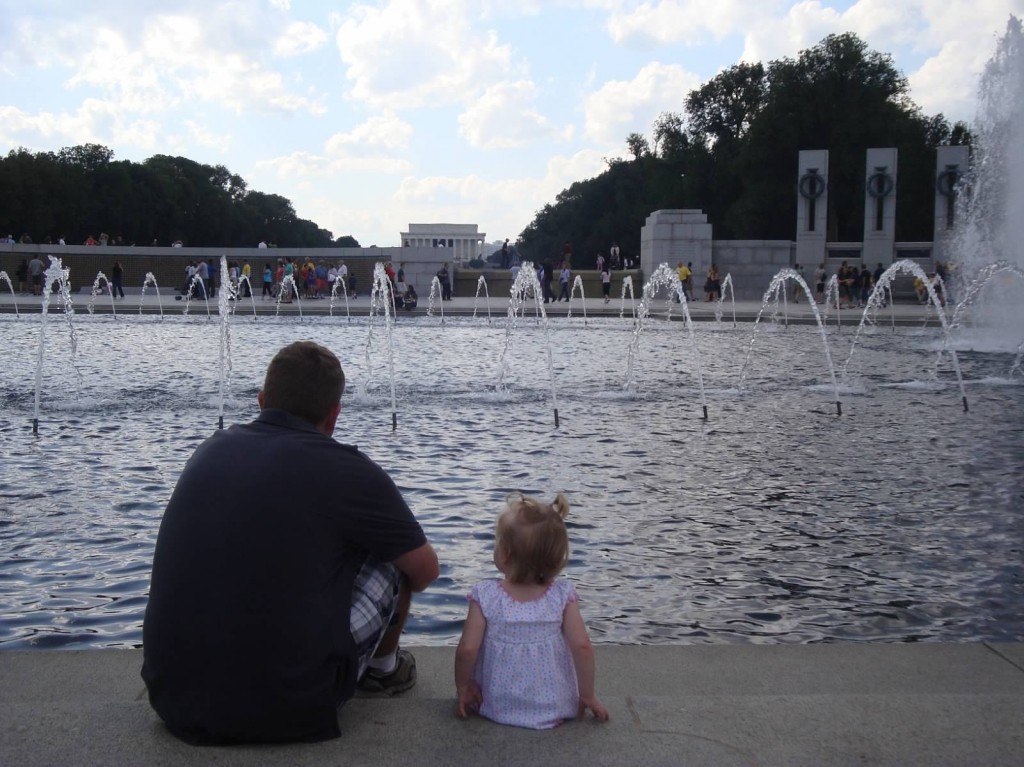 … and this is now.
I should have studied that picture before the trip. I got the step right but they're too close to each other and I'm too far away. Oh well. I still think it's cute. And I always love those photo series where people take a picture at the same place/in the same pose, year after year. Maybe this is our spot.
We had one last stop on our walking tour — our Spy Girl's target mission.
Um, yeah, she was a bit excited. And to think, she doesn't even know about Sasha, Malia or even Bo! Watch out Doris Kearns Goodwin — we may have a budding presidential historian on our hands. Dammit, I need to shoot higher. Excuse me, Madame President. Allow me to introduce you to your future home. I got dibs on the Lincoln bedroom.
We walked quickly around the block, dodging the raindrops that were just starting to fall, to see the other side from Lafayette Park.
I was also glad to see that you could still get up next to the fence on the Pennsylvania Avenue side, unlike E Street where you're now kept back quite a distance.
And that was our tour. We crossed Lafayette Park and headed up to the Farragut North Metro stop, just as it really started to rain.
How far did we walk? Here's what Map My Run says:
And I'd say it took us about 2.5-3 hours, but we took a lot of breaks at each of the monuments (and to watch wildlife).
It was the perfect way to see all the sights, and although she got tired at times (that's what Daddy's shoulders are for), it's quite doable with kids.
The only thing missing was doing the same tour at night. Sadly, this trip we never got to see any of the monuments under my favorite conditions — all decked out in lights.
Next time.
What's your favorite monument in DC? And does your family recreate favorite photos year after year? I think I need to come up with a more local idea before more time passes.