Disclosure: The nice folks at InnovAsian Cuisine recently reached out to me to see if I'd be interested in hosting a food truck block party. As soon as I could say, "how quickly?" we set up all the details. I was not compensated for the following post, but my friends and I did receive a free dinner and coupons. Read on for your chance to score some FREE dinners from InnovAsian, too. And as the saying goes, all opinions are mine. 
I've told you before but we're lucky to live in a GREAT neighborhood. We live fairly near downtown Orlando and our community-within-a-community is a bit like Anytown USA. Our good friends live a couple streets away on a cul-de-sac. We all gather there for Halloweens, Fourth of Julys, Super Bowl parties and outdoor movies at night.
When InnovAsian Cuisine asked if I'd be interested in having a food truck come to my house to show off their new products, I immediately thought of the cul-de-sac. It would be the perfect place for a Friday night TakeIn party.
We sent out an email to all our neighbors and friends, inviting them for dinner. We all chipped in some beverages and gathered on a perfect late spring evening.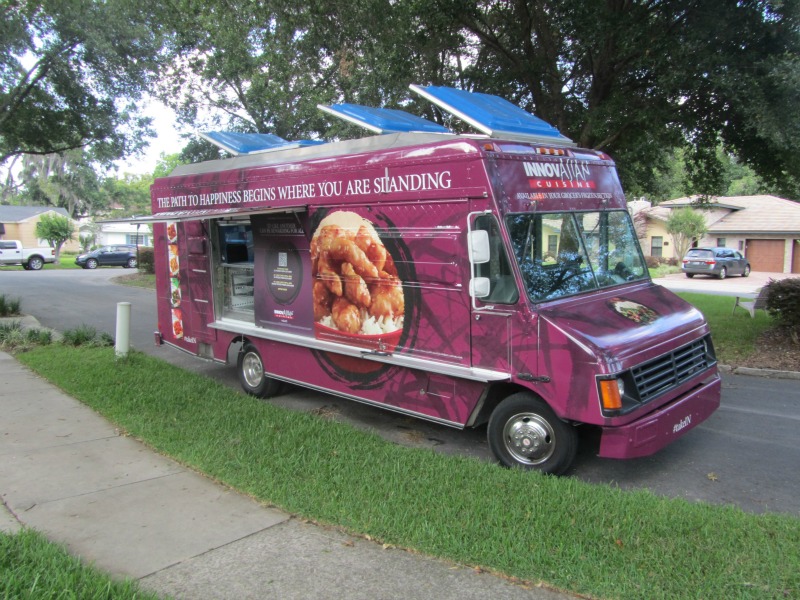 A little background: InnovAsian Cuisine makes family-style Chinese meals available in grocery stores' freezer sections. They reached out to me and several other local bloggers because the meals are now available in our  local Publix and Walmart stores, and they found a cool way to spread the word! (Click here for the store locator to see if InnovAsian is available in your area yet)
Their offerings include:
Appetizers:
Chicken Egg Rolls

Pork Egg Rolls
Chicken Pot Stickers
Entrees:
General Tso's Chicken Breast

Sweet and Sour Chicken Breast
Orange Chicken Breast
Beef and Broccoli
Side dishes:
Chicken Fried Rice

Chicken Lo Mein
Sticky White Rice
For a family of four, they recommend two entrees, an appetizer and a side dish. The idea is that if you're craving a fast meal, this is a much faster and more affordable option than ordering takeout. It's TakeIn.
We really try to limit our processed foods in our house, but on nights when DadJovi or I work late or we have after-school activities, there are times when we fall back on take-out from the local Chinese place. This would make a nice alternative. All of the nutrition is available here, but it's nice that there's zero trans-fats and no MSG. The sodium content is obviously higher than I'd like, which is to be expected for a pre-prepared meal, but once in awhile, I can live with it.
The real test was going to be in the taste.
I was excited to see when the food truck arrived that he had a Kobe-style griddle in the truck to prepare the fried rice.
According to the InnovAsian Cuisine, the meals can be prepared in multiple ways, including on the stove, in the  oven or in the microwave.
Before too long, our sample cartons were ready.
Each of the cartons contained the chicken fried rice, sweet and sour chicken and General Tso's chicken.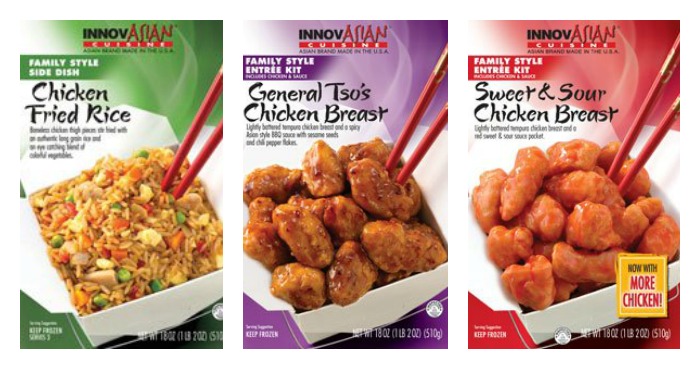 For the kids, he put just nuggets into the boxes without the sauce. The meals come with the sauces and meat separate, so if you have a picky eater like I do, you could just serve them the plain tempura battered chicken nuggets and save the sauce for the adult portions.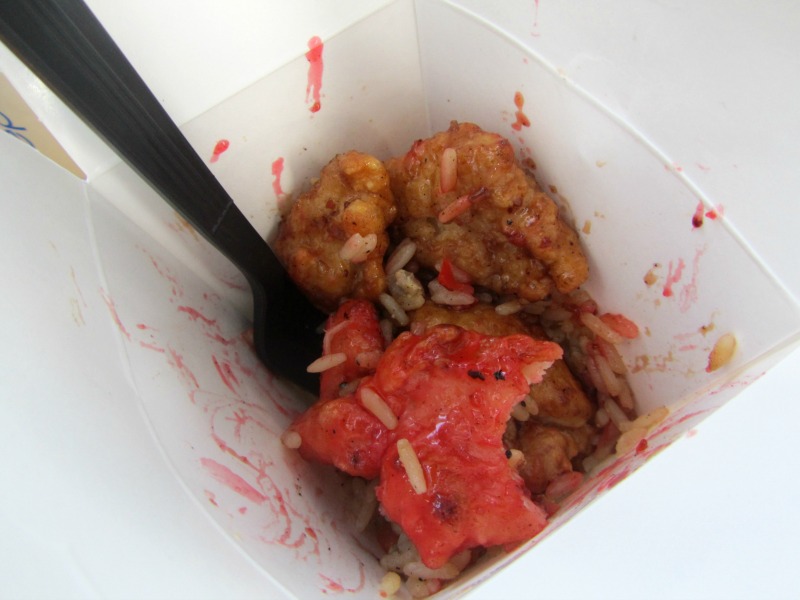 I don't normally like General Tso's because I'm a spice wimp but there was just the right amount of heat on these. A couple people said they were too spicy for them but I had no issues with it. The breading was also very light, unlike when you order sweet and sour or General Tso's from a restaurant.
At first I was worried we wouldn't have enough people for the food but our gang gobbled everything up.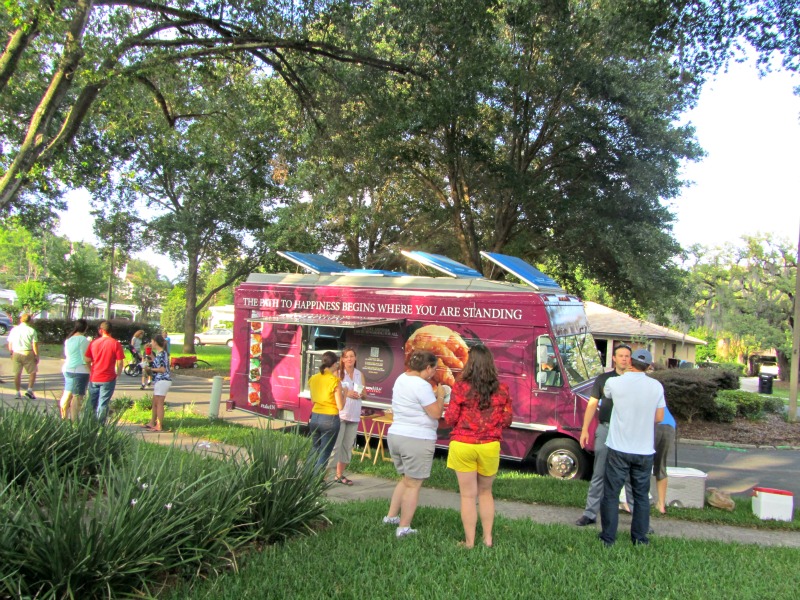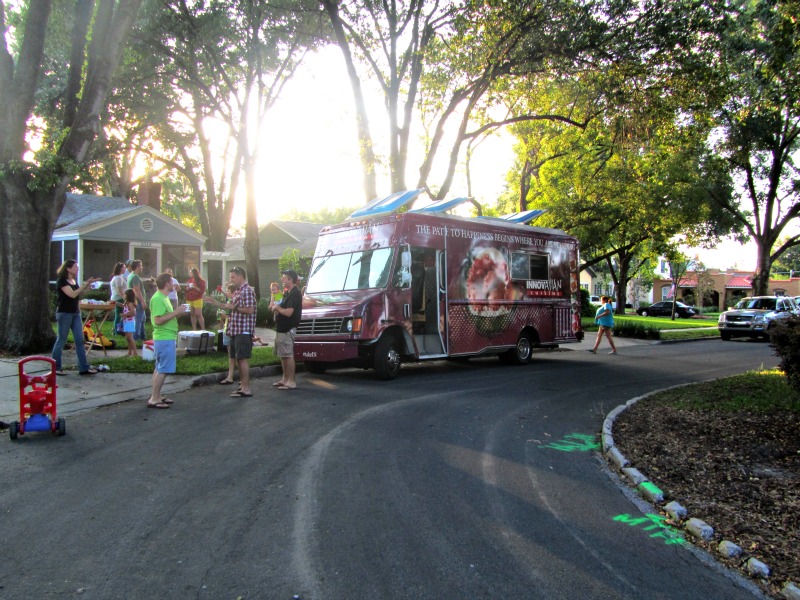 Our food truck chef told me our group went through more than 100 boxes of food! And I heard no complaints. A couple people told me they'd actually just tried the brand for the first time recently, and they were excited to try some options they hadn't had yet … and to get some coupons.
DadJovi's biggest excitement of the night was kidnapping our friend's baby. I seriously didn't think he was going to hand her over at the end of the night.
They even brought us dessert.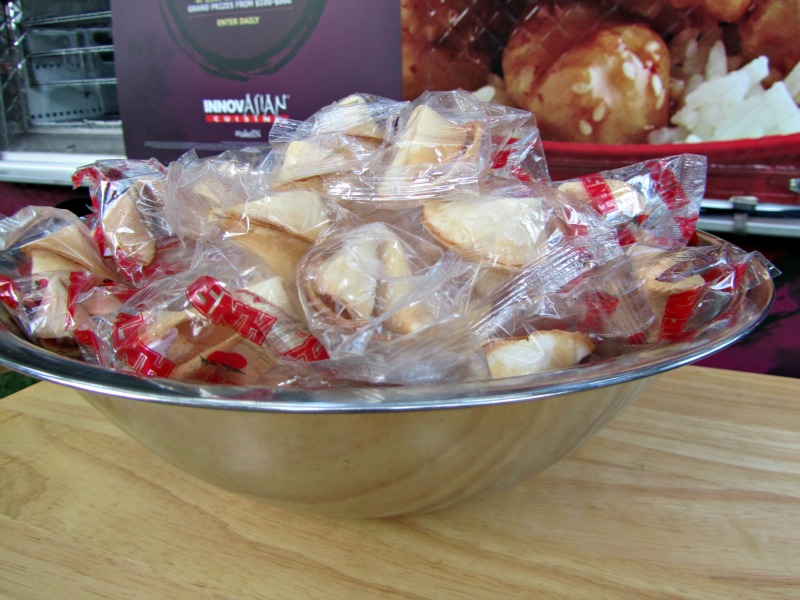 The event was a ton of fun, and such a clever way to spread the word about the InnovAsian Cuisine meals.
Now for the "what's in it for me?" stuff. If you want to check out the InnovAsian meals for yourself, like them on Facebook to print out your own $1.50 off coupon. While there, you can also enter InnovAsian's sweepstakes for your chance to win gift cards between $25 to $100 from Amazon.com.
Want to try them yourself? InnovAsian sent me six coupons for FREE meals. I'll randomly draw three people to win two coupons each. Just leave me a comment below telling me your favorite Chinese food.
Disclosure: As I mentioned above, my friends and I were provided with free food but I was not otherwise compensated for this post. All opinions are mine … and those of our satisfied crews.