Phew! I am WIPED! This weekend was one for the ages. Take a look at the Jovi family schedule this weekend:
Friday night: #TakeIn event with the InnovAsian food truck.
Saturday morning: DadJovi and E. go to the Kennedy Space Center for an Angry Birds Mommy Bloggers event (he wore that title well — the post about it is forthcoming!) while I went on a 5.5 mile bike ride, followed by some laps at the pool. I usually go to Dance Trance but I woke up with Friday morning with insane foot pain — like I can't bend my toes pain. It felt like I dropped a 30-pound weight on them. Good times.
Saturday afternoon: my friend and I went to the Wine, Women and Shoes event at SeaWorld (more on that below)
Saturday night: that same friend and I went to the Bret Michaels concert downtown with VIP access, baby. (obviously much more on that below).
Sunday morning: DadJovi and E. leave the house at 7 a.m. to head first to Hollywood Studios for Stars Wars Weekends, then to Animal Kingdom. I spend the day mostly hungover, blog about the InnovAsian event, do laundry, and try to get rid of the nagging feeling I'm getting sick.
Sunday night: We head to Paul McCartney with friends! And during the pre-show, I can no longer ignore the fact that a cold is coming on. They force one drink on me that I can hardly drink, and by the third song, I've lost my voice completely and I'm feeling feverish.
But the show is so amazing. I cried. I laughed. I oohed and aahed. There will definitely be a full blog post coming.
Man, that is some first-world, humblebrag whining at its finest, isn't it?
OK, so as promised, let's dive into the weekend for just a bit. I'm battling Nyquil here so I promise it will be as brief as possible.
First up: Wine, Women & Shoes.
I actually won two tickets to this event at last year's Florida Blogging Conference (aka FlBlogCon aka the conference formerly known as CFLBlogCon).
The event is held each year to benefit one of my favorite organizations, Second Harvest Food Bank. So, I was REALLY excited to win this prize. Each and every person at Second Harvest works so hard to do so much good, and every time I'm around them, I'm so inspired by their passion for making a difference.
And almost as soon as my friend Amy and I arrived, we ran right into the awesome Maria from Second Harvest (on left, below). Of course, we had to get a picture taken on the Step and Repeat (did you know that's what those marquees are called on red carpets? I learned that a couple years ago but always forget what it's called and usually say "point and shoot" or "The PIVOT!")
Since the event was at held at SeaWorld's Port of Call, there were even some animal friends there to greet us.
When we got in, it was like we had stepped into Oz. As we looked around, we spotted tables and tables of food; open bars; tons of tables set up selling jewelry, makeup, purses, clothes and of course, shoes; and in the center of it all, a closet stuffed with $6,600 worth of merchandise waiting to be raffled off.
We grabbed glasses of prosecco and got our shop on. Since I'd won the tickets (and they normally cost $75), I figured I had a small shopping budget. Hey, a percentage of all sales went to Second Harvest. Just call me Mother Theresa. I ended up picking up three necklaces, a purse and a shirt … all for around $80.
Sadly, when it came time for the live auction, all of the items were too rich for my blood. I did text a picture of this item to DadJovi and told him I was bidding on it. He didn't find it amusing.
And he calls himself a Disney fan.
Instead, we spent the live auction amusing ourselves with obvious pictures, such as this tribute to the event's name.
Get it?
And we decided to go halfsies on the $50 entry to the closet raffle (after all, there are only so many purses one woman needs). Would this be the winning key?
Actually, I just wanted to put this picture in because it's so rare that it looks like I have cleavage so I had to include it. This one's for you Paula. You know, in case you're still looking for inspiration.
And no, it wasn't the lucky key. What would I do with all those designer purses and shoes anyway?? (that's what I'm telling myself anyway)
It was a such a fun event, though. And I didn't even tell you about the Shoe Boys! I will definitely be back next year.
As we were leaving the event, my friend Amy, who works in radio said, "How would you feel about stopping by the Bret Michaels concert downtown? I have VIP access, which includes food and drinks."
She had me at free.
All she would have had to do was mention the big-head Bret.
Yup, I ditched the heels for flips as soon as I could. Besides, clearly I was overdressed as it was. I mean, for starters, my clothes were covering entirely too much of my body for the Bret Michaels VIP area. I can't even tell you how many Daisy Dukes, halter tops, corsets, fringed open-back shirts and sheer shirts I saw. It was pretty awesome.
And crochet tops with no bras? So hot right now. So hot.
And the girl on the left is a genius. I never thought to clip a hair clip to the back of my shirt. So smart!
But you don't want to see skimy outfits; you want to see the bandanaed one himself.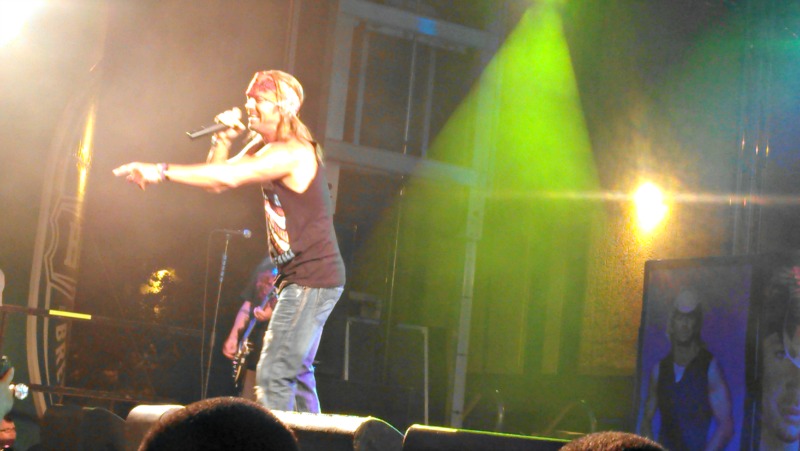 It was exactly what you'd expect from a Bret Michaels show. He actually has a very sweet (as in nice) stage presence. He thanked the fans over and over again. He played all the oldies ("Talk Dirty to Me," "Every Rose Has Its Thorn," "Unskinny Bop," "Something to Believe In," etc) and you could tell he was just having a blast. The thousands who lined Orange Avenue in downtown Orlando loved him.
Oh, I almost forgot to tell you the absolute highlight of my day. As we were in the VIP area waiting for the show to start, my friend introduced me to one of her co-workers, Mike. After a few minutes, she says, "Do you remember the song 'Pop Goes the Weasel?'"
"Um, obviously."
At which point, I broke into song, "Pop, pop, goes the weasel the weasel. Pop pop goes the weasel. Pop goes the weasel and the weasel goes pooooop."
Why?
"Oh, Mike did that song. His name was MC Serch and he was in 3rd Bass."
SHUT THE FRONT DOOR. This nice, friendly dude was behind one of my favorite hip hop songs of junior high??
Of course, at this point, I started GRILLING him about the '90s hip hop scene. It was one of the most fascinating conversations of my life, and I got tons of dirt (sorry, I can't share most of it!) Despite my badgering, he even posed for a picture with me.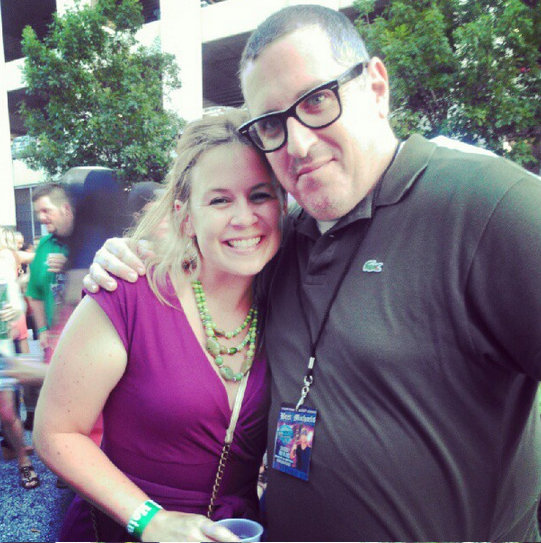 Perhaps the proudest moment of my life was the fact that I knew the song was kind of an F you to all the commercial hip hop artists of the time, like MC Hammer and Vanilla Ice. I knew decades of listening to rap and hip hop would someday pay off in one awesome moment. Now, if only he could get me in a room with Dre.
Seriously, it was such an awesome moment. And for you youngsters, go Google "Pop Goes the Weasel." It's a great song.
Oh, yeah, and Bret was still there.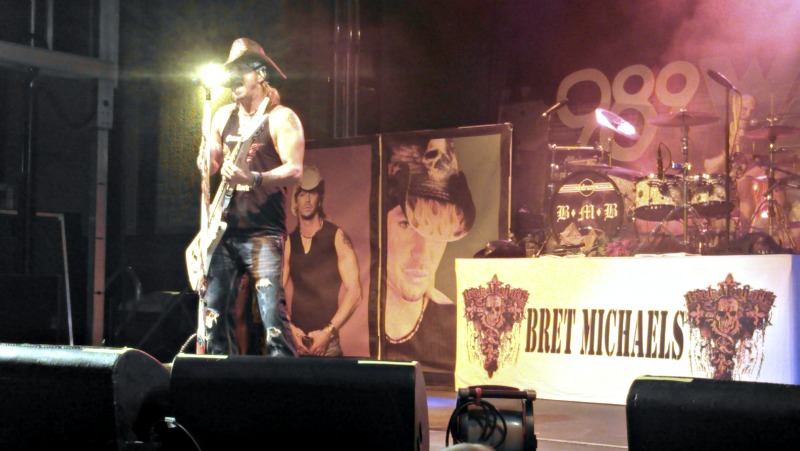 Towards the end of the show, my friend was even able to score us some passes to meet Bret after the show. We excitedly lined up when the show ended, and waited. And waited. When we realized we were looking at a loooong wait (Bret wanted to, rightly, meet his fan club peeps first), we bailed. After all, I'd been drinking since 3 p.m. I can only go for so long.
Sorry, Bret. We'll have to meet another time.
But wait, there was more fun!
But I lied to you. I promised to keep it short but we all knew that was a lie going in. I'll just share one last picture with you until I can muster the energy to return with the full Paul McCartney recap.
If you could meet any musician, who would you pick? And what questions would you ask them? Have you ever won a raffle? With as many as I've played, it's only a matter of time, right?