E had a sleepover with one of her friends the other night. They had a great time playing and being silly, and when it was time for bedtime, it took them a long time to settle down. Long after the lights went out, they were chatting away in there.
That was the first night of my sickness so I was already in bed, too. Since I refuse to get rid of E's baby monitor, I could hear their conversation. I was going to get up and turn it down but I was having too much fun listening to their hysterical conversations.
Just as I was reaching to turn it off, I heard something that made my ears perk up — and my Momma Grizzly Bear haunches raise.
E's friend: "You know, there's no such thing as the Tooth Fairy. My mommy told me so."
I froze. What would my girl say? Since she's only 4, we're years away from the Tooth Fairy so we haven't discussed it all that much. But she knows of its "existence" and is eager for her Tooth Fairy days to arrive. Besides, my girl also believes in other kinds of fairies and is always on the lookout for one in the yard. I once told her that the dust motes you see in the sunlight are fairies and she LOVES that idea. Needless to say, we're big fans of fairies 'round here.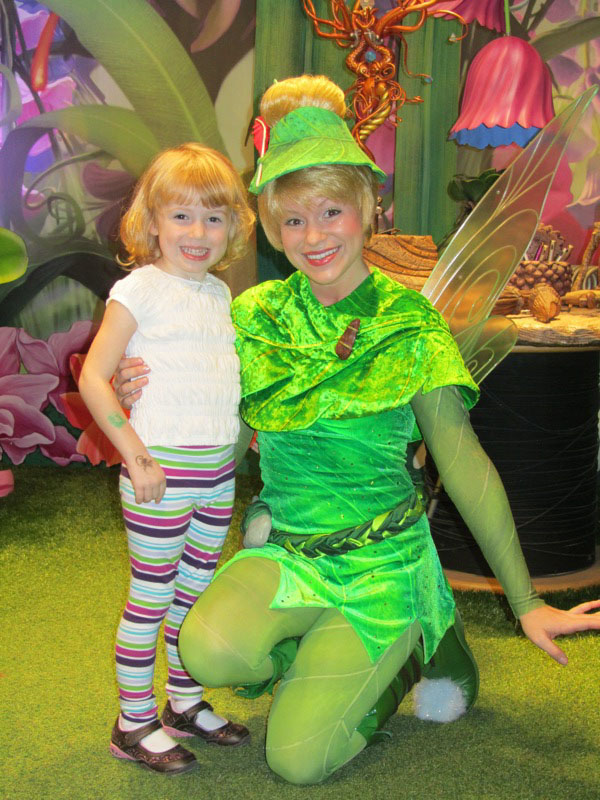 E's first response was, "Yes huh, there is too a Tooth Fairy."
Friend: "Un huh."
Then, E lawyered her.
E: "If you don't believe in the Tooth Fairy, then you can't believe in Santa Claus and the Easter Bunny. And then you can't get presents or candy."
Boom. Logic.
Thankfully, for now, the crisis of belief confidence seems to be averted.
The next day, I asked my friend (the child's mother) if she had accurately conveyed their conversation. We're very good friends, so I had no qualms doing this. If we weren't as good as friends, I may not have brought it up or I would have danced around it more delicately. But I also wanted to know if it was something a) she would want to talk to her daughter about in case the child had misunderstood her about something or b) if it was something she'd told her daughter, I wanted to urge her to have a conversation with her about not spilling the beans to other kids.
My friend said they'd recently talked about it and when her daughter asked if there was a Tooth Fairy she'd said, "Well, some people believe there's one. What do you think?"
She told me she just didn't feel comfortable lying to her kid and that initially she'd been against promoting the idea of Santa but her husband had persuaded her to go along on that one.
Here's the thing — I honestly don't care how other parents parent. Since having a child of my own, I've realized there really is no "right" way to parent. What works for me may not work for you and vice versa. We all have to do what works best for our kids and our families.
Buuuuuut, when it directly impacts something I consider to be a big part of my daugther's childhood, I do care. If we lived in a vacuum, I could care less whether your kids believed in Santa. But, in the same way you probably don't want your kid to watch "Star Wars: The Revenge of the Sith" at our house (a PG-13 movie we've allowed our kid to watch), I don't want your kid to rain on my Santa parade.
It's just the social contract.
What's so wrong with believing in Santa or the Tooth Fairy? I feel like there's something going on these days on this topic. I first realized this when The Feminist Breeder, a blogger I very much admire, posted last year that they weren't doing Santa with their kids. Then, a few months ago, my BFF Missy told me she was concerned because one of her closest friends, who has a child around the same age as hers, will not be doing Santa. She called me, wondering how she should move forward with their friendship because she really loves her friend but is worried she'll always be afraid her friend's kid is going to "ruin" Christmas.
Barring religious reasons, I just don't know why someone wouldn't want to do Santa, the Easter Bunny or the Tooth Fairy. I could certainly do without the latter two, but Santa? I just love what he symbolizes. I love the magic of the Christmas season. I love the spirit of giving, joy and awe.
Our kids have to grow up so fast these days. There's no mystery in the world anymore. Want to know why the sky is blue? Don't wonder. Just Google it. What's it like in space? Go online and watch videos. While all of that knowledge is fascinating and wonderful, it takes a bit of the intrigue out of the world. Sometimes, it's nice to have a little faith.
I also think not letting them believe puts an unfair burden on the little people.
I can't remember who I had this conversation with but I'm pretty sure it was one of my Jewish friends from high school. Whoever it was (or did I read it somewhere else?) said they sometimes wished their parents had just told them there was a Santa for a few years because when they were in elementary school, they were always so worried about accidentally slipping around their Christian friends and outing the Santa story.
Besides, have you ever known a young child to effectively keep a secret? If E knows something, the world knows it. She was forbidden from bringing up her upcoming birthday plans at school because only three girls are coming and they're all friends we' also regularly spend time with outside of school. But, of course, in her excitement, she slipped and feelings got hurt. It was innocent but it didn't stop a few other girls from feeling like crap.
I'd give anything to go back in time and not tell her about her birthday until the day before now to avoid hurting those girls. How will you feel when your child accidentally crushes another kid's beliefs?
Another thing I've heard from friends is that they don't like to lie to their kids. Then, they're better people than me. In my nearly five years of motherhood, I've learned one big lesson — the basis of all good parenting is lying! "Go to bed now or your brain won't grow." "Eat your broccoli or you'll never get taller." "We don't have any dessert." "Sorry, they don't have any chicken nuggets at this restaurant. But they have grilled chicken. Yum!" Sure, there's some basis of truth in some of those things, but I tell them for my kid's own good.
Which is exactly how I feel about Santa. It's good for her to believe. It's good for her to get excited about something so seemingly impossible. It's good for her to believe in the power of magic.
She won't always believe but when those days are over, I hope she'll remember what it felt like to believe. I hope that someday, when she feels something is impossible or that she can't do it, she'll remember when the impossible happend — a fat man came down her chimney and brought her the thing her heart desired most.
She has enough time in life to be as cynical and jaded as me.
So, for the love of Kris Kringle, if you're going to always tell your children the truth, then please tell them to keep their lips zipped. Or I'll have to teach them a truth myself — no one messes with my kid's magic.
So, tell me why I'm wrong. If you don't do Santa, the Tooth Fairy or the Easter Bunny, why not? And if you do, help me come up with a good defense response for the inevitable "Susie says there's no Santa."