For someone who claims to be an expert on Fitting Blogging Into Your Life, I've sure done a piss poor job of actually doing that lately. Frankly, life is just kicking my ass lately. It's all good things, but the days are flying by with no time to take a breath. And on those rare occasions when I have 20 minutes to myself, I've been trying to catch up on my poor, stuffed to the brim DVR. Sorry I'm not sorry but I have episodes of "The Mindy Project," "30 Rock," "Parks and Rec," and "Homeland" to catch up. Priorities, people!
I promise I have a post coming on all the fun we had in Pa watching my mom tie the knot. Here's your tease: some day romantic comedies will be written about how comically disastrous I was as a maid of honor. We're talking Reese Witherspoon material here. But that will have to wait.
So, here's what I've been up to this week.
Sunday night, we didn't even land until 7 p.m. So after a pit stop to the 7-11 to get essentials for the next day (milk and bread), we swung by Tijuana Flats, got dinner to go and finally the three of us ate around 8:30. By the time I washed the queso and travel off E. and got her to bed, it was 9:30. I collapsed into the Lazy Boy and settled in for some crazy Carrie and deceptive Brody on "Homeland." I didn't think it was possible but that show is even better this year!
Monday went by in a blur. Not only did I have so much to catch up on at work after being out for several days last week, but it was the first day of a new era — no Katy to share my office with! Look how lonely my view is now.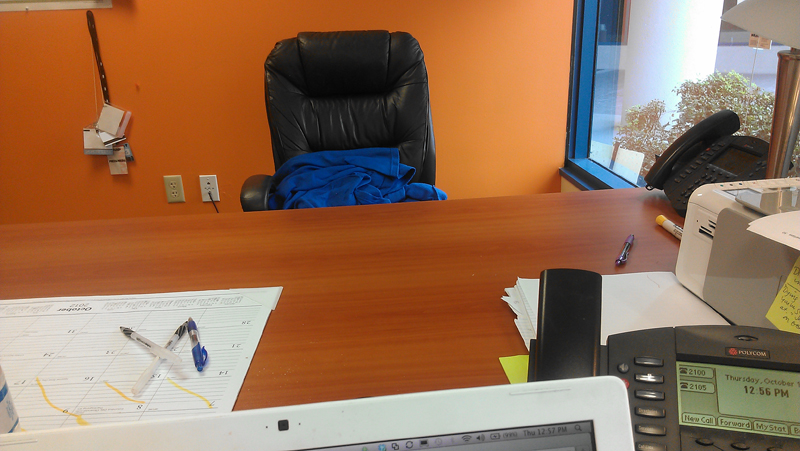 By the afternoon, I couldn't stand it and I started harassing her to let me come meet baby Audrey after work. I think she knew if she didn't let me come she'd get no rest from me until she caved. Besides, I got the whooping cough vaccine specifically so I could hold my new love for hours on end without her momma worrying.
It was love at first sight.
It was really tough to hand this gorgeous creature back to her momma, but a baby's got to eat. But I'll be back. I hope I can be half a good an auntie to Audrey as Katy had been to E. these past 4 1/2 years.
Speaking of E., I finally got to live one of my dreams come true on Tuesday — E. sported her new school uniform for the first time. I know I'm biased but c'mon. How cute is she?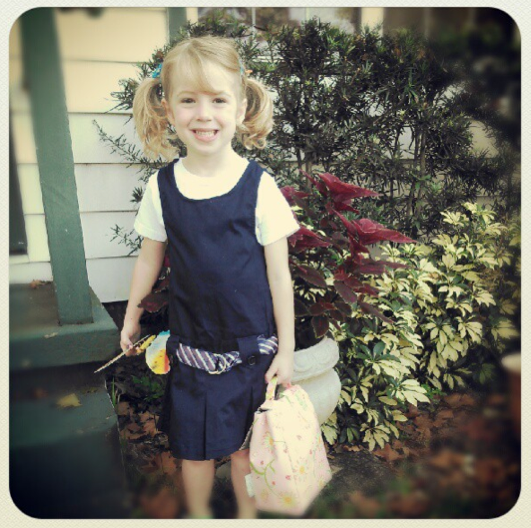 So here's the deal with the uniforms — they're optional. Several parents and I are begging the school director to make them mandatory but I understand why she doesn't want to do it mid-year. A couple parents and I consulted with each other and we chose the same uniforms for our girls and we've conspired to have them wear them on the same days (definitely Mondays for now. The second day is TBD). The uniforms arrived while we were in Pa, so E. missed the first Monday and as I suspected, when she saw her besties in them on Monday, she demanded to wear them the next day. Now that's peer pressure I can get on board with!
Tuesday morning was such a breeze. We didn't have to endure our normal clothing battles. If I thought she'd wear them every day, I'd buy two more sets right now. The dress she's wearing was only $12, and I also bought her a polo shirt with the school's logo and a skort (or scooter, whatever you want to call it — it's a skirt with shorts underneath). They were also $12 each. Totally worth it.
After school Tuesday, we headed up the street for one of our favorite annual traditions — the local school's homecoming parade. E. even got to hang with her BFF up there. After they stood to honor the school's ROTC kids …
… it was time for the main event — the candy scramble.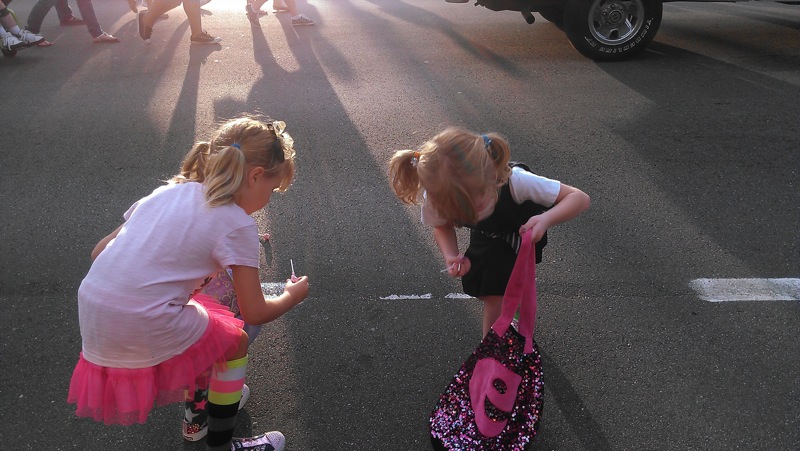 They each made out like bandits. SO.MUCH.CANDY. Why can't homecoming be more than two weeks away from Halloween? The sugar season is now in full effect.
That night, I had good intentions of blogging. But then Mitt Romney went and mentioned his Binders of Women and I couldn't concentrate on anything but the debate. By the way, have you checked out the Binders Full of Women Tumblr? I'm pretty much obsessed. Here's one of my favorites.
On Wednesday, I knew I wouldn't blog because it was Central Florida Lady Bloggers night! Hooray! Michelle said she'd drive so I could properly booze socialize since she has such a long drive back to her neck of the woods anyway. She arrived at about 6:30 with plans of us grabbing a quick bite to eat and catching up after more than a month apart. Gasp.
We went outside to leave and her car was dead. We tried jumping it and nothing happened. Apparently this happens a lot and Michelle suddenly morphed into a mechanic and started telling me what tools she needed and how to fix the battery. Say what?
But then it started to rain and we didn't want to mess up our hair so we put DadJovi to work instead. He spent about 40 minutes in the pouring rain, with me holding a flashlight and a lantern and Michelle manning the ignition and it was still a no go. We decided to head inside, report to our fellow bloggers that we couldn't make it and see what I had to eat while we waited for the storm to pass. It wasn't much.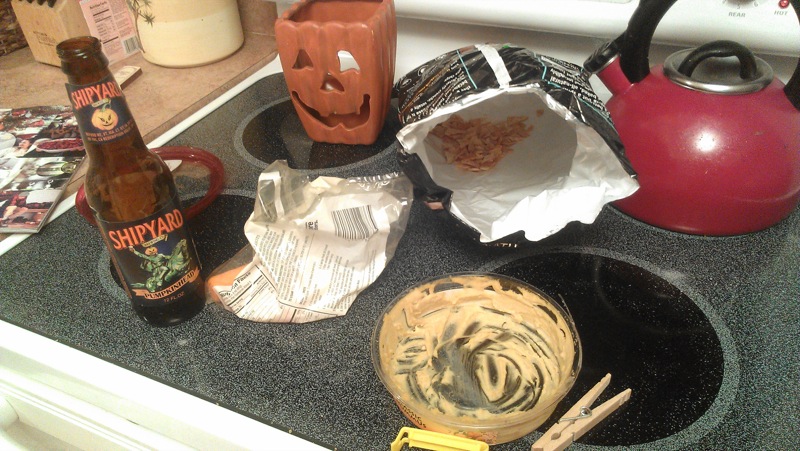 What? You're reading about my week. I've had no time to go to a grocery store other than to grab the essentials (in other words, E.'s lunch stuff) since Monday night.
Eventually the rain stopped and we went out to give it another jump. This time, thanks to DadJovi clearing all the gunk off the battery, it finally started! So then Michelle and I turned into two teenagers and went driving. We knew we had to drive it around to charge the battery and I didn't want her trying to go all the way home without knowing whether it was going to die again. Besides, she didn't have enough gas to make it there.
So Michelle and Jackie had a grand driving adventure. We blasted some sweet tween tunes, basically hit every red light, and eventually made our way to Pei Wei where I ran in and grabbed some takeout while she kept the car running. When she was finally running on fumes, we stopped the car at a gas station near my house in case it died again. This time, it started up like a champ. So we went back to my house and feasted.
But the fun's not over yet! As I sit here writing this post at work during my lunch break, I just got a text from my husband, who ran home for lunch. There was someone there waiting to greet him.
I seriously may never go home again … at least not without a honey badger. Are you freaking kidding me??? Why is our yard suddenly snake infested. I've already warned him that I think the reason is because we don't have dogs anymore. I'm THISCLOSE to stopping at the shelter on the way home and getting a new dog. AHHHHHH!
Oh, and there's one more thing to be scared about this week — tomorrow morning, I'm attempting IUD Insertion Take 2. This time, I have a prescription for valium. Wish me luck!
There's a lot to talk about here. What are you watching this week? School uniforms — yay or nay? I would have been a nay in school but now I desperately want E. to wear them. And how do I rid my home from its apparent snake infestation??