Anyone else still exhausted by this year's CFLBlogCon? Phew. My brain and body needed to take a couple days after it to decompress.
If you live in Central Florida, I'm sure you're about sick to death of reading CFLBlogCon recaps. By now, you get it — the day was GREAT. From the surprise Flash Mob to the kickass sessions to the Bahama Breeze lunch, it was a top-notch affair.
And then there were the Parkesdale strawberry cookies. They may have begged me to take them with me at the end of the night.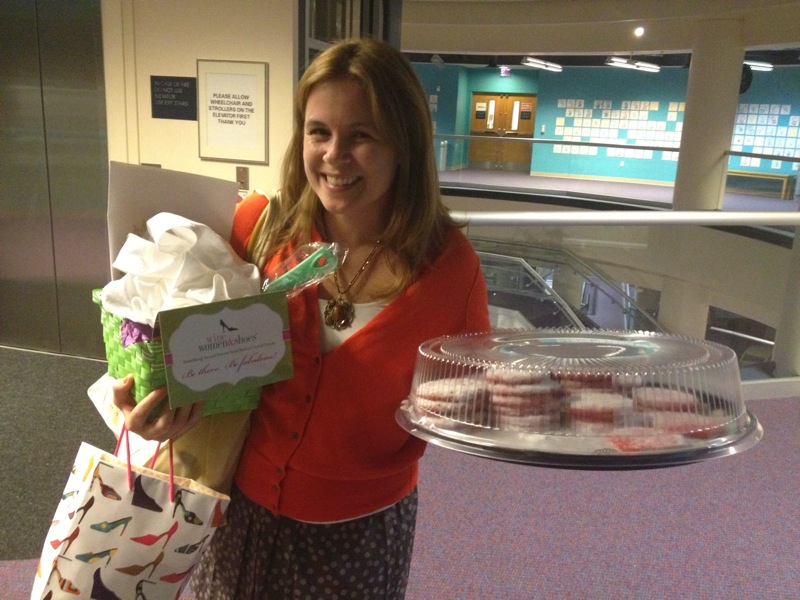 Sometimes it pays to be the last person to leave the party at the end of the night. I wonder why the bars never gave out free booze at the end of the night when I used to close them down during college.
Rather than giving you my hour-by-hour blow, I'll give you my Top 5 favorite moments of the day:
1) Giving my first-ever presentation at a conference … and not throwing up in the process.
I've been telling you for the past couple months that I was presenting. What I didn't tell you was how much dang fun I had putting it together. For starters, I got to spend time with these two crazy ladies. A LOT OF TIME, actually.
Our entire presentation was the brainchild of Christine who wondered if Michelle and I thought the three of us could put a talk together on "Fitting Blogging Into Your Life." Since it's something I struggle with daily myself, I was excited to explore the topic.
One thing I don't think I was clear enough about during our presentation's introduction is just how busy the three of us (as I know we all are). Michelle and I both work full-time outside the home (although I'm still off on Fridays) and Christine is a full-time stay-at-home mom to her two children. Michelle has two kids; I have one. And none of us makes a dime off our blogs (other than some products to review, the occasional tickets to events, etc).
No matter how busy we are, blogging has become a necessary outlet for each of us. As Michelle said during the presentation, Christine does it to begin to build a business for when her children are in school; Michelle does it to help her keep motivated with her fitness and life goals; and I do it because I can't remember anything anymore and it's become sort of my public journal of this crazy, fun time in my life.
Leading up to the talk, I was worried that we'd either go way over our 30-minute limit or way under … and there'd be no questions. As for the talking itself, I wasn't too worried. After all, this is actually what I've been TRAINED to do. After dropping nearly $100K on a S.I. Newhouse School of Public Communications degree in broadcast journalism (yes, I'm a Newhouse nerd and not content to just say Syracuse), public speaking doesn't intimidate me. Or so I thought.
As we found the last couple seats for the first session, Callie's Media Kit presentation (which was excellent and gave me SO many ideas when I could actually focus), panic started to set in. Look at the crowd in that room.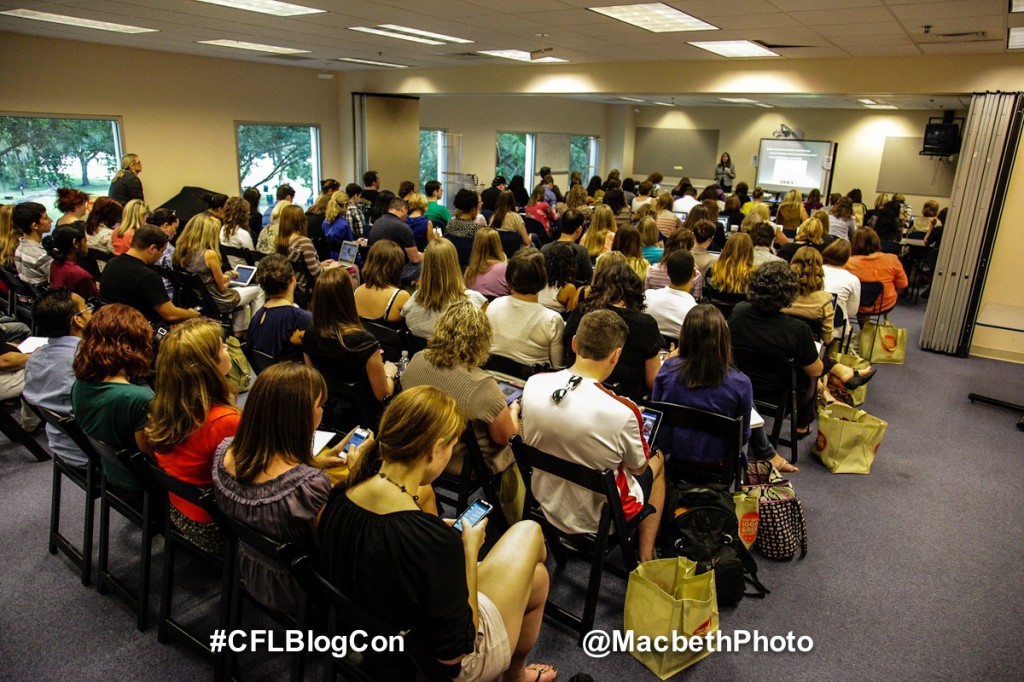 (This is the first of several photos I'll be using taken by the very talented Jim of Macbeth Photography. He was kind enough to shoot the whole day for attendees, including some great headshots of everyone but me. Through no fault of his, none of mine turned out. This is why I get stuck with a single profile picture forever — I always find something wrong with headshots of myself. In any event, check out his full galleries from the day.)
Yes, that's me in the back row and what you don't see is that I was HOUSING a bag of SunChips that was in our swag bags. I seriously started panic snacking. Oh, did I fail to mention that this was our room and we were on deck? Yup, wasn't nervous at all.
Before I knew it, it was time for us to make our way to the front of the room. We collected ourselves enough for a pre-presentation picture.
I'm not going to get into the specifics of our talk in this post. I'll save that for another one, but I do urge you to head over to Doccaster to download our full presentation. The slides will be available until mid-October, and if you're out of the area, use IE to download them and use the ZIP code 32805. And please, if you have ANY follow-up questions, do not hesitate to send me an email or leave a comment here or on future posts.
How did it go? Honestly, I have no idea. I think I sort of blacked out. And during the blackout, I apparently told hilarious jokes. Like one about JLo's ass. C'mon Jackie. You're better than that. I could have come up with something much more timely. I guess my brain takes me to the safe, heady days of the original Bennifer when I get nervous.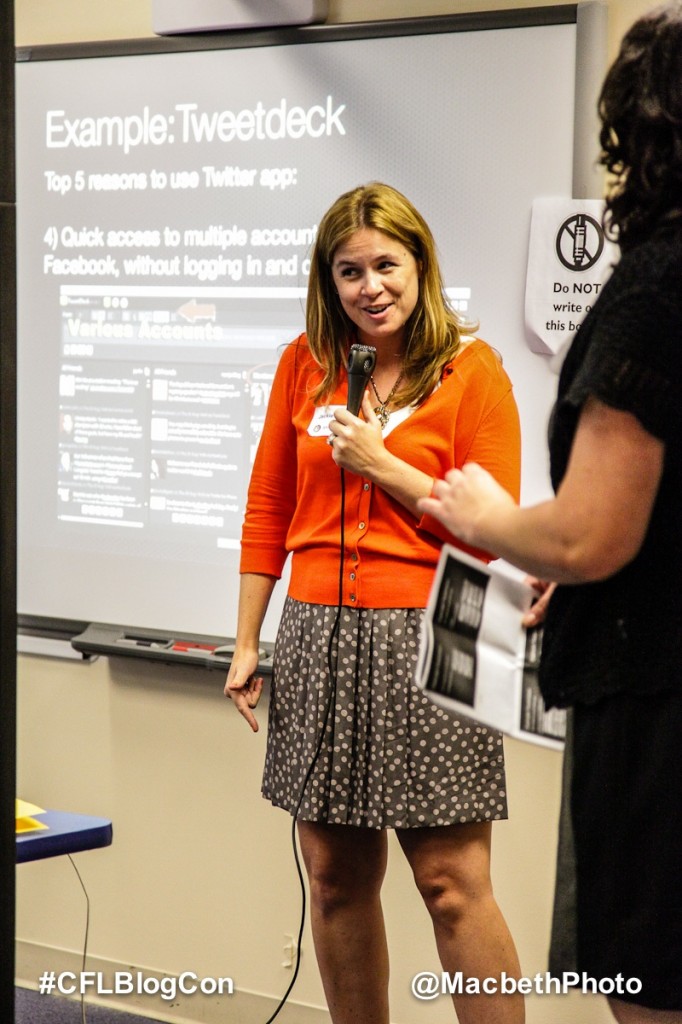 Thankfully, my two co-presenters rocked their sections, and I think the three of us put together a presentation that was helpful to people looking to make the most of the little time they have to blog. And if not, at least I was able to picture this girl naked during the talk. Hey, it was her idea.
But the bottom line? I can now cross Speak at a Conference off my bucket list. Check.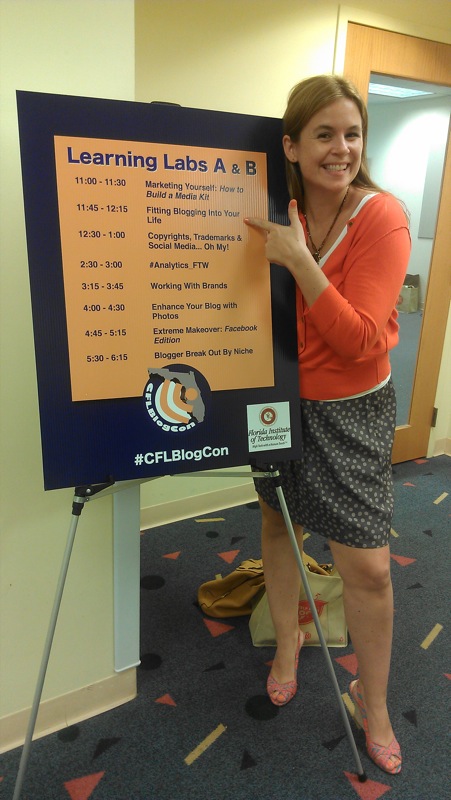 2) Meeting long-time virtual friends in real life … and loving them more in person than I already do online!
One of the very first people I met through blogging is the fabulous and fascinating Caroline Calcote. I'm not even sure how we found each other, but if you go way back to the very beginnings of my humble little blog, I guarantee she was one of the first people to leave a comment. Heck, she may have been the first person I didn't know in real life to do so.
And it was love at first click. Since then, we've tweeted almost daily, read each other's blogs religiously (at least I think she still reads mine) and she even sent me a sweet Big Bang Theory t-shirt.
But since she lives in St. Pete and I live in Orlando, we'd never met in person. Another mission accomplished.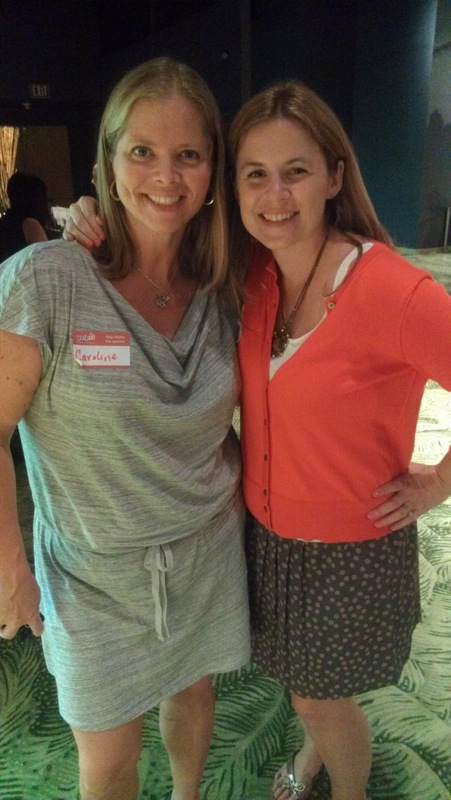 We were like two peas in a pod for most of the day. It was so much fun. Through her, I got to meet many of the Tampa Bay Lady Bloggers. We have to arrange a Central Florida/Tampa Bay Lady Bloggers mashup ASAP!
I also got to meet another west coaster I've been dying to meet for a long time — the awesome Theresa of Active Eggplant.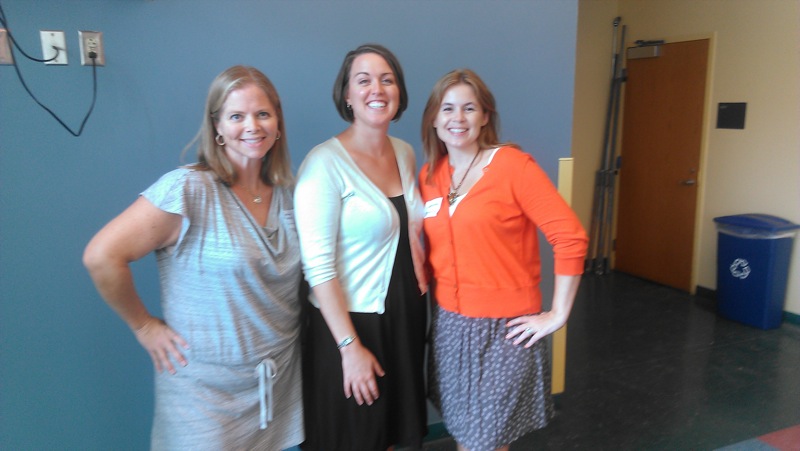 To me, making these connections is the best part of conferences. Sure, you learn a lot and get inspired to do big things, but when it comes down to it, these faces and fun times are what I'll remember most. No offense, presenters (including myself).
I also got to meet so many new people whose blogs and Twitter accounts are new to me and I can't wait to start reading them over the next couple weeks.
3) The many a-ha moments sprinkled throughout the day.
The day kicked off with a bang with Lou Mongello's inspirational keynote address on quitting your job to follow your passion.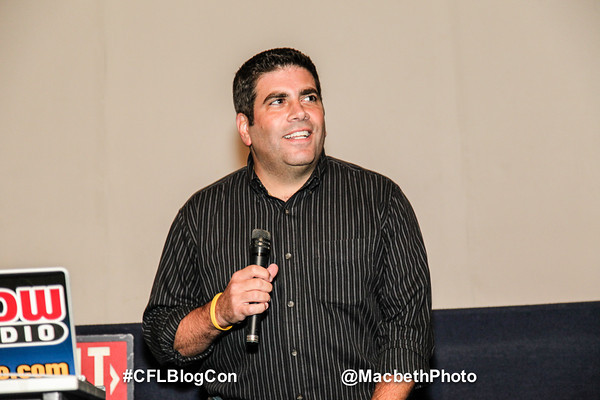 Lou is the "recovering" attorney who is behind the wildly popular WDWRadio podcasts, videos, books, blog posts, etc. He's a multimedia machine and although I have no interest in leaving my job ever, he gave us all a lot of food for thought in terms of why we blog and how we should approach it.
Good stuff.
Next, I attended Callie of The Wannabe Athlete's session on building a media kit and she had a lot of great tips, but one statement really stuck out to me — "You don't need big numbers to attract brands, but you need to be engaged." That's really encouraging. I know I'll never be a "big blogger," but I do hope that I am engaged with all of you who do me the honor of reading my ramblings. Who knows where that could lead? Hopefully to more cool stuff for you and me.
Another presenter who really got the wheels turning was Julie of TheLittleKitchen.net, who presented on working with brands. She even included her sample pitch letter to brands and gave some great tips for reaching out to companies who you are passionate about and have an emotional connection with. I don't want to name names, but I've got my eyes on you, vineyards of the world!
Probably my favorite session, though, was the one Rachelle Lucas, of The Travel Bite gave on Twitter. My Twitter-loving heart exploded with joy with all of the new tools and apps she highlighted in her talk. I can't wait to explore new toys like SproutSocial, Twilert and Tweepy. And I also may have developed a small girl crush on her. She was just so darn perky and fun!
4) The swag!
For starters, the official #CFLBlogCon bag was stuffed full of goodies and coupons. Plus, I may have forced all my Tampa Bay Lady Blogger friends to hand over their Yum Yum Cupcake Truck coupons to me. Hey, they weren't going to use them. I see a six-pack (sadly I won't be wearing it) in my future.
In the Ford Recharge Room, I also took advantage of the chair massages provided by Motherlove Massage.
Holy mother is right. That chair massage was AMAZING. I will definitely be giving them a call. Katy and Christine had already told me that they had had the best massages of their life at Motherlove during their pregnancies. I'm going to celebrate not being pregnant with a kickass massage very soon.
I've already mentioned the cookies but the real prize of the night was the gift basket I won for buying a raffle ticket. Yes, real people actually win those things! I couldn't believe it! I bought two raffle tickets, which were $10 each. The first was from the Orlando Science Center (where the conference was held) because it was stuffed full of Star Wars goodies for their upcoming Star Wars event. You know that we'll be back for that!
The second ticket was for the Second Harvest Food Bank basket. As you may recall, I chose to write my Blogging for Good post on Second Harvest. They're such amazing people and I had a great time chatting with their social media guru Maria Diestro throughout the day. When Bess called my name to say I'd won, I couldn't believe it!
It was full of goodies, but the two highlights are two tickets to next year's Wine Women and Shoes event (I'm accepting applications for my date now!) and … wait for it … a two-night, three-day stay at any Westgate resort in the country! You have no idea how perfect the timing is for that. We JUST saw "The Queen of Versailles" on Thursday night, which is about Westgate founder David Siegel. To say that DadJovi is obsessed with David and his wife, Jackie, now is an understatement. My only fear with this prize is that it will inevitably lead to us owning a Westgate time share.
Plus, Christine won a basket, too.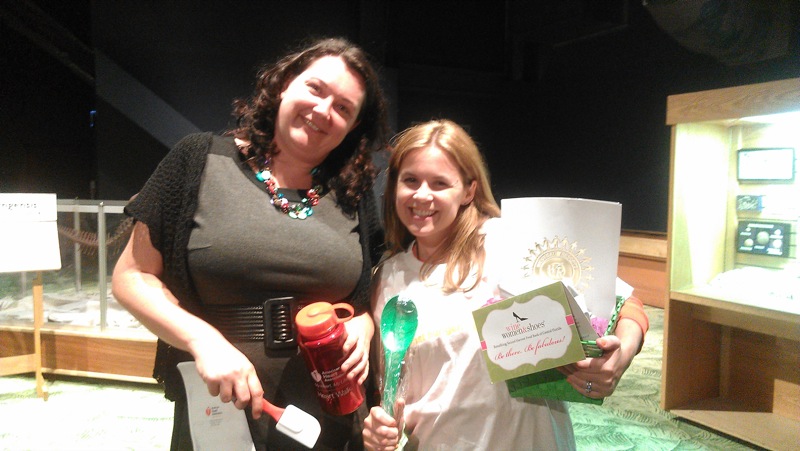 Why, yes, I was rocking my new End Hunger shirt.
I was bummed I didn't win the iPad but it went to the adorable Kat, another Tampa Bay blogger and she was so cute winning it that I couldn't stay bitter.
5) Spending the day with this crew.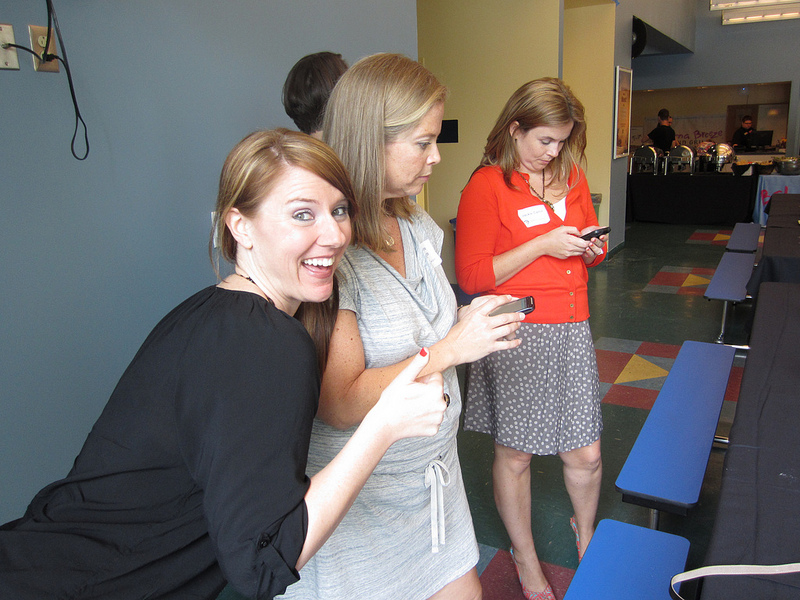 My chins and I had very important things to Instagram but I missed the better shot — Paula's thumbs up.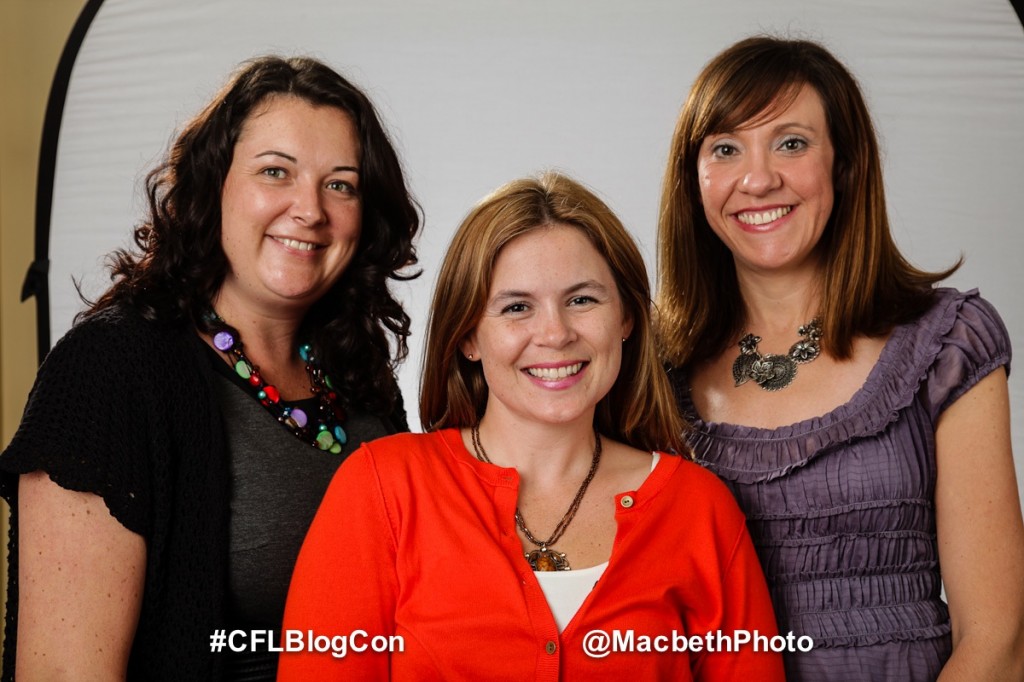 Love our team. I'm really going to miss our wine-soaked chats practice and planning sessions. Anyone want us to come speak at their convention? We'll even do parties! Will speak for wine.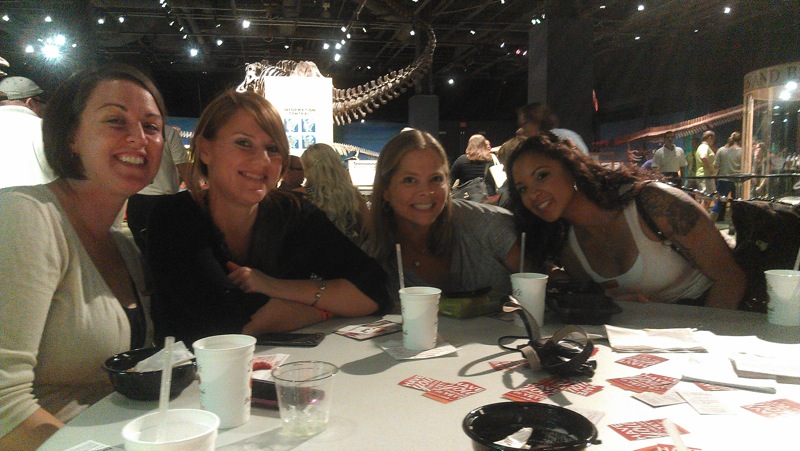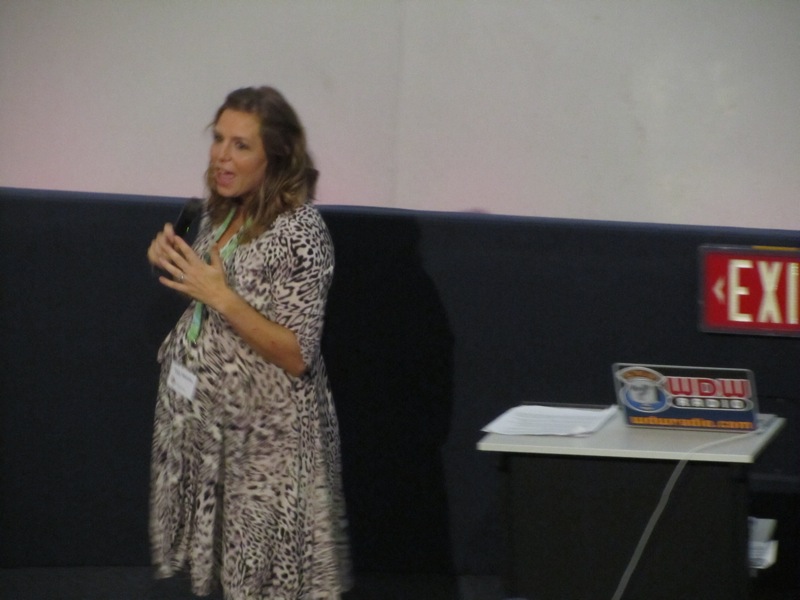 (How did I take no pictures with Katy all day? Oh yeah, she was too busy ROCKING all her duties, 37 weeks pregnant and all. What a stud)
Note to self: when standing next to uber-fashion blogger J PUT YOUR CUTE SHOES BACK ON! And I never think of myself as short until I stand with all these girls. Kerry and I made nice bookends.
OK, now I'm spent all over again.
If you only leave with one takeaway, it's this: if you have a blog, you MUST attend a blogging conference at some point. Even if, like myself, you don't consider yourself a full-time blogger, there is so much that you will get out of it. I guarantee it.
See you all at CFLBlogCon 2013!
P.S. Thanks to Michelle and J for letting me borrow some of their pictures, too.
Have you ever attended a conference? Have you ever spoken at a big event? And if we met at CFlBlogCon, please say hello in the comments so we can keep the conversation going! I can't wait to start reading all these new blogs!