I've fallen off the running bandwagon lately. Hell, I've fallen off the exercise bandwagon lately, too. I'm not sure what happened, but I've just been painfully unmotivated over the last few months.
Lately, though, I've felt myself turning a corner. My pal Katy had the inspired idea to start squeezing in visits to the gym over lunch. It's about a 10-minute drive from our office, so I've been doing some weights and light cardio for about 35-40 minutes at least two days a week over the past couple weeks. And it's been the kick I needed to get myself back in gear.
Along with that, I've finally been running more, too. Nothing crazy, but at least I've been able to drag myself out bed (even on our annoyingly dark mornings) a couple times a week.
Baby steps.
I've had my eyes out for some races to motivate me to keep running, but for some reason or another, I haven't been able to schedule one over the past month.
Last week, I realized that not only was there a 5K coming up this weekend, it was even in my neck of the woods! So, before I could talk myself out of it, I signed up.
Man, why haven't I been racing all the time? They're fun!
The morning was super easy. Race time was at 7:30 and I live about a 2-minute drive from the start. I actually got up too early, but I was worried about oversleeping. Mornings and I are mortal enemies.
Since it was such a short race distance, I wasn't worried about eating much. In fact, I find it hard to eat anything before I run, so I stuck with a small bowl of cereal.
The race was hosted by a Catholic high school. Know what that means? Tons of kids in the race. I knew all those young, childless (hopefully!) young whippersnappers were going to be leaving me in their dust. Well, at least I had maturity on my side. OK, fine, I considered tripping them. But I'm sure they had it coming.
The race got started a few minutes late because they had a much higher-than-anticipated turnout. A ton of people showed up to register/pick up packets on race day. I was glad I had picked my stuff up a couple days earlier!
It was fun people watching, though. Since it was St. Patrick's Day morning, everyone was decked out in their finest green race gear and shamrock couture.
My efforts were pretty lame. For starters, I dug out my Big Lebowski green nail polish.
I realized the night before I didn't really have any green shirts. But then, I found a true pot of gold — a t-shirt I got at the Guinness factory in Ireland … 14 years ago! See, THIS is exactly why I'm a pack rat. You never know when you're going to need a gem like this.
After a brief prayer (remember, this was a race at a Catholic school on St. Paddy's Day) and the national anthem, it was finally time to start racing. The race started and finished on the high school track. We ran about 3/4 of the way around the track before exiting the stadium for the rest of the course.
You would think that I would have learned something by reading so many race recaps by my running inspirations like Michelle, Paula, Caroline and Meghann. But I haven't. I made that rookie of all rookie mistakes. I came out FLYING, trying to keep with the pack. I'm a 10:350-11:00 mile runner on a good day. When I looked at my Garmin for the first time, I was at 8:30. What the hell?
And I paid the price. By .75, I was huffing!
I was just about to consider my first walking break when two things happened. First, I saw a crushed, dead snake in the middle of the road. Seriously, why am I seeing so many snakes lately? But since it was St. Patrick's Day, I took it as a sign from St. Patrick himself that he was going to smite all the snakes on the course for me. Thanks, Pat!
Then, about 30 seconds later, I saw this little leprechaun waving frantically at me.
I knew they'd be at the finish, but I didn't think they'd be out on the course. Those sneaky leprechauns. I think you can see the surprise on my face when I first saw them.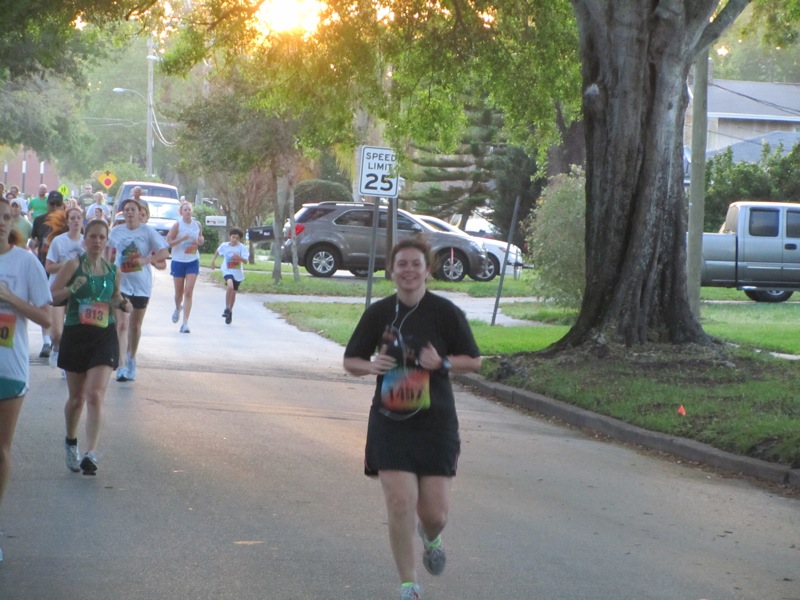 Boo ya! Look at me smokin' that 7-year-old behind me! Eat my running skort, buddy.
I passed by them, and the course had us swing a right to take the long way around the block. They were able to walk down the street they were standing on to catch us again just a few minutes later.
This time, E. wanted more than a wave from Mommy.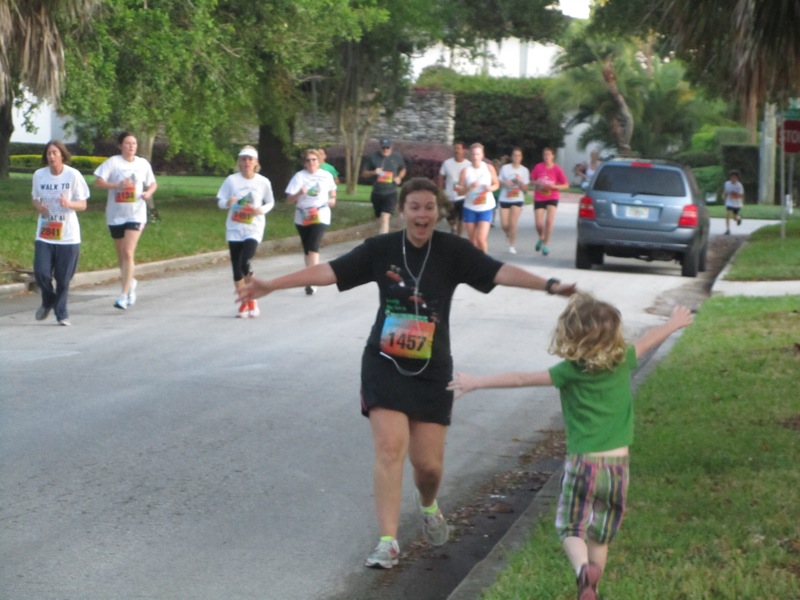 Since I was already ready to stop because I felt like I couldn't breathe wanted to cherish this special moment, I tried to stop for a moment to talk to her. She was having none of it. After a quick hug, she slapped me on the back and yelled, "Start running, Mommy!" Look, you can see her pushing me away.
Tough crowd.
When I saw them, it was about the one-mile mark. I knew I needed to slow it down some. The giant side sticker was also a clue to chill out a bit. I took one short walking break as I tried to adjust the shorts under my skirt. I knew the chafing was beginning already. I don't know how you all run in shorts. If I don't run in pants, my legs get so chafed every time. Fat thighs will do that, I guess.
It was great running in a part of the neighborhood I'd never been in before. The new scenery plus a new playlist helped keep me distracted. I'm certainly not a natural runner. I feel (and dread) every single step. I know from reading runners' blogs that this feeling supposedly goes away eventually. I'm not sure I believe that.
To further distract myself, I started crunching some numbers. Math and I are not friends either, so this took much longer than it should have. About 20 minutes in (just before the 2-mile mark), I started thinking that I actually MIGHT be able to finish in under 30 minutes. After my side sticker faded, I started picking up the pace again.
It was about this time that I got passed by a mom pushing her kid in a stroller. Granted, she was a super-fit and fast mom, but it still sucked. So I decided to keep up with her.
Before I knew, I was the one passing people.
We finally hit the track for the final homestretch. I'd already realized I wasn't going to break 30, but I wasn't going to miss it by too much. So I did the best I could to finish strong. That's when I noticed two things: a) there was a race photographer at the finish and b) if I didn't pick up the speed, I was going to finish behind a guy who I thought at the time seemed much older than me. And there would always be photographic proof of it.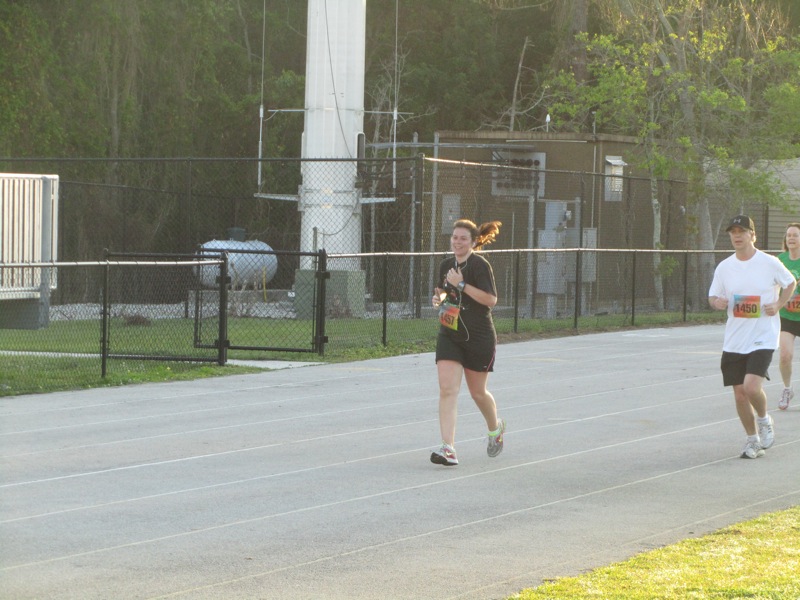 And I did it … barely.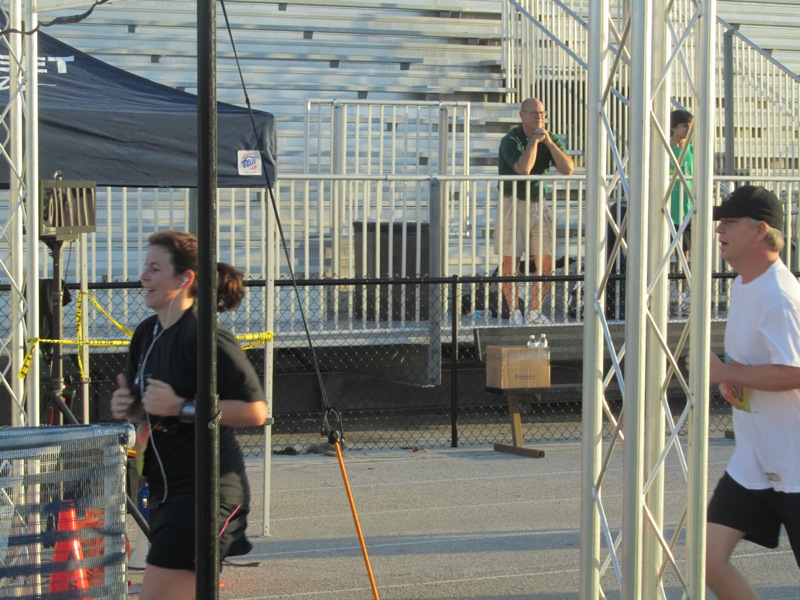 P.S. I checked after the race. He's only between 45 and 49. Oops! I guess that's what happens when most of your fellow runners are under 18 … everyone else, yourself included, starts to look older.
Whatever the motivation, I made it and without walking (other than the shorts adjustment break).
Here are the numbers:

Age is a good thing! Since I was one of the old folks, I finished in the top 10 for my age group — lucky number 8! Overall, I was 62nd out of 155 women.
I knew you wanted to see that Guinness shirt.
So my time wasn't great, but certainly a lot better than I was expecting given how infrequently I've been running lately. And we got to take our picture with a bulldog.
My race was just the warm-up act for the real highlight of the morning — the kids Leprechaun Run. E. was giddy with excitement and demanded that I give her my race number. She said otherwise, it wouldn't count. Good call.
It was kind of a hot mess trying to get all the kids lined up on the track. And E. was determined to start near the front.We finally convinced her to let the big kids go first and then she could catch up.
She took those words to heart. As soon as she heard the word "go" she took off … and never stopped.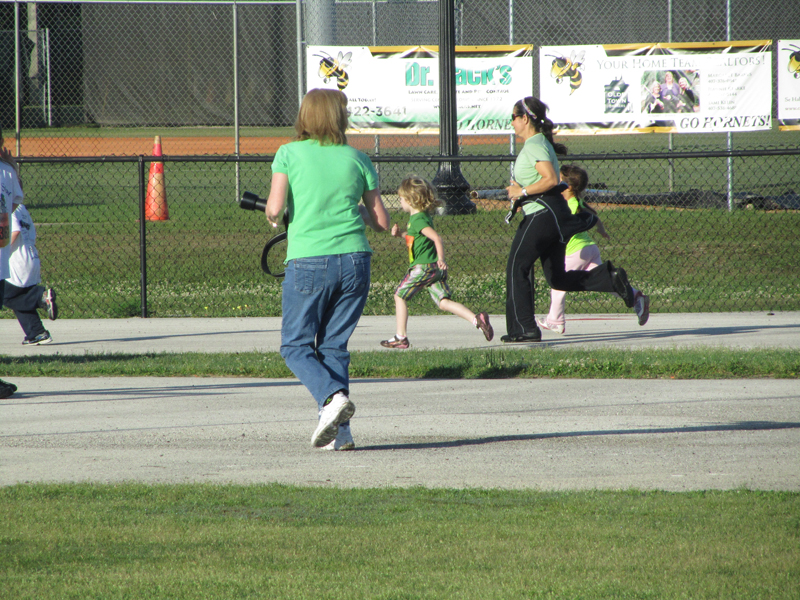 That girl is fast! And she apparently has much better endurance than me. The race was the length of the track, a whole 1/4 mile, and she never slowed once. In fact, as she neared the finish, she kicked it into overdrive and started passing kids.
E. is the runner all the way in the back. She would finish in front of all those kids, except for the one tall kid right in front of her. You go, my girl!
As soon as she crossed the finish she had one question, "Where's my medal?" Sadly, there wasn't one. But there were rides on Daddy's shoulders, so that's almost like a medal, right?
So, just perhaps, I'm not world's worst runner. I don't even know what my time was at my first (and only before this weekend's) 5K, but I know this time crushed it. And I guarantee I haven't finished in the top 10 for my age group since my glorious Top 10 finish at the Turkey Trot in sixth grade (true story). So I'm going to go ahead and call this race a PR.
And even though I despise running 90 percent of the time, there's probably one very good reason to keep at it — to keep encouraging my running partner in-training. I saw so many mothers and daughters doing the race together, and I thought, "Hmm, that could be fun someday."
Who knows, this annual St. Patrick's Day 5K could be our first one together. That's a way better tradition than green beer.
What inspires you during races — beating a specific time or beating a specific person near you? And seriously, is there any cure for chafing? Do I just have chafeable legs or will I ever be able to run in running shorts?