In recent months, Klout has taken some hits. It's become the fun thing to make fun of on Twitter lately, with seemingly random topics assigned to people (i.e. I'm apparently influential on marathons just because my husband has run two and I've never run further than 6 miles. Go figure) and rapidly rising and dropping Klout scores.
But, for at least the next several days, Klout has renewed my faith in the genius of its system. How else to explain the amazing perk I got this weekend? Those fine folks must really know what they're doing over there.
A couple weeks ago, they sent out new perk notifications to some Orlando-area Klouters, and I quickly jumped on it to try and claim it. After some technology hiccups, they quickly responded to my bitching tweets (see, whining will get you everywhere! Just ask my 4-year-old) and helped me get registered.
When the dust settled, I could not believe what they were offering — one night's stay for our family at the gorgeous Gaylord Palms resort here in Orlando; a meet-and-greet with Shrek, Fiona and Puss in Boots; a Shrek dance party, followed by a screening of the movie under the stars; PLUS a $100 food credit to use toward dinner and breakfast vouchers (and the breakfast buffet costs $21 per person!). All for free and with no strings attached — no giveaways to host, not required blog posts, etc.
The team at Gaylord Palms so blew me away this weekend that I knew I had to blog about it anyway just to show them my appreciation for such a memorable weekend.
It started two days before we were scheduled arrive. The lovely ladies from the Celebrity Services office called me to confirm our registrations and to see what kind of room we needed (two beds, please! The last time the three of us had to share one bed at a hotel I got about 45 minutes of sleep) and to see what time we'd be arriving. They encouraged us to arrive as early as possible in the day in order to take advantage of the resort.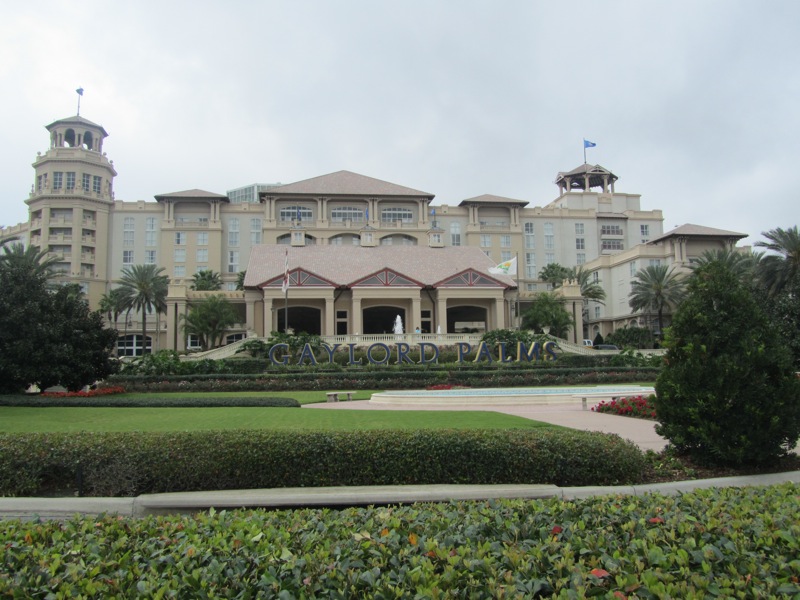 When we arrived on Saturday, Michelle from Celebrity Services was waiting in the driveway for us to get our car sent to valet (again, for free) and to escort us up to our rooms. I have a better understanding of how celebrities start to feel entitled — I'm now expecting the same door-to-door service during our next stay at the Holiday Inn Express. Think it'll happen?
We got to our room and were thrilled to find it had a balcony that overlooked the HUGE atrium!
I also found a welcome packet, including a detailed itinerary for our day. We quickly headed downstairs to explore. The Gaylord Palms pays tribute to Florida with several themed areas. First, we headed to the Everglades. And wouldn't you know it. Guess what they had?
In the words of my boyfriend Indiana Jones, why must it always be snakes? I thought celebrities were able to avoid their greatest fears? E. was in snake heaven though.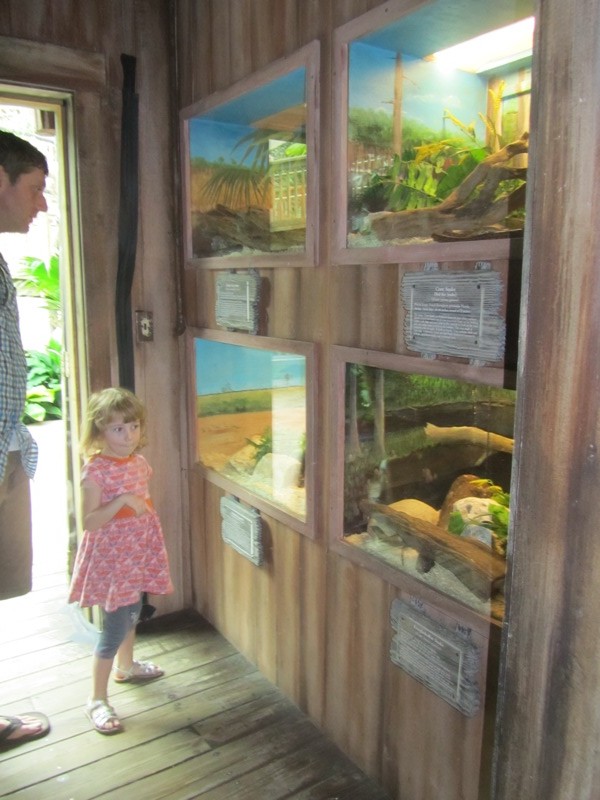 After we were finally able to pry her away from the snakes, we kept exploring. Next, we found some more reptiles.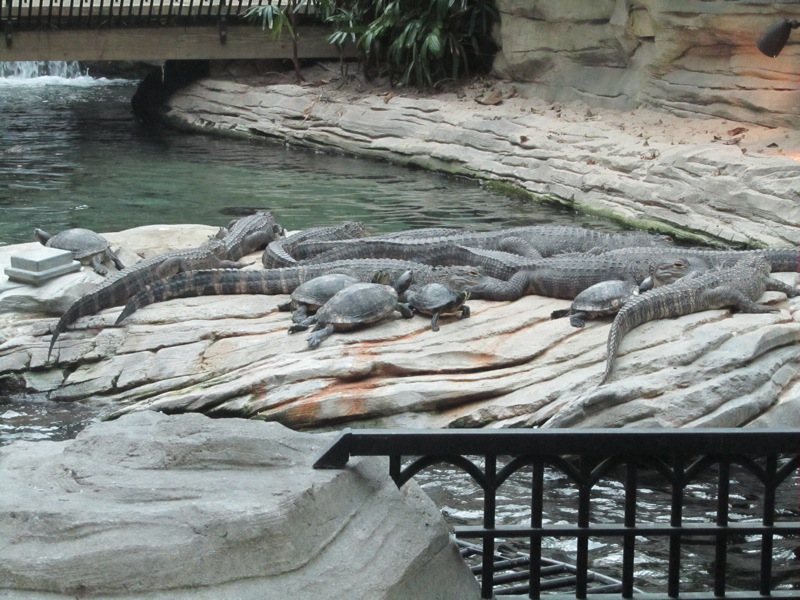 These were some of the most active baby gators and turtles I've ever seen! Nearby Gatorland (one of our FAVORITE Orlando spots) supplies all the critters and takes care of them.
The gators are located on an island within the St. Augustine section. This area is designed to resemble the famous Castille de San Marcos in St. Augustine. E. loved exploring its tunnels, caves and stairways.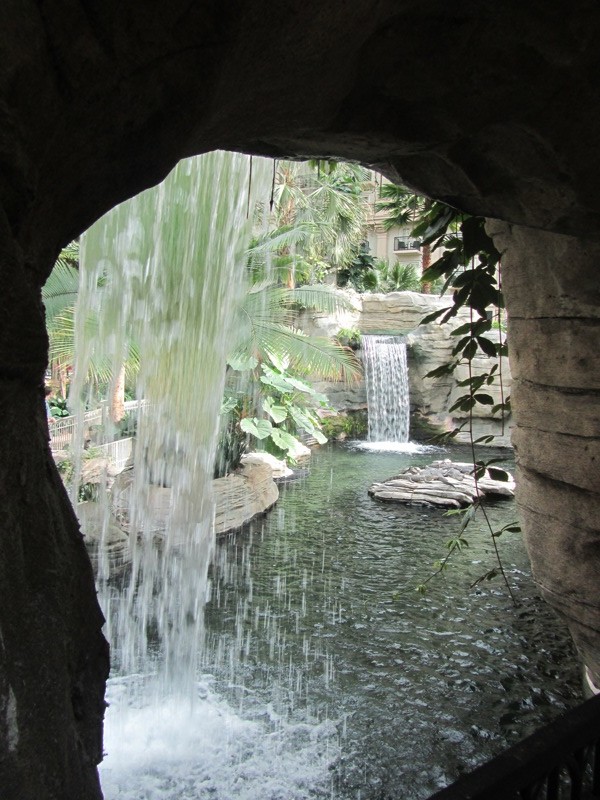 And then we stumbled across something familiar — Key West!
E. doesn't seem to share my enthusiasm, huh? She was just mad that there are no snakes in Key West. Perhaps they should add some wandering roosters for a touch of authenticity. From "Mallory Square" I snapped this picture of the enormous sailboat that serves as a restaurant and bar. Very cool.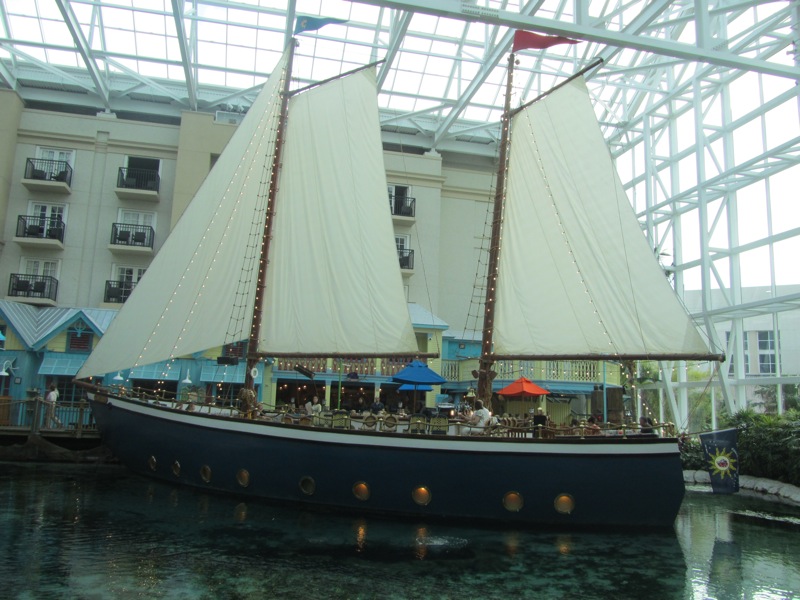 Their mojitos could use some work, but a bad mojito is better than no mojito at all (words to live by).
After we had checked everything out, DadJovi and E. hit the pool for a little bit. Horray for Florida winters!
The pool is new, and as you can see by all the construction to the right, they have big plans right now. Later this spring, they'll be opening up The Clubhouse (or is it the Treehouse? I forget). Either way, it looks amazing. It's going to be a huge waterpark complex with slides, pools, a huge bucket that dumps water and all sorts of fun things for kids.
DadJovi and I also found where we'll be spending March Madness — Gaylord Palm's new sports bar, Wreckers. Seriously, people, it's the most gorgeous sports bar I've ever seen. First, there's an outside balcony that overlooks the pool above, and there are tons of flat screens on the walls.
Inside, is the most massive screen I've ever seen. It's two stories high and features two huge featured spots, as well as more than a dozen spots for other games.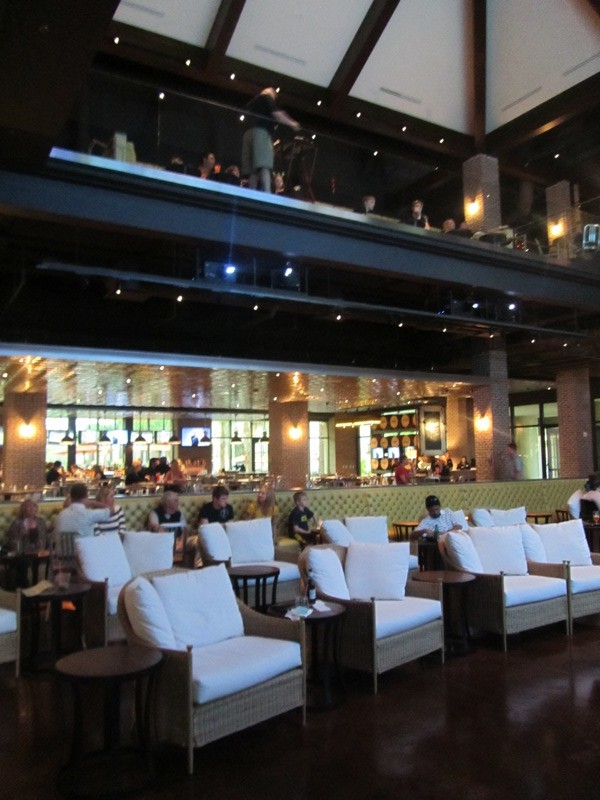 And look how comfortable those seats look! When a waiter saw us walking around with our jaws hanging to the ground, he came up to introduce himself and to tell us that they really want Orlando locals to come to the bar. They have a great selection of local craft beers, great food (at least from the looks of the menu) and they're offering free parking to anyone who spends $25 at the bar/restaurant. Yup, we'll be back!
Then, it was time for the main event — our Shrek meet and greets!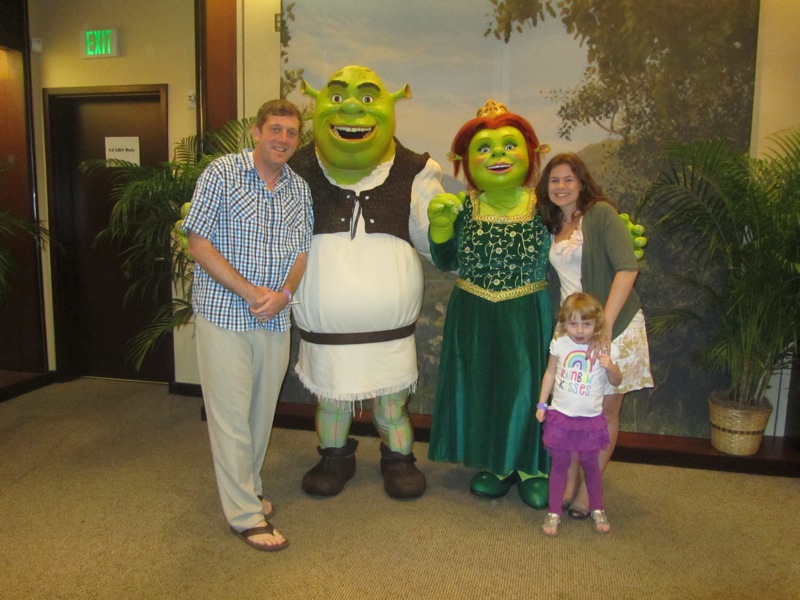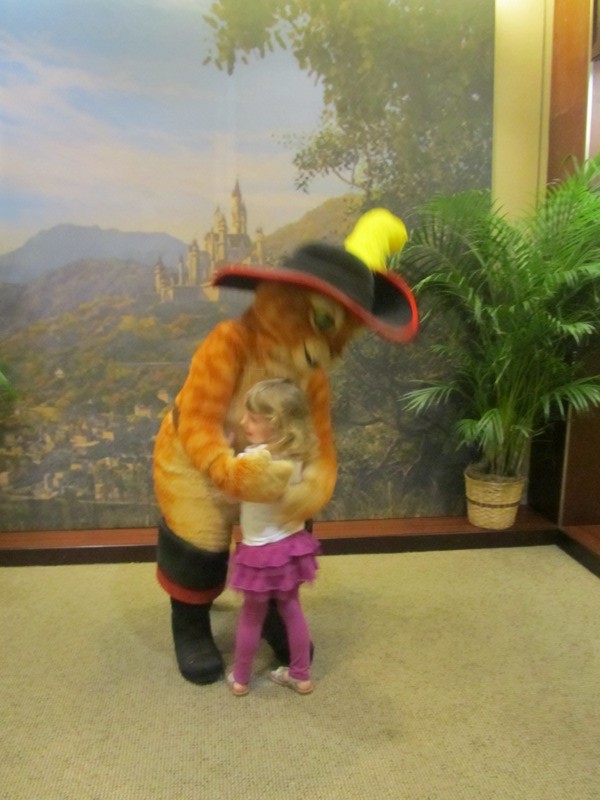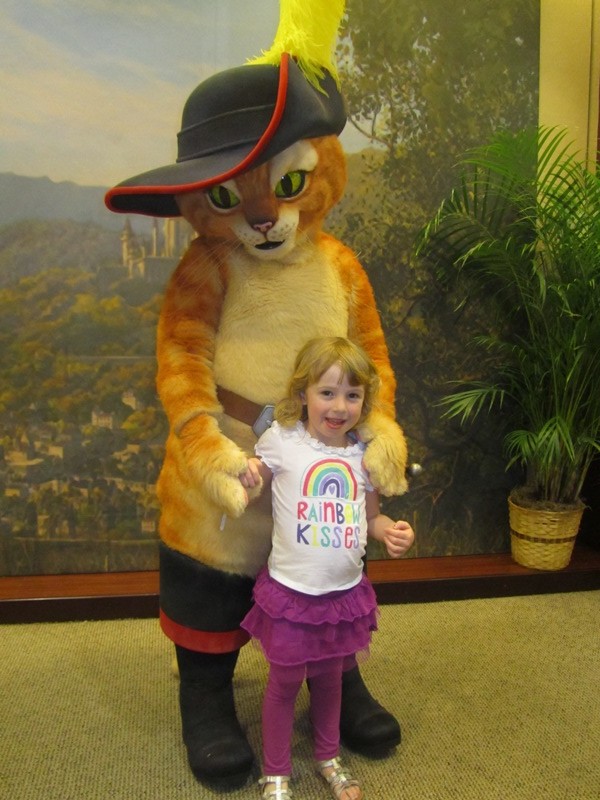 She was all about that darn cat. Me? I love me some Fiona. She's a princess I can really get on board with — green skin and all.
Then, we took full advantage of our $100 dining credit and headed to the Old Hickory Steakhouse, which was in the Everglades section.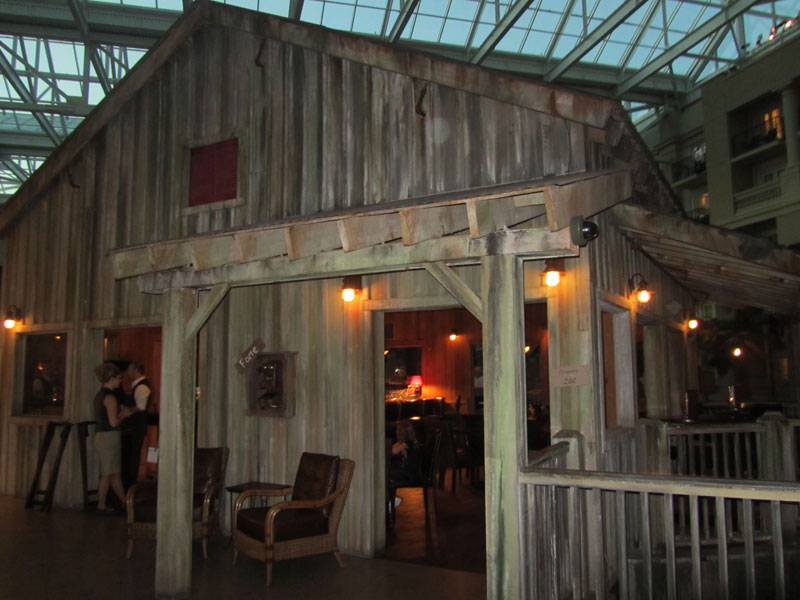 Don't let its rustic decor fool you: this is one of the highest rated steakhouses in Central Florida and it delivered. DadJovi had an amazing New York strip and I had the fish, which was served with chanterelle sauce, asparagus and asiago and white truffle mashed potatoes. Yeah, it rocked my face off.
We splurged with the dinner (meaning we had to spend more than the $100 credit!) and called it our birthday dinner. We never made it out for mine and this will count towards DadJovi's birthday later this week. The service was fabulous, the sides were amazing (served family style) and I'm just disappointed we were too stuffed for either the cheese course or the Tupelo honey souffle. But it was definitely pricey and I'm sure we won't be heading there too often — E's chicken fingers were $16! That made me cry a little bit. But another glass of wine helped me forget it.
After dinner, we went to run off some dinner before the night's festivities got started.
Before the dance party started, we ran up to our room to use the bathroom and drop off our souvenir photos with Shrek. When we came into the room, we discovered we had presents — a bucket filled with spring waters and juices and a plate of swamp fingers. E. pounced (and saved us from having to make good on our promise to get dessert somewhere outside of the restaurant).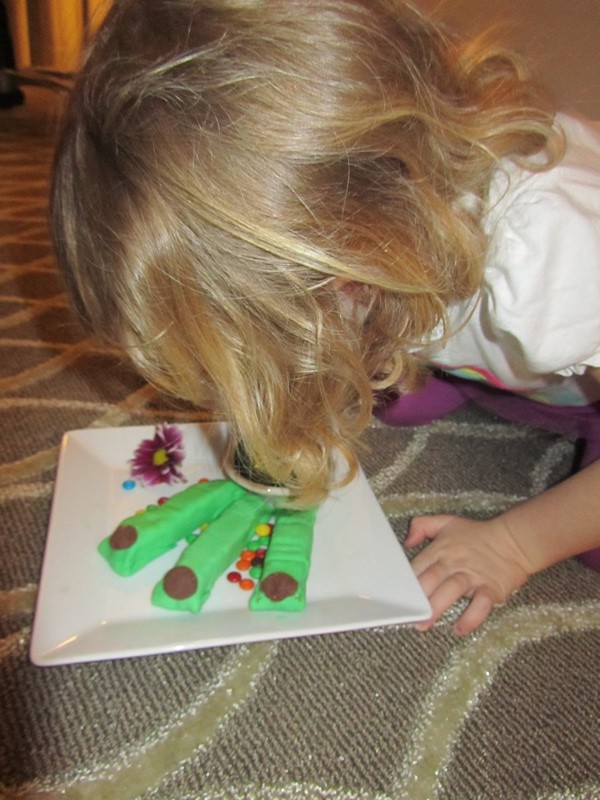 They were disgustingly sweet, which is apparently perfect for 4-year-olds. She loved them. And I loved the note.
Then it was time to dance!
There were also arts and crafts — coloring and make-your-own swamp slime. It involved a lot of stirring. A lot.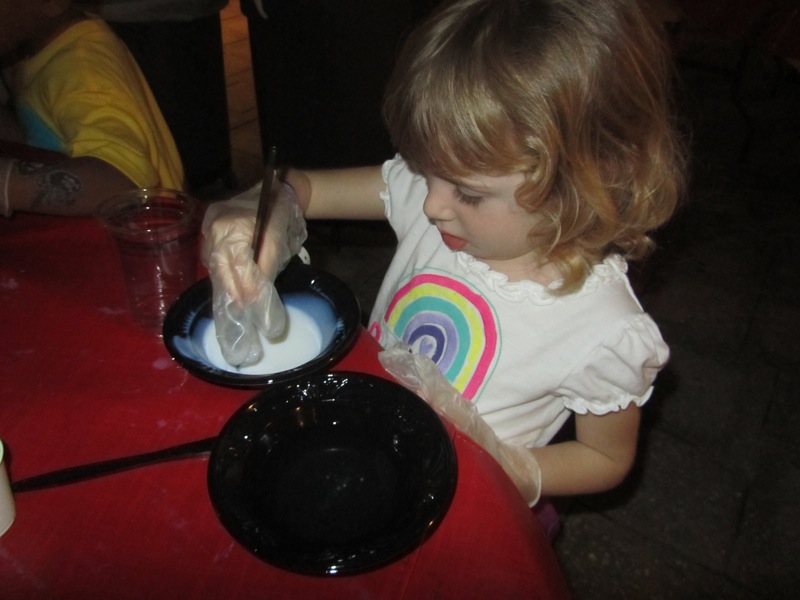 Finally, it was time to stretch out in the astroturf for a showing of "Shrek: Ever After" under the stars.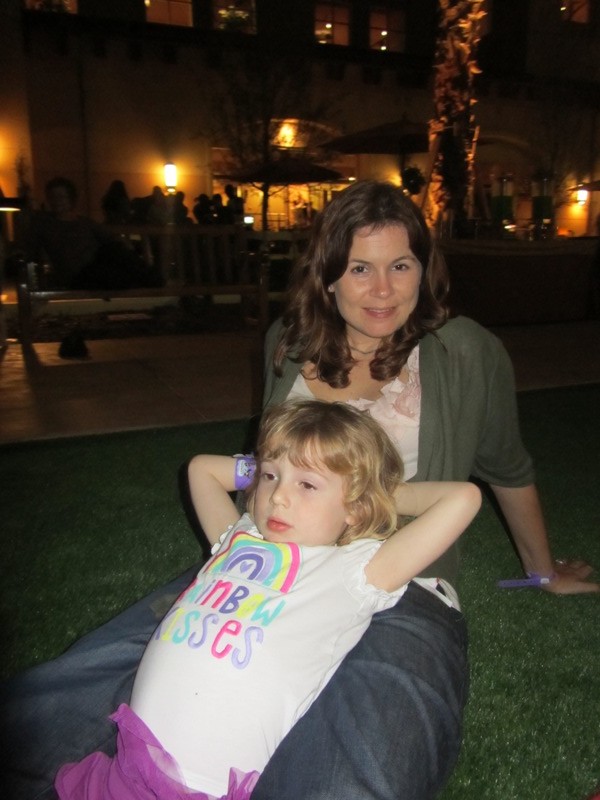 Apparently I make an awesome pillow. Yeah, that's totally why I've been holding on to that weight in my thighs. I knew it'd come in handy someday.
So, that was it. Still with me? I know this is one giant love letter to Gaylord Palms and Klout, but I'm sorry — it really was such a fun family night! The resort is really making an effort to transform itself from a primarily convention location to a family-friendly resort. Not sure what took them so long — they're a stone's throw from Disney!
Gaylord Palms will be having these Dreamwork themed weekends all spring long. They're not cheap (I think packages start at $210 for these weekends), but I'd look it a little bit like a cruise — all of the fun is self contained. You could easily turn it into a staycation and never leave the resort if you were just going on a Saturday morning, for example, and staying until Sunday afternoon. Just a thought! But yeah, it's a bit pricey.
Besides, you just might make a new, green friend.
Disclosure: In case you missed the explanation above, my family and I stayed at the Gaylord Palms Resort for free for one night thanks to a Klout perk. I was not asked to blog about my experience in return, but we just had a really good time at a place we'd never visited before, so I wanted to share our experiences with you. So, as the saying goes, all opinions about our time at Gaylord Palms are 100 percent mine. For more, please refer to my full disclosure policy.
What's the best Klout perk you've ever received? Have you ever been to Gaylord Palms? I hear they have them in other cities, too. Are they anything like this? And finally, who is your favorite Shrek character?