I have a confession to make: school events tend to make me competitive.
On Valentine's Day, E.'s school is having a Fancy Nancy party for the 3s and pre-K classes. Last week, the room mom (who, by the way, took over my room mom duties because I apparently wasn't on top of things enough. Actually, I was glad to let that one go) sent out an email asking for parents to volunteer for the party. It falls over lunch, so I agreed to come to school and help for about 90 minutes with the party.
I could have just said that I couldn't swing it, but that old working mom guilt kicked in and I didn't want E's mom to be the one mom who wasn't there. I know that most of them probably won't be there, but when I went back to work (almost) full-time, I vowed that I'd try to make every event possible as long as I didn't have another big meeting or something scheduled. So I'm going.
We were in Durham, North Carolina, this past weekend for E's big birthday celebration (more on that later), so I hadn't really given E's Valentine's for her classmates much thought. We picked up a box of kitten and puppy cards last week (random, but she picked them out) and I was going to leave it at that. But then today, as I was on my way to school to pick E. up, I suddenly remembered that last year, all the other parents (it was probably moms, but I'm an equal opportunity envier) attached little candies and goodie bags. And I didn't. I don't know how I forgot this crucial piece of history.
It also didn't help that I saw people tweeting all their Valentine's cookies and crafts today that they'd prepared for classmates and teachers. Quit making me look bad here, people!
And sure enough, when I arrived at E's school, I saw that one of the moms had already dropped off her daughter's Valentine's for tomorrow. Of course, I sneaked a peek. Yup, attached to each Valentine was a cellophane bag filled with candy and mini Play-Doh containers. Crap.
What was I going to come up with in the 11th hour? I rushed E. through pick-up and raced to a local cookie store in our neighborhood. I got there 5 minutes before they closed and shocker — they were cleaned out. They had two packages of Valentine's cookies left and I needed 9. Crap.
In the bin next to the register, I found big fat non-holiday cookies. But at least they sounded good — peanut butter chocolate chip and triple chocolate. Done and done. Thank God they were all already individually wrapped in cellophane bags with pink ribbons attached.
After dinner, it was time for the painful process of E. filling out her cards. The teacher only has us sign them, not address them, so you'd think that would make the process go faster. It didn't.
E. is battling tiredness and a head cold. It was not the idyllic childhood experience that she'll remember for years to come. There were tears, snot-filled tissues, and Mommy telling her to hurry up because it was getting late. Ahhh, bonding.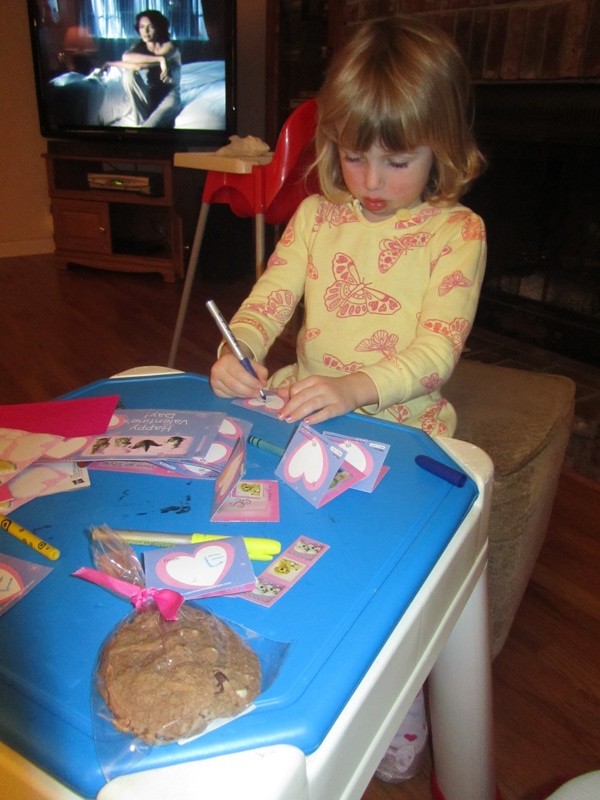 And the card-makers really should make toddler-friendly cards. There was no way E. was going to be able to fit her whole name in the teeny tiny space they allow for the From. So hopefully her classmates realize that she's E.
They better know they're from her — I want credit for those stupid cookies, dammit.
Why do I care? Seriously? She's 4. Why do I let myself get worked up about crap like this? Is it mommy guilt? Is it just keeping up with the Jones? Am I just mental?
Someone please tell me that I'm not alone. Are you motivated by your crafty Pinteresty self? Or, like me, are you just trying to not be the slacker mom?