When I was pregnant, I had a lot of addictions — those premade Smucker's PB&J sandwiches, giant smoothies, candy by the ton (that's what I get for being pregnant over Halloween, Christmas and Valentine's Day) and ice cream. Hmmmm, it's no wonder I gained so much weight.
But there was something I was addicted to even more than eating — shopping. I couldn't stop myself. I knew that these clothes would only last for a short time, but I was working full-time and given my aforementioned love of all treats, I kept growing and growing. It wasn't just my ass stomach. My feet went from a pre-pregnancy 8 to an end-of-pregnancy 11 (and they've never gone back to 8. I'm now a size 9).
Plus, I was pregnant through the summer, fall and winter, including a trip to New York and Pennsylvania in the dead of winter.
At least these were all the reasons I told myself I needed to keep buying clothes. If I'm honest, I think a big part of it was that I just didn't feel great with the constant weight gain (there was one week where I gained 9 pounds — in a week! Yes, it was all water and my doctors couldn't understand how I wasn't pre-eclamptic, but my blood pressure remained stable, thankfully). So, the worse I felt, the more I bought.
Last year, I gave most of my tops and dresses to a friend who was pregnant. But she's a lot smaller than me so I still have all of my pants, including the budget-busting pair of 7 For All Mankind jeans I bought at A Pea in the Pod. Now, keep in mind, I don't even own a non-maternity pair of 7s. What on Earth possessed me to shell out more than $100 for those jeans? I'm blaming hormones.
In our never-ending quest to clean out all closets, I finally decided this week to pull the trigger and get rid of my maternity pants and skirts once and for all. After I dug them out and washed them all, I couldn't believe how many I had:
Guess how many pants are in that pile? 14. Yes, I bought 14 pairs of pants. I don't think I own 14 pairs of non-maternity pants. WTF! There's also 2 skirts and 1 pair of shorts there. Seriously, it was an addiction.
Once I got everything washed and dried, I loaded the pants, a couple of E's dresses that still have tags on them and a few toys from around the playroom and headed over to my other addiction: Once Upon a Child. I adore that place. Gorgeous kids clothes and toys are SO CHEAP. I'm so pissed I didn't go there before she was born. It would have saved us so much money on things like Bumbos, strollers, swings, etc.
As they priced my pile of loot, I shopped around. I had dreams of walking out of there with a wad of cash. The jeans alone should bring in at least $40.
E. has way too many clothes for this year and next, so I wasn't really looking for her. But then I found two things she could actually use — a raincoat and a jean jacket. Why have I not thought before to get her one? It's the perfect weight for Florida winters.
Finally they were ready to give me my grand total. With dollar signs dancing in my head, I swaggered my way up to the counter.
Store clerk: "OK, well, we're not really buying fall and winter maternity clothes right now because our maternity section is small. So, we've chosen the items and we want and your total comes to $26."
WHAT???? Now, granted, they only bought the two maternity skirts and the pair of shorts, plus E's toys and dresses. Still, I was so bummed. Why did I bother to wash all those damns clothes?
After I handed over the jackets I wanted, I got $4 back. There goes my weekly spending money. At least the jackets are cute: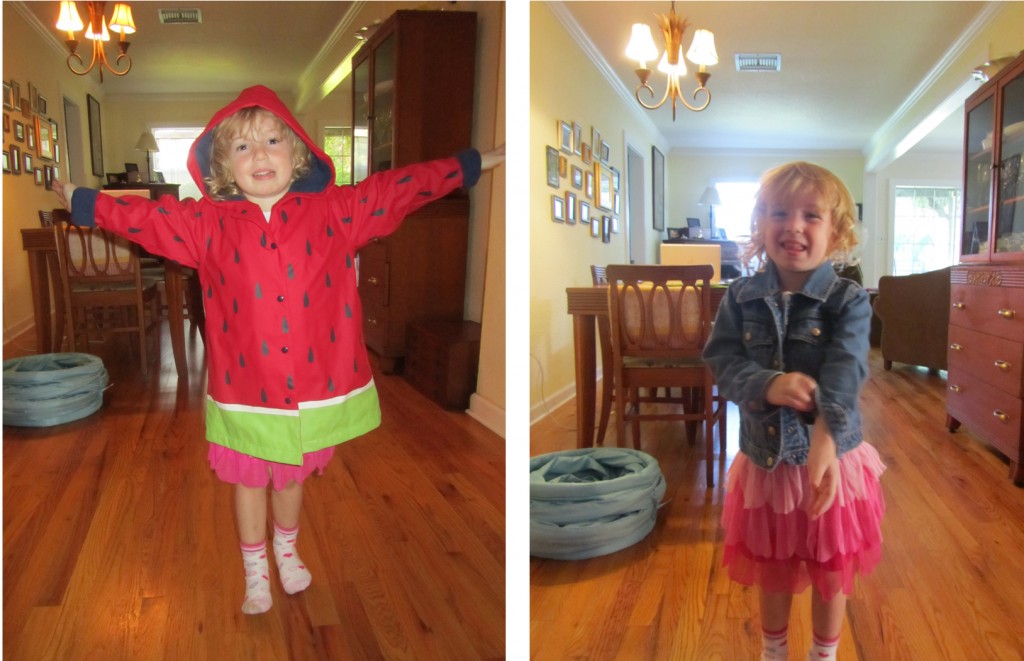 Now, what to do with my stack of pants? I have a friend who I think might start trying next year to get pregnant. I want to send them to her, but DadJovi tells me that's bad karma (something about not counting your embryonic eggs before they're attached). So, I'll just tell the universe I'm saving them for an undetermined person. Plus, I have an enormous family and someone is always pregnant, so I could always send them north. I suppose I could just donate them, but I'd rather give them to someone I know since they're all pretty nice pants rather than letting the Goodwill just resell them.
What did you do with your old maternity stuff/clothes you don't wear anymore?