You all know that I'm a big fan of the Orlando Food Truck scene (hmmm, that could explain why the owner of a certain food truck that will remain nameless made a comment about me being pregnant tonight. Seriously, I'm burning all empire-waisted shirts in my wardrobe).
Nearly every Wednesday, we head to downtown Orlando to hit the Food Truck pod behind Firestone. Yes, it's in a parking lot behind a bar. And yes, we (and our friends) bring our 3-year-olds, but it's never occurred to me that it's not particularly family friendly.
So, I was a little miffed this week when I learned on the Orlando Food Trucks Facebook feed that all the regulars from the Firestone pod — Big Wheel, Crooked Spoon, Treehouse Truck, Korean BBQ Taco Box, The Yum Yum Truck and Winter Park Fish Co. — were bolting Firestone for a new Daily City pod behind Trinity Lutheran school just a few blocks away. AND the Firestone pod would go on with new trucks. AND this would all still occur on Wednesday nights.
Something didn't smell right. And I don't like change. So I did what any normal person would do — I whined about it on Facebook.
Brace yourself amigos — I'm about to admit that I was wrong. Very wrong.
A few days ago, some of our friends, who are all food truck virgins but gourmet foodies, decided that this was the week that they'd join us at the pod. This caused a big dilemma — where should we tell them to go?
We decided that it was more important to go with the trucks whose quality we could vouch for, even if it was a new location. We chose wisely.
The new location is amazing. Look at these wide open spaces.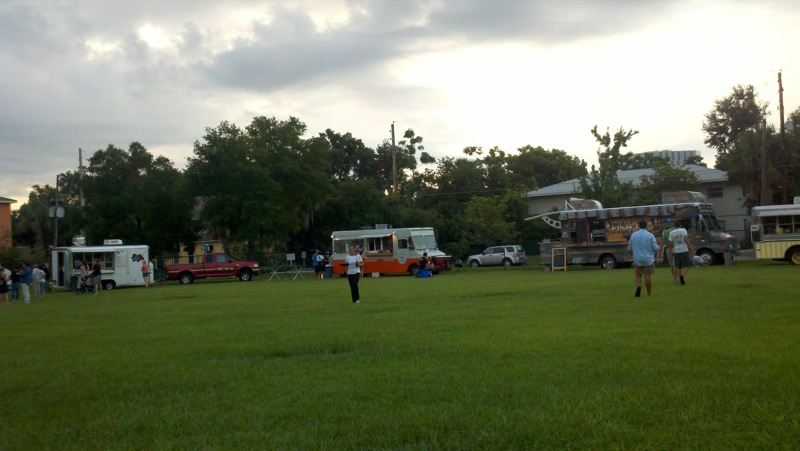 So, Daily City and Orlando food trucks, thank you for making me eat my words. The Trinity field is the PERFECT place for food truck fun, especially for families like us. Wide open spaces, a fenced in area, bleachers for eating, and perhaps most importantly — a playground.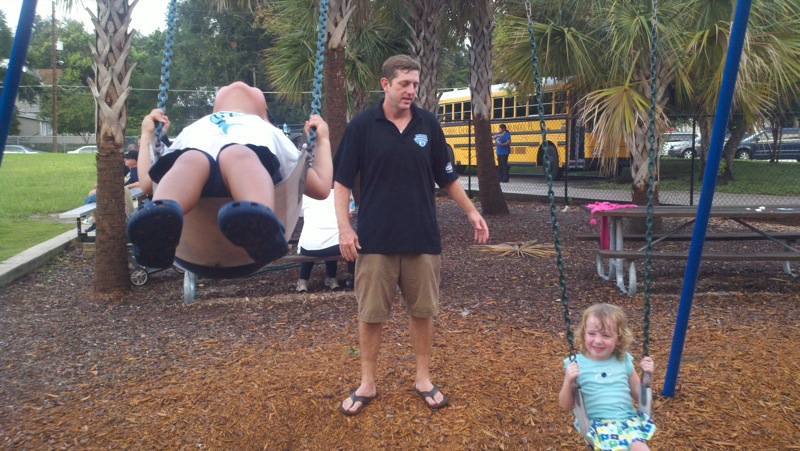 And, as usual, the food did not disappoint. After I issued a fatwa on the Truck That Shall Not Be Named, I headed to my old standby: Crooked Spoon. They've never done me wrong yet. And tonight's special may have outdone everything I've ever ordered from them …
If you care about me at all, Crooked Spoon, please, please, PLEASE make this a permanent menu item. The chicken was amazing. It wasn't chunks of chicken like you'd get on a normal chicken quesadilla –it was perfectly slow-cooked and shredded chicken. Perfection. And the mango salsa? Ohhhhh, the mango salsa.
Sadly I didn't get a picture because there's a reason I'm not a food blogger — I'm always too excited to eat my food rather than photographing it first. Sorry!
You're just going to have to trust me on this one.
I only have two complaints about the night. One, can we do something about this weather? Seriously, it's like being underwater out there. E. was the definition of a sweathead tonight.
Secondly, there's not a ton of parking. I was lucky to snag one of the final spots in the Trinity parking lot. DadJovi (who met us there from work) was on the street about a block away.
But towards the end of the evening, I was talking to Daily City's Mark Baratelli, and he showed me an entire empty lot of parking adjacent to the soccer field (if you're looking at this map on the Daily City, it's on the left side of the soccer fields. If you're heading east on Amelia from Orange, you'll make a right into the lot before the soccer field).
Now that we've got the parking figured out, we'll 100 percent be back! I think we'll still head over to Firestone to at least check out some of Orlando's newest food trucks (I heard a rumor of lobster rolls! Reading Crazy Running Leg's Boston recaps has me craving one wicked bad!).
And if you're worried your kids won't eat anything, do what we do — bring their dinner with you. It saves you money, it gives you a night off from cooking and doing dishes and it's a lot more relaxed than going out to dinner. You get gourmet food, they get to run around in circles on a soccer pitch. Win win!