Food trucks are so hot right. So hot. Even Orlando is getting in on the fun.
For awhile there were a few trucks here and there, but lately they've done something really cool — they've organized. Now, you can find several trucks gathered in one place on certain nights of the week. The last few Wednesdays have been busy or I've already had dinner planned for us, but tonight, we finally were able to check out the food truck gathering downtown! By the way, these gatherings are called pods (now you can be like all the cool kids and drop the sentence, "Oh, we're going to the food truck pod." You're welcome)
On Wednesdays, the trucks gather behind the Firestone, a music venue/club in downtown Orlando. Tonight's trucks included Big Wheel Provisions (one of our favorites and a couple guys we've bought a lot of dinners and food from over the past few months. They only recently got their truck but they've been a fixture at our local farmer's market for the past year), Korean BBQ Taco Box, The Crooked Spoon, Red Eye BBQ, the Treehouse Truck, and Yum Yum Cupcakes (I hope I mentioned everyone).
We did a loop, checking out all the options. Just look at Big Wheel's offerings tonight and I dare you not to drool on your computer screen:
DadJovi has been dying to try the Korean BBQ Taco Box for awhile so I knew that's where he was headed.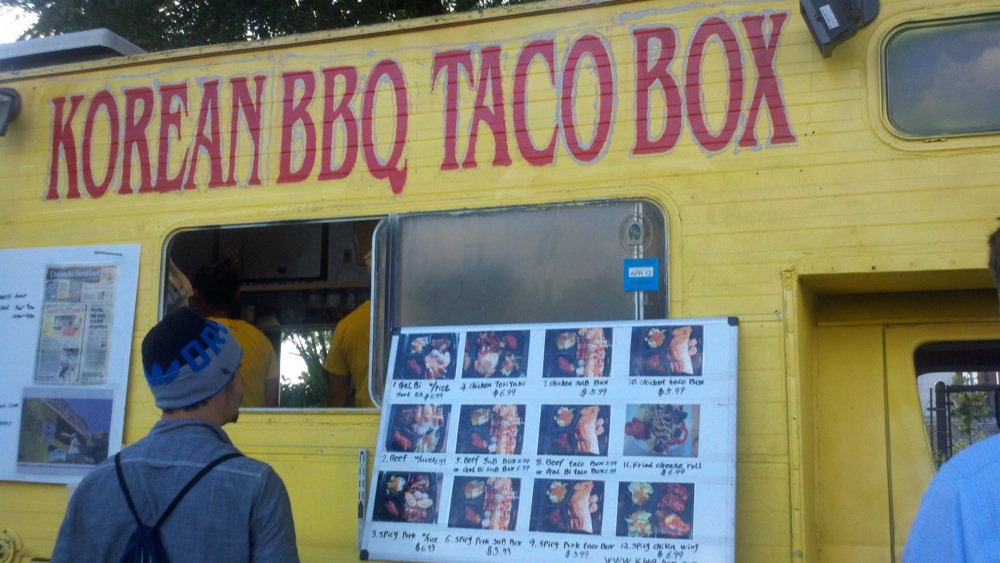 See if you can guess what caught my eye on this board at the Treehouse Truck:
Somehow I resisted the burger nestled between a Krispy Kreme bun, but oh was it tempting. I tried to order somewhat responsibly and decided that it'd been way too long since I'd had some good fish tacos.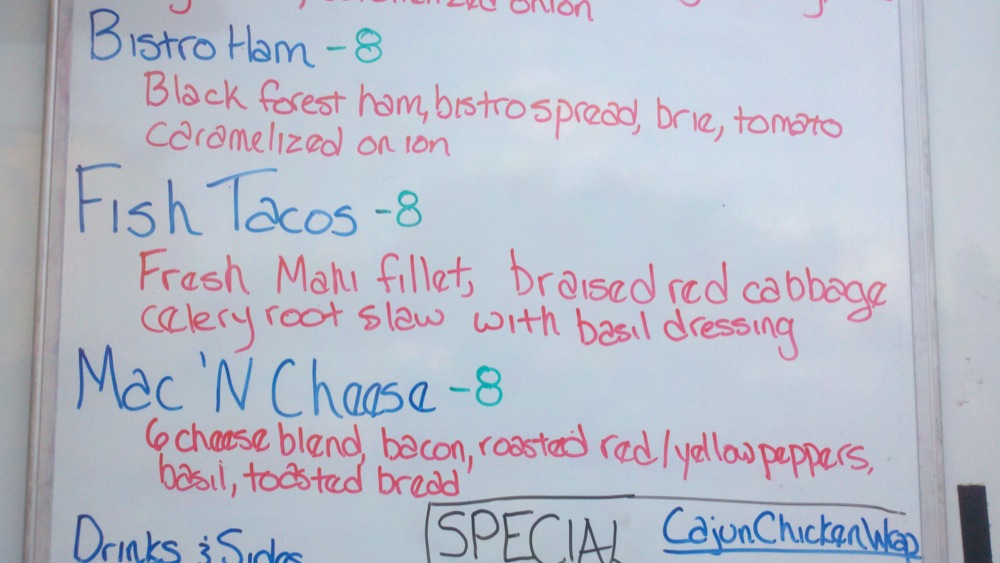 Now we just had to figure out what our picky eater was going to get. Lately she's tried and liked hot dogs, so we headed back over to Big Wheel to order the Angus Beef dog. They weren't kidding when they said it was 8 ounces. HOT DOG!
See that stuff in the foreground? That's their tomato jelly and OH.MY.AWESOME. I could have eaten that by the bucket full. So, so good. E. actually ate quite a bit of the dog and there was plenty to share with DadJovi and me — not that we needed any more food.
Here's DadJovi's plate: the spicy pork box from the Korean BBQ truck. On the side is the tater tots from Big Wheel with sides of foie gras parfait and blueberry preserves.
The spicy pork box came  with a chicken wing on the side (both the pork and chicken were a bit too spicy for me. I'm a wuss) and several deep-fried goodies. I'm not sure what they were exactly but one tasted like tofu and the other tasted like a sweet potato tempura. Both were DELICIOUS.
The tots were perfectly crispy on the outside and moist on the inside. I'm not a fan of foie gras so I didn't really like that dip but DadJovi loved it. The blueberry preserves were pretty awesome.
Taco time!
How beautiful are they? I asked them to leave off the slaw (I hate celery. I tried the slaw since it's celery root and I wasn't a huge fan). So mine were a little dry but I think that's my fault for skipping the slaw. But the braised red cabbage was to die for. I'm obsessed. The mahi was cooked well and pretty tasty, and the shells were somehow crispy and slightly soft at the same time. It's an engineering feat!
Finally E was ready for the treat we had lured her there with: Yum Yum Cupcakes. But first, a picture. She wasn't thrilled with the delay:
Black and white for her, red velvet for us. Well, let's just say that there wasn't much talking going on once the cupcakes hit the tables. So good. Sooooo good.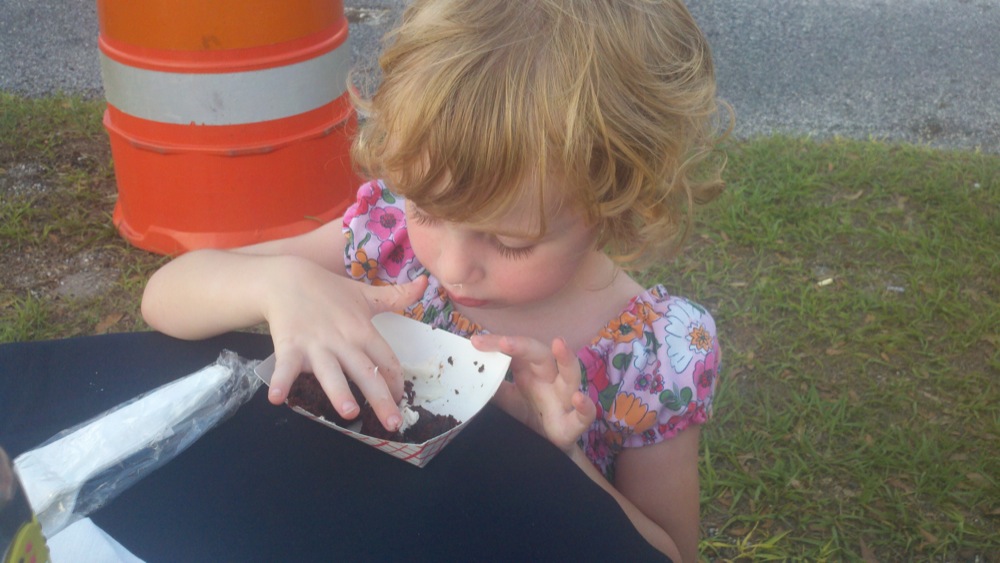 Just as we were finishing up, our good friends came too and E. got to run off some sugar with her pal C.
They chased lovebugs and each other. Did I mention it was still 91 degrees at 7:30? Where do they get their energy? They're so stinkin cute with each other. They play so well together and so far, they've yet to have a big blow-up. Their birthdays are just two weeks apart and they only live a few streets from us. That means as long as neither of us moves, they'll grow up going to school together in the same classes. BFFs.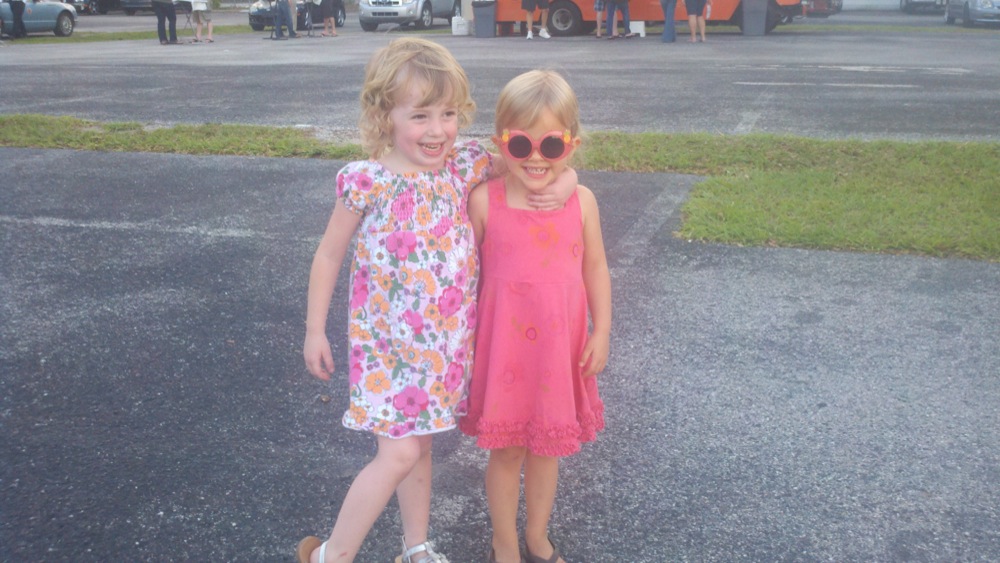 Good times, good friends and GREAT food. What more could you want on a Wednesday night?