For almost exactly three years, there's been no escaping her.
From the moment Cindy Anthony called 911 in mid-July 2008, it's dominated our airwaves in Central Florida.
And you know what I was doing in the summer of 2008? I was home with a newborn doing a whole lot of TV watching. From the beginning, I, like millions of other people around the country now, have followed the case.
I wouldn't say I obsessively followed it, but Caylee's disappearance was just the latest in a string of high-profile missing cases locally. First, in January 2006, Jennifer Kesse, a beautiful 24-year-old girl who was just beginning her post-college life, disappeared. She was last seen near her Orlando apartment.
Then, in August 2006, 2-year-old Trenton Duckett disappeared just days after his birthday. His mother later killed herself after an appearance on Nancy Grace's show.
I covered both of those disappearances extensively at my old job. I managed the website for one of Orlando's local television stations. For months and months, I worked alongside our on-air reporters covering these stories, continuously posting updates and most importantly, images of Jennifer and Trenton, hoping that someone, somewhere had the answers. Sadly, both cases remain unsolved.
Both of these stories also followed closely on the heels of the kidnapping, rape and murder of 9-year-old Jessica Lunsford in nearby Homasassa Springs, a story that brought me to tears many times.
Although the three cases were very different from each other, they all contributed to my growing uneasiness with local news. It's not that I thought the media was necessarily doing anything wrong, per se; I just didn't want to be the person eating, breathing and living such sad stories all day, every day.
I happily tuned out the local news for several months after leaving my job in March 2007 and threw myself into life-changing, good news stories at my current job.
But then I had E. in February 2008 and started working on a very limited basis for her first year. And when Caylee was reported missing in the summer of 2008, well, I guess you could say that old habits die hard.
This was how we first met her.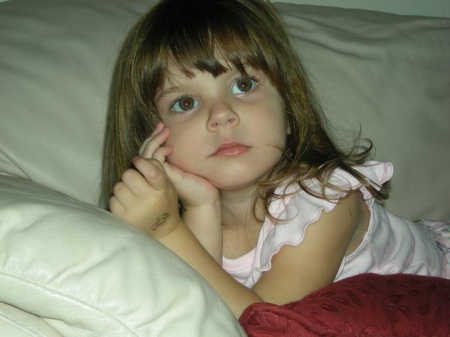 Not only was her face on our TVs all the time, I saw those big, curious, beautiful eyes staring back at me on posters around town. And they haunted me.
Any first-time parent will tell you the same thing — the moment you have a child, your entire view of the world changes. Things that never made you sad, angry, scared and anxious before suddenly do a number on your brain and emotions. That's not to say that non-parents don't have the same feelings, I just have found that I personally have become a lot more emotional about stories like this.
As I sat for hour after hour, nursing my never-full baby, I watched first with sadness for the mother of a lost child to a growing confusion over what exactly she was doing those 31 days to outright anger towards her.
I just would hug my baby even closer to me (even when she was driving me crazy with her refusal to sleep anywhere but in my arms) while I watched the ongoing Case Against Casey (local stations love alliteration). Hell, Caylee even made it into E's baby book
It's worth noting that NO ONE in Orlando calls Casey Tot Mom. No one.
I'm not going theorize over why someone would hurt their own child. We all know it happens, and it happens every second in this country. And I also know that many children live minute by minute, terrified about what abuse their parents are going to heap on them next. Mercifully, it doesn't seem that that's the kind of life Caylee lived.
But we'll never know. Her life was over in a second. Less than 3 years old. That's all the time she had. And that's not right.
So, like the rest of America, I sat and watched the verdict today. Not Guilty. I can hardly even wrap my head around it. I've heard the arguments about it being a circumstantial case. And I understand that to some extent. I do. But I come back to prosecutor Linda Drane Burdick's closing argument — it's about common sense. Period. No child who dies accidentally ends up thrown away in a swamp.
The "how" is not important. Murderers have been convicted on a lot less, sometimes even without the body. It's the end result that counts. And the result is a child is dead, and call me crazy, but I don't think there's a rogue child killer running around our area. In my opinion, a troubled young woman got away with the lie of her life today.
DadJovi is beyond stunned. He's furious. And he doesn't understand how he suddenly finds himself on the same "side" as the crazy people who travel to Orlando to stand in the woods off Suburban Drive (where Caylee's remains were found).
And all the while, we can still hear the news choppers circling over the Orange County Courthouse, less than 2 miles from our house.
Will Orlando ever get back to normal? Yes. Will we all go on with our lives and be OK? Yes, of course. Does any of this really have an impact on our lives? Of course not.
But for tonight, we're both stunned, a little sad, a lot angry and mind-blowingly confused.
And once again, embarrassed that the state we both love so much has made us a laughingstock to the rest of the country.
But life goes on for most of us. Caylee wasn't so lucky.