I'm feeling very F wordy today (no, not THAT f word, although I do love me a well-placed eff).
My first F is for Friends.
Last night, I attended a dinner with some other lovely lady bloggers from the Orlando area. More on that in a moment. Before the dinner, I had a rare couple hours to myself because DadJovi left work early, picked E. up from school and took her to Blizzard Beach with our friends.
Since I was in desperate need for new hair stuff (I may or may not have resorted to using 5-year-old mousse over the past couple days since running out of my normal stuff), I twisted Katy's arm and asked her to come to Ulta with me. That place equal parts fascinates/terrifies me.
As you may have noticed by now, I'm not a very big makeup girl. I love makeup but I'm lazy. And I can never get it to stay on my face for longer than 2 hours. I call it Fresh Faced, but in all honesty, it's just laziness.
But Katy is a makeup pro. I think she's missed her calling. She even has a great post about makeup that remains one of my favorites ever.
So I washed off my drug-store powder and shadow and let her play on my face. As my eyes were closed, I pretended that I was at the Gatsby in Olivia's chair. But then I realized she'd probably yell at me for being a smoky eye virgin. And well, I just don't need that kind of peer pressure in my life.
So I'll sit in Katy's chair any day. After a lot of playing, experimenting and glitterizing (totally a word), this was the result.
When did my undereyes get so wrinkled? Oh well. At least the giant blackheads on my nose are a distraction from the crow's feet.
When we were done playing, we were ready for my next F word — Feasting!
We headed over to Taste in College Park to meet the rest of the crew. We had RSVPed for 30 based on the original yeses, so Taste hooked us up with our own room. VIPs, baby. There only ended up being 11 of us, which is about the perfect size for a dinner party. I'm not sure if Taste minded or not but other than the random people who occasionally watched us through the kitchen door (it was odd), we had a great time.
I had three some red sangria. Happy hour prices FTW! Hey, it was my Friday night, back off! I also had the goat cheese and crab tart. It was meh. The tomato and goat cheese tart was definitely the way to go and I was jealous of the others who'd ordered it. I also got tuna tartare and a HUGE martini glass filled to the top with tuna arrived. It was delicious, but I definitely ODed on it.
Blogger meet-ups are such a wonderful way to meet other bloggers (particularly for a relative newbie like me). It's also fun to pick their brains and swap war stories (odd search terms, commenting woes and privacy issues were a few of the topics we discussed).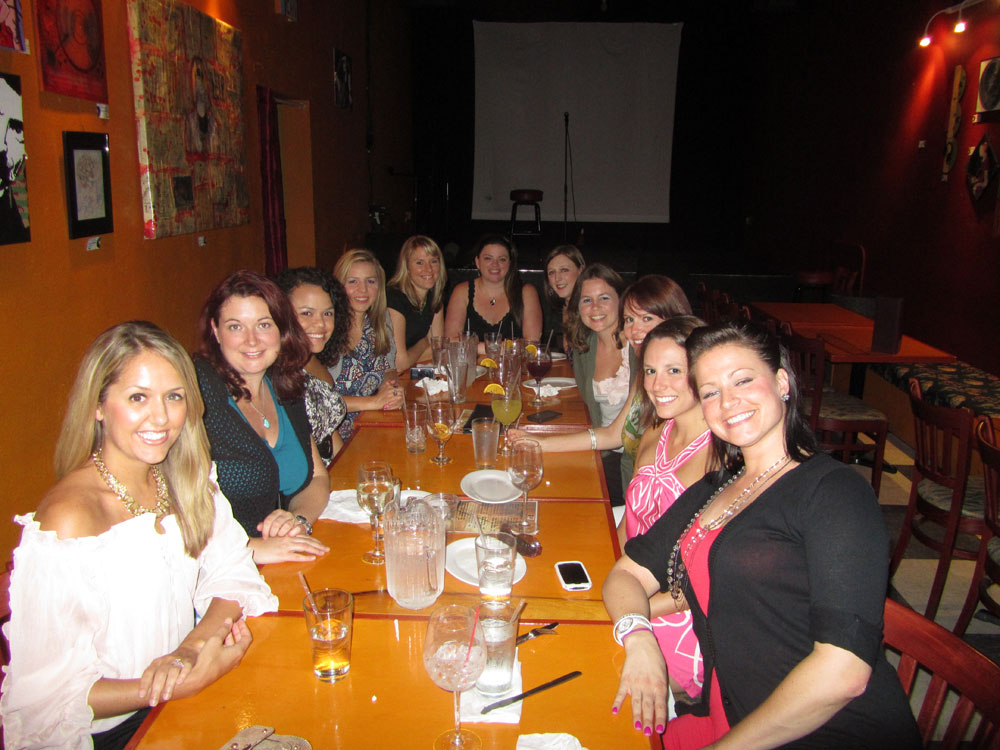 Starting on the left, the lovely ladies in this pic are: J from J's Everyday Fashion; Christine from Cook the Story; Carolina from Peas in a Blog; Katy of KatyWidrick.com; Paula from Eat:Watch:Run; Andrea of Run, Eat, Date, Sleep; Erica from AMPlified Culture; me; Kerry from Vinobaby; Victoria from Running Peanut and Colleen of Yelp Orlando and Lady Ballers.
Check their blogs out!
But more than anything, it's just nice to meet new friends! I love when a group of women can get together and really enjoy each other without any cattiness or pettiness. Unlike when you get together with groups of moms, there's no feelings of inadequacy or judginess (not that all mom's gatherings are like that, but even I feel myself getting sucked into the competitive sport of child-rearing at times. It's almost impossible to ignore).
But with this group, it's all about supporting, encouraging and learning from each other. Very cool. Plus — and here comes my next F word — it's fun to play with Fashion!
I don't want to speak for everyone else, but I know that when I'm going to be seeing the lovely J, I'm going to dress up for the occasion! How cute did everyone look?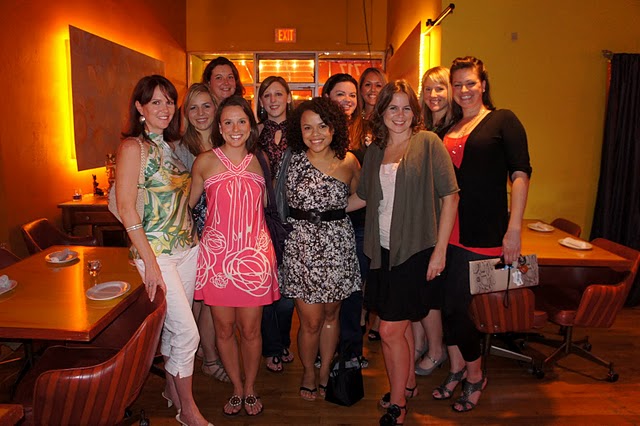 Thanks for the pic Running Peanut!
I'm going to be planning the next Lady Bloggers get-together. If you're a blogger in Central Florida, leave me a comment, tweet me or email me and I'll make sure you're added to our list! We'll probably plan the next one for early September.
After a fun night out, I also had plans for my favorite girl today. Which brings me to my next F word, Family-Friendly Entertainment (OK, that one's a stretch).
Today, E. and I headed to the Altamonte Springs Mall for a puppet show at Pinocchio's Marionette Theater, something I've been wanting to do for a long time.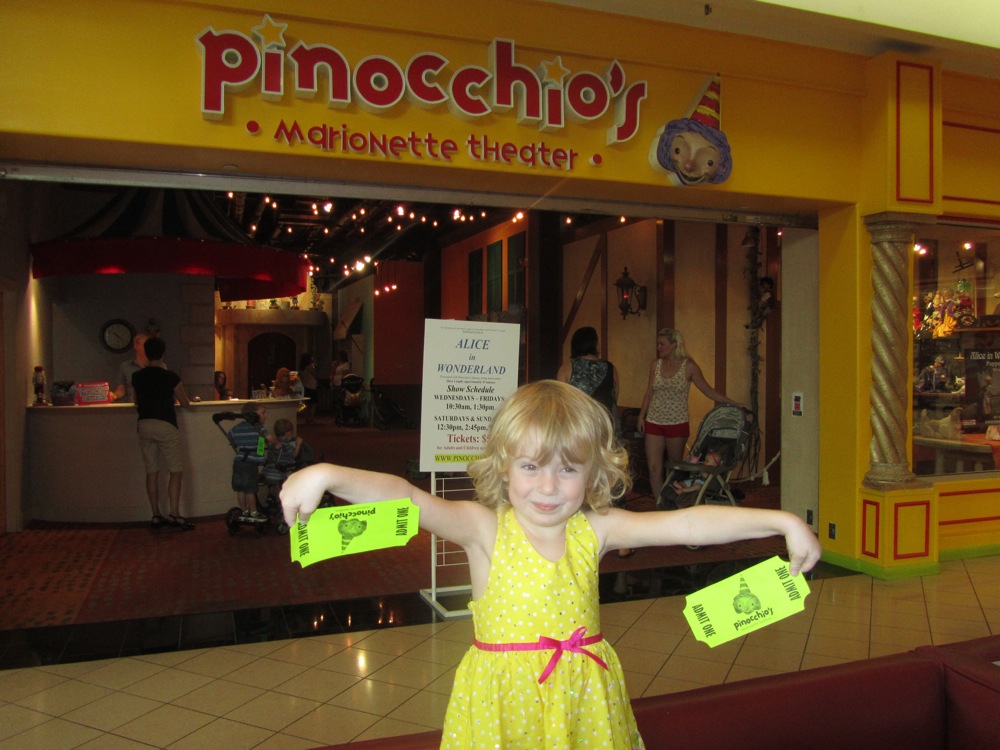 Just before showtime, we headed inside and E. grabbed a seat up front with her friend E. (they have the same, secret name, which blows my E's mind. It was a tough lesson for her to learn that she's not the only person in the world with her name. Oh, toddler egos).
They were so sweet sitting together though.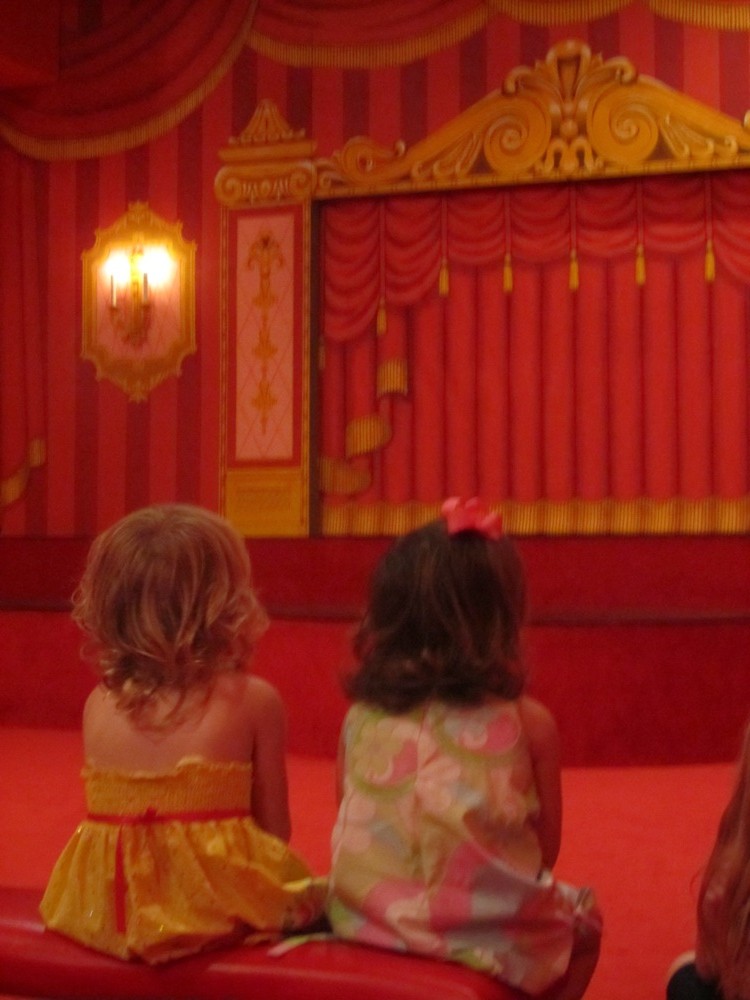 This month, the theater is doing "Alice in Wonderland." I was worried that this would be a tough one for a 3-year-old to sit through, and unfortunately, I was right.
It was adorable, and they did a really great job with the puppets.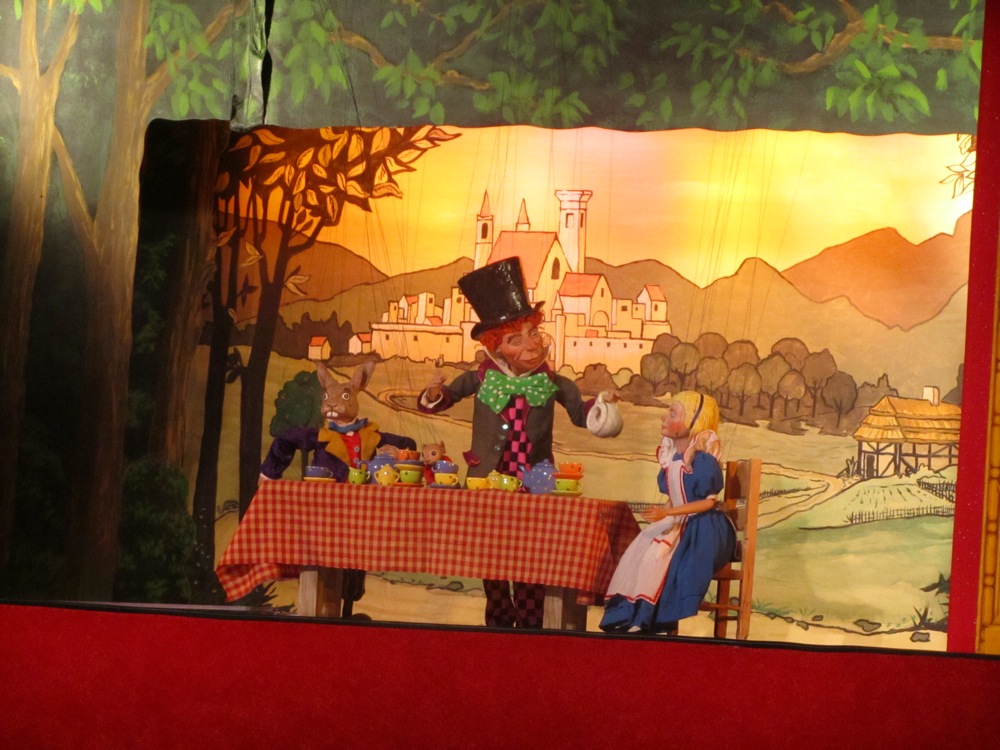 My favorite part was when Alice grows. Instead of using a bigger puppet, they had an actress come out. And she DID look like a giant on the set. There was a lot of oohing and ahhing over that (OK, that may have just been me, but it was very cool).
The play closely followed the English novel, therefore I think a lot of the language was too advanced for much of the audience. I don't believe in dumbing things down, and perhaps in another year or so, it would have been more appropriate for E. We came with two other families who also have 3- and almost-2-year-olds , and they both bailed halfway through because their kids were losing interest.
E. hung in there but during the last 10 minutes, she was ready to go too (it was 40 minutes long). She sat through nearly 3 hours of a non-musical play of Peter Pan in Atlanta with no issues, so I don't think it's an attention thing. But she doesn't know Alice in Wonderland well, and I think that contributed to her lack of interest.
But for $5, it was well worth it, especially on such a hot day. I want to expose her to as many kinds of entertainment as possible since so far, she seems to show an interest in singing and drama. We'll definitely go back but we'll either wait for a show that I think she'll like better (Peter Pan, perhaps) and maybe wait a year.
And now it's time to get the house in order, which brings me to my final F word — FLIRTY! DadJovi and I are going on our first date night in months. Babysitter is lined up and we're doing an old-fashioned dinner and movies night. It's not normally something we'd spend the babysitting money on, but since it's been so long, we need it. And Fandango and Groupon made the night much more affordable when I snagged the $2 movie tickets earlier this week! Because I'm a good wife, we're going to see "Cowboys and Aliens." At least the men in it are fun to look at: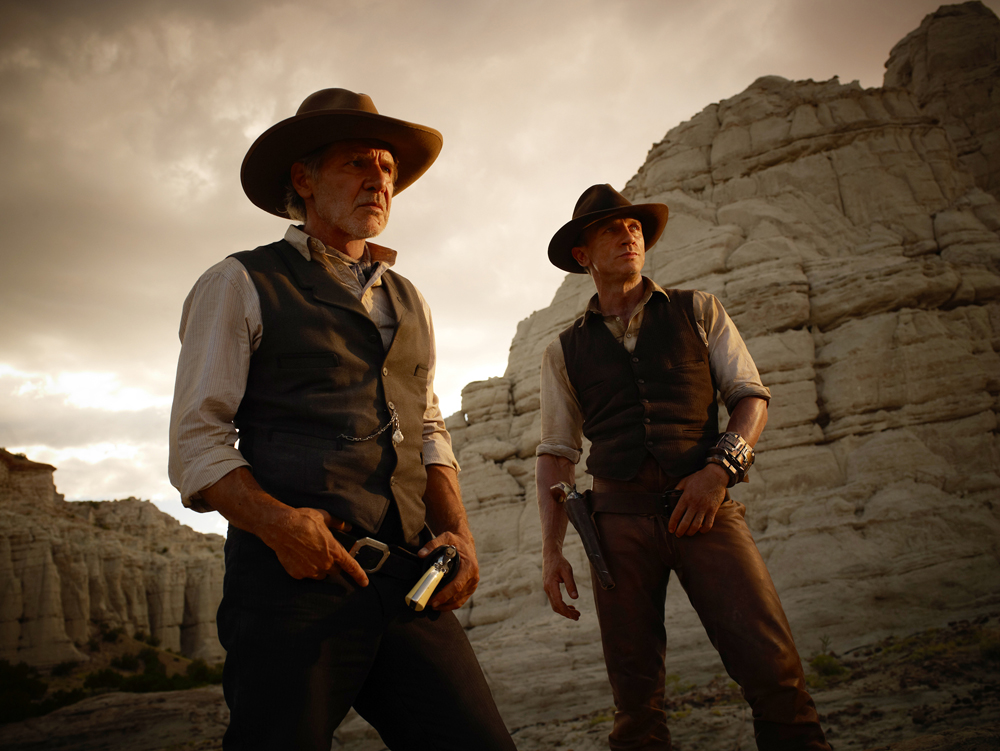 Man I love me some Harrison Ford and I wouldn't kick Daniel Craig out of bed.
Happy weekend everyone!
What movies are you seeing this summer? And what's the best play you've ever seen?