For the past week, we had family in town. My dad, stepmom and brother were here from Pennsylvania for the week. It's always great to have them here. Exhausting but great. Entertaining anyone for that long gets to be a lot, especially when it's so flippin hot outside.
On past trips, it's always been annoying to do anything because we can't all fit in one car. We have a mini-SUV that seats five. So, unless we stowed my little brother in the way back (which, apparently isn't exactly a safe idea), we always had to take two cars.
For this visit, I had one of these moments …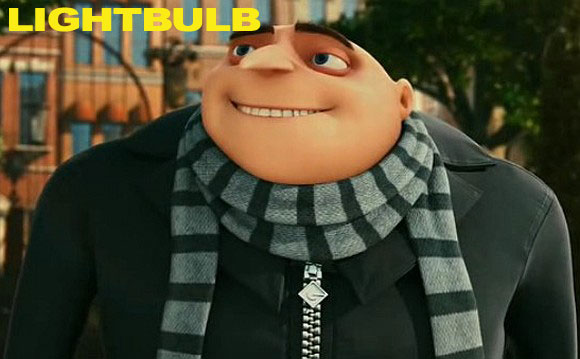 (By the way, how great is "Despicable Me?" It's currently our favorite movie.)
DadJovi's cousin has a minivan that they rarely use anymore. Ohhhhhh, yeah….it's Swagger Wagon time. Where my kids at?
How great is that video? Ever since we first saw it last year, we've been DYING to roll around town in a Swagger Wagon. It's the suburban dream, yo.
Sadly, our cousin's van wasn't the *official Swagger Wagon but it was still a pimp ride.
It was like a magical van. You just pressed a button on the remote and beep, beep, beep — the doors opened up on their own! I love me a van that makes arms unnecessary appendages.
As much as DadJovi and I loved it, someone else loved it even more.
Don't worry, we actually did use a car seat in the Swagger Wagon, although I feel like it wasn't even necessary. It's like riding around in a tank.
Sadly, we had to return it yesterday. E. was so disappointed when I picked her up in our car today. She keeps asking why we had to give the Swagger Wagon back. I have a feeling it's going to be like losing the dogs all over again — she's NEVER going to give this one up.
And the one we borrowed didn't even have TVs or any of the kid-friendly toys. It was just a roomy ride!
I think I may have finally found the secret to getting DadJovi on Team One More Kid — a Swagger Wagon. He'd do just about anything to start rolling around in one of those bad boys.
I don't know why parents have identity crises about trading in small cars for minivans. I mean, they're pretty sweet rides. I only had one issue with it — the cost to fill 'er up.
Ouch, that hurt.
What about you? Are you a Swagger Wagoner? Should we consider getting one for our next car, even if it is just the three of us?