Back by popular demand, one of my patented This Happened Almost a Month Ago posts! And I'm writing a novel to boot! One of these days I'll learn to blog about things in a timely manner. And edit. Or not. Who cares.
As you may have seen if you follow me on Twitter or Instagram, I recently traveled to Texas for a long overdue girls weekend with my college friends. One of our crew of 8 recently moved to San Antonio, Texas, so this year, we decided to bring girls weekend to her. We started these weekends just after graduating from Syracuse in 1999 and 2000 (two of our crew are the "kids"). Past trips have included whitewater rafting in Maine a couple times, the Jersey shore, Boston, and of course, all our various weddings, bachelorette parties and bridal and baby showers.
This was the first summer in a few years, though, where we didn't have a milestone event to travel for, so it was nice to just have a weekend be a weekend. Of course, with eight ladies, 11 kids between us and traveling from five states, it took a bit of finagling to make the weekend work, but we did it!
Yee haw! I was so excited to set off for my first-ever trip to the Lone Star State.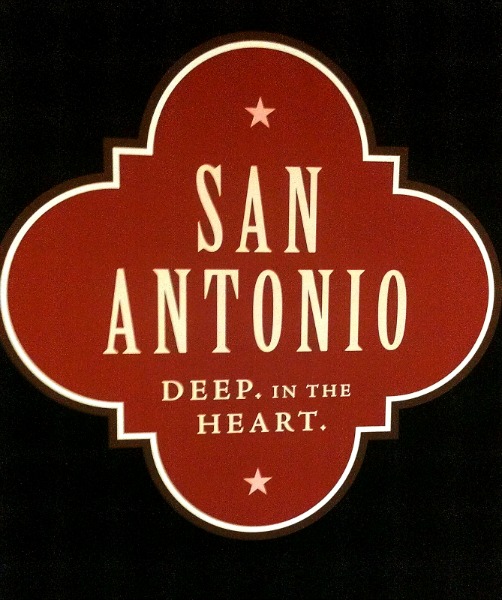 I wanted to spend as much time with my bestie Colie as possible and to spend some time with her boys, so I took Friday off work and flew out on Thursday. I wasn't supposed to get in until late that night but then once my flights starting getting delayed, I jumped into action and thanks to a great assist from the awesome Southwest Gabe Twitter account, I was able to get onto an earlier, direct flight. And thank God I did. It ended up being a nightmare travel weekend, eventually taking my friend Missy about 12 hours to get to Texas from Boston. But I'm getting ahead of myself.
Thanks to my earlier flight, Colie and I were even able to get out for the first of my many, many meals featuring queso. I took pictures, but they sucked so I'll spare you. But the skillet queso at La Gloria is a thing of beauty.
The next morning, we slept in (OK, fine, just me. Colie had a 6-month old and 2-year-old to tend to) and then I went for a short run around her neighborhood.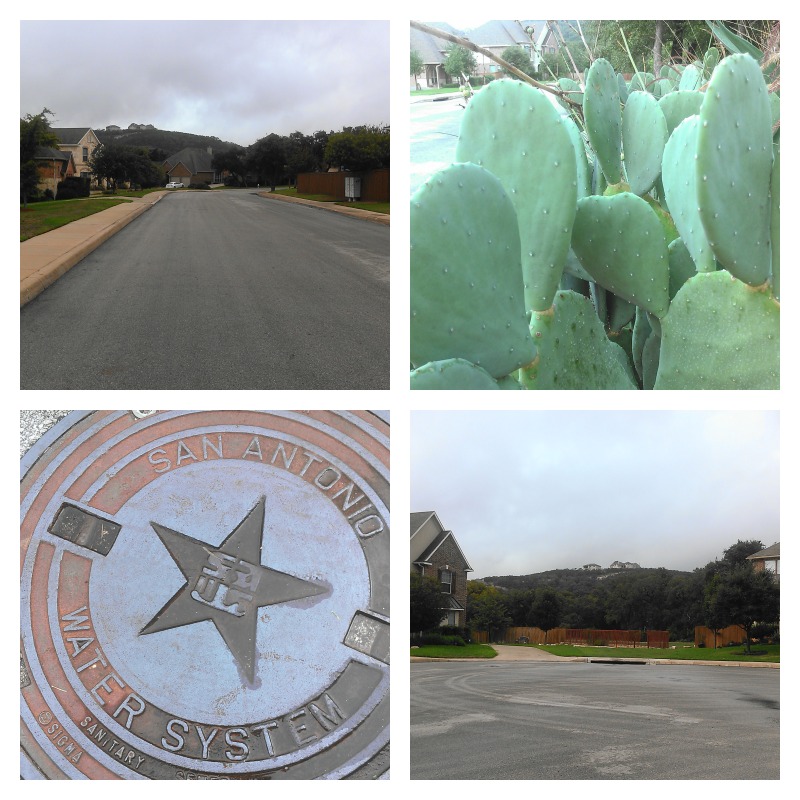 What, Jackie running on vacation? I know, it's a shock to my system, too, but the Texas trip was the weekend before the Iron Girl tri. And I needed to find someway to combat even 3% of the insane amounts of queso I ate.
Colie's neighborhood is just outside of San Antonio, near the Hill Country. My flat Florida-trained quads were screaming from the start. But I was helped by a gloriously cool and overcast morning. It was about 20 degrees cooler than Florida, so it felt amazing.
After we breakfasted and showered, we headed out to explore nearby Boerne.
It was so adorable. I had no idea Texas had such a rich German heritage. Texas surprised me in so many ways. I like to rag on Texas as much as the next person but time after time, I was pleasantly surprised by how cool, interesting and beautiful it was. Sorry to my Texas friends if that sounds obnoxious. Believe me, I live in Orlando. I get the whole "Oh your city doesn't suck as much as I thought it would" all the time.
Sadly, the rain started moving in so we were only able to duck into a few of the cute shops along the main drag. But I did get some new decorating ideas.
You think I'm joking but I now have all these ideas for a vintage cow room. I wanted to buy all the things.
We headed home for a bit for the boys' naptime and lunch and to give the rain a chance to pass. It didn't, so we eventually decided to brave the raindrops and head for the world-famous San Antonio Riverwalk. My tour guides were ready to show me the way.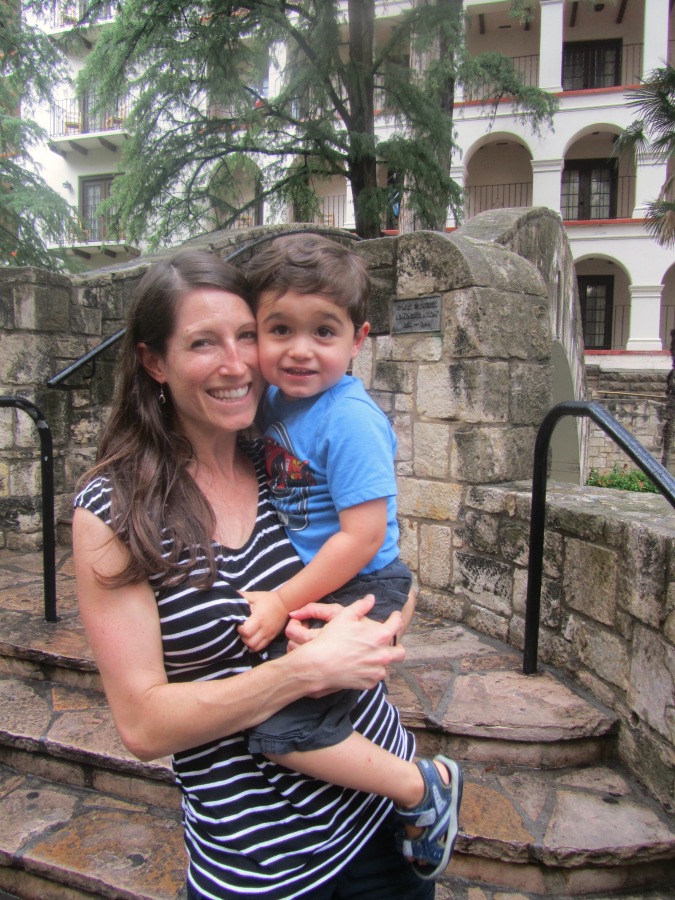 Again, at the risk of sounding like an ass, but I was really impressed. Sure it's a touristy area with t-shirt shops and strolling mariachi bands, but it's also beautiful, quaint and well, lovely.
The one thing it isn't, though, is stroller friendly. It was a good thing there were two of us to lift it up and over the bridges. Supposedly there are elevators somewhere along the path to help you get from one side to the other but we never found any.
I did, however, see even more proof that everything is bigger in Texas, especially the flags.
We eventually picked a place to grab some snacks and drinks, based entirely on one characteristic — a mariachi band for Colie's guitar-obsessed son.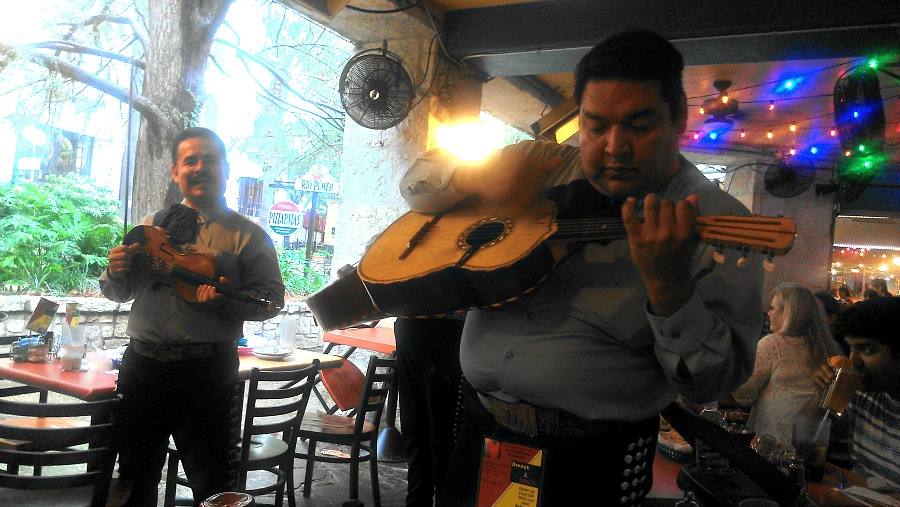 He loved it. OK, fine, we all loved it. The only sad part was that the queso was only OK. I know, look at me becoming a queso snob already. Guys, you're going to hear a lot about queso. It's a magical potion.
After lunch, the rain was really coming down so we headed back to the car, as quickly as we could on the slick walkway. As we were leaving the downtown area, Colie made a quick driveby of San Antonio's most famous landmark: the Alamo.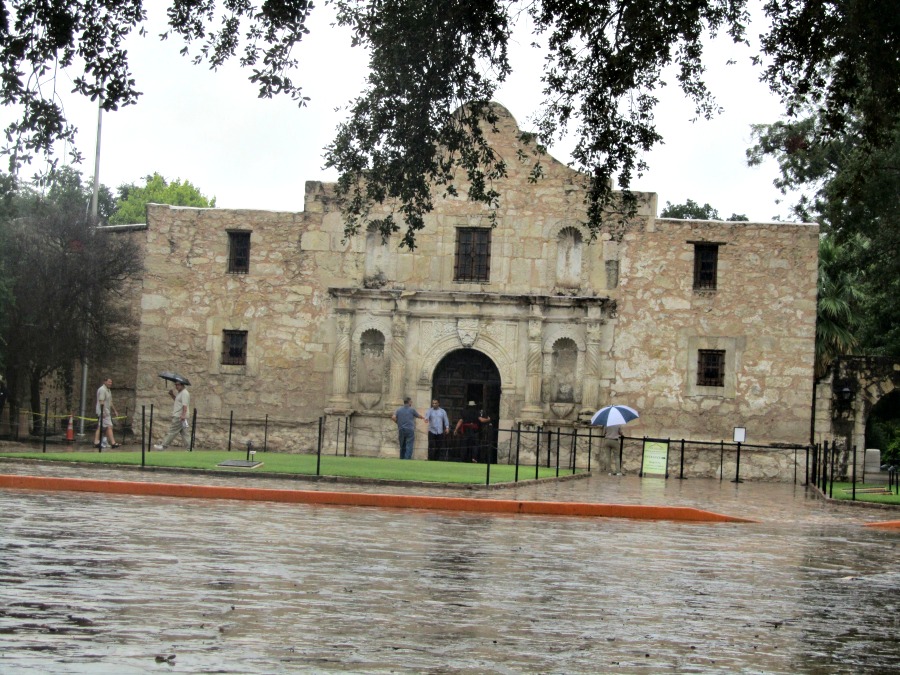 Sadly, there wasn't enough time to search for the basement. And I know everyone says this, but it really is a lot smaller than you think it's going to be.
We headed back to the house so Colie could pack and prepare her master Here's How Not to Kill the Kids list for her husband. This was one of the first trips I haven't had to make one of those but I know them well. While she did all of that, I enjoyed some QT with my favorite little guys.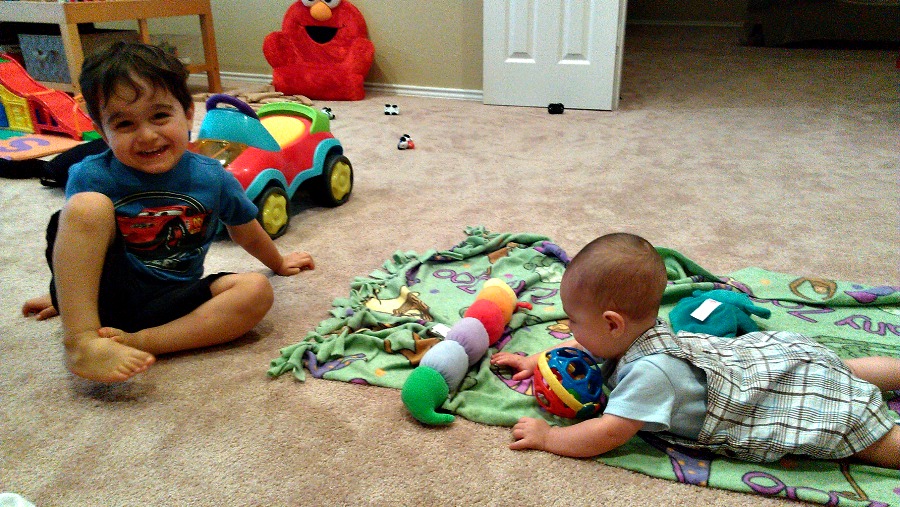 There are a lot of hard parts about living thousands of miles from your best friends, but this may be the hardest — not being there to see their kids (or to have them see your kid) grow up. We all try to make sure the kids know all about their aunties and trips help, but it's really hard.
Before we left, I got to witness what may have been one of my favorite parts of the weekend –Colie discussing The List with her husband.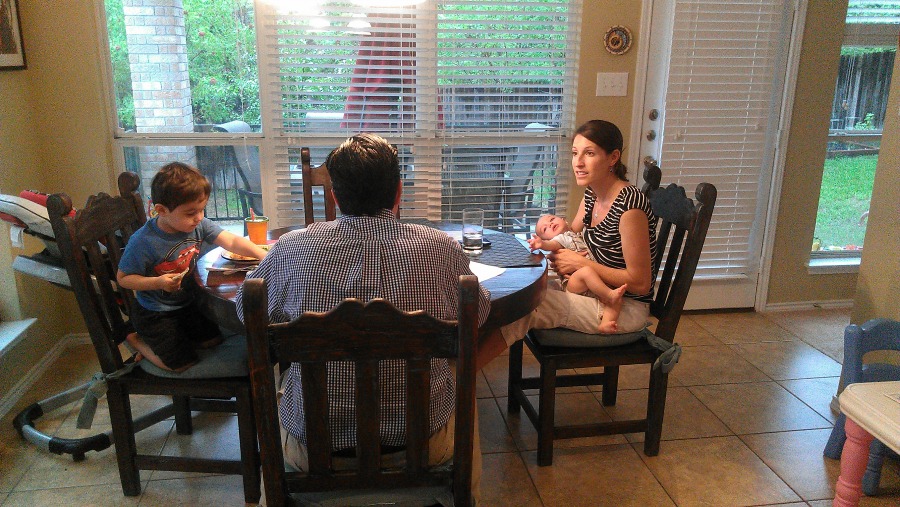 It was highly entertaining. Of course her husband is quite capable of taking care of both kids, but isn't this just something we all do? Although I'm not sure my written instructions ever had entries like "Scenario 1" or "Scenario 2." She's very thorough.
Finally it was time to head to the airport to pick up two more of our friends and start the drive from San Antonio to Austin. Since their flights had been delayed and we were getting a much later start than we'd hoped to meet the rest of our crew, we didn't want to take the time to stop for dinner. Enter Buc-ee's, the world's largest gas station. It was amazing as you'd think the "world's largest gas station in Texas" would be.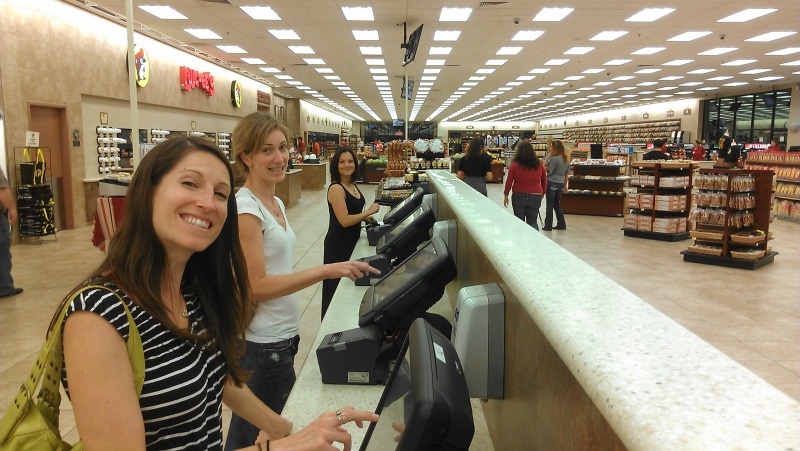 From a full-service jerky bar (yes, with hundreds of flavors and kinds of jerky) to the WALL OF SWEETS, it was a sight to behold. And one of its signature items gave us a hashtag for the weekend: Beaver Nuggets. They're real and they're spectacular.
And creepy life-size mascots are always a plus.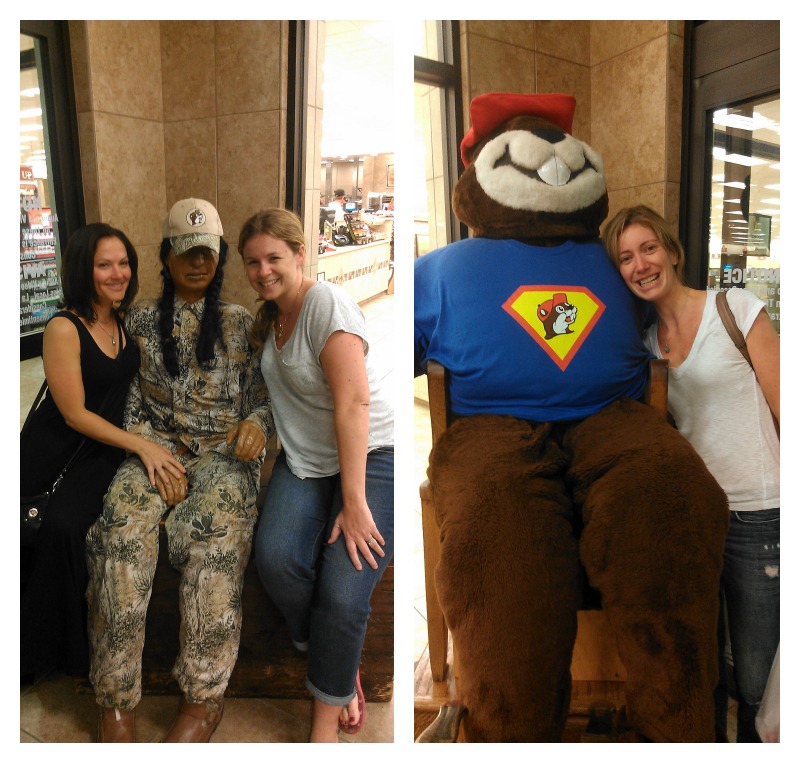 We didn't end up arriving in Austin until about 11. We quickly stashed our stuff at the hotel, then went out to meet our friends at the Driskill Hotel. Somehow even that late we were able to snag a big enough table for the eight of us and the reunion began!
Since we're all old moms now, I think we were back to the hotel by about 1:30, but none of us were complaining. After long travel days, everyone was ready to sleep.
On Saturday, we all slept in nice and late, and when we finally made it outside we were greeted with the most gorgeous day ever. The skies were big, bright and blue and it was in the high 60s/low 70s. Absolute perfection. Our first order of business was to eat (obviously) so we headed to Magnolia Cafe.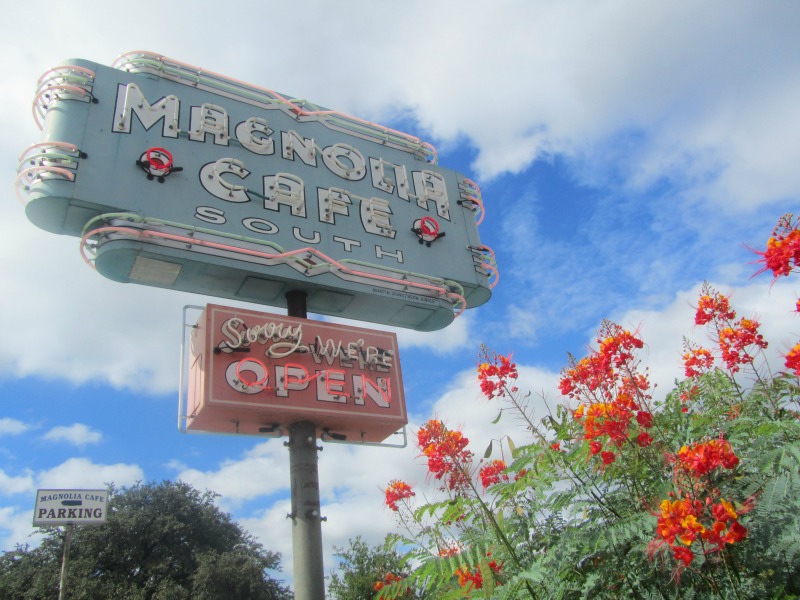 As per our usual, we all stressed over what to order and ultimately decided to just order as much food as we could for the table. And yes, there was queso. What, you don't order breakfast apps? You're missing out.
In addition to all the glorious Tex-Mex food, we also had buttermilk, gingerbread and fresh cherry pancakes. Holy hell, why have I never thought to put cherries in pancakes? So good.
After stuffing ourselves, we set off down Congress Avenue to burn some calories with walking and shopping.
One of our most fun stops was Allens Boots.
And of course, we obviously had to try on some boots.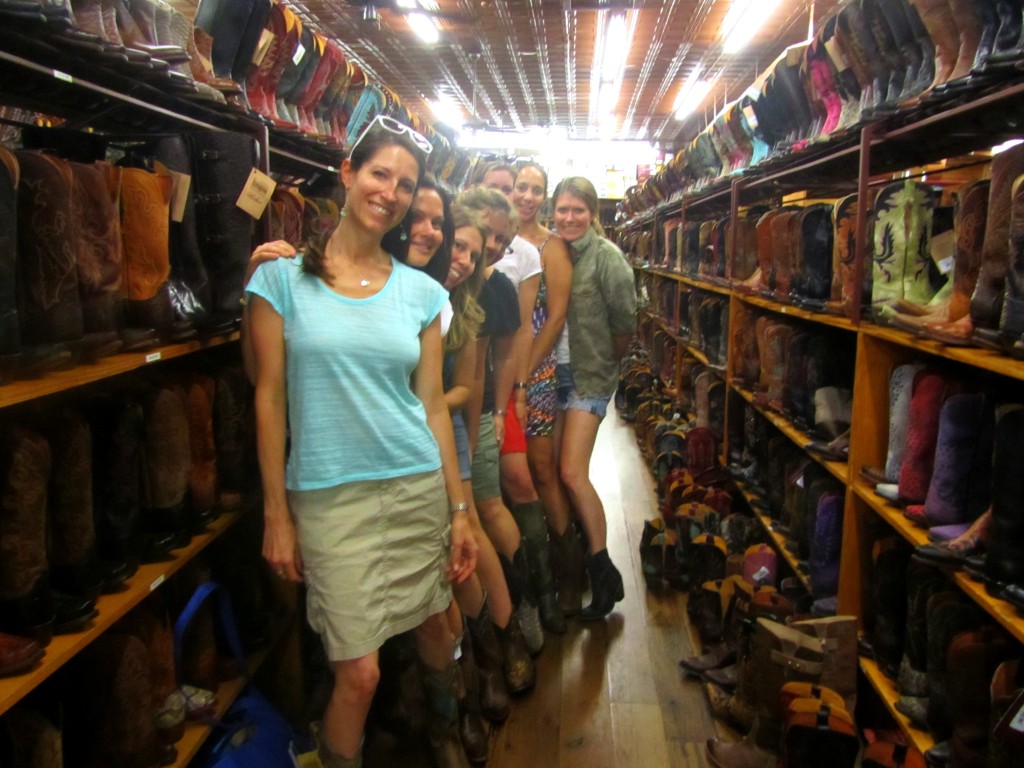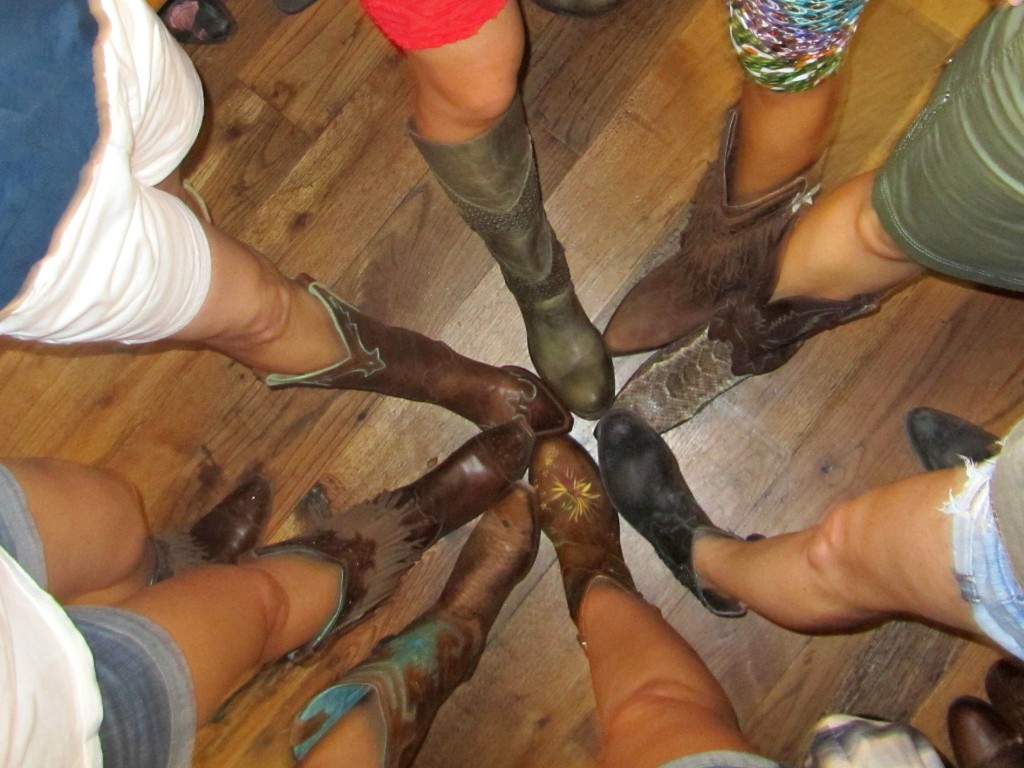 Um, P.S., I had no idea how expensive nice cowboy boots are. Every pair that I looked at was at least $400 and up to $800 and $900. What the what? I mean, I suppose they're a lot more functional than a pair of Louboutin's, but jeez.
All that shopping left us thirsty. It was margarita-o'clock. We found a lovely spot along Congress with an amazing smelling taco stand (I wished I was hungry, but I was still full from breakfast), a bar, picnic tables under oak trees and a live band. Yeah, Austin doesn't suck.
It was the perfect way to pass the time until our one planned event for the afternoon — checking out the music at the Continental Club.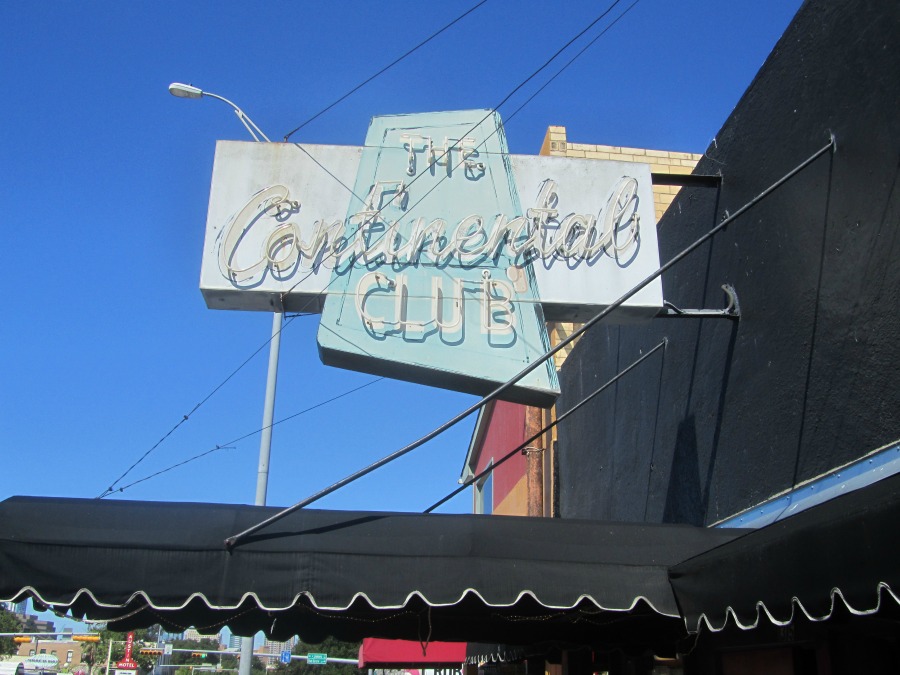 Our tour guide Colie said this was the one and only thing she was insisting we did while in Austin, and we were so glad she did. The Continental Club is this wonderful old venue that attracts Texas two-steppers every weekend. One of the regular acts is a guy named Redd Volkaert and he is so great.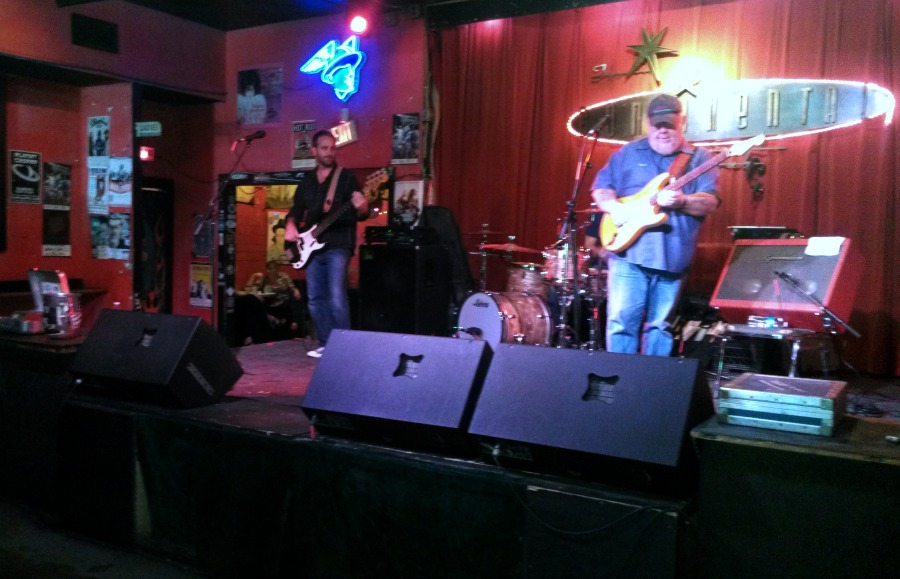 And the dancers were no joke. I felt like I'd stepped into Shelby's wedding reception in "Steel Magnolias." And as eight ladies sitting along the banquet on the side of the room, we were sitting ducks for dancing invites. Of course, we demanded our new Texan show us how it's done.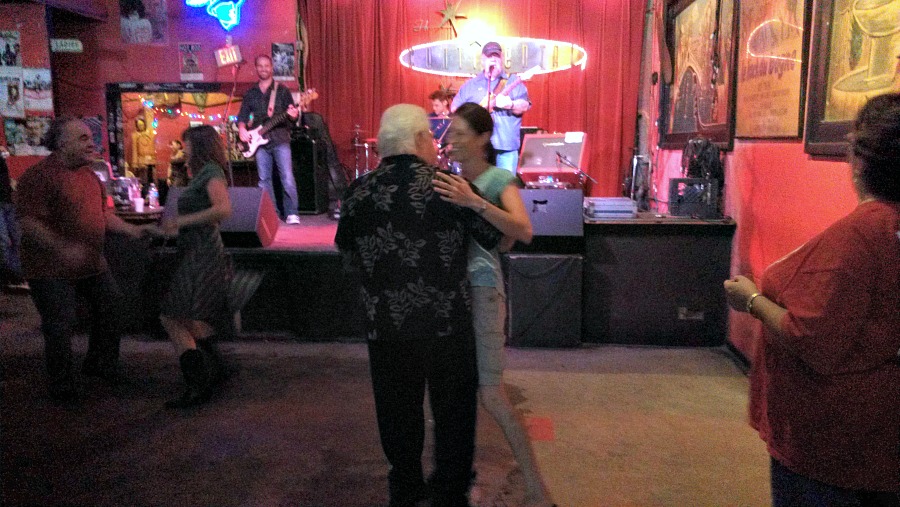 So much fun. When I finally get my husband to Austin, this will be our first stop. We missed Austin City Limits by just two weekends, including shows at both ACL and Stubb's by my beloved Wilco. I was thrilled to see members of Wilco sharing Instagram pics from Continental Club during the second weekend of ACL. Yeah, all the cool kids are going there. Way to go, Colie!
After we'd had our fill of dancing, we decided to head back to the hotel to get ready for the night. But first, we popped across the street to Jo's Coffee, site of this famous piece of Austin graffiti:
And we treated ourselves to the most magical coffee concoction in human history. I'm pretty sure it's made of dreams and angel tears.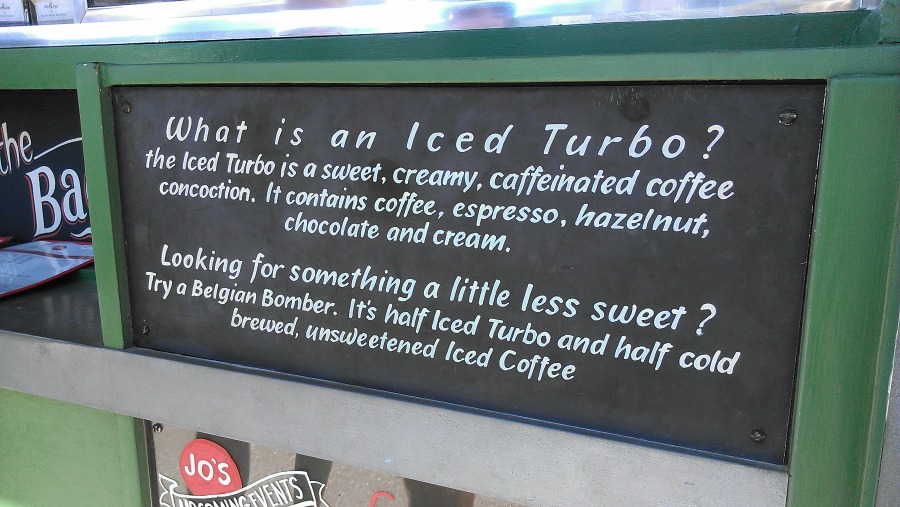 Most of us opted for the Belgian Bomber. If I lived in Austin, I'd be a mess of a BB addict, selling all of my belongings just to get my fix. It was so good I made Colie make a pit stop there on our way out of town the next morning because I couldn't stand the thought of not having another one before leaving Austin.
After we were all fueled up on BBs and ready for the night, Colie took us to Rainey Street, an area that features old bungalows that have been converted into bars. We started at Lucille's and it felt like we were hanging in someone's really cool backyard, with incredible drink options.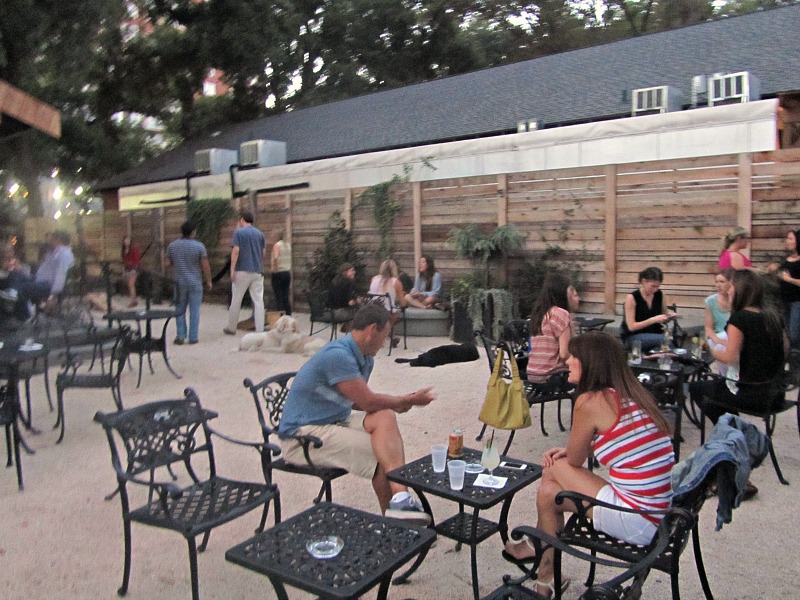 As you can see, it was very relaxed. People had their dogs with them. There was a hammock. Have I mentioned the drinks? It was the perfect place for us to settle in and do what we really came to Austin to do — reconnect.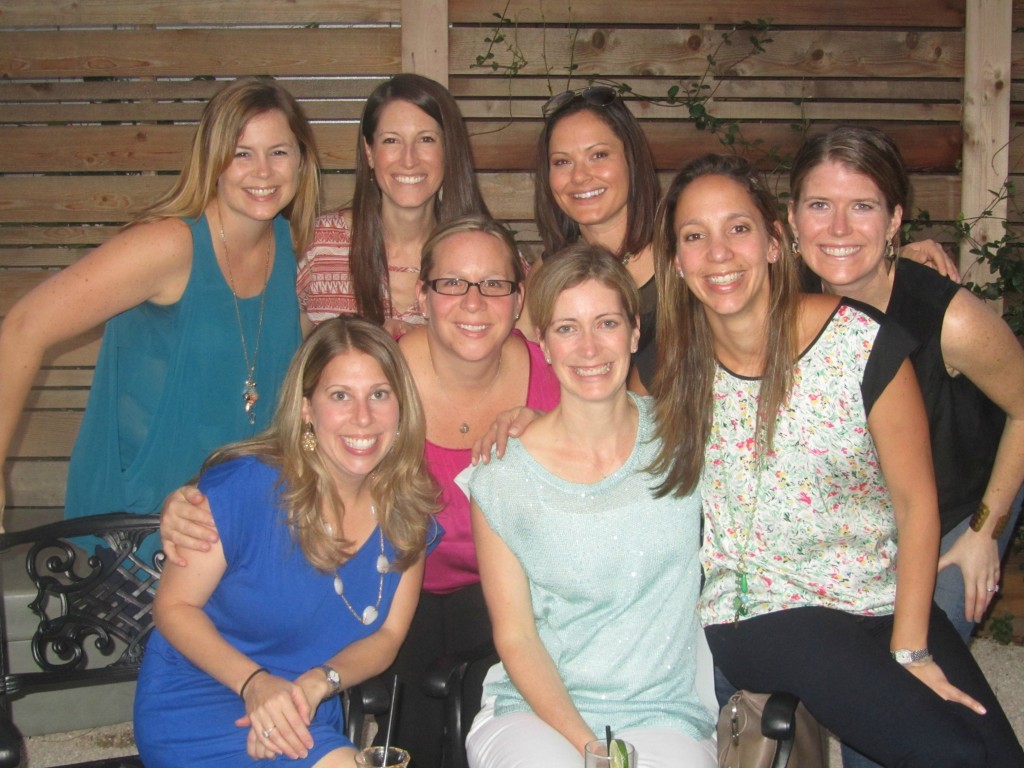 We ended up spending the rest of our night on Rainey Street. We eventually took a short stroll to the nearby IronWorks BBQ for dinner, then quickly came back. In fact, after trying a few other spots, we decided Lucille's was our spot, so we finished out the night there. OK, that's not entirely true. We actually finished the night out at the food trailers stop at the end of the street.
All too quickly, it was time to say good-bye to everyone. How can a weekend that you spend months and months looking forward to go so quickly?
Most of the crew had early flights, but mine wasn't until 4. Lucky for me, Colie decided to hang out with me for the whole day. While she was packing up in the room and taking care of some things, I decided to squeeze in one more run to check out some of the Austin sights I hadn't had to the chance to see yet.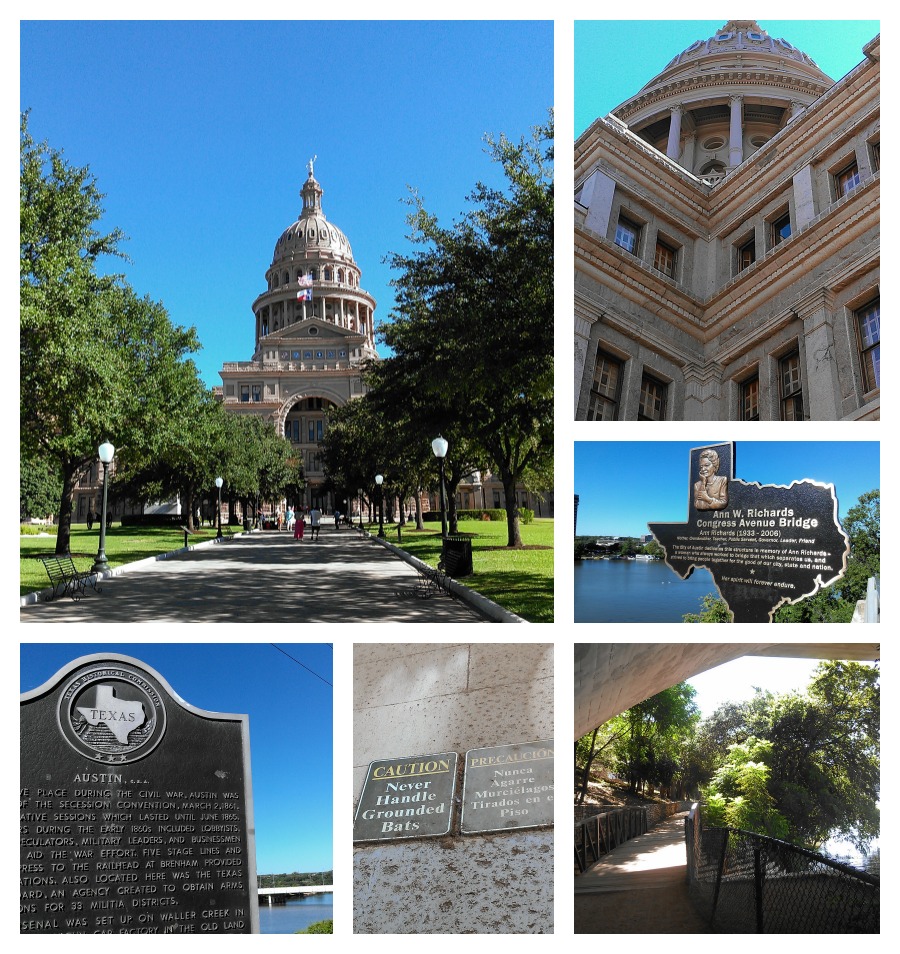 I can't believe I'm going to say this but all you runner types are right — a run is the perfect way to check out a new city. The miles flew by, even when I was battling some painful hills.
It was also a little painful to run by Stubb's knowing I didn't get to see a show there on this trip.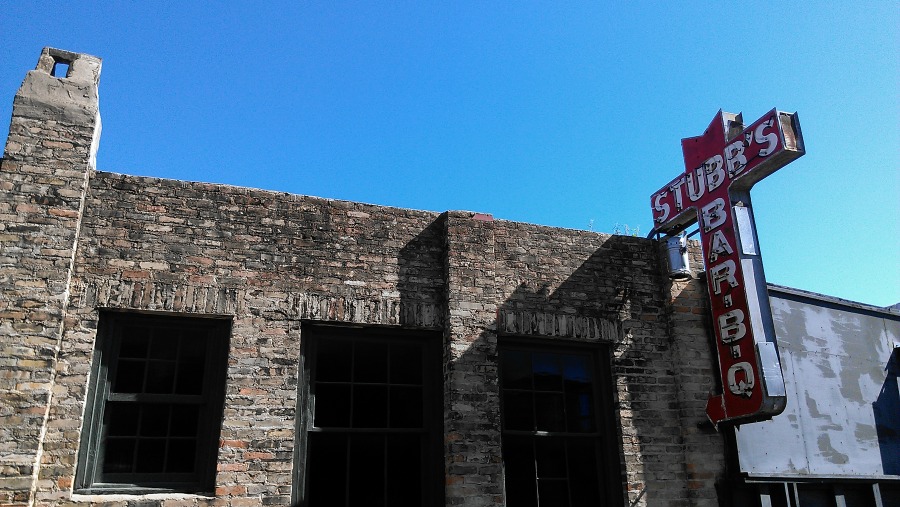 Next time, I promise.
After we packed up the room, we had one more stop planned. I think you know where this is going — queso. We made plans to meet Colie's sister, who I also lived with in DC, at the Trailer Park & Eatery.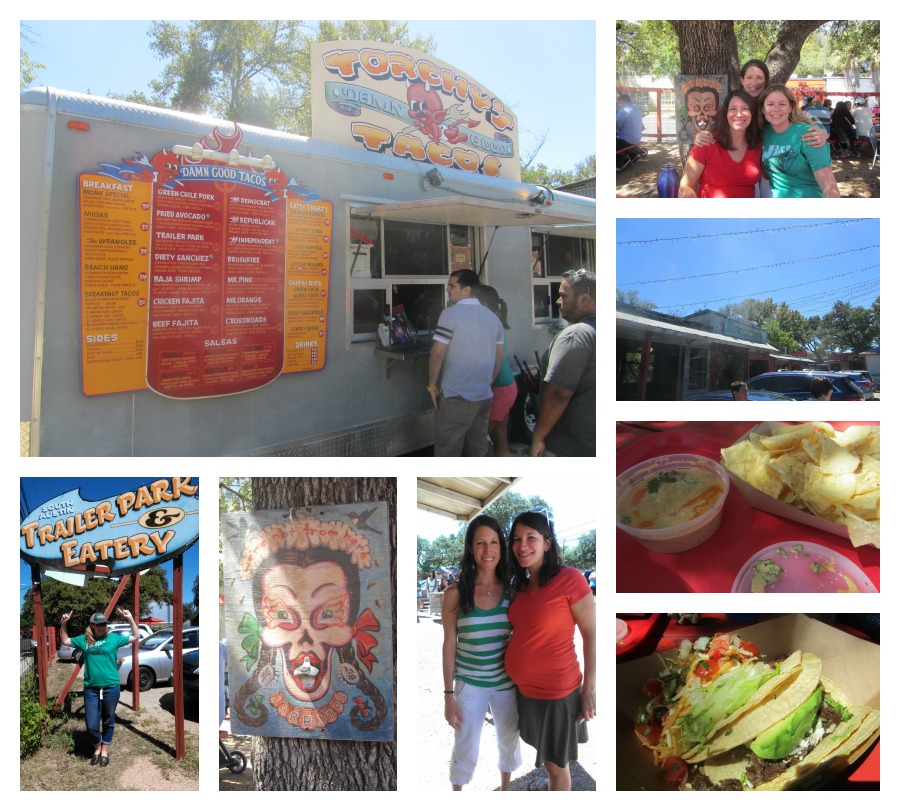 Maybe it's because it was my last stop, but Torchy's, you win. The queso was perfect. The fried avocado taco? Divine. And seeing Claire and her adorable bump (she's expecting her first child in December) was the queso fresco topping on a perfect weekend.
I had built Austin up so much in my mind over the years, and I'm so glad it did not disappoint. In fact, it far exceeded those hopes. Austin, I will most definitely be back, perhaps even for good some day.
Do you still get together regularly with your high school or college friends? And what did I miss in Austin? Because I'm clearly already planning my next trip there. I may not make it until next year's ACL but that's definitely on the short list.