'Tis the season for constant activities, fa la la la, la la la.
Phew! What a busy week and we haven't even made it to Christmas yet. Here's a quick look at how we're packing merriment into every waking moment.
On Thursday, we shivered at Ice!
Every winter in Florida, we get a cold snap or two and there are always these stories on the news about the state's lizards and iguanas freezing and falling out of the trees, stunned by the cold.
That's pretty much my daughter when the temperature drops below 50.
I've come to realize that no matter how tough a game talks about wanting to see snow, it'd be a short-lived thrill. My Florida baby is NOT a fan of cold weather. She basically shuts down and refuses to talk or smile.
And to think her mother not only grew up in Pennsylvania but went to college in Syracuse. Oh, she better brace myself for the "In my day" stories.
In her defense, it didn't help that her mother forgot her gloves, hat and scarf. And fleece. Heck, she was lucky to be wearing long pants and (semi) closed shoes. Thankfully, we were there with good friends who warmed our spirits … and hands and ears, by sharing their warm weather gear.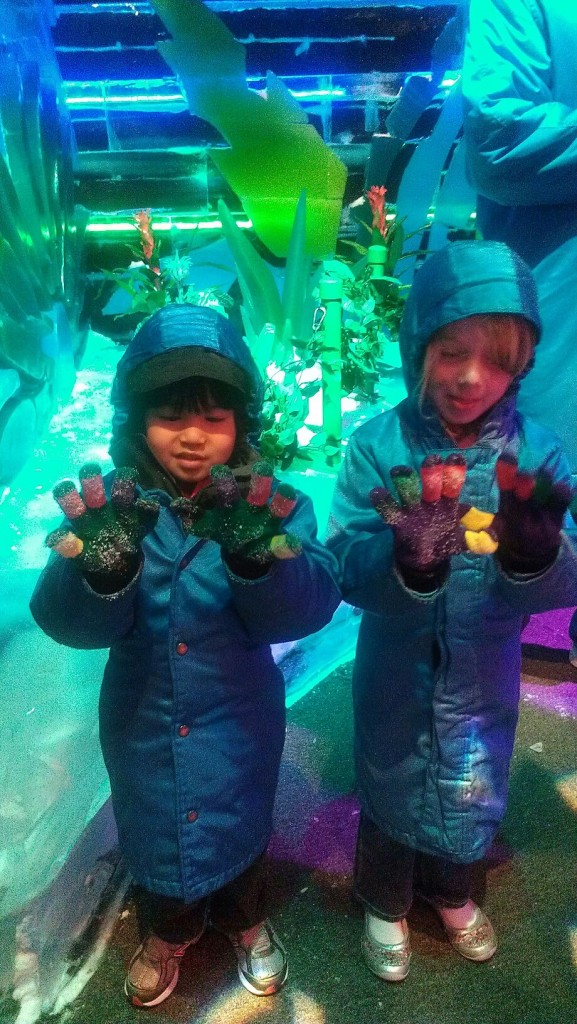 On Friday evening, we attended THE theatrical event of the season — E's school's production of The Christmas Story.
Before the show, there were a few butterflies but a whole lot of smiles for the cast.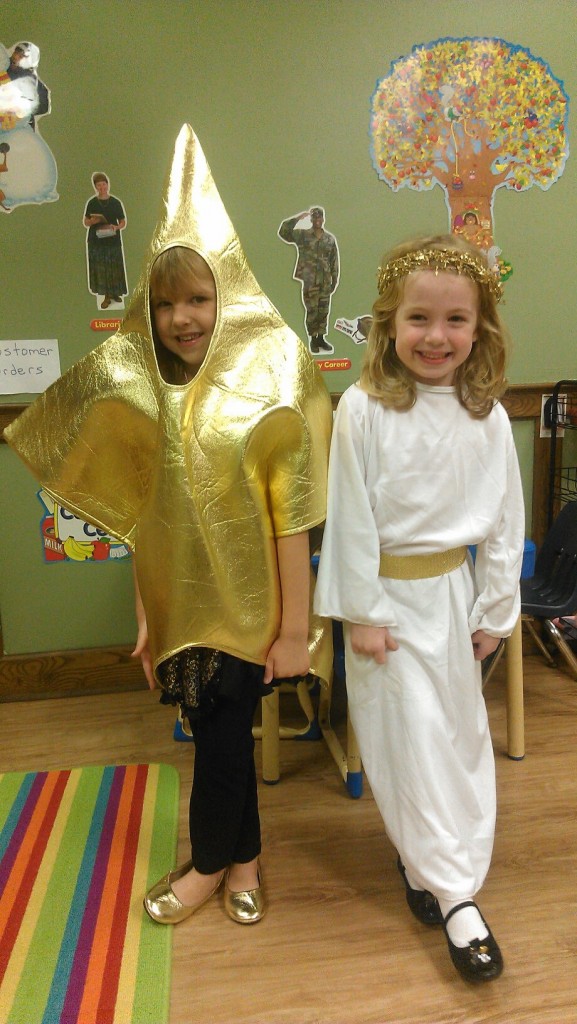 E's BFF was The Christmas Star (aka the Star of Wonder. Sing it with me now: "Star of wonder, star of light, star with royal beauty bright…") and E. was a bit of a star herself — she was Gabriel the angel.
She had two big lines in the play. I know I may not be a theater critic, but in my humble opinion, she rocked her role.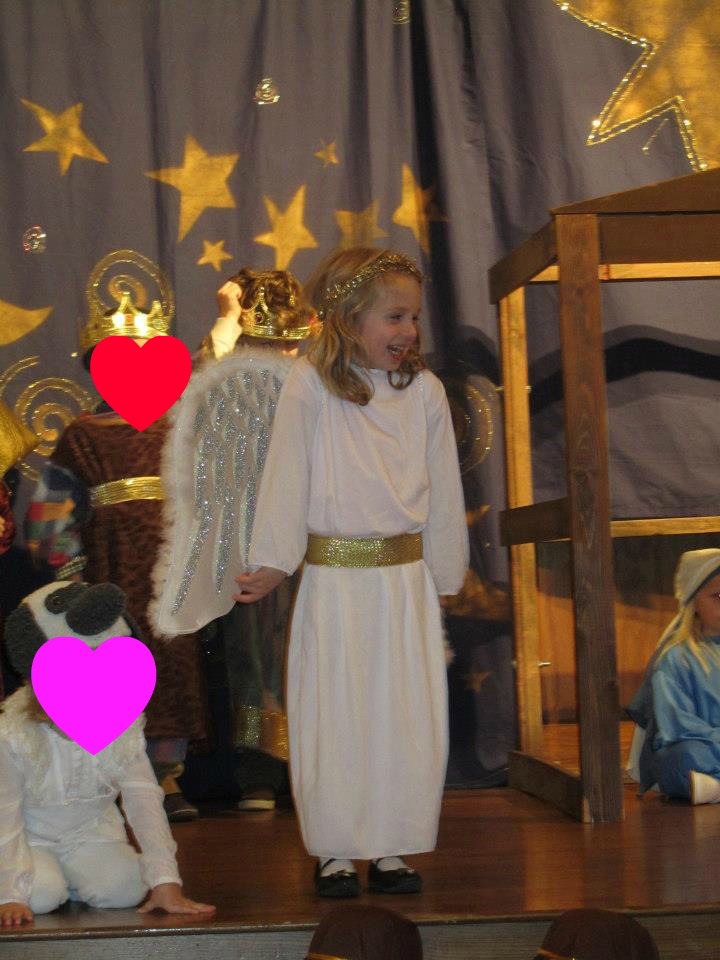 Tears were shed. Many smiles were smiled. And precious memories were made.
The next day, my budding dancer and actor got a first-hand look at how the professionals do it when we attended her very first "Nutcracker" show.
"Mommy, I pointed my toe like her!" E excitedly told me after I snapped the picture.
And to make the day even more fun, we had company — Aunt Katy!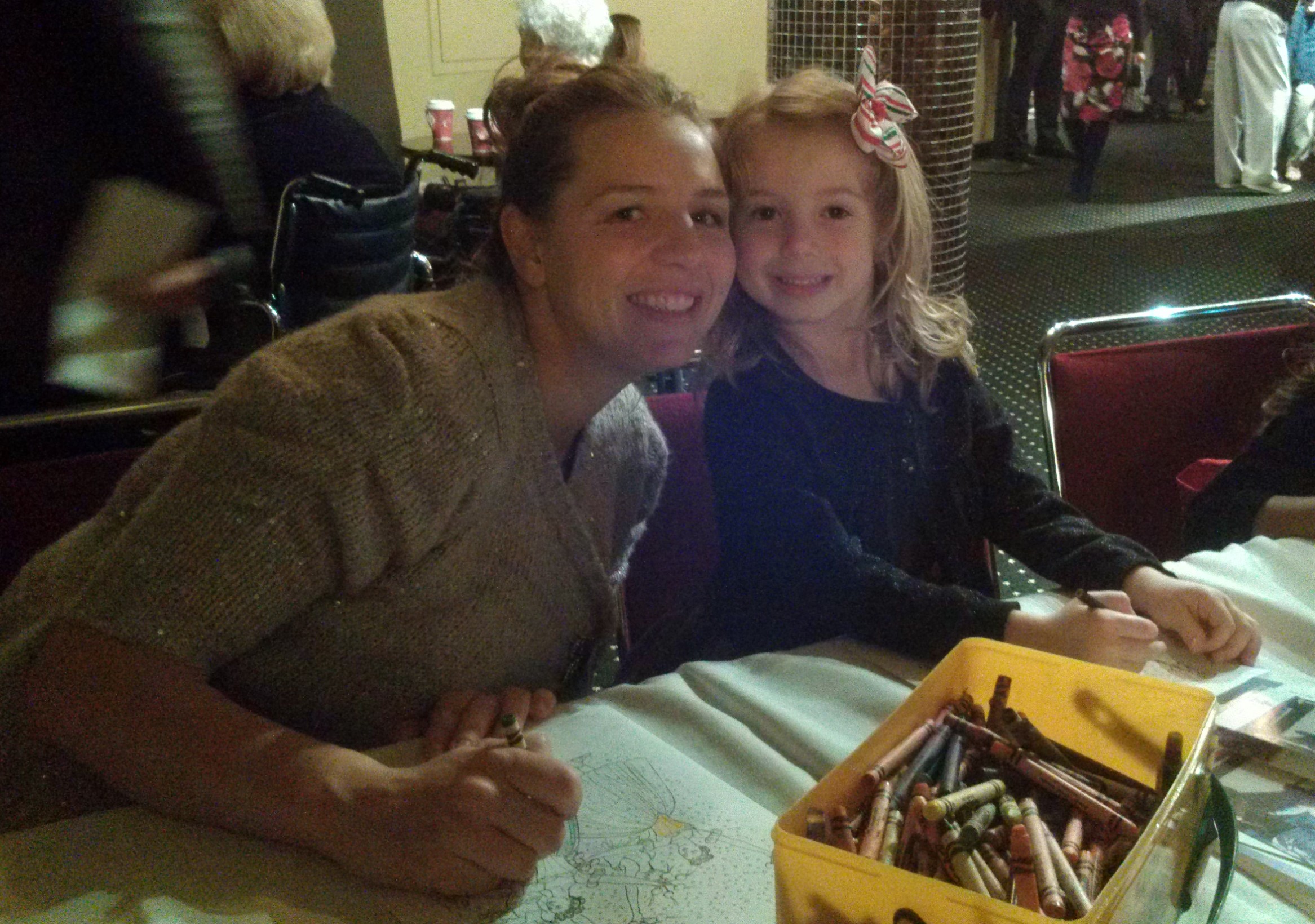 It was such a fun girls' day out!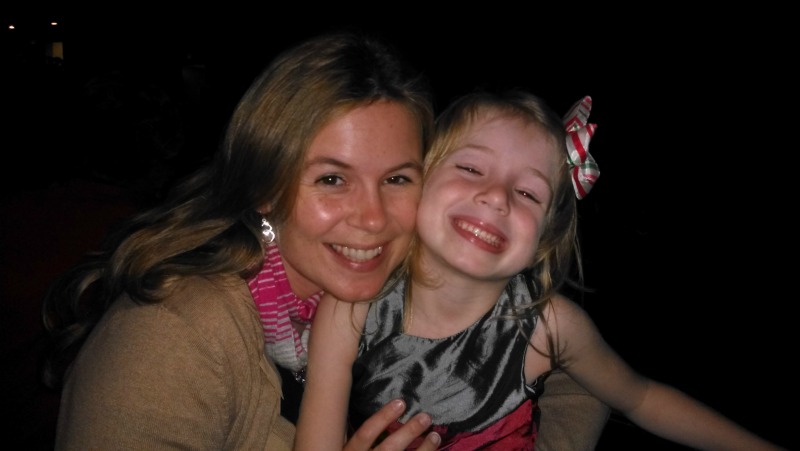 We all loooooved it! When the curtains came up, E. was mesmerized. We'd been reading "The Nutcracker" book over the past couple weeks, which I think helped her with the storyline. About 10 minutes into it, she leaned over to me and whispered, "Mommy, why aren't they saying anything?" I guess I should have prepared her for that.
Thankfully, the dancing — the so fabulous and gorgeous dancing — was enough to keep her attention. She started to squirm a bit toward the end, so I was so glad I'd picked the Orlando Ballet's Family Series 60-minute show for our first ballet outing.
Far and away, her two favorite parts were the dancing (and at times booty-shaking) mice and counting the jetes (her favorite ballet move of all) throughout the show. And once she realized that children were in the show, she found a new goal in life — some day being cast a mouse. I've already warned DadJovi that his plans of stopping ballet after next year are on thin ice.
After the ballet, we quickly said hello to my mom and step-dad, who arrived while we were at the ballet, then quickly jetted off to our next event — her BFF's parent's holiday party, which was a party for the whole family. They had an amazing spread, plenty of holiday wine cheer and face painting. Of course, DadJovi will never pass up a free face painting (even if she couldn't accomodate his request for a Blue Devil face painting).
Later that night, we went to the movies (free babysitting!) and for some reason, people couldn't stop staring at him. Wonder why.
On Christmas Eve eve, DadJovi and I woke up, compiled our massive Christmas dinner shopping list and hit Target bright and early. Surprisingly, it was pretty empty.
And when we got home, it was finally time to fulfill E's request for the past, oh, 51 weeks — bake Christmas cookies!
Now, the only thing left to do is to wrap, wrap, and then do even more wrapping.
And to celebrate with our family and some good friends.
From our family to yours …
Happy holidays, friends!