Hey mon! We're back from our whirlwind Thanksgiving weekend trip to the Bahamas! And yes, they say mon in the Bahamas. I heard it myself everywhere.
I've got a crazy busy week ahead of me, but don't you worry your pretty little heads. I'll return soon with my usual overwritten and so long that only my mom and Missy read the whole thing thorough recap of our trip. Until then, I leave you with two of the most memorable — and hilarious — nuggets from the trip.
For starters, it's hard to tell who had a more amazing time — DadJovi, who got to watch his Duke Blue Devils win the Battle for Atlantis championship or E., who got to do everything.
Despite his euphoria, I'm still going to go with E. Here's just a small piece of what she got to experience.
Before …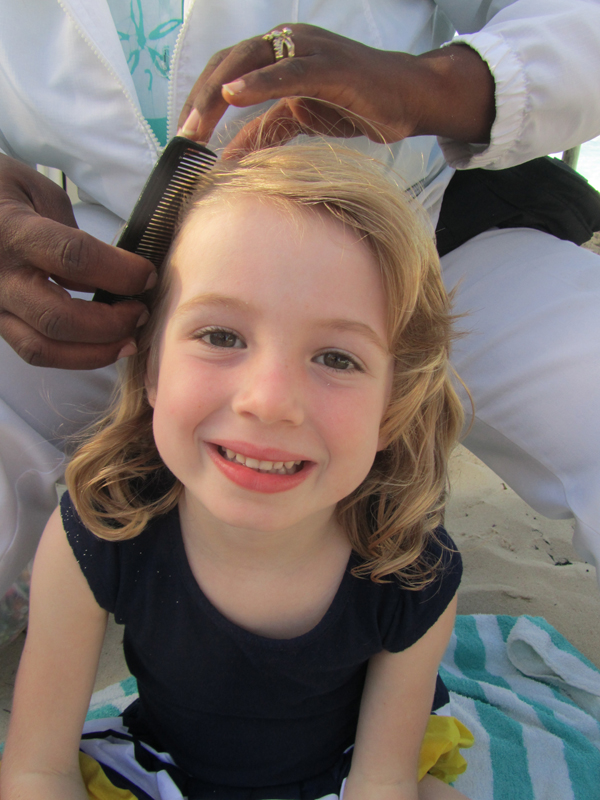 … and after, mon.
DadJovi and I cannot stop laughing. I mean, how amazing is her hair? She was the one who desperately wanted those braids but we've gotten much more out of them than she has.
At first, we were calling her Snoop but thena it struck me who she actually looked like — K Fed! (I'd include some paparazzi photo of him but I'm afraid of being sued over an image on my money-losing blog, so you'll just have to click over to see Kevin in all his cornrow gloriousness).
Yes, ladies and gentlemen, we have a new nickname — E Fed. I'm pretty sure DadJovi has exclusively called her that since Sunday morning.
Speaking of amazing celebrities, you'll never guess who we met.
Throughout the weekend, I was in full-fledged Celebrity Scouting Mode. We were there for the Battle for Atlantis college basketball tournament and there were some great, marquee teams playing — Duke, Louisville, Mizzou, VCU, Minnesota, Stanford, to name a few. It was so cool to keep seeing these crazy tall basketball players and some famous coaches everywhere we went all weekend.
On Friday night, while DadJovi and E. were at the game, I experienced what I thought was going to be my biggest celebrity sighting of the weekend — Sean Hannity. I was so proud of myself for not booing him, even though I desperately wanted to. And I even contained myself when I saw him walking into the Cuban cigar shop. Doesn't that seem to war with his beliefs and propaganda? Are communists evil?
Then, on Saturday night, I tripped about three different times over the feet of the Prime Minister of The Bahamas as I walked back and forth to the bar at the game, which may have contributed to the tripping. They don't go light on the gin in their G&Ts at Atlantis. For what I was paying per drink, I appreciated the gesture.
But those were just the celebrity warm-ups to the main event. One that I couldn't have predicted in a million years.
Picture it — it's Sunday afternoon and we've already packed up our suitcases. We have time to grab lunch before boarding our bus to the airport. We headed down to the Atlantis's Marina Village to hit the Johnny Rockets because a) we couldn't afford to eat in Atlantis anymore and b) somehow DadJovi had promised E. a milkshake.
We were sitting on the front porch, enjoying your shakes and waiting for our food when all of the sudden, out of the corner of my eye, someone coming up the steps catches my attention. Could that be him? I NEVER missed his show when I was a kid. Wait, didn't he die? Oh, that was the other loveable child actor known for hanging out with Michael Jackson and his diminutive size.
After much debate over whether or not I should approach this suspected celebrity at his table, I finally man up and walk up to his table, where he's sitting alone and (loudly) playing music videos on his phone.
"Excuse me, I hate to bother you, but are you Emmanuel Lewis?"
"Yes."
"Wow, I was such a big fan of your show. Do you mind if we get a picture either before your food arrives or after you've eaten, whichever you prefer."
"Where are you sitting?
"Right outside the window. Right behind you. Our food hasn't arrived yet."
At about this time, his waitress approaches with his food and asks me, "Oh, do you want me to take a picture of the two of you?"
I defer to my friend.
"After. But I'd like to move outside, please."
Wait, what? Is he going to join us? He wants to come outside, with me?
For a tense 30 seconds, all three of us (me, the waitress and Webster) walk outside and I return to my table, unsure if I should be making room for him. He looks at me, DadJovi and our braided child, and points instead to the table immediately next to ours. It must've been the braids.
Then, for the most awkward 20 minutes of my life, I sit waiting for my food, then eating my food, all while pretending that Webster isn't sitting less than four feet from me and resigning himself to his fate that he's going to have to take a picture with me.
And the music videos played on. Oh, there was some "All the Single Ladies" action. Could this scenario be any more random? Oh wait, I forgot to mention the GIANT bag of candy he had on his table, with several of those 2-foot long pixie sticks peeking out of the top.
Finally, we paid our check and I glanced over at him to see if this picture was going to happen. He was very gracious and before I asked again, he started to stand up and asked where I wanted to take the picture. I was already feeling so bad that I'd so obviously intruded on his lunch that I said, "Oh, right here is fine."
And that's where we stood.
He's still adorable, right? Thanks to my Wikipedia sleuthing, I knew that he was sensitive about his height so I fought my urge to bend down but apparently I couldn't quite help myself from coming down a bit. Can you imagine if this girl was standing next to him?
How great is that? DadJovi and I have spent the past 24 hours trying to come up with a combination of places, restaurants and celebrities more random than The Bahamas, Johnny Rockets, Webster.
We've yet to come close.
And my inner 8-year-old self is still totally freaking out.
Who is the most random/your best celebrity sighting? How did you approach him or her for a picture?