This weekend, I did two things I've been meaning to do for a very long time — finally get new sneakers and go out for a night alone with my husband. It's hard to say which was more exciting.
Now, before you go judging me and calling me a bad wife, let me explain something. I've been trying really hard to consistently work out lately. I've been hitting the gym and Dance Trance a lot and I can feel myself (ever so slightly and slowly) getting faster, stronger and better. But I can also feel myself suffering in one area — my shins. They've been KILLING me the last month or so, no matter what kind of exercise I do.
I got it into my head that my sneakers were to blame. I started doing the math and realized I'd been wearing the same pair for everything I do, from the gym to running outside to DT to climbing mountains in North Carolina, since January … of 2011. I know I don't put in a lot of miles but that can't be good, right?
So, off we headed to our favorite sneaker store in town.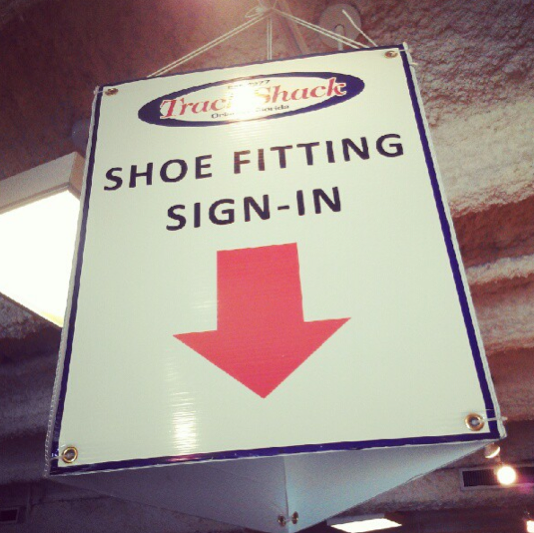 How great is Track Shack? I love how much they know about feet and sneakers. After talking to the guy for awhile about how I use my sneakers and what problems I had with my last pair, he brought out three pairs — Asics, Mizuno and Brooks. After trying all three on — and nearly orgasming over how much more cushioning they had than my current pair — I picked the Brooks Ghost 5s.
How pretty are they? Because that's all that counts, right?
They were definitely a lot more than I wanted to spend (well, than my husband wanted to spend since he bought them. Thanks, darling!). He and I each got a new pair of Brooks. He's deep into marathon training now and I think this is his third or fourth pair of Brooks over the past couple years. Wonder if Brooks wants to sponsor our family?
I haven't had the chance to test my new kicks out but they're actually making me excited to run for a change! That's good to be a good sign, right?
Just as the excitement from the new sneakers was just starting to wear off, we did something even more exciting — we hit the town for a kid-free night. Don't worry, she was even more excited to see us off. It meant she got to have a Girls Night with one of her favorite preschool teachers.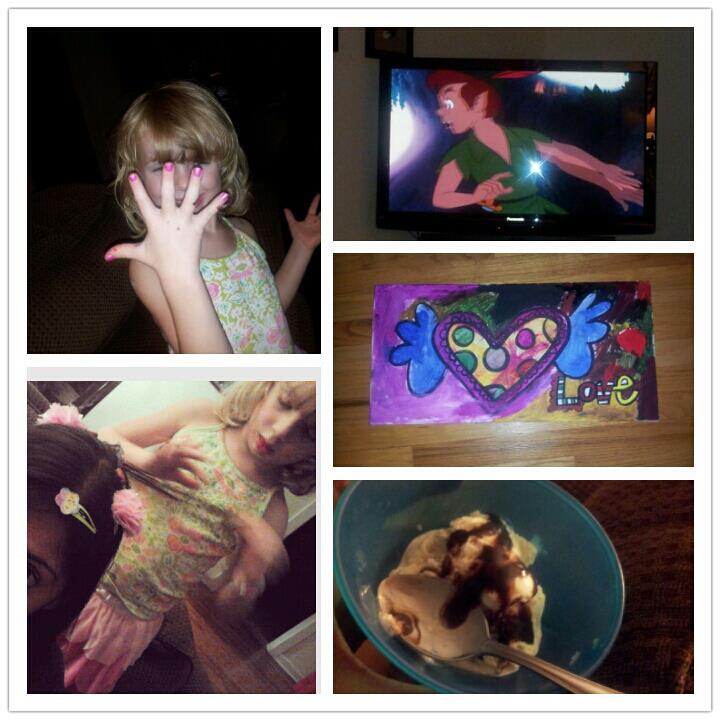 In one evening, they painted E's canvas painting we've been meaning to finish, watched Peter Pan, gave each other manicures and hairdos and ate ice cream. No wonder E. wanted to spend her Saturday night with her instead of us.
Who needs ice cream when you have The Master? Well, two to be specific.
Oh man. Talk about powerful performances. My husband has already declared that Joaquin Phoenix's performance was the greatest he's ever seen. It was mesmerizing. He completely transformed his face and body by "simply" acting. He did this thing with his mouth that equal parts drove me crazy and equal parts amazed me.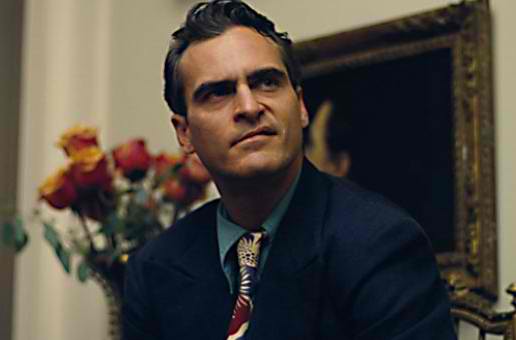 You seriously could not look away from him when he was on screen, which was nearly every scene of the movie.
Well, one thing could make you look away — Philip Seymour Hoffman. My love for him knows no end. I would pay just to watch him on camera 24 hours a day. I adore, adore, adore him. And of his many great roles, this could be his greatest. You have little doubt believing he could make people everywhere follow him (the movie is loosely based on the beginnings of Scientology, although in this movie it's called The Cause).
I'm also now convinced that he has a son. In the movie, Jesse Plemons, aka Landry Clarke from "Friday Night Lights" aka Todd, the gun-happy bug killer-turned-meth-maker in the latest season of "Breaking Bad," plays Hoffman's sons and they look identical. How did I not notice this resemblance before. I can never unsee it now.
As for the movie, to be honest, I thought it would focus more on the religion itself but that's just background noise to this look at a deeply deeply disturbed man (Phoenix) and the leader (Hoffman) who thinks he can save him. The movie is definitely slow, storywise, and I kept waiting for something "big" to happen. That something big is Phoenix and Hoffman (and Amy Adams is pretty spectacular, too). I guarantee come awards season, you're going to be hearing their names a lot.
After the movie, we headed over to Cask and Larder, the new restaurant from the geniuses at Ravenous Pig. We'd tried to get reservations earlier in the week and of course they were all booked. It's so hot right now. So hot. That's why we decided to go to the earlier movie and take a chance on getting a table later in the night.
We got there a little after 10, and they'd just closed the main dining room, including the oyster bar. But the bar side was open and the tables and seats at the bar are first-come, first-served. The only spot when we first got there was a table where you had to stand. This was not what I had in mind for our night out (I refuse to use the phrase "date night." It just bothers me for some reason).
But I knew DadJovi was excited to stay, especially after we saw the Late Night Menu offerings, so I decided to try and suck it up for a bit. Thankfully, by the time we were done ordering, one of the best tables opened up — an adorable window seat with a small table in front of it. Perfect.
Let's eat.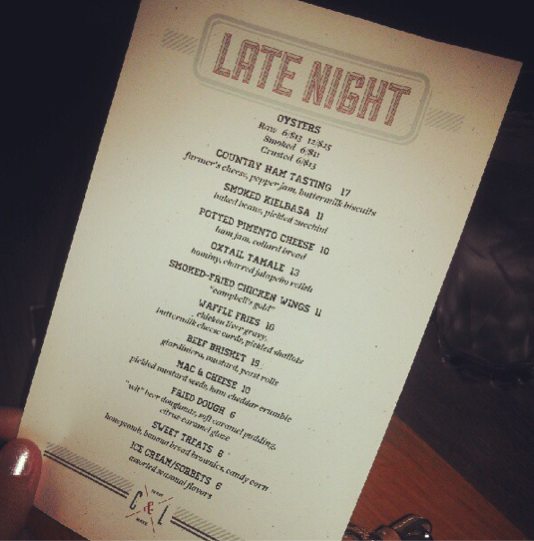 We started with two dozen raw oysters and the Country Ham Tasting.
It's been way too long since I've had oysters. Man, they were tasty.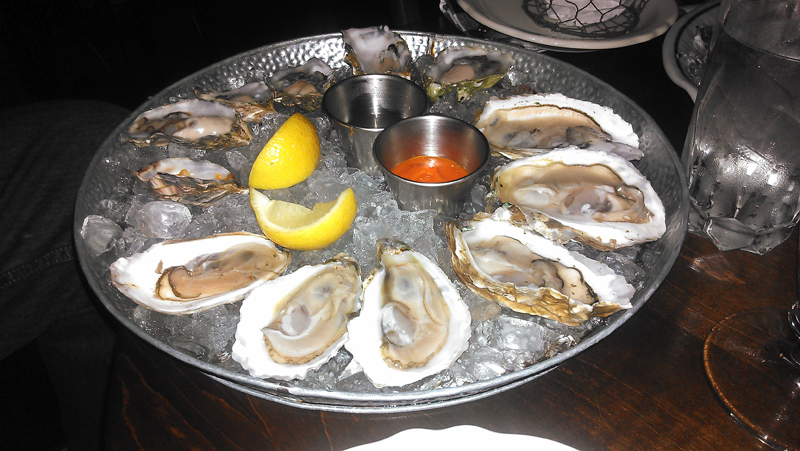 I was so excited when the server told us three of the oysters were from Duxbury, MA, hometown of my BFF Missy. Maybe it was the Missy effect, but they were my favorite of the bunch.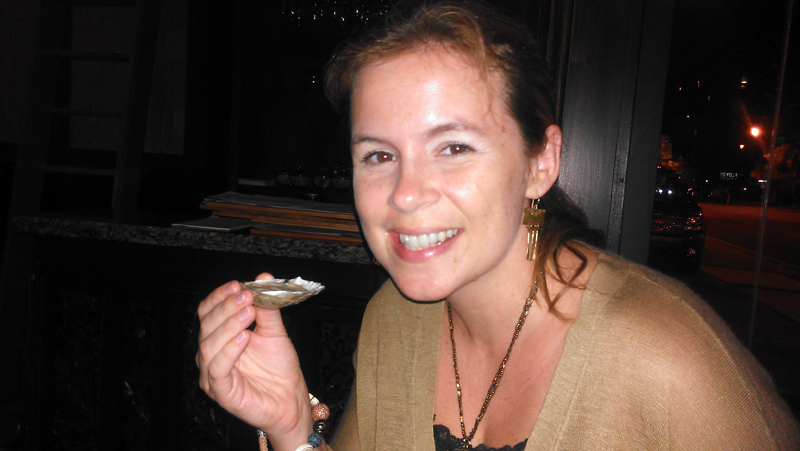 OK, the oysters were good. But the Country Ham Tasting? That's the stuff of legends.
On that platter is three different kinds of smoked ham that was sliced thin like prosciutto, the moistest biscuits you'll ever eat in your life, pepper jam, which was wonderfully sweet and spicy, and something called farmer's cheese. The server told us it was sort of like whipped cottage cheese (which sounds gross) but I'm telling you, it was a little piece of heaven. I used everything I could find on our table to lick every last drop out of the pot and when I ran out of bread and crackers, I used my fingers (TWSS). I want to go to there every day for the rest of my life for that sweet, milky goodness.
We were feeling pretty good after the oysters and ham tasting. As the server was clearing our table, we made the mistake of talking about the other things on the menu with her. As soon as she finished describing the Potted Pimento Cheese we heard ourselves ordering it. I knew once she described the collard greens bread, which is one of DadJovi's favorite "vegetables" on the planet, that we'd be getting it.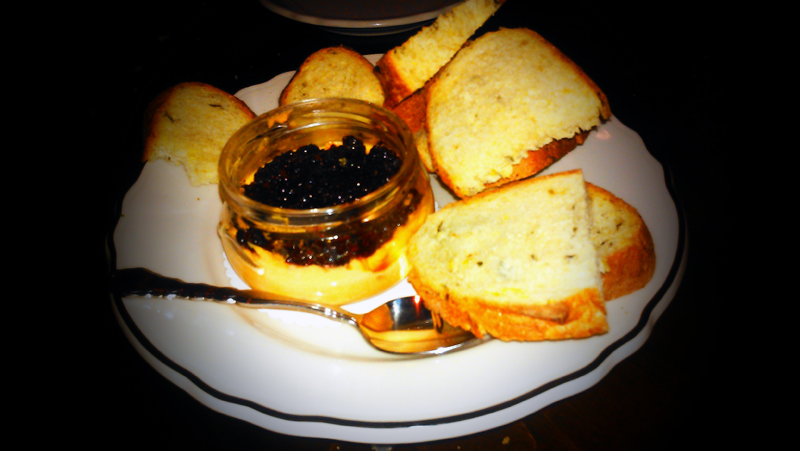 I'm ashamed to admit that I've lived in the South for nine years now, and I'd never had pimento cheese before (although DadJovi will try to tell you that Florida isn't the South. I suppose he's right, in cultural terms). Now that I've had Cask and Larder's version of it, I'm afraid everything else will pale in comparison. I mean, c'mon. It's topped with something called Ham Jam, which is ham that's been cooked down so long it's caramelized. My only complaint is that I was expecting it to be warm but it was served at room temperature. Is that be design? Is it because it was late? Either way, it was good. I was just expecting it to be gooier and warm.
All in all? Not a bad little Saturday there. I don't think it'd quite been the 21 months between nights out as it was for my new sneakers, but it'd been a looooong time since just the two of us did something together. We usually save babysitter nights for big things, like concerts or work events. But we've both had so much going on individually over the past couple months and the next couple months look just as busy that we decided to seize on a rare open weekend.
I highly recommend it. And maybe, just maybe, one of these days the two of us will actually get around to going away for the weekend without E. Can you believe that other than a few wedding weekends, which, in all cases, we stayed with other people, we've never done that? One of these days.
How often do you get new sneakers? Have you seen The Master or been to Cask and Larder yet? Did I oversell either? And can someone tell me what exactly pimento cheese is made of? Do I want to know?